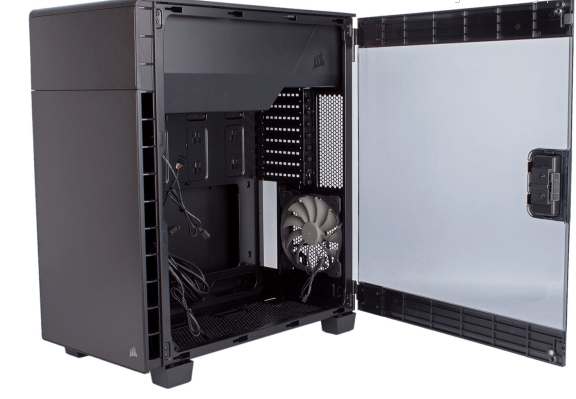 The PSU returns to its spiritual home in Corsair's latest case
Case makers have my sympathy, because differentiating their designs is generally undermined by the requirements to support the ATX 2.0 systems we put in them. Many just mess around with the outside, rather than taking on the greater challenge of doing anything radical with the internals.
Corsair's Carbide Series 600C is something of a shock to first behold, because it takes the norms of conventional case wisdom and abruptly turns them on their head.
From the outset the 600C confused me, because the clear panel side is not on the left where it would normally be, but on the right. To do this, the motherboard is on the opposite side to where it normally goes, with the PCIe slots now at the top, and the PSU returning to the high position.
Yes, that's where the PSU used to be, as you'll know if you remember what case design was like ten or more years ago.
However, this flipping/mirroring/whatever has numerous implications, not all of which you'll realise until you've tried to rebuild a system into the 600C.
For example, any branded logos on the motherboard, cooler or video card will be the wrong way up, and any connectors that you've learned to plug in one way are now also inverted.
Those wanting to fit water cooling need to look to the case floor, where Corsair appropriately placed a filter, along with another inside the front facia. This defines the air pathways as being from the front and beneath, with the venting to the rear, via a rear fan and also through the PSU. Sadly, there's no dorsal vent.
Corsair kindly provides three fans, all of which are 140mm, and they're directed through an integrated three-speed fan controller.
The cabling for this, and to cope with all the other cables, is run in a cavity on the left side under the motherboard tray. I've seen this done in more conventional layouts, but often the cable void is so narrow that it can cause installation problems.
In the 600C this isn't a problem, because the void is bigger than we're used to, though this has the knock-on effect of making the case noticeably wider at 26cm. That's at least 9cm broader than most PC cases.
In this cavity are flat mounting spaces for three 2.5? drives and access to trays for two 3.5? disks. I was slightly surprised that, considering the scale of this case, there are only two 5.25? bays available, accessible from the front via a small side-hinged door.
The upshot off all these interesting design choices is that when you look inside, the system seems remarkably uncluttered. Aside from the motherboard, cooler, video card and fans, the case seems empty, with most of the cabling issues well out of sight. That makes lots of room for dual GPUs, monstrous coolers or whatever other hardware chaos you'd like to employ.
My main concern is that most people have organised their PC area to have the computer on the right, given that's the side you've normally access the internals. To deploy the 600C or its solid-sided 'Quiet' brother, the 600Q, you need to have it on the left.
BTX systems tried flipping everything over around a decade ago, and it doesn't actually improve the system's cooling. I can't complain that the cooling doesn't work in this mode, because it does. But then the conventional layout works equally well in most situations I've encountered.
The true strength of this design is the massive amount of space it provides for the motherboard and its direct components. If you can't fit your system in the 600C, then you might need to consider a complete rethink.
In terms of pricing, this is a high-quality item that's undoubtedly worth what Corsair is asking. It's a sturdy piece of equipment that looks great when occupied with a suitably meaty system.
Just make sure that the inverted layout is right for you, before investing. Mark Pickavance
A unique inverted design for those who think differently.
Specification• Dimensions (L x W x H): 454 x 260 x 535mm• Maximum GPU length: 395 mm• Maximum CPU cooler height: 200mm• Maximum PSU length: 220 mm• Expansion slots: 8• 5.25? drive bays: 2• 3.5" hard drive bays: 2• 2.5? drive bays: 3• Fans included: 3 x AF140L noise optimised 140mm fans.• Cooling layout: front: 2 x 140/120 mm (2 x 140mm included), bottom: 2 x 140, 3 x 120mm, rear: 1 x 140mm (included)• Radiator compatibility: 360mm: bottom, 280mm: front or bottom, 240mm: front or bottom, 140mm: front, bottom, or rear, 120mm: front, bottom, or rear.• Dust filters for front and bottom intakes• Front I/O panel includes: USB 3.0 port (2), USB 2.0 port (2), three speed fan controller, headphone and microphone jacks, power on and reset buttons.• Motherboard compatibility: EATX (12? x 10.6?), ATX, micro-ATX, mini-ITX.• Two-year warranty