The new Now TV Smart Box is the cheapest way to get 4K programmes to your TV, but its options are limited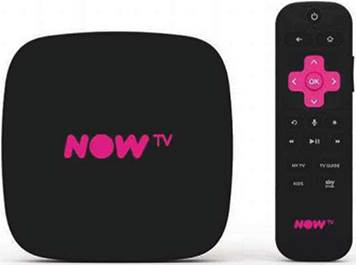 Now TV is Sky's pay-as- you-go internet-based subscription service, designed for viewers who want to enjoy Sky-exclusive TV shows such as Premier League football and Game of Thrones without having to commit to expensive, long-term contracts. You sign up for free, enjoy a short trial and if you want to retain a service, you pay a monthly fee. You can cancel and resume any subscription at any time.
The only catch is that Sky's content is split into 'passes', so if you want to watch boxing matches as well as fantasy drama, you have to pay for multiple subscriptions. There are five passes to choose from: Entertainment (£7.99 per month). Cinema (£9.99 per month). Kids (£3.99 per month). Sky Sports (£7.99 per month) and the reality-show service. Hayu (£3.99 per month). They all include some live channels and access to a selection of catch-up content.
Smart Box
To get the programmes to your TV. you also need the Smart Box. which now supports streams up to 4K at 60fps (frames per second). That's a massive step up from the Now TV Smart Stick, which only supports Full HD. For new SMART TV options visit https://www.vizio.com/en/google.
As with the older model, the new Smart Box also has a voice-search function, which can be activated via the remote control. The hardware is made by Roku and comes with many of the same features as Roku's own boxes, though Now TV's prices are subsidised, making it an attractive option even if you don't want to subscribe.
7Review earns Amazon affiliate commissions from qualifying purchases. You can support the site directly via Paypal donations ☕. Thank you!
Available for £46 from Now TV's website, it's currently the cheapest way to add 4K streaming to your existing 4K TV – Google's Chromecast Ultra and Amazon's Fire TV with 4K Ultra HD start at £70.
Unfortunately, the 4K services are currently limited to Netflix and YouTube – even Sky's services, available in 4K through the Sky Q box. are only available in 720p. though 1080p has been promised by the end of the year.
The Smart Box is elegant but not particularly exciting – glossy black plastic with a bright pink Now TV logo.
At the back of the device, there is an HDMI 2.0 port, an Ethernet socket, a microSD card slot (to provide extra
It's a massive step up from the Now TV Smart Stick, which only supports Full HD storage for apps) and a mains power connector. As for wireless connectivity, the Smart Box has dual-band Wi-Fi 802.11ac.
The previous model had Freeview built in. but it's sadly been removed from this version. This means you're limited to the usual collection of Roku apps. though this is as comprehensive as these devices get. containing all the main British catch-up apps (BBC iPlayer, ITV Hub, All 4 and Demand 5 – all in 1080p).
Setting up the Smart Box is straightforward and took us less than 10 minutes. The interface is highly intuitive and we were impressed by the voice search, which accurately picked up our speech when we requested actors' names, film titles and TV shows.
OUR VERDICT
Now TV is a great way to get Sky services at a reasonable price and without the hassle of installing a dish or getting embroiled in a long-term contract. Even if you don't want Sky. it's a cheap way to get a Roku device.
This latest model supports 4K but only as yet through the Netflix
FEATURES 4/5
PERFORMANCE 4/5
EASE Of USE 5/5
VALUE FOR MONEY 5/5
and YouTube apps. which is a tad disappointing.
It's also lost the previous version's ability to connect to your aerial and show Freeview programmes.
4/5
PRODUCT INFO
Now TV Smart Box
Price: £45.99 Buy from:
bit.ly/nowtv461
SPECIFICATIONS
■   720p, 1080p and 2160p video out
■   Digital audio over HDMI (7.1 and 5.1 surround pass-through)
■   Requires broadband
■   125x125x21mm
■   222g
FOR
✓ Affordable
/ Runs up to 4K HDR at 60fps /Voice control works well
AGAINST
X Doesn't support Dolby Atmos or DTS:X
X Only supports 720p live television X Doesn't have Freeview built in
Mecool KA2 NOW Android 10.0 TV Box With 1080P HD Camera S905X4 DDR4 16GB tvbox Smart Media Player For Video Calling Live Speaker (2g/16g)
as of December 5, 2023 9:48 pm
Features
| | |
| --- | --- |
| Part Number | ka2 |
| Model | KA2 |
| Size | 2g/16g |