The AF9 has been hailed (admittedly by Sony) as a landmark TV – as significant a development as the legendary Trinitron. Steve May isn't inclined to argue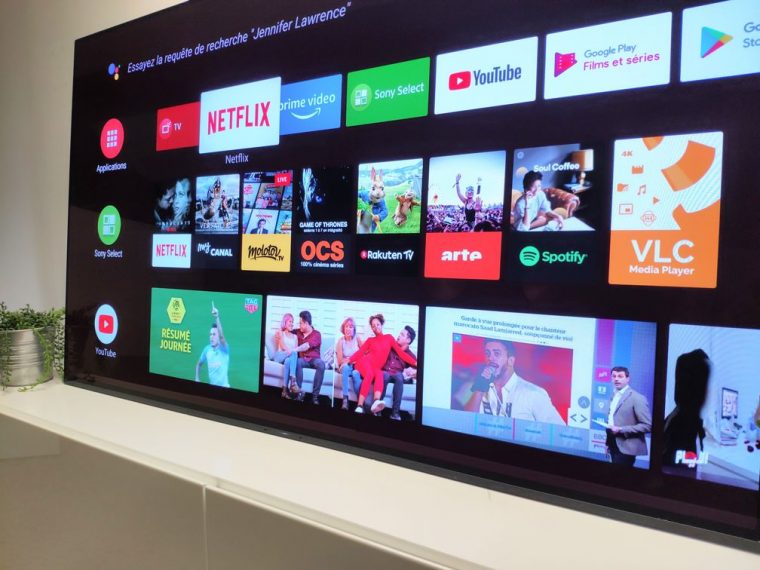 Unveiled with much hullabaloo earlier this year, the Sony AF9 nonchalantly sets a staggeringly high benchmark for OLED picture quality. Boasting Kubrickian styling and a feature roster even the jaded will lust after, this TV is, quite frankly, an absolute stunner. It's also frighteningly expensive. The £ ticket for the 55in model here is almost double that of some rivals.
PRODUCT: 55in 4K HDR OLED TV with Acoustic Surface audio tech
Position: Range-topping Master Series OLED
PEERS: Panasonic 55FZ952B; LG OLED55C8
7Review earns Amazon affiliate commissions from qualifying purchases. You can support the site directly via Paypal donations ☕. Thank you!
The KD-55AF9 does at least look worthy of that premium price. It's stylish, and then some.
Viewed front on, the TV epitomises minimalism.
There's barely a trim around the panel, and Sony's Bravia branding is almost an artful afterthought. Head around the back and it becomes a whole lot more exciting – the AF9 embraces the same lean-back look as its predecessor, the A1, but Sony has been tweaking. The kickback stand still houses electronics and connectivity, but the panel's actuators are now part of the futuristic design. There are also two side-firing woofers.
The ensemble is actually quite an impressive piece of engineering, released from the panel by a latch. If you choose not to unlatch, the screen can be wall-mounted, although it obviously won't sit flush to a surface.
A cosmetic cover hides all the mechanics from view. While the lean doesn't seem quite so pronounced as before, you'll still want to park it on low-level AV furniture.
Despite the meticulous design, it's disappointing to note that the TV comes with a bog-standard Sony remote control. It has dedicated Netflix and Google Play buttons, and is entirely usable, but it really doesn't reflect the premium nature of the AF9 itself.
All of the TV's four HDMI inputs support full-fat 4K/60fps sources and one offers eARC with Dolby Atmos passthrough. There's also an AV minijack input, digital optical audio output, Ethernet port and three USBs, one suitable for hard drive recording.
More unusually, there are dedicated loudspeaker binding posts, which allow the TV to function as a centre speaker in a surround sound setup.
Smarts get top marks. It's gratifying to see that Sony has finally upgraded its connected platform.
Android 8 (also known as Oreo) is a significant improvement over the original TV OS. For once, Android wants to enhance the user experience rather than obstruct it. With a simplified user experience, it also seems a good deal faster than previous Android TV implementations.
Streaming services include Netflix, Amazon Prime Video and YouTube, all of which support 4K playback, with Netflix and Amazon offering HDR where available. There's still no support for Freeview Play, but Sony offers YouView instead, which includes a roll-back programme guide with integrated catch-up TV players, including BBC iPlayer, ITV Player, All4 and My5.
Breathtaking Bravia
When it comes to picture quality, the AF9 OLED has more snap than Thanos. The Triluminos panel is capable of breathtaking detail and colour definition. Unsurprisingly, its black level performance is nigh-on perfect, with outstanding near shadow detail, although there is a caveat when it comes to image mode selection (more later).
Much of the panel's picture prowess likely stems from the object-based Super Resolution and HDR remastering tools of Sony's new X1 Ultimate processor. These isolate small details within the image in real time, and apply subtle enhancement, both in terms of brightness and colour saturation. Sony's Pixel Contrast Booster engine aims to maximise dynamic range. There's a lot of science going on behind the glass.
The AF9 offers an interesting take on HDR10, seemingly finding its own sweet spot when it comes to contrast and peak brightness. Image definition is superb, courtesy of Sony's tried-and-tested 4K X-Reality PRO engine.
I measured luminance peaks at just over 900 nits with a five per cent HDR window. This should be bright enough to handle most HDR-encoded content without a need to aggressively tone map.
A Custom image preset is a new take on Sony's original Cinema Pro mode. Carefully calibrated to match Sony's Pro OLED mastering monitor, the BVM-X300, it's ideally watched in a room with low ambient light, which may well describe your movie den. But if you want to watch sports material, for instance, the Standard mode is a punchier alternative. Animated fare or heavy visual effects movies are also worth a gander in Vivid mode, with its lush colour and razor-sharp detail.
Once the pariah of image
1. The AF9 OLED uses Sony's new X1 Ultimate processor
2. The rear-mounted stand incorporates the TV's inputs and bass drivers
presets, Vivid on a wide gamut panel like this is really fun. It's like eating a bucket of Skittles.
In addition to HDR10 and HLG, the AF9 is Dolby Vision compatible, from both its internal Netflix app and external sources, like a Blu-ray player or the latest-generation 4K Fire TV stick from Amazon.
However, there are black level issues with Dolby Vision content. The shadowy night sequences in Luke Cage (Netflix) suffer when viewed with the Dolby Vision Dark image setting; near black detail is crushed. The Dolby Vision Bright option proves far better, regardless of viewing
When it comes to sonics, this Sony nails it – there's coherent panning around the screen, and plenty of bass
conditions. This is also true of the opening space battle in Star Wars: The Last Jedi (Ultra HD Blu-ray). So don't be tempted by the Dark Side.
The set's Netflix Calibrated mode, which was given a big push when the TV was launched [see HCC #290], is another curiosity. It looks much like any other standard Cinema preset, and defeats Dolby Vision when selected.
I struggled to find a reason to engage it.
Traditionally, Sony 4K screens offer excellent HD upscaling, and that's no different here. The set does a sterling job with regular hi-def sources, adding an almost HDR-like boost to the perennially dark sci-fi of The 100 without over-lightening the rest of the frame. This image massaging is done so carefully, the treatment never looks overblown. And to really see the screen shine, watch SDR content with Peak Luminance set to High.
Motion handling, courtesy of MotionFlow XR, is also excellent. Artefacts are rarely an issue.
The set transpires to be a good display for gamers, not an area the brand has previously excelled in. There's still input lag on the everyday picture presets, but select Game mode and it drops to a respectable 27ms. Joypad junkies will find its performance doesn't compromise their trigger finger.
When it comes to sonics, this Sony nails it. The retooled '+' version of Acoustic Surface Audio technology works really well. Now with three stereo panel actuators, there's coherent panning around the screen, and the dual woofers on the rear provide just the right amount of oomph.
The ability to effectively transform the Acoustic Surface Audio+ system into a centre speaker is also an intriguing option for smaller home cinemas. After all, not every viewing room can easily accommodate a traditional centre channel enclosure. In such circumstances the classic solution would be to run your home theatre system with a phantom centre, but employing the TV is a neat alternative.
The Tomb Raider reboot (Blu-ray) features a frenetic Atmos soundtrack, with plenty of movement and detail across the front soundstage, particularly when Alicia Vikander's boat is battered on the high seas. The AF9, used as a centre speaker, keeps up with my left/right towers. Dialogue is clear and locked to centre, and the watery bedlam of the scene helps disguise timbre differences.
When all the individual amplifier models driving the actuators are summed together, output is quoted at around 100W. Drive it too hard and the actuators shut down to prevent distortion.
Effortless style
Let's face it, the AF9 isn't chump change. But it delivers on so many levels, from sound and vision to cosmetic design, that it's easy to recommend to enthusiasts.
A competitor is the Panasonic FZ952, which has comparable picture quality, arguably eclipsing the Sony in terms of colour accuracy and nuance, and impressive audio in the shape of its Dynamic Blade speaker. But that OLED doesn't have the Sony's effortless style and Dolby Vision/ Atmos support. If those things are important to you, then it's probably a good time to splash the cash
VERDICT
Highly Recommended
SONY KD-55AF9 Review
Sony's Master Series OLED hero is a tour de force in UHD TV design, boasting awesome images, outstanding sound and a great new Android smart platform.
Add your review
Best SONY KD-55AF9 prices ?
MORE DEALS

SPECIFICATIONS
3D: No 4K: Yes. 3,840 x 2,160 HDR: Yes. HDR10; HLG; Dolby Vision
TUNER: Yes. Freeview HD; satellite HD CONNECTIONS: 4 x HDMI inputs; composite
AV; Ethernet; optical digital audio output; 3 x USB ports SOUND (CLAIMED):
6 x 13W, plus 2 x 10W BRIGHTNESS (CLAIMED): N/A CONTRAST RATIO (CLAIMED):
N/A DIMENSIONS (OFF STAND): 1,228(w) x 711(h) x 86(d)mm WEIGHT (WITH STAND): 30kg
FEATURES: Built-in Wi-Fi; Bluetooth; Chromecast Built-in; Miracast; USB/network multimedia playback; eARC; Acoustic Surface Audio+; X1 Ultimate image processor; MotionFlow XR; Triluminos display; Netflix Calibrated mode
PARTNER WITH
NETFLIX: With Dolby Vision and Dolby Atmos support (include e-ARC for the latter), the AF9 is a fine partner for Netflix's high-budget streaming shows. A UHD plan is £ per month, and a 25Mbps internet connection is recommended.
3. The stand causes the TV to lean back, so install it on low-level furniture if possible