This Quantum Dot OLED flatscreen is the TV to beat right now, believes John Archer. Read our SONY XR-55A95K Review.
Samsung isn't the only brand to combine OLED's self-emissive contrast talents and the brightness/ colour benefits of Quantum Dots in a TV this year. Sony is also in on the QD OLED act with its A95K series, in 55in (tested here) and 65in versions that command a premium over Samsung's already discounted S95B model. Is the extra cost justified?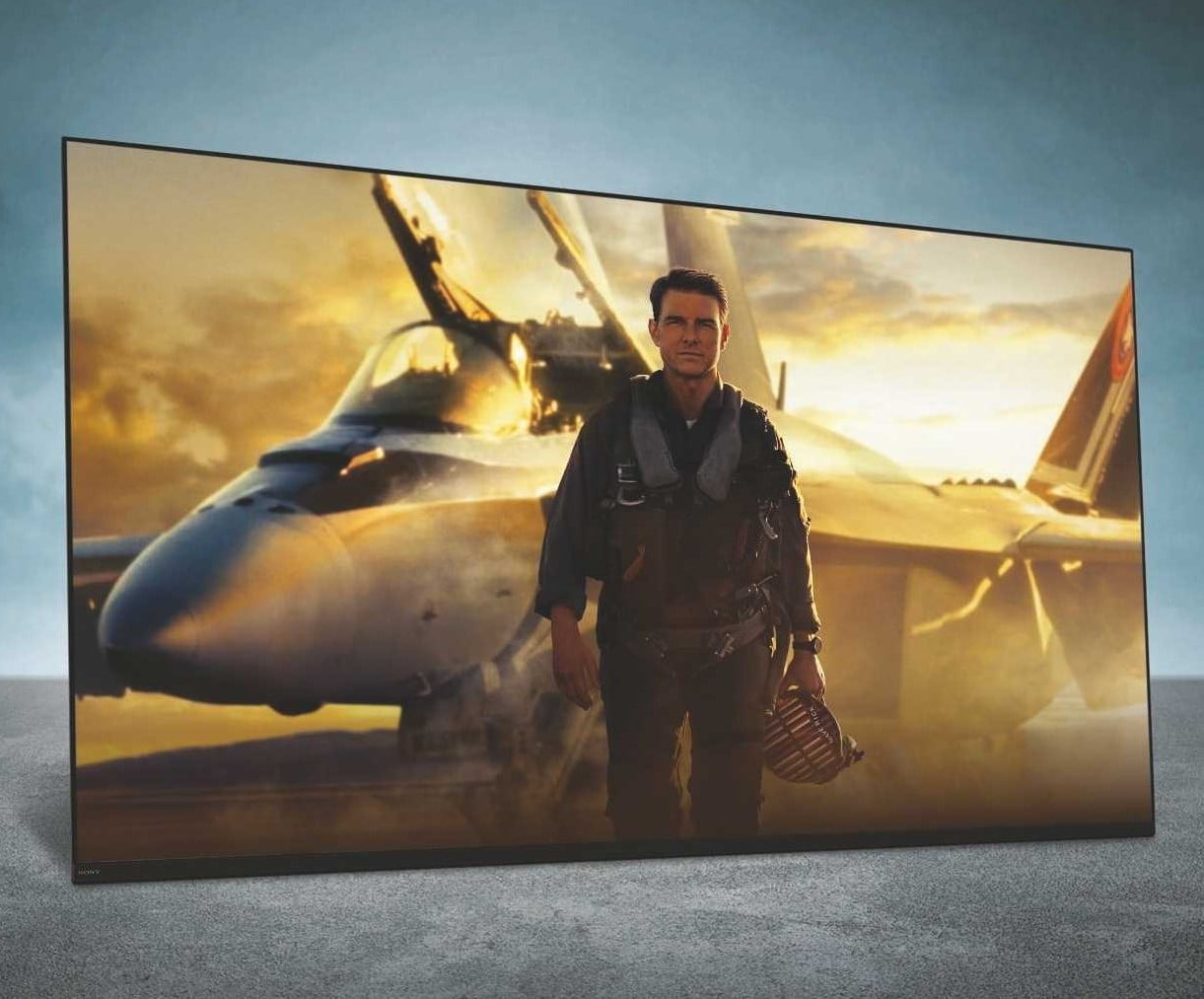 Aesthetically the £ XR-55A95K (the 65-incher sells for a toppy £) couldn't be more different to Samsung's first-gen QD OLED set. That TV has an incredibly thin, smart metallic finish, whole Sony's is a chunky beast by modern standards. There's still something stylish about it in an industrial kind of way, though, and I appreciate having the choice of whether to attach it to the front or back of its heavy-duty metal stand.
There's an excuse for its bulk in the shape of Sony's Acoustic Surface audio tech, where actuators behind the screen that turn it into the TV's speaker system are backed up by two bass drivers built into the set's rear.
We've heard Acoustic Surface technology on Sony OLED TVs before, of course, and it works just as well with QD OLED screens. The pulsating Dolby Atmos soundtrack of Baz Luhrmann's Elvis (4K Blu-ray) sounds consistently excellent through the XR-55A95K: dynamic, open and clean, with accurate effects placement both on and beyond the screen.
Just the two of us
The TV's connections are reasonably strong, with two of its four HDMIs supporting 4K/120Hz feeds, as well as variable refresh rates and automatic low latency mode switching. PS5 owners can also enjoy auto HDR optimisation, while image lag in Game mode is kept to a respectable 16.5ms with 60 Hz sources.
You might expect, at this price, for all four HDMI inputs to handle the full suite of gaming features, given that they do on Samsung's S95B and LG's C and G series OLEDs. Additionally, the XR-55A95K doesn't support Dolby Vision gaming at 4K/120Hz – in fact, it won't play Dolby Vision at all unless you make sure the feature is enabled from the TV's connection menus.
7Review earns Amazon affiliate commissions from qualifying purchases. You can support the site directly via Paypal donations ☕. Thank you!
See also TOP Televisions
and The best OLED TV deals 2022: get an awesome OLED at the lowest price
HDR10+ playback is not on the menu at all, with Sony claiming it can ape HDR10+ with its own processing systems. We'd still like to see the company's TVs joining Panasonic, TCL and Philips in supporting all main HDR formats.
AV INFO
55in Quantum Dot OLED TV
Sony's premium 55in TV for 2022
Samsung QE55S95B; LG OLED55G2; Panasonic TX-55LZ1500
www.sony.co.uk
Image processing is handled by is Sony's latest Cognitive XR system. This sees the Japanese major refining the processor's approach of subtly manipulating myriad elements in any incoming image, to try and make it look more as your eye perceives the real world. On paper this might get some home cinema enthusiasts thinking the XR-55A95K isn't interested in delivering accurate pictures. Actually, though, the set is packed with independently certified settings, including Netflix Calibrated and IMAX
Enhanced options, offering you a route to relative accuracy if that's what you want (as we'll see, the Cognitive XR 'juiced' pictures are quite gorgeous, however). Furthermore, the XR-55A95K is Calman Ready if you want to go the professional calibration route.
The TV's smart features are, as usual with Sony TVs, provided by Google TV. This is mostly good news, at least to the extent that the interface is a nice presentational and organisational refinement on its Android TV predecessor, and carries a colossal amount of content. It also enables support for Google Casting and Google Assistant voice recognition, and there's a nice Sony-specific wrinkle to the smart platform in the shape of the Bravia Core streaming service, which enables film fans (with sufficient broadband speeds) to watch 4K HDR movies delivered at bitrates of up to 80Mbps.
Unleash the spectacle
At first glance the XR-55A95K's image performance doesn't feel like it's delivering as much of a QD OLED 'bonus' as that of the Samsung S95B range. Pictures are not quite as bright or aggressively dynamic. Yet it doesn't take long before you begin to realise that, while the screen's take on QD OLED might not be as dramatic as Samsung's, it's certainly not any less impressive. In fact, I'd say it's even better.
The colour- and contrast-rich visuals of Elvis are great for identifying the XR-55A95K's strengths. The spectacle of the performer's shows in Las Vegas, and the outrageously vibrant closing credits, benefit in jaw-dropping fashion from the extra colour purity and range made possible by QD OLED technology (where bright RGB colours can be crafted without needing to introduce the desaturating white element used in regular OLED TVs). So the XR-55A95K underlines how it's arguably this colour purity that's the big selling point of Quantum Dot OLED ahead of any brightness advantage.
1. Working behind the scenes is Sony's Cognitive XR processing engine
2. The TV can be mounted either at the front or rear of its low-slung stand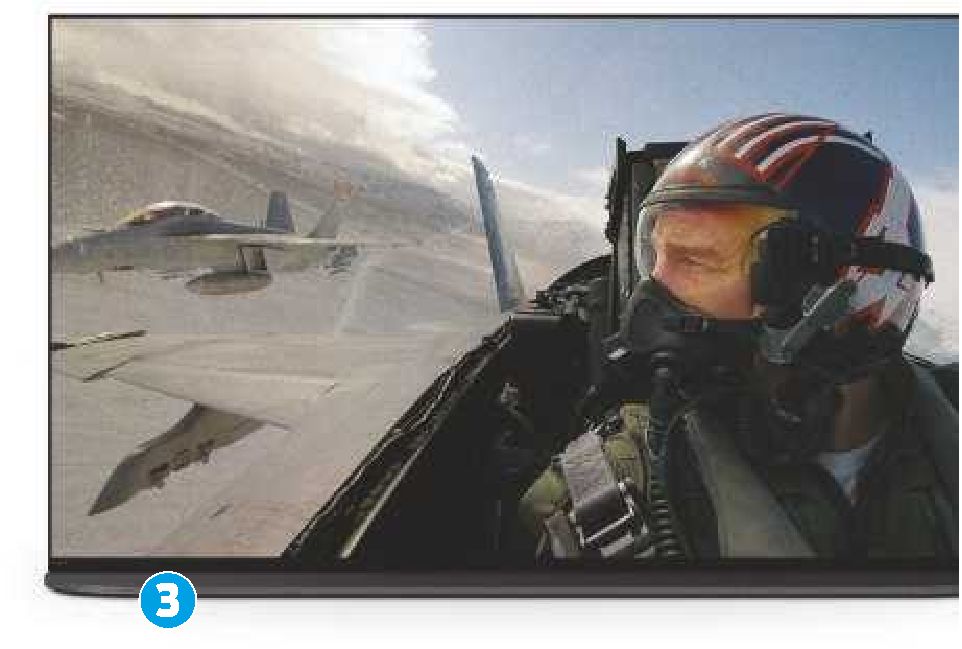 3. Sony's set supports Dolby Vision HDR – but not HDR10+
Crucially, the set delivers its gorgeous, pure colours with a level of control and balance that goes beyond that of its QD OLED rival. Not a single tone throughout Elvis felt even slightly out of place, misbalanced, or over-egged, and not a single subtle blend appeared noisy or short of gradation steps. I've watched Baz Luhrmann's new movie on a number of different high-end screens, and none have delivered it with as much consistent purity, balance and three-dimensional depth as the XR-55A95K. This is truly next-gen stuff.
Doing no harm to this headline-grabbing colour performance is the fact the TV benefits from both the local contrast skills associated with OLED's self-emissive pixels,
'The set's stellar control of light and colour helps it deliver native 4K sources with immaculate clarity'
and the increase in brightness associated with a Quantum Dot colour system, as opposed to OLED's usual organic green and red sub-pixels.
Shine a light
As noted earlier, the XR-55A95K doesn't push brightness as hard as you might expect. It is, however, still significantly punchier for both fullscreen bright content and bright HDR highlights than Sony's conventional OLED models, and measured just over 1,000 nits on a 10 per cent white HDR window test.
This extra brightness works wonders on the shimmering and sparkling of Elvis's outfits and, again, the gloriously stylised closing credits. Small peaks of light are presented with tangible intensity, and obviously without the accompaniment of any backlight blooming.
Dark image areas appear every bit as rich, deep and inviting as they do on the best regular OLED models, and the handling of shadow detailing is exceptional, especially with films which, like Elvis on 4K BD, are available in Dolby Vision. Sony's processing feels

4. Audio comes from screen actuators, plus rear-mounted woofers
balanced here, avoiding any extra push for a contrast hit that might crush out subtle near-black information. Meanwhile, the XR-55A95K's stellar control of light and colour helps it deliver native 4K sources with immaculate clarity and texture.
Hi-def material is efficiently upscaled to 4K, and SDR content retains a naturalistic colour balance. The XR-55A95K's superior motion processing also manages to take the edge off judder without generating any unwanted side effects. Put another way, whatever source you're watching, you always feel in safe hands.
Oh-so fine
So: aside from Sony's XR-55A95K not providing as much of an improvement to peak brightness over traditional OLED models as we might have hoped, the only real negative thing to report is that if the screen is hit by quite strong direct light, the usually immaculate black levels suddenly look much more flat and grey.
If that criticism sounds like me clutching at straws, I wouldn't argue. Make sure your serious movie watching isn't hampered by any stray ambient light and the XR-55A95K is arguably the finest all-round 55in TV we've seen – which makes its relatively steep price tag a heck of a lot easier to swallow
Verdict
Recommended
SONY XR-55A95K Review
Adding a little extra refinement and balance to the unprecedented colour and contrast charms of QD OLED technology has resulted in an absolutely superb 4K TV.
Add your review
Best SONY XR-55A95K prices ?
MORE DEALS

See also TOP Televisions
and The best OLED TV deals 2022: get an awesome OLED at the lowest price
SPECIFICATIONS
4K: Yes. 3,840 x 2,160 HDR: Yes. HDR10; HLG; Dolby Vision TUNER: Yes. Freeview HD; satellite HD CONNECTIONS: 4 x HDMI inputs; 2 x USB; optical digital audio output; headphone jack 4K/120 PLAYBACK: Yes (on 2 x HDMIs) SOUND (CLAIMED): 60W Acoustic Surface system BRIGHTNESS (CLAIMED): N/A CONTRAST RATIO (CLAIMED): N/A DIMENSIONS (OFF STAND): 1,230(w) x 730(h) x 56(d)mm WEIGHT (OFF STAND): 21.2kg
FEATURES: QD OLED panel; Cognitive XR picture processor with Triluminos colour system; VRR gaming support; auto low latency mode; built-in Wi-Fi; Bluetooth; PS5 optimisation features; Netflix Calibrated mode; IMAX Enhanced support; Dynamic Contrast Enhancer; Google TV smart system with Bravia Core
TESTED WITH
ELVIS: Is Baz Luhrmann's typically energetic, bright and colourful biopic of the legendary hip-swivelling music legend a case of style over substance? Sure, but that kind of feels like the point – and the spectacle on offer on Warner Bros.'s new 4K Blu-ray release is a treat for a good AV system.