The TV manufacturer makes an impressive splash with this well-featured 4K HDR screen, says Steve May. But it's not for picture quality purists… Read our HISENSE 55A85H Review.
SOME OLED TVs are designed for The Batman, predisposed for darkness and shadow. The Hisense A85H is more of a Strictly Come Dancing kinda screen. Pictures pop like candy, and dynamics have all the subtlety of a sledgehammer blow. If you want wow, you'll find it here.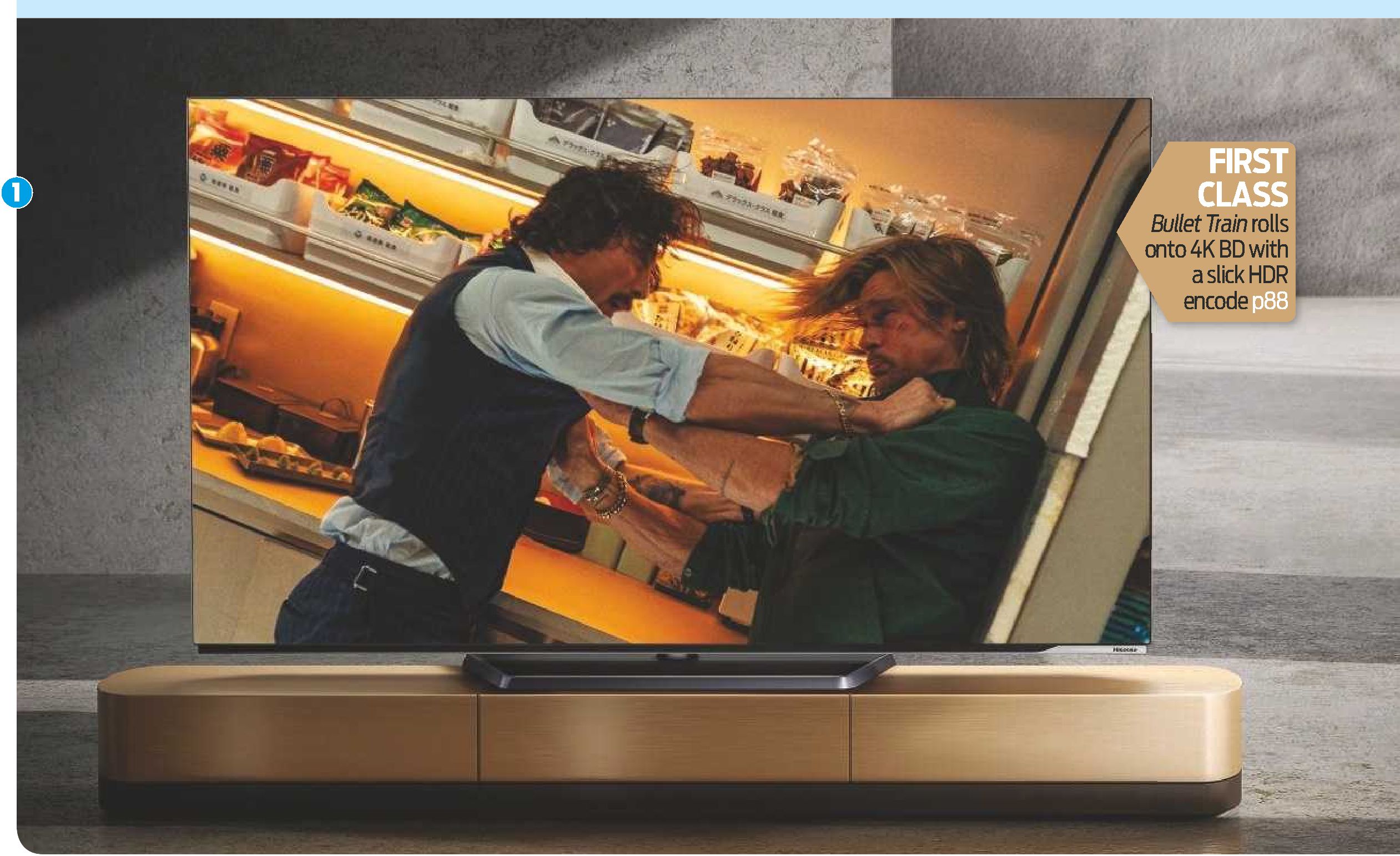 1. HDR10+ and Dolby Vision (with IQ mode) are on the menu
AV Info
4K OLED TV with Dolby Atmos audio
Second-tier OLED from Hisense, below the A9H models
LG OLED55C2; Panasonic TX-55LZ980
www.hisense.co.uk
7Review earns Amazon affiliate commissions from qualifying purchases. You can support the site directly via Paypal donations ☕. Thank you!
See also TOP Televisions
and The best OLED TV deals 2022: get an awesome OLED at the lowest price
It's not stingy on features either. There's Dolby Vision onboard (with Dolby Vision IQ), support for high-framerate gaming, HDR10+ compatibility, a content-rich smart platform, and even IMAX Enhanced certification.
Also available in 48in and 65in screen sizes, the 55in A85H is pitched directly against LG's C2 model. So is this surprisingly bullish Hisense the dark horse in the 2022 OLED race?
Style icon
The manufacturer is probably best known for its affordable LED models, but there's certainly nothing budget about the A85H's design and build. The panel is framed by a dark micro bezel, and, going almost unnoticed, there's a silver trim across the bottom of the screen. The panel sits on a smart-looking central stand, which not only suits most types of AV furniture, but can be spun for the optimum viewing angle.
Got a PlayStation 5 or next-generation Xbox? Two of the four HDMI inputs are v2.1 and support 4K/120Hz gameplay, as well as auto low-latency mode and VRR 120Hz. One of these is also eARC compatible. Other connections include two USBs, Bluetooth 5.0 and highspeed Wi-Fi 6, plus inputs for standard DVB-S2 satellite and Freeview Play tuners.
Hisense's remote control is a bit of a button fest, with a plethora of dedicated keys for (take a breath) Disney+, YouTube, Prime Video, Rakuten TV, Plex, Deezer, Facebook Watch, YouTube Kids, NBA, Netflix, Vidaa TV and Vidaa Free. Hit the Vidaa TV button and you're taken to a collection of IP-delivered linear channels, while Vidaa Free delivers an aggregated collection of gratis content, sourced primarily from Pluto TV and Plex.
Vidaa is Hisense's proprietary platform, here in 6.0 guise, and it's grown up a lot since I last used it. The Homepage offers rapid access to all resident apps and services, which also include Britbox, Apple TV+, Amazon Music, BBC Sounds and Freeview Play. Stacked content rails include On Now, which covers the key mainstream linear channels, and Featured, which has catch-up suggestions. There are also genres rails for Drama & Soaps, Comedy, etc.
Choose wisely…
When it comes to picture quality, the A85H has plenty of kerb appeal. It delivers a high level of colour vibrancy, razor-sharp detail and punchy contrast – but the image presets are all over the place.
Normally, Standard would be the conservative everyday viewing choice, but here it veers toward the unashamedly lairy, with luminous reds and blues. It could pass as a Vivid setting, were it not for Hisense's provision of Dynamic, which enthusiastically oversaturates colours even more and bumps up the average picture brightness level for good measure. Cinema Day is the more authentic option, at least when it comes to colour reproduction.
'Hisense's A85H OLED TV offers a high level of colour vibrancy, razor-sharp detail and punchy contrast'
The TV's HDR performance is impressive. I measured peak brightness at just under 750 nits (in Dynamic mode), with a 5 per cent patch window, which reflects its performance with typical specular highlights. Our 55in model also reached 625 nits with a 10 per cent window.
HDR modes include Day, Night, Standard, Dynamic, Sports, IMAX Cinema and Filmmaker. The latter is, in my opinion, usually the dullest choice, but here turns out to be one of the best. For DV content, in addition to Dolby Vision IQ, there's Dolby Vision Dark and Dolby Vision Custom.
The Curse of Bridge Hollow (Netflix, Dolby Vision), provides plenty of opportunity to showcase low-level shadow detail, but the A85H doesn't quite have the refinement to make the most of it. The TV certainly delivers dynamically, with bright whites and inky blacks, but there's also a certain amount of crushing that seems to rob the image of subtle, near-black detail.
For the most cinematic performance, select Dolby Vision Custom, as this opens up a more in-depth picture settings menu and, importantly, control over motion interpolation. Using this, you can combat the motion smoothing that comes as standard with Dolby Vision IQ, by selecting the 'Film' Ultra Smooth Motion setting.
The set's heavy-handed black level trait is equally evident with HDR10. Just as John Wick is declared excommunicado (John Wick: Chapter 3 – Parabellum, 4K Blu-ray), we cut to Keanu Reeves running into Times Square, backlit rain beating down in the darkness. He looks worried. He shouldn't be. On this OLED, he's all but invisible in his black suit amid shadowed commuters.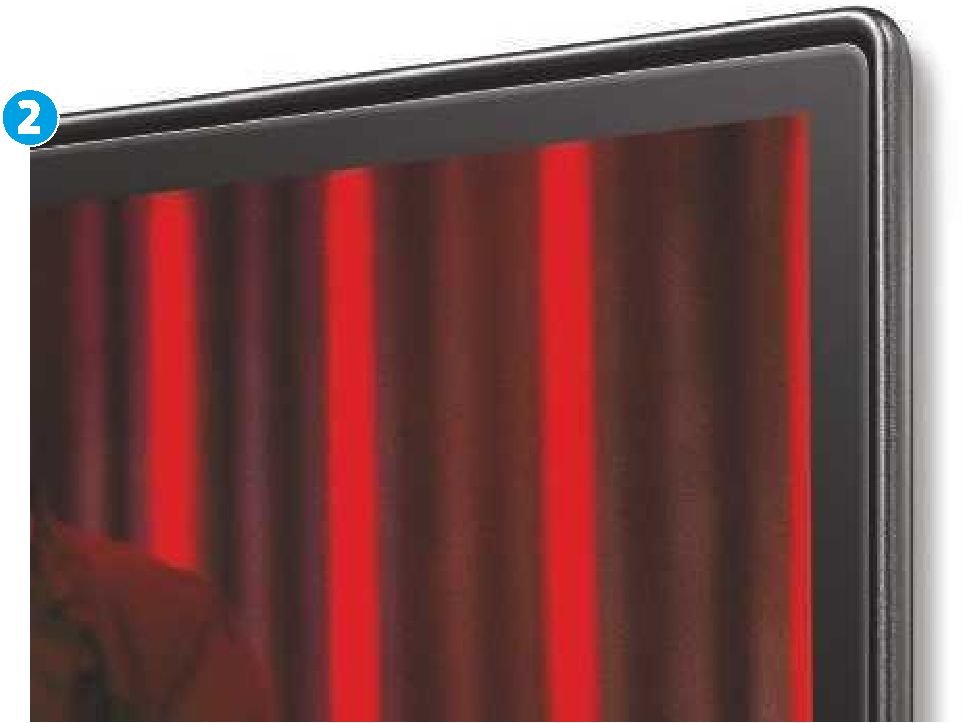 2. The A85H's OLED panel is framed by a smart micro-bezel
Filmmaker Mode comes to the rescue. Two minutes into the movie, when Ian McShane exits his car in front of the Continental, the texture in his overcoat is lost in darkness when watched with HDR Standard. The Filmmaker preset reveals more, without the traditional sacrifice in vibrancy.
That said, the Standard preset's love of bright primaries is often quite beautiful; the heightened reality of John Wick's Times Square a particular visual treat. Purists will groan, but I suspect many more will approve.
If the various image presets don't hit the mark for you, there are options to tweak beyond the usual brightness, contrast, colour saturation and sharpness; the set's colour gamut can be set to native or auto, and there's manual adjustment of red, green, blue, yellow, cyan, magenta and flesh tone. But I suspect most users will stick with the flashy Standard image preset.
In terms of audio, the A85H can go appreciably loud, thanks to a claimed cumulative 60W of amplification. Again, there's a variety of presets available, including Standard, Theatre and Sports, and you can toggle Dolby Atmos and DTS Virtual:X audio enhancements. With Atmos material there's some nice lateral sound steerage, but the presentation is largely stereophonic.
Firing on all cylinders
With the A85H, Hisense has delivered a well-specified OLED with plenty of visual chutzpah. Its presets could be divisive, but I found myself generally liking its pictures. The brand's Vidaa smart platform is also firing on all cylinders.
Of course, the reality is it's priced against an LG model which has a full set of 2.1 HDMI inputs and more balanced image presets. My guess is Hisense might drop the price, at which point this becomes an OLED to seriously shortlist
Verdict
HISENSE 55A85H Review
Well-specified and stylish, this OLED will suit gamers and telly bingers alike. Don't expect a cinematic presentation though: it's all about bold colours and punchy dynamics.
Add your review
Best HISENSE 55A85H prices ?
MORE DEALS

See also TOP Televisions
and The best OLED TV deals 2022: get an awesome OLED at the lowest price
SPECIFICATIONS
4K: Yes. 3,840 x 2,160 HDR: Yes. Dolby Vision; HDR10; HDR10+; HLG TUNER: Yes. Freeview HD (Freeview Play); satellite HD CONNECTIONS: 4 x HDMI inputs; 2 x USB; optical digital audio output; composite AV input 4K/120 PLAYBACK:Yes SOUND (CLAIMED): 60W (4 x 10W + 2 x 10W) BRIGHTNESS (CLAIMED): N/A CONTRAST RATIO (CLAIMED): N/A DIMENSIONS (OFF STAND): 1,226(w) x 712(h) x 68(d)mm
WEIGHT (OFF STAND): 18.1kg
FEATURES: Built-in Wi-Fi; Dolby Atmos audio system; Filmmaker Mode; IMAX Enhanced; Vidaa 6.0 smart platform; Amazon Alexa and Google Assistant support; 2 x HDMI 2.1 inputs; Dolby Vision IQ; MEMC interpolation
TESTED WITH
JOHN WICK: CHAPTER 3 – PARABELLUM: This high-octane thriller sequel's 4K Blu-ray release will challenge any flatscreen, thanks to cinematographer Dan Laustsen's use of dramatic night-time photography, neon colour palette, and lens flare effects. And the Dolby Atmos soundmix is equally aggressive.