Philips' new range-topping OLED TV introduces some much-needed class into John Archer's living room. PHILIPS 65OLED+986 Review
Many AV brands like to claim they've got a 'statement' model at the top of their TV lineups. Few, if any, deliver on this claim as comprehensively as Philips does with its 65OLED+986, a product that's one part premium TV, one part high-end sound system, and one part style icon. It's far removed from the plastic-wrapped budget bigscreens you'll find in the supermarket aisles, and has the price tag to prove it.
av info
65in 4K OLED TV with semi-external sound system
Philips' flagship OLED model
LG OLED65G1; Sony XR-65A90J; Panasonic TX-65JZ2000
The first unusual thing about this 65-incher (there's no other size available) is that it's a floorstander. An impressively heavy-duty brushed aluminium floor plate provides the base for an equally robust and shiny pole mount, onto which are fixed a huge external speaker enclosure as well as the TV's OLED panel.
The speaker enclosure is almost as wide as the glass above it. It looks lovely in its combination of silvery metallic bodywork and Kvadrat fabric, and adopts a vertical 'stance' to ensure that the full spread of its trio of 4in bass/mid drivers (fitted into independently isolated enclosures with decoupled, baffle-mounted tweeters for the left and right channels) is aimed directly at you.
Tubular bells and whistles
Sat above the rigid speaker cabinet is a separate tweeter. This has a distinctive design – its 'Nautilus tube' element – that will alert anyone with much interest in the UK hi-fi scene to the fact the 65OLED+986's sound system is the result of another Philips collaboration with audio brand Bower & Wilkins, which uses this 'tweeter on top' technology across its 800 Series Diamond and 700 Series loudspeaker ranges. B&W has been positioning tweeters this way on its premium models since 1977, believing it delivers a cleaner high-frequency response due to a lack of cabinet-borne diffraction.
You get a silver finish remote to match the OLED+986's chassis styling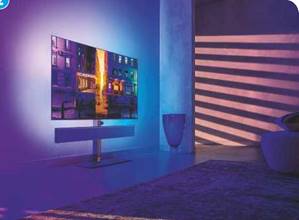 2. The set features four-sided Ambilight, able to both mirror onscreen content or provide a constant bias light
The B&W effect can also be seen – or, hopefully, heard – in the use of the company's Continuum cone driver material for the bass/mid units, while alterations this year to the sound system include improved voice coils and upgraded crossover components.
7Review earns Amazon affiliate commissions from qualifying purchases. You can support the site directly via Paypal donations ☕. Thank you!
RECOMMENDED VIDEOS FOR YOU...
See also TOP Televisions
and The best OLED TV deals 2022: get an awesome OLED at the lowest price
As if all this wasn't cool enough, the TV's premium design loveliness is set off by the ambient joys of a four-sided version of Philips Ambilight technology.
The 65OLED+986's audio configuration and floorstanding design are what sets it apart from the Philips OLED+936 range we looked at a few issues ago [HCC #324]. The +936 TVs (sold at 48in, 55in and 65in) also feature an external Bowers & Wilkins-designed speaker enclosure, but there this enclosure doubles as a desktop stand, and uses a 3.1.2 channel configuration (including upfiring drivers) to go with its built-in Dolby Atmos decoding.
The 65OLED+986 also carries Dolby Atmos decoding, but relies on Virtual Height technology to create Atmos's 'vertical' component.
Bright pupil
The screen and processing technology is the same across the two ranges. This is just fine by us, as it means the panel is one of the latest 'high-brightness' designs (I measured an outstanding 948 nits on a 10 per cent white HDR window), while the processor is the latest twin-chip, fifth-gen version of Philips' P5 Intelligent Dual Picture Engine.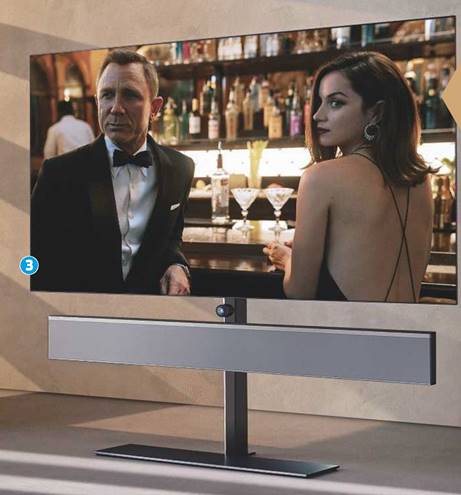 3. TV and stand combined weigh a hefty 47.3kg
I won't go into every facet of this here, but suffice it to say it has multiple enhancement elements focused on what Philips perceives to be the five key fundamentals of picture quality: sharpness, colour, contrast, source detection and motion.
The premium version of the P5 engine found in the +936 and +986 OLEDs differs from that used in Philips' step­down OLED806 TV [HCC #323], predominantly by using two chips for extra real-time power. This, we're told, means it can break the image down into more than 32,000 analysis 'zones', versus the 800 zones of the OLED806, while hunting for and gently dimming down static picture elements that could cause permanent image retention.
'The only TV in recent memory that does justice to Blade Runner 2049′s trademark bass drops'
Also added from Philips' previous high-end OLED range is a Film Detection feature that spots when you're watching a film and lets you choose between the Filmmaker Mode, calibrated by the UHD Alliance, and Philips' own Home Cinema preset (I personally prefer the latter). Plus there are new options, including support for the HDR10+ Adaptive system that adjusts the way the picture looks to suit different room conditions.
This HDR10+ support is joined by playback of Dolby Vision, as well as the standard HDR10 and HLG HDR formats. This 'universal' approach to HDR continues to be a great feature that we wish all TV brands would copy.
Of the TV's four HDMI inputs, two are v2.1 ports capable of handling 4K at 120Hz, variable refresh rates, and automatic low latency mode. There's also an HGIG option for enhanced compatibility with console-configured HDR outputs, and input lag measures at a respectable 22ms. That's higher than some rivals manage, but is still low enough to make it hard to blame anything but yourself for your gaming fails.
The 65OLED+986's smart features, finally, are built around Android TV 10. I'm still not a great fan of this Google-made interface, but it's a million times more friendly now than it was three or four years ago.
Rising to the challenge
If you ask me, there's no tougher audio challenge in the AV world than the monster Dolby Atmos soundtrack of Blade Runner 2049 (4K BD), yet this OLED's bank of king-sized drivers – for a TV, anyway – handles it superbly. Volume levels can get extreme enough to rival many separate soundbars, and this goes hand-in-hand with the system's fully-forward projection to fill even large rooms with a potent and pressurised soundstage.
This soundstage has a genuinely three-dimensional feel to it, building an audio space into which it can place effects with good accuracy and clarity. Which is, of course, exactly what you want to hear with a Dolby Atmos mix.
The sound spreads an impressive distance to left and right as well as forward and, even better, its starts expanding vertically the moment it passes through the Kvadrat cover. So while the 65OLED+986 doesn't create true overhead effects, it does generate a remarkably convincing and tall sonic 'wall'.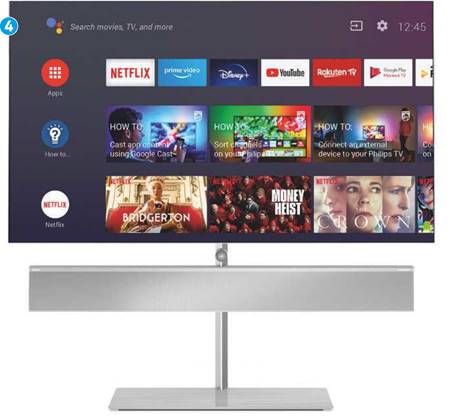 4. Smarts are delivered by the Android TV 10 OS
The sense of elevation the speaker enclosure can deliver also helps ensure that dialogue seems to be coming from the screen rather than some point below it. Onscreen natter never becomes overwhelmed or distorted either, no matter how much racket might be going on around it.
Bass levels, meanwhile, are massive by built-in TV standards. In fact, along with the OLED+936, the 65OLED+986 is perhaps the only TV in recent memory that truly does justice to Blade Runner 2049's trademark bass drops and industrial rumbles.
Crisp, clean, harshness-free trebles easily coexist with the monster bass. Impact sounds like explosions and gunfire seem to punch you in the gut (in a good way).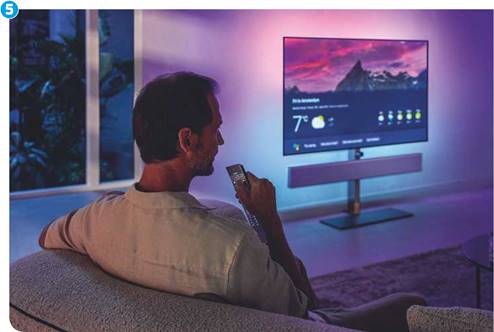 5. Chat to the handset to use the TV's built-in Google Assistant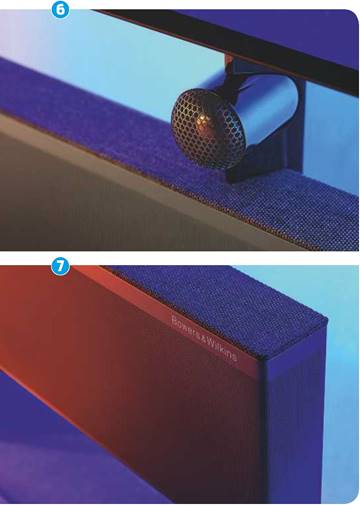 6. The centre channel tweeter is mounted to the supporting stand, not the 'soundbar' below
7. We're now into the fourth generation of B&W-designed audio for Philips TVs
Scoring is beautifully handled, sitting in that slightly separate 'space' that good Atmos mixes usually reserve for such non-diegetic audio elements.
Switch to pretty much any type of music and the OLED+986 puts on its hi-fi hat, trading cinematic immersion for smooth tonality, rich detail and a balanced feel from top to bottom. So if you're struggling to justify this TV's price, the fact it can double up as a music machine might just help you out.
My only issue with this TV's audio, aside from a few signs of cabinet vibration during huge bass moments at high volume, is the absence of upfiring drivers. This is clearly a better-sounding system than that of the OLED+936, but it doesn't tick that native Dolby Atmos box. I'm interested to see if, and how, Philips and B&W can address this on the next generation.
Sharp shooter
Not surprisingly, the images that accompany this class­leading audio performance are as spectacular and accomplished as those of the OLED+936. Sharpness and detailing are extreme, doing stellar justice – without looking artificial – to the textural beauty found throughout the 4K Blu-rays of both Tenet and Blade Runner 2049.
Upscaled images also look thrillingly detailed, while Philips' excellent Pure Cinema Motion processing reduces panel judder without making the picture so smooth that it no longer looks cinematic.
Colours are vivid, rich and deliver all kinds of futuristic spectacle with Blade Runner 2049's heady mix of bold neon lighting and toxin-infused daylight colour schemes. Yet there's exceptional tonal subtlety to go with the punch, Roger Deakins' Oscar-winning cinematography is in safe hands here.
Black levels achieve the depth and neutrality we've come to expect from OLED technology – and this remains stable and convincing at all times, with no sudden flickers or slides into grey. This is remarkable considering the intense blacks are being achieved alongside the brightness lift associated with the latest premium OLED panel.
Contrary to the philosophy of previous Philips OLEDs, which focused on using processing to boost the intensity of bright HDR peaks, the 65OLED+986 takes the extra brightness of its new panel and uses it to amp up fullscreen impact. In fact, at the time of writing, Philips is crafting the brightest fullscreen OLED images in town.
While it's worth learning your way around the TV's labyrinthine settings menus so you can tone down some of the more heavy-handed processing tools, one big advantage this model offers over Philips' more affordable OLED806 range is that it delivers more consistently satisfying and well-balanced visuals out of the box.
Hard to resist
So we come to the £ asking price. That's a whole grand more expensive than the 65OLED+936, even though the cheaper TV delivers the same picture quality and a still remarkably potent B&W-designed speaker set.
This is food for thought. However, if money happens to be no object then the gorgeous floorstanding design and stellar combination of power, dynamism and finesse from this TV's larger, more direct sound system may prove hard to resist. In fact, if you're typically attracted to high-concept offerings from the likes of Bang & Olufsen and Loewe, you might even consider this Philips something of a bargain
VERDICT                           
www.philips.co.uk
Best buy
There's no other remotely mainstream TV out there that better combines pictorial splendour, near separates-level audio and an exquisite design. But there's a premium price for it.
Add your review
Best PHILIPS 65OLED+986 prices ?
MORE DEALS

See also TOP Televisions
and The best OLED TV deals 2022: get an awesome OLED at the lowest price
SPECIFICATIONS
4K: Yes. 3,840 x 2,160 HDR: Yes. HDR10; HLG; HDR10+ (with HDR10+ Adaptive); Dolby Vision TUNER: Yes. Freeview HD; generic satellite CONNECTIONS: 4 x HDMI inputs; 3 x USB; RF port; optical digital audio output; Ethernet; headphone output, SOUND (CLAIMED): 3 x 24W BRIGHTNESS (CLAIMED): N/A CONTRAST RATIO (CLAIMED): N/A 4K/120 PLAYBACK: Yes DIMENSIONS (OFFSTAND): 1,449(w) x 1,057(h) x 142(d)mm WEIGHT (OFFSTAND): 38kg
FEATURES: Ambilight; Wi-Fi; Bluetooth; P5 Gen 5 picture processing engine; built-in speaker enclosure with 3 x 4in bass/mid and 3 x tweeters; Dolby Atmos sound; Android TV smarts; 2 x HDMI 2.1 inputs; Perfect Natural Motion; AI PQ mode
TESTED WITH
TENET: A good 4K disc to have around, not least because its tricksy time­travel plotting benefits from a rewatch or two. Shot by writer/director Christopher Nolan on IMAX 70mm cameras – his trademark – Tenet scrubs up extraordinarily well on Ultra HD Blu-ray, serving up scene after scene of format-defining detail.