Panasonic delivers a bright-room LED TV that sports fans and gamers are going to eat up, says Steve May. Read our PANASONIC TX-50JX850 Review.
Panasonic typically lures movie fans to its 4K screens with cinematic image processing offering judiciously judged contrast and peerless colour accuracy. But for its JX850 line, the brand has taken a different tack, accommodating sports and gaming fans with Bright Panel Plus technology for punchy daylight viewing, and unapologetic image smoothing.
1.Panasonic's My Home Screen 6.0 interface features a new overlay UI
av info
50in mid-range 4K LED TV with HDR10+ and Dolby Vision
Below Panasonic's JX940 LED model, and its JZ series OLED sets
Samsung QE50Q65A; LG 50NANO806
This gives it the feel of an all-rounder, and effectively positions the JX850 as a tempting alternative to upper­budget 4K LED flatscreens from rivals Samsung and LG. That's not to say it doesn't also have Hollywood on its mind, with Panasonic speccing the brand's much vaunted HCX Pro AI processor, and including FilmMaker mode with Intelligent Sensing, to give your movie nights a leg up.
A size for everyone
Available in 40in, 50in, 58in and 65in guise, this feature­heavy mid-ranger is competitively priced. Our sample is the 50in model, which can be taken home for around £.
Despite that moderate price tag, the overall design and finish of the 50JX850 is pleasingly upmarket. Like previous Panasonic mid-level TVs, it sports an ultra-thin bezel, with the panel set atop (rather than surrounded by) the frame itself, creating a 3D relief which catches the light. The glass sits on a wide, central plinth-style pedestal that looks a little more bold than the circular, swivel mounts of some of the company's OLEDs.
The set is edge-lit and wafer-thin, but at its deepest, with electronics and sound system, it measures 63mm. It's relatively light at 14kg, making it more manageable than some to wall-mount.
7Review earns Amazon affiliate commissions from qualifying purchases. You can support the site directly via Paypal donations ☕. Thank you!
See also TOP Televisions
and The best OLED TV deals 2022: get an awesome OLED at the lowest price
Connectivity is in line with the price tag. You get three HDMI inputs (rather than the four of more premium TVs) all supporting ALLM (Auto Low Latency Mode). The screen doesn't have the wherewithal to support 4K HFR video, though. For that you'll need to step up to Panasonic's JX940 range – its top-spec 4K LED model – which features a 120Hz 'HDR Cinema Display Pro' panel. (The JX850 also lacks Dolby Vision IQ, again found on its more expensive sibling).
Amongst other connections, one nice refinement is Dual Bluetooth, which allows the TV to transmit audio to two pairs of Bluetooth headphones simultaneously.
Panasonic has recently dabbled with Android on some of its cheaper tellies, but buyers of the JX850 get the latest iteration of its own smart TV portal, my Home Screen 6.0.
This is a goodie: less intrusive than fullscreen rivals like Google TV and the new WebOS from LG, and with a solid selection of apps, plus additional niceties like My Scenery, which allows you to pick images and videos to create background ambience.

2. The IR remote includes integrated microphone, picture preset key and a button to call up the My Scenery function
The TV also works with Amazon Alexa and Google Assistant, which means you can use voice commands to control basic functionality.
SVOD support includes Netflix, Prime Video, Rakuten, YouTube and Disney+, while the inclusion of a Freeview Play terrestrial tuner ensures all main channel UK catch-up TV services are onboard. The BBC iPlayer app supports 4K – take a look at The Girl Before in UHD on this telly, and revel in the fine skin tone detail and subtle architectural gradations it can display.
'Despite the moderate price tag, the overall design and finish of the 50JX850 is pleasingly upmarket'
Even with no 120fps or VRR skills, the JX850 transpires to be a strong gaming choice regards input lag. I measured this at just 10.4ms (1080/60) with Game mode selected.
The supplied remote control is a bit on the button­heavy side, not least because the number of dedicated app keys has grown to include Netflix, Prime Video, Rakuten TV, YouTube and Freeview Play – and we're sure there'd be a Disney+ one if Panasonic hadn't only recently added the service to its range via firmware update.
High and wide
The JX850 has instant sofa appeal; to see it is to want to watch it. Average panel brightness is high and the wide colour presentation is lush. Although it has its mid-tier TV foibles (more on which later), these are easily forgiven.
The set is also easy to live with. Panasonic's latest HCX processor comes with the usual selection of image presets but adds an Auto AI picture mode, which means you don't have to dig around in the menus if you don't want to. Under this autopilot setting, the TV is smart enough to identify different content types and adjust image parameters accordingly. This works reasonably well, but does favour image interpolation, often setting Panasonic's Intelligent Frame Creation algorithm to its Max setting. You've been warned.
Similarly, the Sports preset doesn't just tweak the picture, oversaturating greens and blues; it'll also apply post-processing to audio for enhanced sonic immersion.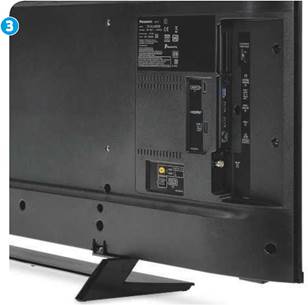 3.Of the TV's HDMI input trio, two are side-facing and one is rear-facing
The set's HDR performance (with supported formats including HDR10+ Adaptive and Dolby Vision) ranks among the best in its class. There's a believable sense of depth to native HDR images, and a peak HDR brightness measurement of just under 500 nits (using the Normal preset and a 10 per cent window), while not searing, is fine for the price.
Of course, with simplified edge LED lighting, really precise HDR control isn't possible, and there are some uniformity issues. Watch a letterbox film and you'll notice light pooling around the bottom bar, turning what should be solid black into splashy grey. However, with 16:9 content, this kind of anomaly isn't easily noticed. The evenness of tone actually looks quite polished.
When viewing Dolby Vision content, image options change to Dolby Vision Bright, Dolby Vision Dark and Dolby Vision Vivid. Given the naturally bright nature of the panel, my preference was always Dolby Vision Dark. If you opt for Dolby Vision Bright, the JX850 dilutes colour intensity and contrast. This was particularly notable on Netflix popcorn actioner Red Notice. When Dwayne Johnson finds himself incarcerated with Ryan Reynolds, his imprisonment looks particularly bright, even over-lit. Colour depth also suffers. Harsh punishment indeed.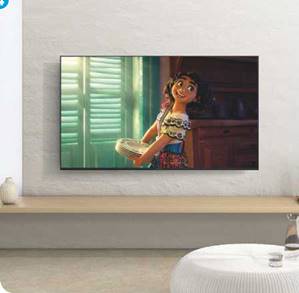 4.The JX850 uses an 'HDR Bright Panel Plus' LCD screen
When watching with a high level of ambient light, try Dolby Vision Vivid, as this restores colour pop. Just watch out for motion interpolation, as this is another mode where it kicks in on its Max setting.
The TV's audio system sits on the right side of functional, and isn't short of volume thanks to a decent amount of amp power (rated at 2 x 10W). However, it does sound rather monophonic; the widely spaced action of Marvel's Hawkeye (episode 6, Disney+) is constrained by its speaker configuration, and when the big action finale takes off the result sounds a little messy.
Average panel brightness is high… There's a believable sense of depth to the TV's native HDR delivery'
Audio modes cover Standard, Music, Speech, Stadium and User, and it's worth having a play. For more immersive audio, you could eARC out to a Dolby Atmos-equipped soundbar and still keep the price down to under £.
Value added
When it comes to bang for buck, it's difficult not to be impressed by the 50JX850. The combination of an intrinsically bright LED panel coupled with Panasonic's AI-infused HCX processing engine is a winner.
There are some minor caveats: the set comes under pressure when it comes to backlight uniformity, struggling with black level detail, while off-axis viewing angles are also limited. But it's a brilliant bright room screen, at home with daytime TV and sports coverage, and its feature roster ticks most boxes. A top-value all-rounder
VERDICT
Highly Recommended
PANASONIC TX-50JX850 Review
As long as you're not looking for 4K HFR support, this high-value LED thinscreen is a brilliant option. A few picture niggles are easy to overlook at the price.
Add your review
|
Read reviews and comments
Best PANASONIC TX-50JX850 prices ?
MORE DEALS

See also TOP Televisions
and The best OLED TV deals 2022: get an awesome OLED at the lowest price
SPECIFICATIONS
4K: Yes. 3,840 x 2,160 HDR: Yes. Dolby Vision; HDR10; HDR10+ Adaptive; HLG; HDR Photo TUNER: Yes. Freeview HD, plus generic satellite CONNECTIONS: 3 x HDMI inputs; 2 x USB; optical digital audio output; Ethernet; headphone/subwoofer output SOUND (CLAIMED): 2 x 10W BRIGHTNESS (CLAIMED): 'Bright Panel Plus' CONTRAST RATIO (CLAIMED): N/A 4K/120 PLAYBACK: No DIMENSIONS (OFF STAND): 1,120(w) x 651(h) x 63(d)mm WEIGHT (OFF STAND): 14kg
FEATURES: Wi-Fi; Bluetooth (with dual output); Dolby Atmos audio passthrough; HCX Pro AI Processor; Filmmaker Mode with Intelligent Sensing; my Home Screen 6.0; Auto AI picture mode; Alexa and Google Assistant; Local Dimming Pro
TESTED WITH

RED NOTICE: Netflix's high-budget action comedy is one of its most glamorous-looking streams, courtesy of a Dolby Vision grade and 8K/6K cinematography capturing breathtaking levels of subtle detail and overall clarity. The Atmos track pounds away with plenty of pop tunes and sonic steerage.