The projector marque is once again targeting bigscreen gamers, this time with a Full HD model with handy short-throw lens and 120Hz playback. John Archer plugs in. Read our BENQ TH690ST Review.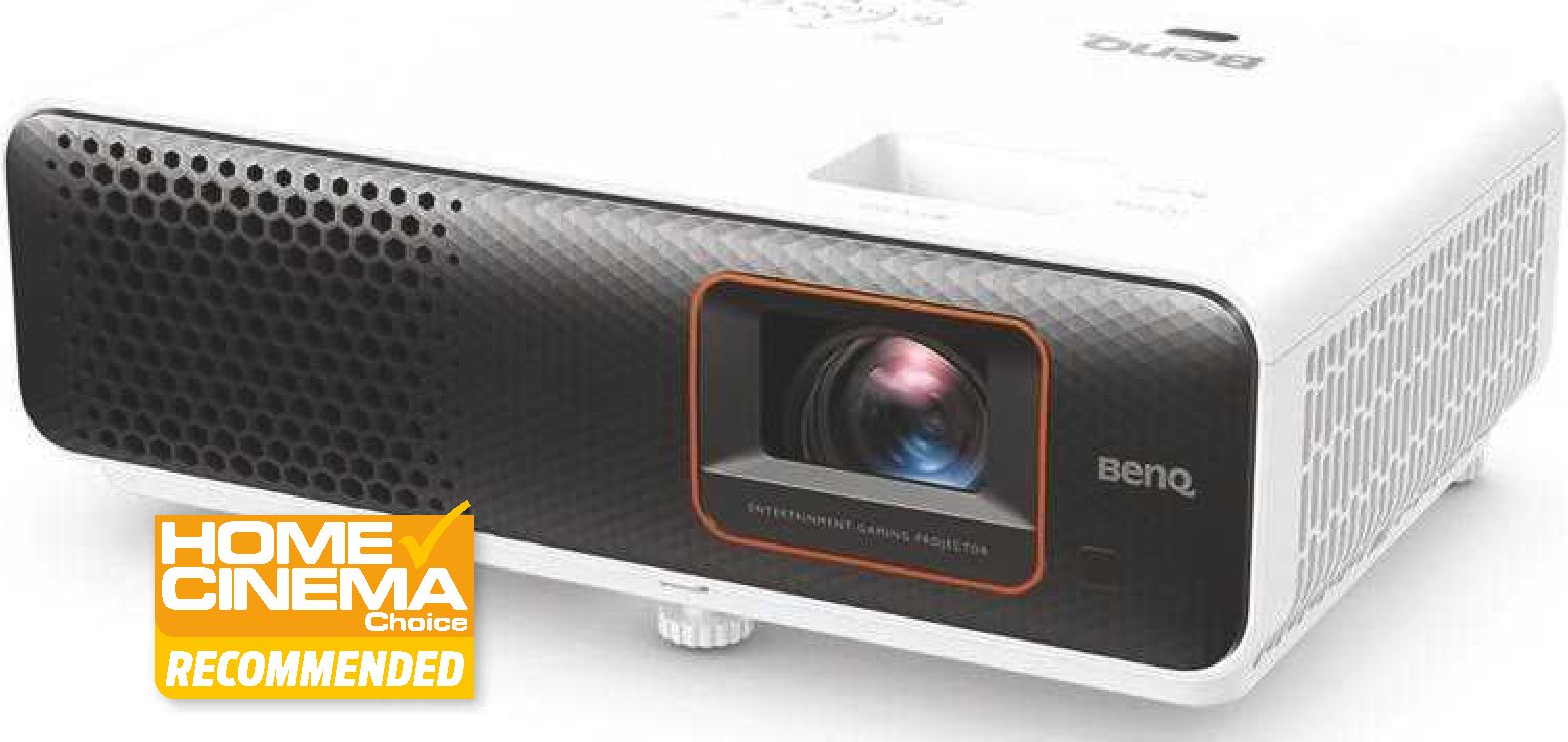 BENQ DESCRIBES ITS TH690ST as the 'world's first short-throw 4LED console gaming projector'. While this description sums up its core appeal well, it only scrapes the surface of everything the unit has going for it.
Not that the projector's talents are particularly obvious just by looking at it. It's attractive enough with its textured black fascia, orange trim around the lens window and glossy white main bodywork, but the shape and size are pretty 'normal' compared with the eye-catching cube shape of BenQ's EISA Award-winning X3000i model (HCC #332). Furthermore, some may be disappointed that the projector's native resolution is only Full HD rather than 4K.
But dig deeper and the TH690ST has plenty of gaming and home entertainment tricks up its compact sleeve, starting with the short-throw nature of its lens. This will create a 100in image from a distance of just 4.9ft, which is potentially a useful talent for a gaming projector as likely to be working in a study or bedroom as a main living room. A 1.2x optical zoom adds a degree of setup flexibility.
Its 4LED claims are intriguing for gaming. BenQ says that by using a quadruple light source as part of its DLP optical engine, it can increase both general and colour brightness, as well as extend the lamp lifespan (to a claimed 30,000 hours).
AV INFO
| | |
| --- | --- |
| PRODUCT | Full HD DLP projector with a focus on gaming |
| POSITION | Around the middle of BenQ's home ent. projector range |
| PEERS | BenQ X3000i; Optoma UHD35 |
| WEBSITE | www.benq.eu |
The projector's remote carries a Game Mode hot key, and its connections continue the gaming theme with two HDMIs capable of handling 120Hz signals from the PS5, Xbox Series X or high-end PCs. Playing at 120Hz in Game mode yields a minimal 8.4ms input lag, and there are a number of game-friendly options in its menus, including a feature that exaggerates subtle details in dark areas so you can more easily spot hiding enemies.
Give us a ring
For audio, the TH690ST packs a 2 x 5W-rated chambered speaker system. This doesn't enjoy the space to 'breathe' you get with much larger – often UST – models, but its sound projects well. There's less of a feeling of a disconnect from the onscreen image than usually happens with built-in projector systems.
7Review earns Amazon affiliate commissions from qualifying purchases. You can support the site directly via Paypal donations ☕. Thank you!
RECOMMENDED VIDEOS FOR YOU...
See also TOP 15 projectors
Elden Ring's immersive, atmospheric soundmix (Xbox One X) benefits from a solid mid-range and some skilful detail placement.
The TH690ST's pictures also serve gamers well – provided you can live without a native 4K resolution. Brightness is a claimed 2,300 Lumens, which equates to more than enough to give Elden Ring's varied, vibrant landscapes real punch and verve. This impressive light output is complemented by rich but also refined colour saturations (BenQ claims 84% of DCI-P3 colour, and 98% of REC.709).
And, really, you might not miss a 2160p presentation that much, as this projector's pictures still look sharp and crisp despite the HD-only resolution – and running full tilt from the latest huge Elden Ring boss is an experience made all the more enjoyable/ terrifying by judder-free motion handling.
SPECIFICATIONS
3D: Yes. Active shutter 4K: No. 1,920 x 1,080 HDR: Yes. HDR10 CONNECTIONS: 2 x HDMI inputs; USB service port; 3.5mm audio in/ out; RS-232; optical digital audio output BRIGHTNESS (CLAIMED): 2,300 Lumens CONTRAST (CLAIMED): 500,000:1 ZOOM: 1.2x DIMENSIONS: 366(w) x 118(h) x 244(d)mm WEIGHT: 3.6kg
FEATURES: DLP projector; 4LED lighting engine; 2 x 5W built-in audio system; Room Light and Room Dark presets; multiple gaming features including HD/120Hz playback; 30,000-hour claimed maximum lamp life
The PJ's short-throw lens gets a 1.2x optical zoom
Black levels are solid for a feature-rich unit at this price, especially if you deploy BenQ's Smart Eco lamp setting. This works well with films, too, helping the TH690ST deliver a 'cinematic' feel despite its gaming focus.
When it comes to colour, the tricky, deliberately muted tones of the final Harry Potter instalment on 4K Blu-ray are well-rendered by the projector's film-themed presets, while black levels and shadow detailing are also agreeable in Smart Eco mode during the tricksy night-time attack on Hogwarts sequence. The relatively high level of grain in this Harry Potter transfer doesn't pose it too many problems either, confirming a knack for detail retrieval and ensuring you get the maximum benefit from the available Full HD resolution. Motion again looks credible, with neither excessive judder nor blur to spoil the 24p show.
I found the TH690ST's images did suffer with the rainbow effect, where stripes of pure colour flicker over high-contrast image elements. And its normally solid colours can smear a bit while panning around game worlds during 120Hz play.
These issues somewhat dampen the TH690ST's appeal, as does the presence of BenQ's own 4K-capable – and generally better specified – X3000i gaming PJ. Yet as that model is around double the price, the TH690ST is free to carve its own niche, which it does successfully. BenQ seems to be on a winning streak right now.
Verdict
Recommended
BENQ TH690ST Review
Despite some rainbowing and 120Hz colour smudging, the TH690ST is another excellent-value BenQ all-rounder.
Add your review
Best BENQ TH690ST prices in the US ?

$

999.00

$1,099.00
3 used from $842.10
1 new from $999.00
in stock

Best BENQ TH690ST prices in the UK ?

£

898.99

£999.00
12 new from £898.99
in stock

MORE DEALS

See also TOP 15 projectors