Sony's PJ line kicks off with this native 4K laser model. Steve Withers stacks it up against the competition. Read our Sony VPL-XW5000ES Review.
Sony has dumped inefficient lamps and gone all-in on lasers for its 2022 projector lineup, with no fewer than five native 4K models using amplified light photons to generate their images. The top model – the VPL-GTZ380 – is a beast of a beamer that can generate a blinding 10,000 Lumens, but comes with an equally painful price tag of eighty grand. Naturally, the majority of home cinema owners will look at the other four.
AV INFO
PRODUCT
: Native 4K HDR home cinema projector with laser source
POSITION
: Sony's entry-level projector for 2022
PEERS
: Epson EH-LS12000B; 
JVC DLA-NZ7
WEBSITE
: www.sony.co.uk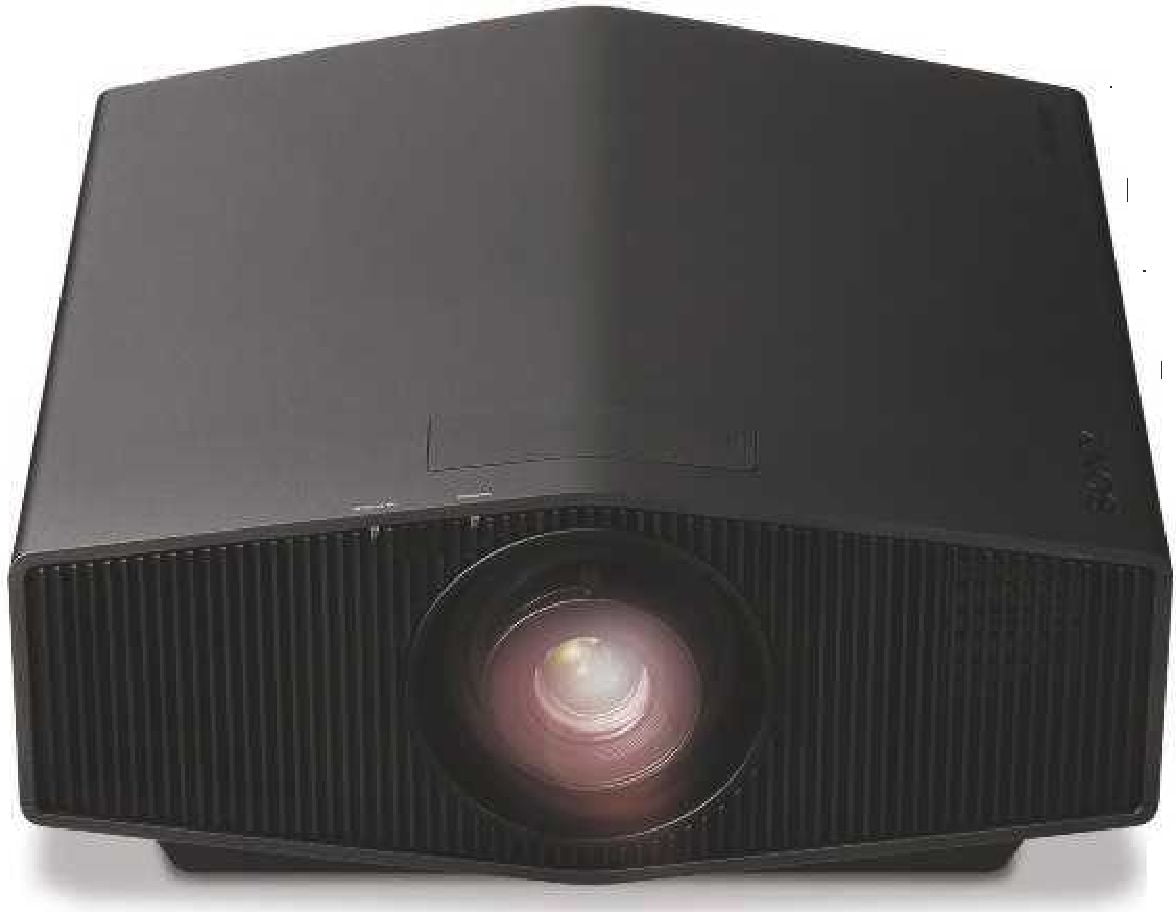 The VPL-VW5000ES still claims an impressive 5,000 Lumens and sells for £, while the VPL-VW890ES (HCC #323) manages 2,200 Lumens, and is 'only' £. Both those models are from earlier generations, though – new this year are the VPL-XW7000ES, with a rated 3,200 Lumens brightness and £ price tag, and the entry-level VPL-XW5000ES, which is suggested can deliver 2,000 Lumens, and costs a more reasonable £. It's this model that is on test, and one that replaces the outgoing lamp-based VPL-VW290ES (HCC #325) as its 'entry-level' beamer.
No one, apart from maybe Elon Musk, is saying six grand is spare change. But when you consider the XW5000ES is a native 4K laser PJ, and its nearest competitor – JVC's DLA-NZ7 (HCC #334) – is almost twice the price, it begins to look 'affordable'. At the same time, Sony projectors, and those of JVC, are the domain of the wellheeled home cinema enthusiast these days – both brands have long ceded the lower-end of the market to the likes of BenQ and Optoma.
To reach this new price point for one of its laser models Sony has sacrificed a few features. Zoom, shift and focus lens controls are all manual, so if you've got your heart set on a 2.35:1 screen this isn't the beamer for you. The XW5000ES also drops 3D support, and as this remains popular with projector owners, the omission could be a deal-breaker. More surprising, though, is the absence of HDMI 2.1 inputs, and thus no support for HDR10+ or 4K/120p playback for high-frame-rate gaming. This limitation not only puts the XW5000ES at a disadvantage to the pricier JVC projector, but also the cheaper Epson EH-LS12000B (HCC #333), which includes motorised lens controls and memories for 'Scope screens as well.
Of course, Epson's model doesn't deliver a native 4K image, whereas Sony here uses a new 0.61in SXRD panel which can achieve a native resolution of 3.840 x 2,160 pixels without resorting to flashing or pixel-shifting trickery. Previous Sony projectors used the larger 4,096 x 2,160 panel found in the brand's professional units – the reduced size results in a more compact chassis.
The design is similar to previous generations, with an angular shape, central lens, air intake grilles at the front, and exhaust vents at the rear reminiscent of the discontinued VPL-VW790ES (HCC #316).
7Review earns Amazon affiliate commissions from qualifying purchases. You can support the site directly via Paypal donations ☕. Thank you!
RECOMMENDED VIDEOS FOR YOU...
See also TOP 15 projectors

1. The well-designed remote offers a backlight for dark-room use
2. Sony's XW5000ES is around 30 per cent smaller and 35 per cent lighter than the earlier VW790ES
Thankfully, Sony has filled in the gap around the lens that made the VW790ES look like it was missing a piece of the front panel. There's also a choice of finishes between matte black and a more living room-friendly matte white.
Connections are located along the left-hand-side as you face the lens, and here you'll find two HDMI 2.0 inputs, a USB port for power, a 12V trigger, an IR input, and an RS-232 connector for serial control. The XW5000ES also supports control systems from Control4, Crestron, Savant, and AMX, which explains the popularity of Sony projectors with custom installers.
The remote – Sony's standard PJ zapper – is fairly large, includes a backlight, and has all the buttons you'll need to operate the XW5000ES. Yet the manual lens controls are rather clumsy, making setup trickier than it should be.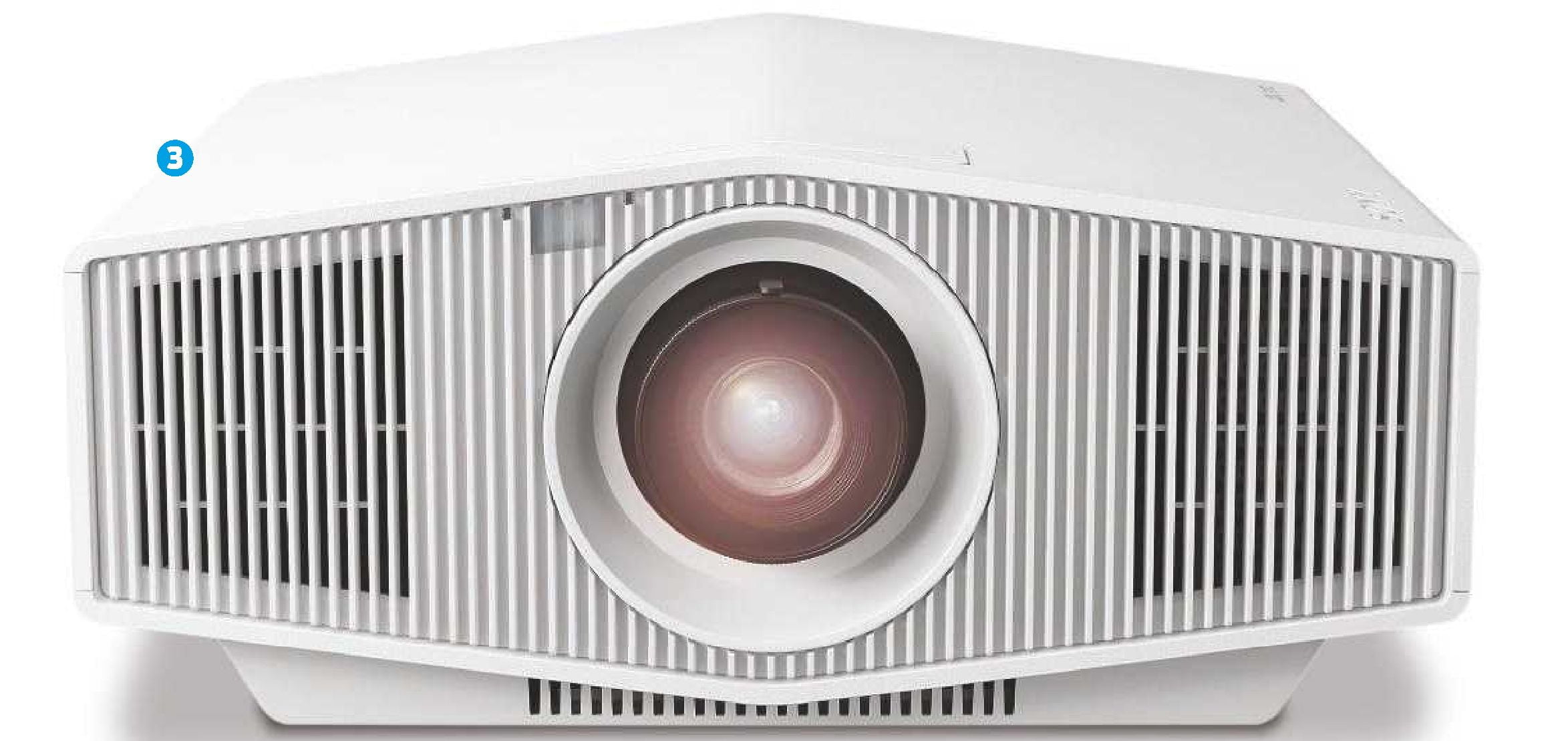 3. Don't want a black box hung from your ceiling? Opt for Sony's white finish
The XW5000ES' s 1.38:1 to 2.21:1 throw ratio with 1.6x zoom is less generous than some comparable projectors. In terms of specs, the unit supports resolutions up to 4K/60p, and high dynamic range in HDR10 and HLG guise. Sony also claims the combination of new Wide Dynamic Range optics and its Triluminos Pro colour algorithm can deliver 95 per cent of DCI-P3, but in my testing it only achieved a maximum coverage of 83 per cent. The claimed 2,000 Lumens output is on the money, although to maximise light output you'll need to move the laser control to its highest setting. Thankfully, doing so doesn't significantly increase fan noise, which stays at around 30dB.
A rated contrast ratio of 'infinity to one' is somewhat misleading given this can only be achieved on a black screen with the laser turned off, but Sony isn't the only brand to pull this marketing sleight of hand. Native contrast is closer to 20,000:1 based on my measurements, which is better than Epson's EH-LS12000B but half that of JVC's DLA-NZ7. In other words, what I'd expect given the price point.
Also as expected, Sony lays on a host of cutting-edge imaging technologies based around the X1 Ultimate for Projector processor first introduced on the GTZ380. There's Motionflow for ironing out any judder and Reality Creation to sharpen upscaled HD and native 4K content. There's also Sony's Dynamic HDR Enhancer, but more on that later.
'Bright, dynamic 4K pictures. You can almost feel yourself squinting as sunlight reflects off icy lakes in The Revenant'
The XW5000ES wows immediately with its bright and detailed performance, although it isn't quite as sharp as earlier Sony 4K projectors. Since the lens appears to be the same, this is likely due to the smaller SXRD panels used. However, upscaling is top notch, while Reality Creation brings out improved textures and greater levels of detail, regardless of source.
Watching David Cronenberg's new Crimes of the Future on Blu-ray (US import) reveals a well rendered upscaled image that displays all the finery of the film's dilapidated vision of a crumbling society. Sony's processing is so effective that it almost looks like native 4K, but sadly also reveals the limitations of the film's meagre budget CGI!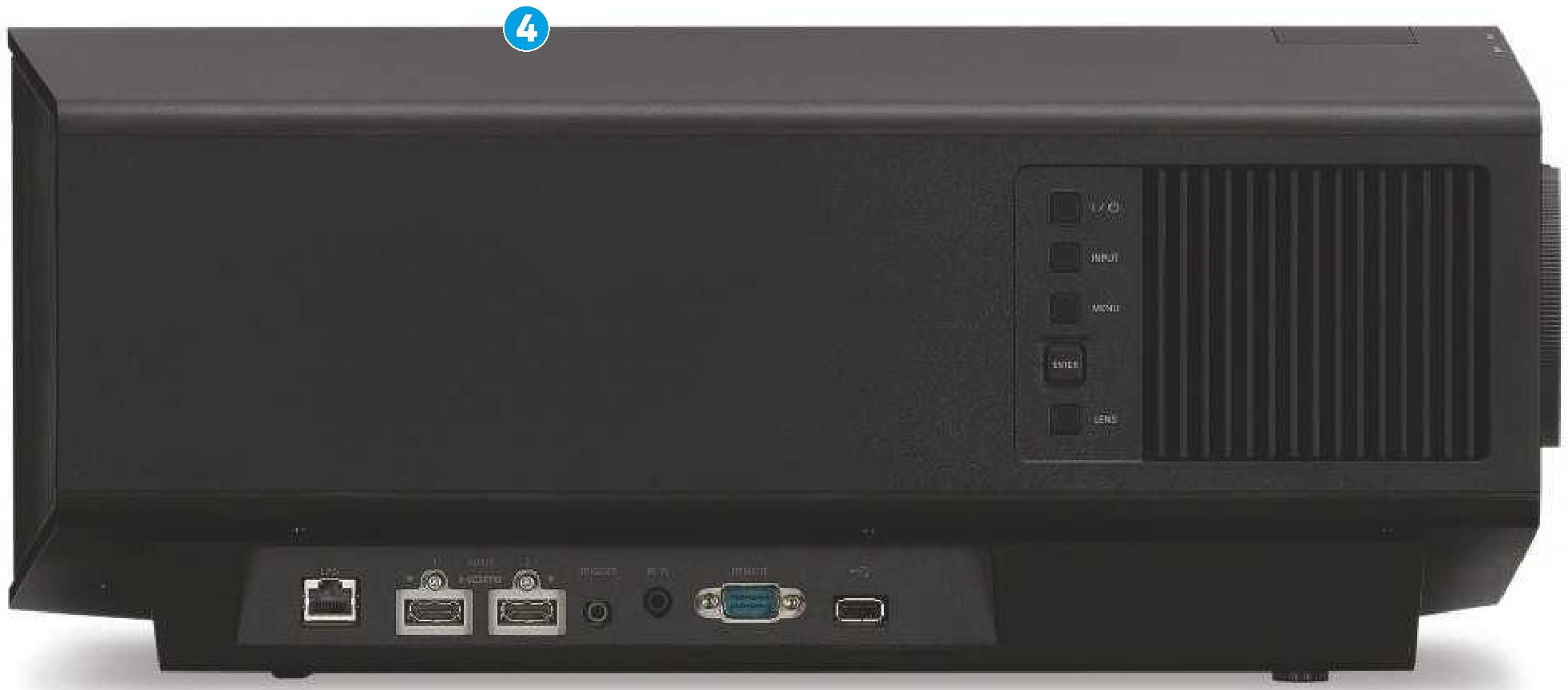 4. The PJ has dual HDMI inputs, but neither handle HDR10+ or 4K/120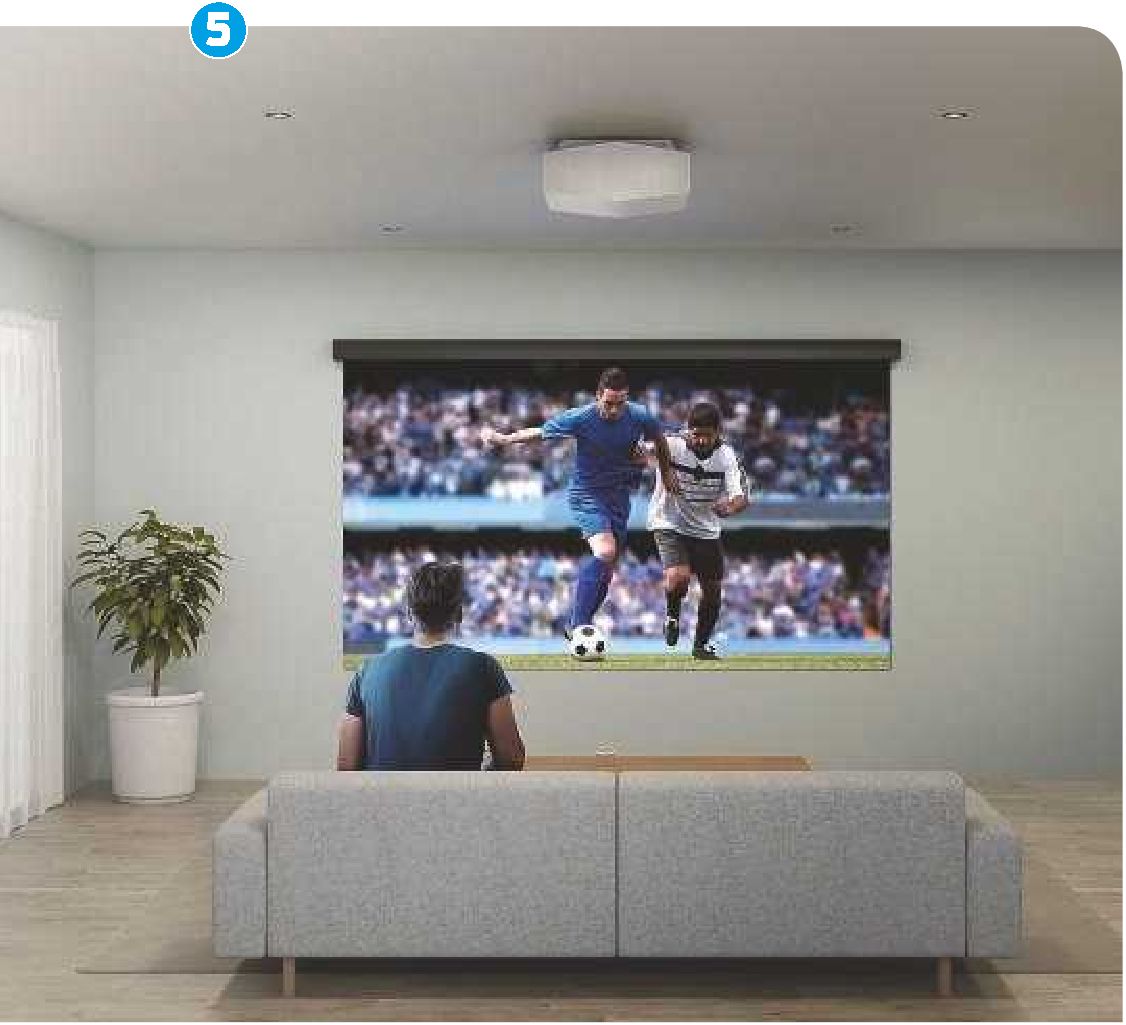 5. Bright Cinema and Bright TV picture presets cater to daytime/lights-on viewing sessions
If there's one area where Sony projectors are particularly strong, it's motion. True Cinema doubles the frame rate to smooth out annoying judder without introducing serious artefacts. The scene in Lucy (4K BD) where the title character finally begins to access the full potential of her unlocked brain involves the camera whirling around her, and all this motion is handled by the XW5000ES with remarkable skill.
The projector proves a capable performer with HDR content but, as is often the case, a degree of optimisation is necessary. Whether it's SDR or HDR, the Reference picture setting will get you closest to industry standards, and the basic tone mapping tracks the PQ target closely. However, it does lack a degree of 'pop', which brings us neatly to Sony's Dynamic HDR Enhancer.
The inherent brightness limitations of any projector make delivering HDR challenging, and a degree of image manipulation necessary. Sony's HDR processing changes the contrast and laser brightness depending on the overall content, but is not dynamically adjusting tone mapping on a frame-by-frame basis. As a result, Sony's approach to tone mapping is blunter and less sophisticated than that of JVC's newest DLA devices.
Having said that, it gets results. Viewing The Revenant (4K BD) with the Dynamic HDR Enhancer engaged reveals a strikingly detailed and impactful image, with a pleasing intensity to the white, snow-covered landscapes. You can almost feel yourself squinting as sunlight reflects off icy lakes. The higher setting you choose for Dynamic HDR Enhancer, the greater the effect – but be careful of clipping the brightest whites.
Despite not reaching the full DCI-P3 gamut, the XW5000ES manages to deliver pictures with plenty of colour saturation and nuanced shades. The Greatest Showman (4K Blu-ray) sports an opulent palette that the projector dives right into. Once again, the HDR processing also gives the image a dynamic push.
Where this Sony projector does slightly falter is with darker scenes, revealing blacks that lack real depth. More significantly, the Dynamic HDR Enhancer often sacrifices shadow details in pursuit of brighter specular highlights – in an attempt to boost the brighter parts of an image, the darker parts appear compressed in comparison.
This is particularly obvious during the nighttime sequence in 1917 (4K BD) where the screen starts completely black before gradually revealing more details in the image. The XW5000ES struggles to correctly reproduce this scene, burying important details in murky shadows. Turning off the HDR Enhancer helps to a degree, but I have seen this difficult sequence handled better.
It's a real shame that Sony has decided not to include 4K/120p support, because in all other respects this new laser-based model is an excellent choice for gamers. Bright images, saturated colours, and superior motion create an excellent gaming experience. It's responsive too, with an input lag that's incredibly low for a projector, hitting 20ms with 4K/60p and 12ms with 2K/120p.
Overall, the XW5000ES is an impressive addition to Sony's lineup, offering bright and dynamic native 4K pictures that benefit from some capable (but not best-in-breed) HDR tone mapping. The brand's state-of-the-art image processing upscales lower resolutions with panache, and Reality Creation sharpens objects without introducing obvious artefacts. The motion handling is also classleading, and while black level performance is outgunned by rival JVC models in particular, it's still good.
The lack of 3D playback and HDMI 2.1 connectivity will disappoint some, but Sony's somewhat stripped-back feature set has enabled it to hit a price point that would have once only got you one of its lamp-based beamers. If you want to enjoy the full benefits of native 4K and a laser light source, the XW5000ES is the first place to look
Recommended
Sony VPL-XW5000ES Review
This native 4K projector cuts a few corners to hit its price-point, but impressive HDR delivery and Sony's all-round imaging wizardry pays dividends.
Add your review
Best Sony VPL-XW5000ES prices in the US ?

$

5,998.00
8 used from $4,621.81
9 new from $5,998.00
in stock

Best Sony VPL-XW5000ES prices in the UK ?

£

366.16
1 new from £366.16
in stock

MORE DEALS

See also TOP 15 projectors
3D: No
4K: Yes. 3,840 x 2,160
HDR: Yes. HDR10; HLG
CONNECTIONS:2 x HDMI inputs; Ethernet port; USB port; 12V trigger; IR input; RS-232C
BRIGHTNESS (CLAIMED): 2,000 Lumens
CONTRAST (CLAIMED): 'Infinity to 1' (dynamic contrast)
ZOOM: 1.6x
DIMENSIONS: 460(w) x 200(h) x 472(d)mm
WEIGHT: 13kg
FEATURES: SXRD projector technology; laser phosphor light source; claimed average life of 20,000 hours; 24dB claimed fan noise; Wide Dynamic Range Optics; X1 Ultimate for Projector processor; Motionflow; Reality Creation; Object-based HDR Remaster; Dynamic HDR Enhancer; Input Lag Reduction; 1.38-2.21:1 throw ratio; manual lens controls for zoom, shift and focus; IMAX Enhanced; Control4, Crestron, Savant and AMX support
THE REVENANT: This Oscar-winning movie starring Leonardo DiCaprio as a 19th century fur-trapper left for dead in the wilderness was one of the first 'must-have' UHD discs. It remains reference quality thanks to its sumptuous native 4K visuals, shot almost entirely in natural light by cinematographer Emmanuel Lubezki.
News
Sony 4K goes full laser
Sony has gone full laser with the first two projectors in a new range of native 4K models that it claims will usher in a new era of more affordable, higher-performance 'true' 4K laser projection.
The more affordable of the two is the new VPL-XW5000ES (above), launching at $, just $ more than the current VPL-VW290ES it is replacing — but instead of that projector's lamp-based light source it brings Sony's Z-Phosphor Laser system, for which Sony claims a light-source life of at least 20,000 hours.
The other new Sony laser projector is the VPL-XW7000ES, arriving at $, some $ higher than the VW790ES model it replaces, itself a laser projector. So the benefit here is the multiple new technologies which the XW5000ES and XW7000ES share, including new 0.61-inch SXRD imaging chips, the smallest native 4K 'panels' to date. While smallness is not necessarily a good thing, the new SXRD chips manage higher light reflectance and have a flatter reflective surface than their predecessors, boosting brightness, contrast, colour accuracy and colour gradations. These are also part of a new Wide Dynamic Range Optics system that uses a smaller chassis — the XW7000 is 20% smaller and 30% lighter than the previous VW790, yet is able to deliver peak brightness to a mighty 3200 lumens, with a new cooling system to stop the projector overheating. Both the XW5000ES and XW7000ES additionally benefit from an improved video processor, stepping up from the previous 'X1 For Projector' chipset to the 'X1 Ultimate' version previously available only inside Sony's uber-expensive VPL-GTZ380 flagship home cinema projector. More info: pro.sony/en_AU/products/4k-home-cinema-projectors