Sony's current flagship TV finally solves LCD's viewing angle issues – but only at the expense of problems elsewhere, says John Archer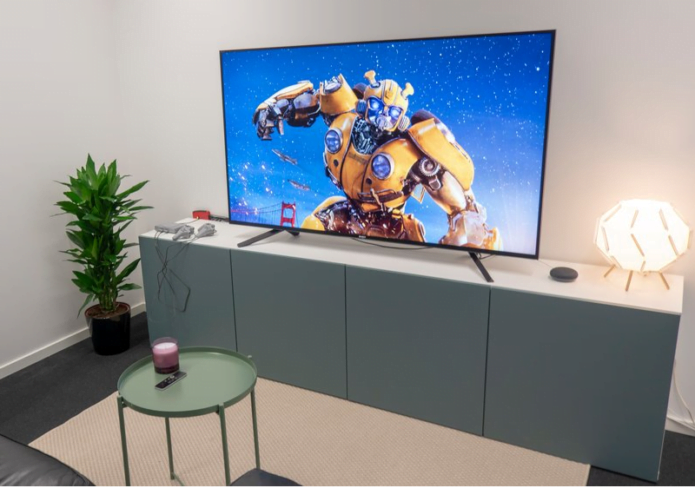 Details
4K HDR LCD TV with direct lighting and local dimming
Master Series – Sony's 2018 flagship
Samsung QE65Q9FN; Panasonic TX-65FZ952
SONY'S KD-65ZD9 TV [launched in 2016, reviewed in HCC #267] was a classic. Its cutting-edge lighting system introduced a new level of picture quality. It's fair to say, then, that I couldn't have been more excited by the arrival of that set's successor, the 65ZF9. But, while this high-price LCD delivers marked improvements in some areas, it's ultimately let down by an unexpected surprising new flaw – disappointing black levels. More on that later…
Big, but not beautiful
The 65ZF9 isn't the world's sexiest TV. Once assembled upon its oversized feet, it's pretty much just a black rectangle with a chunkier-than-usual back end.
7Review earns Amazon affiliate commissions from qualifying purchases. You can support the site directly via Paypal donations ☕. Thank you!
It is extremely well built, though.
Its connections are forward-thinking. The four HDMIs all handle 4K HDR at up to 60Hz, and there's even support for 'eARC' capability, where the TV can pass object-based audio, such as Dolby Atmos, to compatible AV receivers/ soundbars. There's also provision for file playback via Bluetooth, DLNA and USB stick.
The 65ZF9 delivers a number of major feature boosts over its ZD9 ancestor. Most noticeably, it carries the new Android TV 8.0 smart interface. This isn't perfect – the way its home page takes over the whole screen is annoying – but its far more slick and stable than previous Android implementations on Sony flatscreens, and features some helpful design and organisation refinements.
The 65ZF9 also works with Google Assistant voice control, and supports Chromecasting from compatible devices.
More significant from a home cinema movie-watching perspective is the ZF9's use of Sony's newer X1 Ultimate processor. This promises to deliver improved 4K upscaling and better colour accuracy; more refined SDR to HDR conversion; a Netflix Calibrated mode that adjusts the TV's settings to get close to those use by Netflix content creators; greater motion handling; and revolutionary viewing angle improvements.
These latter two X1 Ultimate benefits warrant further attention. The processor's motion improvements combine new algorithms with the Sony X-Motion Clarity system first introduced on the brand's X900F TVs. This partners black frame insertion (BFI) technology with the TV's local dimming engine, to counter the dullness usually associated with BFI systems.
The viewing angle upgrade sees the X1 Ultimate processor working in tandem with a new optical panel design. The result is effective viewing angles (before contrast and colour drop off disastrously) that nearly match those of OLED TVs. This is a huge leap for LCD technology, and forms part of Sony's strategy for getting such displays as close as possible to the picture quality of its BVM-X300 OLED studio mastering monitor.
'It's hard to think of another set that delivers such a consistently crisp picture without looking forced'
As with the ZD9, the ZF9 is a VA panel that uses direct lighting and local dimming. Surprisingly, though, where the ZD9 had more than 600 dimming zones, the ZF9 only has around 100. The company says its new local dimming algorithms should compensate for the dimming zone reduction. This step-down in back-lighting nuance no doubt part explains why the 65ZF9, is much cheaper at launch than its predecessor.
Grey matter
So, what's my gripe about the TV's black levels?
Well, the lovely deep, rich blacks of the ZD9 have been replaced here by a pervasive wash of greyness, along with distracting amounts of backlight blooming around stand-out bright objects. The cigarette lighter-lit form of Patrick Hockstetter, as he foolishly explores the dark sewers in It (Ultra FID Blu-ray), is a perfect example of a TV struggling to cope with a (tricksy) source. And this is despite the ZF9 taking advantage of Dolby Vision's contrast improvements with the It 4K BD.
I can only speculate about what's caused this problem. Presumably it's a combination of the reduced number of local dimming zones and new viewing angle technologies. But whatever the reason, its effect on picture quality is unfortunate to say the least.
Trying to put this disappointment aside, there's no doubt the X1 Ultimate processor is able to conjure some impressive, eye-catching image quality elsewhere. The colour refinement on show throughout It is exemplary, for instance. There's no striping in the ironically bright skies above Derry, while the demonic clown and his portentous balloons enjoy a gorgeously three-dimensional look, thanks to the way the X1 Ultimate processor delineates even the most minute colour shift.
This revelatory colour tone ability also makes largescale shots, such as those across Derry's rooftops or around the town's lake, look extremely sharp and detailed.
As 4K, in fact, as I've ever seen them. Credit where it's due: it's hard to think of another set that delivers such a consistently crisp picture without looking forced or obviously processed.
Motion is handled superbly by the new X1 Ultimate/X-Motion Clarity hookup, ensuring that judder appears natural, and motion blur is pretty much non-existent even during It's slyly fluid panning shots. The TV lives up to its 'Clarity' billing.
The 65ZF9's image is also phenomenally bright.
A measured 1,500 nits on a 10 per cent white HDR window in Vivid and Cinema modes doesn't reach the over 2,000 nits delivered by Sony's 1,000-dimming zone 100in ZD9 TV, but is still a top-tier figure, and hugely important to unlocking the potential of the HDR and wide colour features of 4K Blu-ray. Strangely, the light output drops to around 1,250 nits in the all-round best Standard mode – perhaps in a bid to reduce the greyness and blooming problems?
Having mentioned blooming again, I'll add that colours can lose some of their naturalism where it appears. And the general greyness over dark scenes can skew the accuracy of darker tones.
Joining the mixed movie playback is a good but not flawless audio performance. There's power and volume aplenty from the 2 x 10W speaker array, exhibiting clean, pure treble details and a decent amount of uncoloured bass. The soundstage spreads far beyond the TV without losing cohesion, meaning It's creepy mix keeps you on edge. Voices sometimes seem to be        ___ coming from below the screen, however.
Close encounter
The KD-65ZF9 is overall massively frustrating. There's so much great stuff going on here that it could have joined its predecessor in setting new TV standards. Viewing angle, sharpness and HDR highlighting are all exceptional. But the image quality highlights are pushed into the background by the TV's black level failings, meaning its 'Master Series' billing doesn't quite ring true
VERDICT
SONY KD-65ZF9 Review
Sony gets a lot right with this innovative, intelligent 4K LCD TV, but it doesn't retain the cinematic appeal of its ZD9 predecessor.
Add your review
Best SONY KD-65ZF9 prices ?
MORE DEALS

SPECIFICATIONS
3D: No 4K: Yes. 3,840 x 2,160 HDD: Yes. HDR10; HLG; Dolby Vision TUNER: Yes. Freeview HD; satellite HD CONNECTIONS: 4 x HDMI inputs; 3 x USB; Ethernet; headphone output; optical digital audio output; composite video; RF input SOUND (CLAIMED): 2 x 10W BRIGHTNESS (CLAIMED): N/A CONTRAST RATIO (CLAIMED): N/A DIMENSIONS (OFF STAND): 1,453(w) x 837(h) x 67(d)mm WEIGHT (OFF STAND): 28.2kg
FEATURES: X1 Ultimate processing engine; SDR to HDR conversion; X-Wide viewing angle; direct LED backlight; local dimming; Netflix Calibrated mode; full calibration toolset; built-in Wi-Fi; USB/network media playback; Android 8 OS
PARTNER WITH
IT: Prepare for this year's sequel with Warner Bros' accomplished Ultra HD Blu-ray release of the chilling Stephen King adaptation – a Dolby Atmos mix heightens the sense of terror, while Dolby Vision visuals offer testing demo scenes.
This is the smaller ZF9 model-a 75in version
The TV uses direct LED lighting with a local dimming engine