This low-cost 6 Series 4K screen is feature-stacked. Even the smart platform impresses, enthuses Steve May
As well as clashing bezels with rivals in the high-end OLED TV arena, Philips is fast developing a stranglehold on the budget 4K TV market. Sure, there's tempting competition from the likes of Hisense, Toshiba and others, but if you want a killer deal when it comes to small(er) 4K screens, then Philips' 6 Series should be top of any shortlist.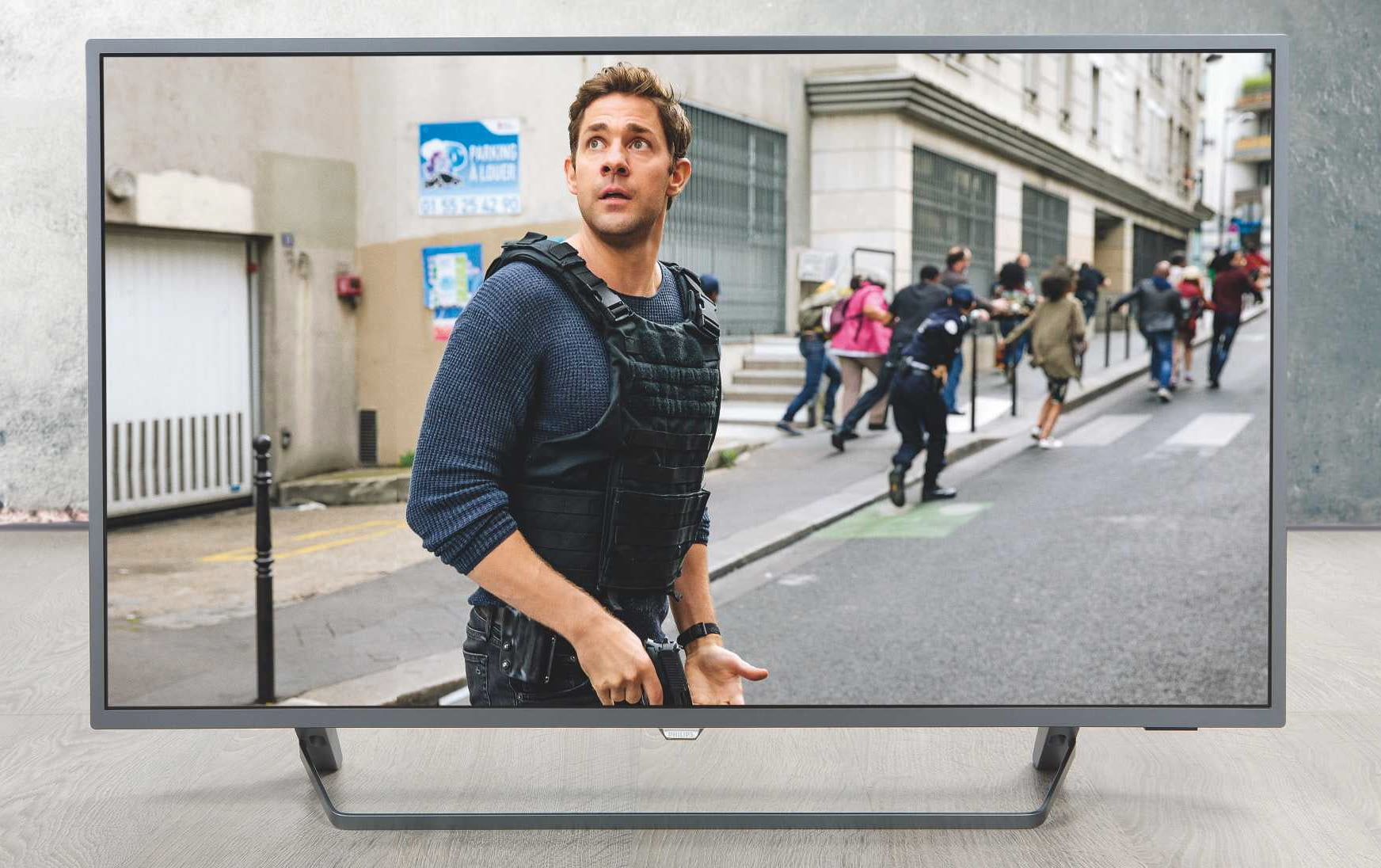 1. The handset is a standard IR design with Netflix hotkey
2. In place of Android, the TV runs Philips' SAPHI smart system
The 43PUS6753 featured here is the latest in that lauded low-cost line. A 4K HDR flatscreen, it combines potent panel technology with a surprisingly adept new smart platform. The range also includes 50in and 55in versions.
7Review earns Amazon affiliate commissions from qualifying purchases. You can support the site directly via Paypal donations ☕. Thank you!
Design-wise, the 43PUS6753 hides its budget build well. The thin grey plastic frame is supported by an open metal stand, which adds a little premium flash. The set may not be super-slim, but it's hardly bulky either. The rear panel is edged in Ambilight LED bulbs.
Connections include a trio of HDMI inputs, one with ARC for easy AV system hookup. All of these are 4K capable, but only two support 4K at 60Hz. There are also two USBs (with multi file format media reader), component video with stereo audio, and a digital optical audio output for connection to an external sound system. Ethernet offers an alternative to internal Wi-Fi.
TV on tap
Smart functionality is forward-facing. The screen has a Freeview Play tuner (plus a standard satellite tuner option), so TV catch up is catered for via a seven-day roll-back programme guide.
Obviously the 43PUS6753 is 'net-connected, but here Philips doesn't use an Android TV operating system like its more expensive stablemates. Instead it runs the brand's new stripped-back Linux-based SAPHI Smart OS – and the big surprise is that it's actually rather good.
There's no app bloat, for one thing, and it does pretty much everything you need a connected screen to do. Streaming services include Netflix, Amazon Prime Video, YouTube, BBC iPlayer, ITV Hub, All4 and My5. There's also BBC News and Sport apps, plus Rakuten TV and Dailymotion. Netflix streams in 4K and HDR. YouTube
AV INFO
PRODUCT: 43in 4K HDR LED TV with Ambilight
Position: Ranks below the Android-powered 7 Series and Philips' OLED models
DEERS: Hisense H43A6250; Samsung 40MU6120
supports 4K. Navigation around all this is intuitive. The set also supports Miracasting from a connected mobile device, if that whets your whistle.
Philips' Ambilight mood-lighting system is presented in a three-sided configuration, which is essentially the default implementation. The TV throws a wash of coloured light out from the sides and the top; consequently, it looks its best when positioned close to a white wall.
All the usual Ambilight modes are here. You can set hues to Follow Video (which is to say, mimic onscreen colour movement), Follow Audio, Follow Colour and Follow Flag; the latter is a World Cup affectation that mirrors the colours of your favourite team. While this has little to offer at the moment, you will at least be ahead of the curve when it all kicks of again in Qatar in 2022…
Ambilight can also be seamlessly integrated into a Hue smart lighting system. It may not have much bearing on image prowess (although many will argue the benefits of having a bias light behind the screen to ease eye fatigue and improve subjective contrast), but as a lifestyle embellishment, it's one of the best.
Visually enticing
When it comes to vivacity, this Philips impresses straight from the box. Its pictures have visual snap and healthy colours, with plenty of clarity.
The panel is capable of a supremely sharp 2,160p image, although viewing distance could be an issue with such a (relatively) small display. There's an irrefutable link between perceived resolution and viewing distance, which is why most screen manufacturers advocate we sit closer to a 4K TV than an HD one.
The screen, being a budget model, doesn't feature Philips' advanced P5 image processor, but there's still jargon to juggle. A Micro Dimming system for its direct LED implementation is aided by Pixel Precise Ultra HD processing and 4K UHD Natural Motion. Compared to the competition, there's a lot going on behind the scenes.
That said, the TV's cut-back image processing chops do become particularly noticeable when it comes to motion. All of Philips' presets here generate some level of artefacting, with the exception of the Movie mode.
When it comes to the Natural Motion tool, your best option is to leave it set to medium.
Switching between the image modes (Natural, Standard, Movie, Personal, Game and Vivid) via the settings menu is painless – you can toggle them without needing to delve deep into menus. All prove quite engaging.
This is a solid mix of image quality and feature functionality, bolstered by the brilliance of Ambilight
With HDR content, the choices are HDR Personal, HDR Vivid, HDR Natural, HDR Movie and HDR Game. These presets are more divisive, as choosing between them can significantly affect image quality. My least favourite is the HDR Movie setting as this is relatively dull, and makes fine detail difficult to distinguish. HDR Natural, which ramps up image dynamism, is a preferable option.
Watch the opening text crawl on the 4K Blu-ray of Star Wars: The Last Jedi in HDR Movie and the number of visible stars plummets. Viewed in any other mode, and the starfield returns. Root around the menus and you'll find HDR Plus, which can be used to provide additional lift.
This is quite effective, with the medium setting being the easiest to live with.
As a Philips flat screen, the 43PUS6753 naturally comes with no shortage of other image parameters to tinker with. Ultra Resolution, gamma and noise reduction adjustments may sound tempting, but be aware that a panel of this class doesn't easily reward manual intervention.
HDR caveat
As well as industry standard HDR10 compatibility, the TV supports HLG – useful for those waiting for more iPlayer 4K trials. Yet you shouldn't expect this lower-tier telly to sparkle with specular highlights, as it simply doesn't have the inherent brightness to deliver a truly high dynamic range. Yes, it understands HDR10 metadata, but there's a limit to what it can do with the information. Similarly, I understand a little Klingon, but I'd be hopeless having to fend for myself on Kronos.
The 43PUS6753 does a better job than many rival HDR compatible sets in the same price bracket, however.
I measured peak luminance around 350 nits. While this won't sear your eyeballs or reveal the real power of a film's bright highlights, it's bright enough to not dim the panel down to unacceptable levels. The sunrise over Luke Skywalker's island hideaway in …The Last Jedi appears suitably beautiful.
And it certainly helps the TV's movie credentials that its backlight uniformity is good, without distracting light blooms, and black levels reassuringly deep.
With regular SDR content, be it HD or SDR 4K, the TV is consistently bright and punchy. Indeed, I'd rate this a fine screen for hi-def sources, be they from tuner, set-top box or media streamer. Select the dedicated game mode, meanwhile, and image lag is respectable at 24ms.
The set's audio output is rated at 20W, and it certainly isn't short of welly. For casual use it does the job, although the stereo presentation is limited.
Generating a buzz
A solid mix of image quality and feature functionality, bolstered by the brilliance of Ambilight, this 6 Series 43-incher should attract bargain hunters like bees to honey. Don't buy one if you're after a panel to really show off your UHD Blu-ray collection, but do check it out if you want a great value everyday screen for general viewing and 4K gaming
VERDICT
Highly Recommended
PHILIPS 43PUS6753 Review
When it comes to sheer value, nothing beats this 4K HDR high-street hero, with Ambilight the LED icing on the cake. You can go bigger for the same money, but not better.
Add your review
Best PHILIPS 43PUS6753 prices in the UK ?

£

164.27
1 new from £164.27
in stock

MORE DEALS

SPECIFICATIONS
3D: No 4K: Yes. 3,840 x 2,160 HDR: Yes. HDR10; HLG TUNER: Yes. Freeview; satellite CONNECTIONS: 3 x HDMI inputs; 2 x USB ports; component AV; optical digital audio output; headphone jack; RF input; Ethernet SOUND (CLAIMED): 20W BRIGHTNESS (CLAIMED): N/A CONTRAST RATIO (CLAIMED): N/A DIMENSIONS (OFF STAND): 971(w) x 573(h) x 77(d) mm WEIGHT(OFF STAND): 8.7kg
FEATURES: Three-sided Ambilight; compatible with Philips Hue; built-in Wi-Fi;
USB multimedia playback; Freeview Play; SAPHI smart system; Miracast; Pixel Precise Ultra HD processing; Ultra Resolution upscaling; Micro Dimming Pro;
HDR Plus; DTS HD sound processing
PARTNER WITH
SONY UBP-X500: For an affordable 4K Blu-ray source, head to Sony's range and consider the budget-priced UBP-X500. AV connections are limited to HDMI and USB, but the deck still offers SACD playback and hi-res file support.
3. The TV mixes rear-, side- and downward-facing connections