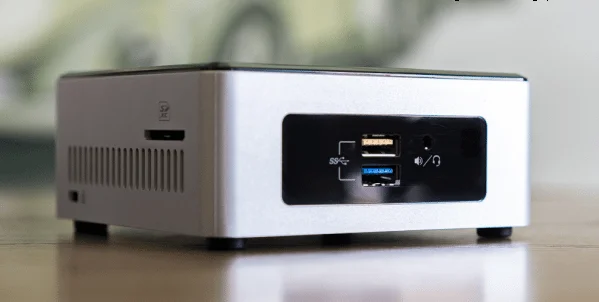 Intel's original Next Unit of Computing, or NUC for short, was released back in early 2013, and since then we've seen six different generations roll out. Each was powered by a different Intel CPU architecture, but they all had one annoying similarity – a lack of components. While other vendors of copycat small form factor PCs sold models that were ready to use straight out of the box, Intel deliberately left out system memory, a hard drive and an Operating System.
While the logic of this makes perfect sense, allowing buyers to select the relevant components for their needs and budget, it's nice to see that Intel has finally released a fully constructed NUC in the NUC5PGYH model. Even better, the inclusion of all the necessary bits and bobs hasn't come at a shockingly high price as a compromise.
The external case of this unit is basically identical to the last generation, comprised of both aluminium and plastic, and measuring just 115mm x 111mm x 51.6mm. The included VESA mount means it'll easily tuck away behind suitable display panels, yet despite its small size there's a healthy range of connections. On the front are twin USB 3.0 Type-A ports, an Infra-Red sensor for use with a remote or IR keyboard and mouse, along with a single 3.5mm stereo mini-jack for headphones or microphones. Heading to the rear reveals two more USB 3.0 ports, but only one of the rear is capable of charging devices. Both HDMI 1.4b and VGA outputs deliver two options for video output, while another 3.5mm audio mini-jack doubles up as a S/PDIF output if you need to use optical out. Networking is delivered courtesy of the single Gigabit Ethernet port on the rear, along with Intel's excellent Dual Band Wireless-AC 3165 802.11ac adaptor included within, which also supports the latest Bluetooth 4.2 standard. The last input on the back is for the power, and we were pleasantly surprised at how tiny the external power pack is, around the same size as most phone chargers. On the left side of the chassis is a single SDXC card slot, which is rated to handle UHS-I speed cards.
This card slot will come in mighty handy, as the only storage included is a 32GB eMMC onboard drive, which is basically an SD card mounted directly on the motherboard. Accordingly, it's not in the same league of performance as a true SSD, which has a dedicated controller and more banks of memory to speed up performance, but an eMMC drive still runs rings around mechanical drives. We found desktop performance to be extremely snappy, despite the relatively ho-hum components within. There's room inside for a true SSD thanks to the 2.5" inch drive bay, which can handle anything up to 9.5mm in depth.
Considering the brisk performance, we were very surprised to see just 2GB of DDR3 1600 memory is included, likely a result of the pre-installed Windows 10 having a minimal memory footprint. At the core of the NUC is the Intel Braswell Pentium N3700. With a remarkable TDP of just 6W, this quad-cored CPU ramps up to 2.4GHz when necessary. Despite the low thermal output, it's actively cooled but even under load is extremely hard to hear the cooling.
Setting up the NUC couldn't be easier – simply jack in the display, keyboard and mouse and you're good to go. Windows 10 has been preinstalled, and we had the system up and running in just 10 minutes. However, our pre-production sample had a weird quirk that meant were unable to install PCmark 8, which would close with a fatal error half way through installation. We are confident that final retail models won't exhibit this behaviour. Despite being unable to run benchmarks, we were very impressed with desktop performance, with apps opening quickly and being very responsive even with several open. The integrated Intel HD Graphics easily handled 4K video playback, though gaming is out of reach for its meagre 16 execution units running at 700MHz (in comparison Intel's HD Graphics 520 has 24 execution units running at 1.05GHz).
Despite our issues with the hard drive, we were taken with Intel's fully-fleshed out NUC. Being able to buy a palm-sized PC with brisk performance, including Windows 10, for just is an absolute steal, and its feature-set means it's just as good as a simple oiffce PC as it is a media player. Bennett Ring.