Samsung Galaxy TabPro S Review
Samsung's made another tablet? How exciting Someone got out of the wrong side of bed this morning! Listen, pal, we may be flooded with tablets at the mo. but this isn't just a tablet -it's one of those cool two-in-one PCs that will soon take over ...
Samsung's made another tablet? How exciting Someone got out of the wrong side of bed this morning! Listen, pal, we may be flooded with tablets at the mo. but this isn't just a tablet -it's one of those cool two-in-one PCs that will soon take over from laptops. To clarify, the Samsung Galaxy TabPro S is a fully-functional, well-specced tablet that clips onto a keyboard to become a full-on Windows PC within seconds.
So this is the new IPad rival?
No. iPads aren't the productivity devices (read: a more portable type of laptop) that Samsung has made here. While both devices have a similar amount of power under the hood, plus a sharp screen,the iPad lacks 'proper' apps that you'd find on the Mac. It also has none of the mouse functionality we crave when working So Galaxy's newbie is rather good? Actually, yes it is. For something that's running Windows, the Galaxy TabPro S also seems to be quite entertaining. Not only does the Super AMOLED touch-screen offer nice colours and clarity, but being able to stream from your Xbox One (thanks to Windows 10) is ace – and good news for gamers and those who want to watch films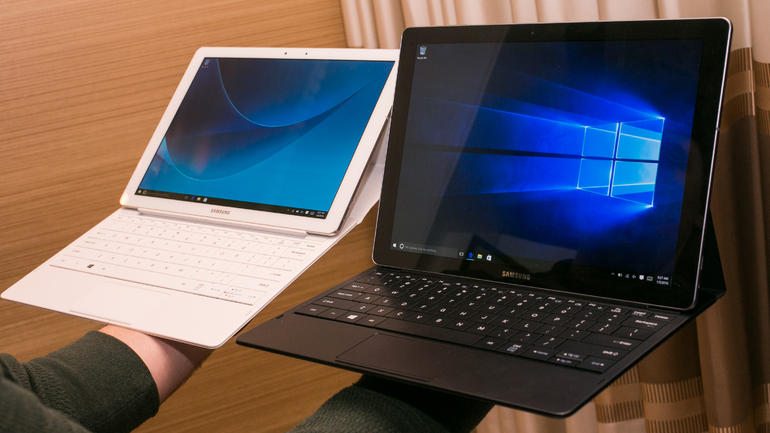 What accessories does It come with?
A full-sized keyboard cover to enhance functionality Iso you can crack on with work wherever you are). The keyboard has flexible hinges to enable dual-angle viewing, and its amusingly-named Pogo pin eliminates the need for pairing or charging separately. You can also load up on a nifty Bluetooth pen and multi-port adapter (HDMI. USB type A & C), but they will cost you extra (prices tbc).
When can I try one for myself? The Samsung Galaxy TabPro S is available to buy as of this month.
7Review earns Amazon affiliate commissions from qualifying purchases. You can support the site directly via Paypal donations ☕. Thank you!
TASK FORCE
The Galaxy TabPro S spec list Is impressive with its iPod Pro-matching 4GB of RAM. which is great for virtually oil day-to-day tasks.
DOUBLE TROUBLE
Got a Galaxy S6? Use the fingerprint scanner to log into the TabPro S and shore messages and info seamlessly between the two.
Vital stats
2160×1440
The high pixel count squashed Into o 12-Inch screen
5,200mAh
The slightly smaller than expected capacity of the battery
2.2GHz
The clock speed of the Intel Core M processor
6.3mm
The thickness of the tablet without the Included keyboard cover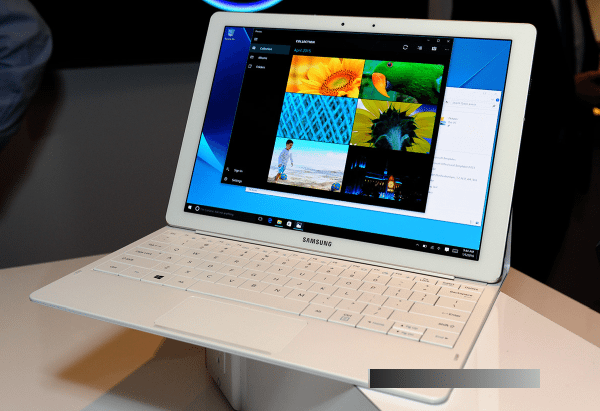 The first Galaxy Tab with Windows 10
If imitation is the sincerest form of flattery, Samsung must be Apple's biggest fan. It already makes the closest rivals to the iPad Mini and iPad Air, so it's only natural that it would come up with an alternative to the 12.9in iPad Pro. And here it is.
Although its rear panel is plastic rather than aluminium, the TabPro S looks very much like an iPad, even down to the design of small features like the speaker grille. Yet it's really more of a rival to Microsoft's Surface Pro 4, a 12.3in tablet with a clip-on keyboard. Both run Windows 10, so you can install exactly the same apps as you would on a laptop. The iPad Pro, by contrast, is based on iOS, like iPhones, so it can't run the same apps as a MacBook.The TabPro S also has the same 3:2 screen shape as the Surface Pro 4. This is not as square as the iPad Pro's 4:3, but taller than the more common 16:9 ratio. It's a good compromise for a system aimed at work and play. As we've come to expect from Samsung, the display has high contrast and vivid colour, covering 99.5 per cent of the sRGB range. With 2160×1440 pixels, it's also very sharp.Unlike the Surface Pro 4, however, the TabPro S has no kickstand at the back, so it suffers from the same problem as the iPad Pro when used with its magnetic keyboard – you can't tilt the screen to an exact angle. You do at least get three options, as opposed to Apple's single position. And unlike Apple, Samsung includes the keyboard as standard. We didn't find it comfortable when typing, though, because the keys barely move and the the narrow spaces between them meant we often hit the wrong one. Like Apple's Pencil, Samsung's less advanced Bluetooth stylus costs extra, while the Surface Pro 4's is included.
The TabPro's Intel M3 processor keeps up well with basic Windows tasks, and its HD Graphics 515 card can handle less demanding 3D games; just don't expect miracles like 4K video editing. The battery lasted us just under seven hours of video playback – less than the iPad but very good for a Windows device.
VERDICT
It's very expensive and the keyboard is disappointing, but as a Windows 10 tablet, the TabPro S is a pleasure to use.
SPECIFICATIONS
0.9GHz Intel M3-6Y30 dual-core processor • 4GB memory • 128GB flash storage • 12in 2160×1440-pixel screen • 5-megapixel rear camera • 5-megapixel webcam • 802.11ac Wi-Fi • Bluetooth 4.1 • Windows 10 Home • 290x199x6.3mm (HxWxD) • 693g • Two-year warranty.