DETAILS
• Manufacturer: Cooler Master
• Requirements: Standard ATX PSU, mATX, ATX motherboard
The Cooler Master brand is certainly no stranger to the pages of Micro Mart. The company's cooling, power supply and peripherals are considered some of the best available, offering a good mix of both price and quality.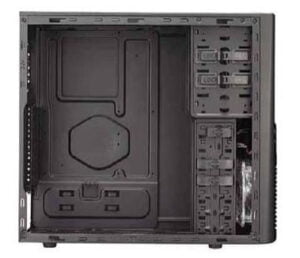 However, it's the company's range of mid-tower cases that interests us today. The Cooler Master Elite 430 can be found toward the upper end of the midtower series and measures 190 x 424 x 490mm with a mixture of steel and ABS plastic. It's an ATX/ micro-ATX case that offers seven PCI expansion slots, three 5.25″ bays and seven 3.5″ drive bays. The PSU is bottom-mounted, and there's adequate room for more fans beyond the pre-installed 120mm front fan.
Internally, the Elite 430 has room for a 315mm graphics card and can accommodate CPU heights of up to 163mm. There's a reasonable element of cable management present in the void behind the motherboard backplate, but it does lack some of the cable exit slots we've become used to seeing in many mid-tower units.
7Review earns Amazon affiliate commissions from qualifying purchases. You can support the site directly via Paypal donations ☕. Thank you!
The design certainly looks good, with a front section that angles out slightly and covered in a see-through grill exposing the red LED front-mounted fan. From midway up the front of the tower, it flattens out and houses the three front 5.25" drive bays. There's also a pair of legacy 3.25″ panels located under the bigger drive bays. At the top you'll find a couple of USB ports (one of which is 3.0), and the headphone and microphone port. The power and reset, along with the activity LEDs, are located either side of the 3.25″ drive bays.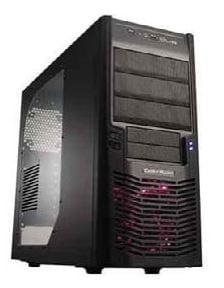 The Cooler Master Elite A30 is a good mid-tower case.
There's enough room within for upgraded components, but it misses out on some extra features.
The side windowed panel reveals a fair amount of the internal build, and there's a vented section with screw points for fitting a side fan.
The case is robust enough, without any noticeable flimsy sections. There could be a few more extras to help raise the score a little, such as rubberised grommets for liquid cooling (there are a couple of metal push-points), better cable management and perhaps another included fan to help entice buyers. For the most part, though, it's a pretty decent case.
Other than that, there's not much else to report on. On its own, the Cooler Master Elite 430 is a good case: it's got more than enough internal space to fit a decent graphics card, there are some good cooling points available, and it's reasonably cheap. But on the other hand, there could have been so much more added to help pitch it better, and considering it's toward the top of the mid-tower range, we were expecting more.