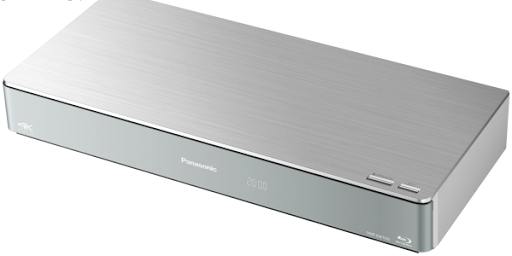 It's a 2TB PVR and  Blu-ray recorder in one, offers top picture quality and comes loaded with smarts, including 4K output. Is this is only video source you'll ever need?
Three digital TV tuners. Two terabytes of hard-disk capacity. Blu-ray, DVD and CD playback. Blu-ray and DVD recording. Smart features galore. Wi-Fi networking. We weren't even sure how to define Panasonic's DMR-BWT955GL — call it a Blu-ray recorder, as does Panasonic, and you might miss its PVR functions. Call it a PVR, and you'd not realise it was a Blu-ray recorder. So we've called it a Blu-ray PVR. On paper at least, it's hard to see how, if you had this Panasonic, you could ever need or want an additional video source device (short of the soon-to-come 4K Blu-ray players). Let's see if that turns out to be correct.
Equipment
The DMR-BWT955GL is, of course, the latest iteration of the flagship among Panasonic's combination Blu-ray/PVRs. They've come a long way in the seven or so years we've been reviewing them, not least in terms of diminishing cost. This one leaves you a large chunk of change from a grand. Like other recent flagship models, you can record not just broadcast TV, but external signals via composite video and stereo audio. I did not test this, but if you have, say, an ancient Foxtel box, or you're keen to archive from an old VCR, it might be useful.
Output is via HDMI only for video, and via HDMI, stereo analogue and optical and coaxial digital for audio. There's a USB socket and SD card slot on the front, another USB socket and its Ethernet port on the back. For networking you can instead use Wi-Fi, with both bands supported and standards up to 802.11n.
A full-width spring-loaded panel covers the front. This pushes down when the disk tray opens, and has to be manually opened to provide access to the front-panel ports. The power and eject keys are on the top, near the front, making it inconvenient to stack other equipment on top.
Performance
The unit fired up the first time with its picture in full-HD mode at 50Hz, and showing the familiar blue, grey and white of Panasonic's set-up wizard. The company's newer TV operating systems haven't yet made their way to the company's recorders, but the older system has been in use a long time and remains clear and functional.
7Review earns Amazon affiliate commissions from qualifying purchases. You can support the site directly via Paypal donations ☕. Thank you!
The wizard noted that the auto-tuning would take up to three minutes, and it easily managed that timing. There are some choices to make after that, with text guidance in most cases. You can finish the set-up with four keystrokes unless you want the network functions enabled, which of course you do. Overall, set-up will take you perhaps five minutes.
Afterwards you will need to go to the set-up menu and make some setting changes. Panasonic persists in setting the 24p Output default to 'Off'. It's hard to see that anyone would buy a Blu-ray recorder and plug it (via HDMI, mind you, the only video output) into a TV that doesn't support 24fps signals. Especially as the other setting (Automatic) apparently checks whether the TV supports 24p! I can't test this because it has been many years since I've seen a TV that doesn't.
You can set the HDMI video output to 480p/576p, 720p, 1080i or 1080p, but not to 4K. For that you select Automatic, which upscales to 4K if that is 'most appropriate for your TV'. This seemed to work for 1080p/24 content, but not for anything at 50Hz or 60Hz (i.e. 1080i/50/60 or 480i60/576i50).
On Automatic, the unit also output photos at 4K, and played 4K videos from USB or the network at 4K.
In general, I'd prefer Blu-rays to play at 1080p/24 so as not to push the bandwidth limits of cables and other equipment on the signal path. But that required setting the output to 1080p in the set-up menu (which involves drilling a long way down), and then that also downsampled 4K content to 1080p. You're probably going to do best to choose one or the other.
You might also want to switch on pre and post padding for the recordings. The maximum setting is ten minutes, which we think is too little for safety at the tail-end of programs on some Australian networks.
The unit starts up in time-shift mode, so you can rewind back to the start of whenever you started watching a station.
The recording was reliable and effective, but perhaps a little below expectations in capability given that there are three tuners. These three tuners allow you to record just three things at once, or record two and watch one, when the norm for premium products is to allow each tuner to support two stations at once (from the one TV network); some allow even more.
This unit does allow you to specify keywords, and set up series recordings.
The unit supports FreeviewPlus (you have to switch it on in the Setup menu). This worked reasonably smoothly, although not up to the speed with which it works on new TVs with their hot multicore CPUs.
What most PVRs don't do is allow you to burn your recordings to disc afterwards. With this unit you can record to Blu-ray while preserving full SD or HD quality, or choose one of the fixed bit-rate settings (these involve transcoding). For DVD the recording must end up in one of several fixed bit-rate settings. You can also edit the recordings before burning to disc, removing unwanted bits, including any pre and post padding.
The picture quality produced by the unit was first-class, there's no other way of putting it. The automatic deinterlacing was very good, but you can override to force either film or video mode (options key, Playback Menu, Playback Settings, Progressive). This worked on discs, live TV, playback of recordings, and even streamed video. There are very few Blu-ray or DVD player brands that permit this level of control. Just one of the reasons this unit was a winner in last issue's Sound+Image Awards.
There are five fast-forwards and five reverse keys, five slow-motion speeds and single-frame stepping for Blu-ray, but no reverse stepping or slow motion. The longstanding operational problem with Panasonic Blu-ray recorders remains with this unit: that big green 'Guide' key on the remote. Press this or the 'Function Menu' key, and they rip you right out of whatever the unit is doing and invoke the Guide, or the Function Menu as appropriate, without asking for confirmation. If you're playing a Blu-ray disc with BD Java encoding (that's about half of them) not only will you have to restart it, you'll lose your place in the movie. If you're watching a Netflix show, you'll have to start up Netflix again. I'm not keen on confirmations at every turn, but this one is important.

Smart stuff
There are few limitations on the networkcentric stuff that this unit can do. Two features are suggested by dedicated keys on the remote — internet and Netflix. The former loads a page of apps, which includes a web browser, ABC iView, SBS On Demand, YouTube, Quickflix, Bigpond Movies and Netflix, plus a host of other apps you can install for free. The other key jumps you straight to the Netflix app.
Netflix worked nicely, smoothly, automatically bumping up the quality to HD when bandwidth permitted. I could not find a way to get it to display the actual resolution as I can with most apps, but that was the only weakness.
The unit acts as a DLNA digital media player and as a DLNA digital media renderer. The latter is what's employed when pushing content to it, typically with an app on an Android device.
This unit streamed nearly all my test clips happily, both from USB and from network attached storage. Why wonderful? Because this included all 4K content (nearly), something which is beyond most devices. The exception was material encoded with the H.265 codec, which the unit would not play.
There was one wobble. In this topsy-turvy world, if you want high network bandwidth you sometimes have to resort to… wireless. As usual I connected this unit to the network via Ethernet for the purposes of 'reliability'. My 4K video streamed, until I got to one with 100Mbps bit-rate, on which the unit choked, stuttering through a few seconds and then just pausing. A check of the specs revealed that the unit's wired LAN connection only supports up to 100Mbps networking, not the now common gigabit networking.
Change over to Wi-Fi on a 5GHz band access point, and the high bit-rate 4K video ran perfectly. It's a topsy-turvy world when wireless networking has higher bandwidth than wired.
All the videos looked gorgeous. There was really only one complaint: the unit's regular output resolution was returned to at the end of each clip, so there was a lot of resolution switching going on.
The music support was very nearly great as well. There was wide support with FLAC up to 192kHz, DSD up to 5.6MHz, iTunes AAC, ALAC,WMA, WAV and of course MP3. It sounded great thoughmy amp and speakers (note: I was using HDMI output, not the unit's own internal DAC). The one weakness was that playback was not gapless, whether the music was pushed to the unit, or selected by the unit as a digital media player.
And photos looked glorious, too, rendered in full resolution. Sort of. Full resolution was delivered for the luminance channel, but only one quarter resolution for colour. I plugged the unit directly into the input which purports to support full colour resolution 4:4:4 signals on my LG UHD TV, and the colour resolution remained low. Still, photos continued to look very nice indeed. Fans of 3D can enjoy the unit's support of *.mpo 3D photos.
Conclusion
Two small caveats—those dangerous "stop everything" keys on the remote, and the limited ability to record only three programs at once. That aside, the Panasonic DMR-BWT955GL really does fulfil the promise it holds, acting as all the home entertainment source device you need… at least until UHD Blu-ray appears. Stephen Dawson
SPECS
Hard disk drive: 2000GB Disc types supported for recording: BD-R/RE, BD-R/RE DL, DVD-RW, DVD-R, DVD-R DL, DVD+RW, DVD+R, DVD+R DL, DVD-RAM Recording time on 4.7GB DVD: 1, 2, 4 or 8 hours HD Recording time on 25GB BD-R/RE: Native, 4, 6, 9, 12 or 17.5 hours SD Recording time on 25GB BD-R/RE: Native, 5.25, 10.5, 21, 31.5 or 42 hours Inputs: 1 x composite video, 1 x stereo audio, SD card, 2 x USB, Ethernet, WiFi, aerial Outputs: 1 x HDMI, 1 x stereo audio, 1 x optical digital audio, 1 x coaxial digital audio, aerial through Dimensions (whd): 430 x 70 x 210mm Weight: 3.0kg Warranty: One year.