Forget dodgy clockwork dials – the future is managing your home heating from an app. We test five systems that'll set you up from under £200 and offer options such as room-by-room temperature control
Honeywell Evohome Wifi Connected Thermostat Pack
Evohome is one of the more powerful systems, but the basic starter kit includes only the boiler switch and a touchscreen control unit, which incorporates a room thermostat as well as the Wi-Fi link for the app. You'll may want to add thermostatic radiator valves (TRVs), to make it worthwhile. When the point is to control heating from a mobile device, the touchscreen seems a waste of money, but it works well. Professional installation, although it should be possible to do it yourself.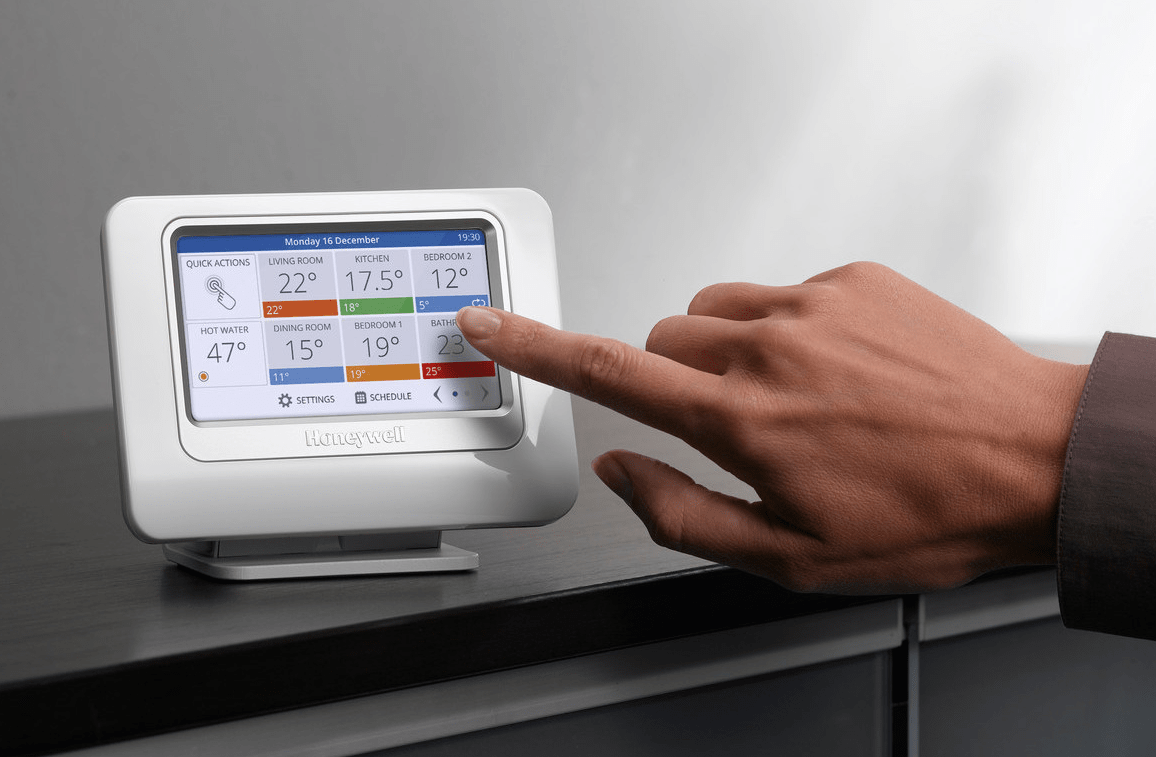 The Evohome TRVs look clunky and make quite a whine as they activate. Their tilting LCD screens give you lots of info, if you bend down and squint.
You can set the exact temperature you want here as well as from the touchscreen or the app.
You can set schedules manually or using a
7Review earns Amazon affiliate commissions from qualifying purchases. You can support the site directly via Paypal donations ☕. Thank you!
SPECIFICATIONS
Range includes remote thermostat • Hot water support • Individual radiator control • Alexa • IFTTT • Two-year warranty
step-by-step 'wizard'.
An Economy option knocks all temperature settings down by 3°C – we call this 'Dad mode' – while Away applies a preset temperature to all zones. Having set up a Weekend schedule, to keep the house warm when you're not out at work, you can also activate this as a Day Off. There's no geofencing, but this and other options can be added by fiddling with IFTTT (see https://ifttt.com). Amazon's Alexa is supported, as is Google Home in the US, so we'd expect it in the UK soon.
VERDICT:
It's pricey, but Evohome Is a comprehensive multi-room system and gives you a fixed control station as well as the app. making it easy to use
★★★★★ 5/5
Drayton Wiser Multizone Kit 2
Drayton offers a choice of kits with one, two or three 'channels', for just heating, heating and hot water, or hot water and two separate heating zones.
This one-channel kit comes with the switch unit that connects to your boiler, a room thermostat, and two thermostatic radiator valves (TRVs). Adding the switch to your boiler isn't rocket science, but an electrician is recommended, and you may want a plumber to install the TRVs, although they're designed to replace existing valves easily.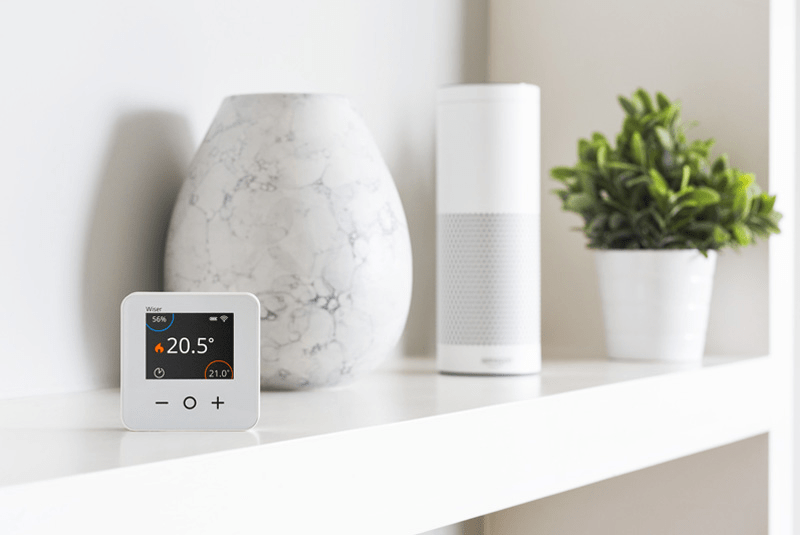 The room thermostat, with its small colour LCD touchscreen, is optional.
You can rely on TRVs if you prefer. These don't have their own display, just a traditional-looking knob, which you can turn to tell the base unit to raise or lower the target temperature by 2°C. The main function of the TRV is
SPECIFICATIONS
Range includes remote thermostat • Hot water support • Individual radiator controls • Alexa voice control • Two-year warranty
to communicate with the base, which enables the app to let you set the temperature for each room.
Everything can be scheduled, and there's also an Eco mode, which learns how heating affects your home and turns the boiler on and off for efficiency, and an Away mode to keep things ticking over when you're out. But the latter has to be set manually, not by geolocation (detecting where your phone is). Nor can you control the Drayton system from IFTTT, unlike most rivals, nor from Google Home or Apple Siri. But it works with Alexa voice control from Amazon's app, Fire devices or Echo speakers.
VERDICT:
This isn't the most advanced system for automation enthusiasts, but it's a cheap way to get multi room heating control and is simple to use.
Tado Smart Thermostat Starter Kit
This base unit incorporates a room thermostat and comes with a separate Wi-Fi hub. It's ready to connect to an existing wired room thermostat (a simple DIY job), but if you don't already have one you'll need an Extension Kit to connect directly to your boiler (included as standard with rival systems). This comes with instructions that make it easy to install yourself. We do like the restful minimalist design, with its white pixelated LED display; the optional thermostatic radiator valves (TRVs).
Options are straightforward to set up in the app, with room-by-room control via the TRVs, although multi-room operation isn't quite as easy as with Evohome. Geolocation is built in, with the option to track more than one phone, so it won't turn the heating off until you all go out. Apple HomeKit and Siri are supported as well as Google Home,
Alexa and IFTTT, giving you exceptionally broad possibilities.
SPECIFICATIONS
Range includes remote thermostat • Hot water support • Individual radiator control • Alexa. Google Home • HomeKit • IFTTT • Two-year warranty
VERDICT:
If you're OK with controlling things from the app rather than a base station, Tado is the cleverest system.
Netatmo Smart Thermostat
On its own, the Smart Thermostat is reasonable, with a boiler switch unit and Wi-Fi. However, for the same price as the Drayton (see opposite page) you can only add one thermostatic radiator valve (TRV), making the Drayton better value. Netatmo gives you the choice of connecting direct to the boiler or to an existing wired room thermostat point; the former involves mains electrics. The thermostat shows basic temperature info; a smaller version appears on the TRVs.
You adjust up or down from here, but the real control is in the app. This uses 'profiles' as the basis for schedules, which takes a bit of figuring out. There's no geofencing for the Away mode, but IFTTT, HomeKit, Google Home and Alexa are supported, although Alexa here lacks the others' ability to control individual TRVs.
SPECIFICATIONS
Range includes remote thermostat • Hot water support • Individual radiator control • Alexa • Google Home • HomeKit • IFTTT • Two-year warranty
VERDICT:
The cheap base station makes this a good choice if you want to start small and build up, but multi-room capability is a bit limited
Nest Learning Thermostat (3rd Gen)
Nest is the prettiest way to control your heating. The front of the wall-mounted unit (a desk stand) has a color screen that shows time and temperature. The bezel – in black, white, stainless steel or copper colors – rotates to adjust settings. This view is duplicated in the app – you can tweak your schedule in both. Connection to your boiler is simple, but involves mains electrics.
Nest can't connect to thermostatic radiator valves (TRVs) or control temperature room by room. It's for managing your boiler, helped by 'True Radiant' artificial intelligence. You train this by turning the heating up manually when you're in and down when you're out, until it learns. We weren't entirely happy with the results, and opted to ditch the learning mode and set a schedule. But True Radiant can help by turning the heat off before it exceeds the target temperature instead of after. Google Home, Alexa and IFTTT are supported.
SPECIFICATIONS
Range includes remote thermostat • Hot water support • Smoke detector • Alexa • Google Home • IFTTT • Two-year warranty
VERDICT:
There's no room-by-room control, but the Nest is attractive, easy to use and smart, within its limitations