Luxman D-N150/SQ-N150
Luxman has re-introduced what just may be the dream desktop rig, comprising the new NeoClassico CD player and tube integrated amplifier – or is it much more? Review: Ken Kessler Lab: Paul Miller
CD PLAYER/AMPLIFIER
CD player/DAC & tube amplifier. Rated at 10W/6ohm Made by: Luxman Corp., Japan Supplied by: IAG (International Audio Group), UK Telephone: 01480 447700 Web: www.iaguk.com;www.luxman.com
Can we agree that it's possible to love more than one system, as you would savour more than one type of whisky or wine? Masseto and Tignanello are simply not mutually exclusive. Luxman's re-imagined NeoClassico series is appropriately costly but not saddled with a 'high-end' price, so at £ for the D-N150 CD/DAC and £ for the SQ-N150 integrated amp, it is not an alternative to, nor a substitute for a high-end, high-power system. It is not out to usurp the role of your D'Agostino.
Rather, this revives Luxman's role in a peculiarly Japanese genre, what I once called 'Bonsai Hi-Fi,' exemplified by the late, lamented Toshiba Aurex gear. It must be said that Japanese makers were not the first to issue serious-yet-compact components (and not to be confused with the risible mini/midi-systems of the 1970s). As a precedent, Quad's 33/303 wasn't exactly gigantic, and it still packs more punch for its size than many others can muster. Luxman's NeoClassico resuscitates a compact system last offered a dozen years ago, down-sized valve amplification and a CD player which manifested all of the brand's virtues.
POWER OF TEN
First released in 2007, the SQ-N 100 integrated and D-N100 CD player, with A4 footprints, have been sorely missed by fastidious audiophiles wanting something beautifully-appointed, fully-equipped and delivering sound quality not associated with bijou dimensions. After the passing of a decade-plus, Luxman says the SQ-N 150 and DN-150 are a response to requests 'to bring them up to date'.
7Review earns Amazon affiliate commissions from qualifying purchases. You can support the site directly via Paypal donations ☕. Thank you!
Only marginally re-styled because the look was so close-to-perfect, the new units have been reworked without sacrificing any of the charm of the originals. The
RIGHT: The SQ-N150's controls are best viewed from above and include input selection, bass, treble and balance – the latter three bypassed using the 'Line Straight' button on the fascia, adjacent to the (analogue) volume control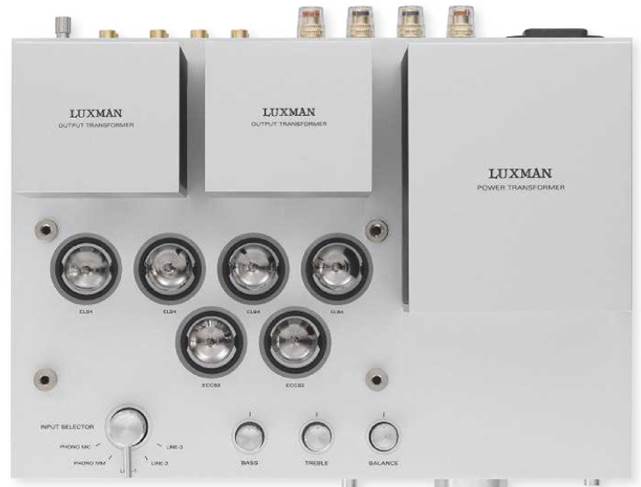 build quality defines what ought to be an industry standard – it's simply flawless. The SQ-N150 integrated retains an A4 footprint (297x210mm), while power is a meagre 10W/6ohm [see PM's Lab Report, p41], courtesy of four EL84 output tubes from JJ Electronic from Slovakia, in push-pull configuration. Input tubes are two ECC83s from the same supplier.
It accepts three line sources and phono via a switchable MM/MC input.
These are accessed via a beautifully machined rotary control with a rod extending from it, which acts as a pointer to each source's label. Three smaller knobs handle bass, treble and balance, and Luxman has also added a front-panel headphone output; the speaker outputs mute when the 1/4in jack is inserted. This addition exemplifies the desire for the units to address both the unstoppable modern preference for cans and the realisation that
'Our cat, Mr G, was not amused by the surfeit of decibels'
hi-fi-in-miniature will And favour with flat- dwellers in need of smaller systems. Urban music lovers often wish to use headphones to prevent battles with neighbours.
SUCKER PUNCH
Also new are the illuminated analogue output meters. A pushbutton lets you switch off the lighting should you wish, but it looks too nice when lit up to do so. Around the back can be found RCA phono sockets for the three line sources and phono, as well as an earthing post, while the loudspeaker terminals are nicely made multi-way types.
Matching the SQ-N 150, for siting underneath or next to it, is the D-N 150 CD player, which I fell in love with instantly as I'm a sucker for Luxman's finishes, compact dimensions and the classy display. Yellow-on-black, it shows the track, time- remaining or elapsed or the chosen digital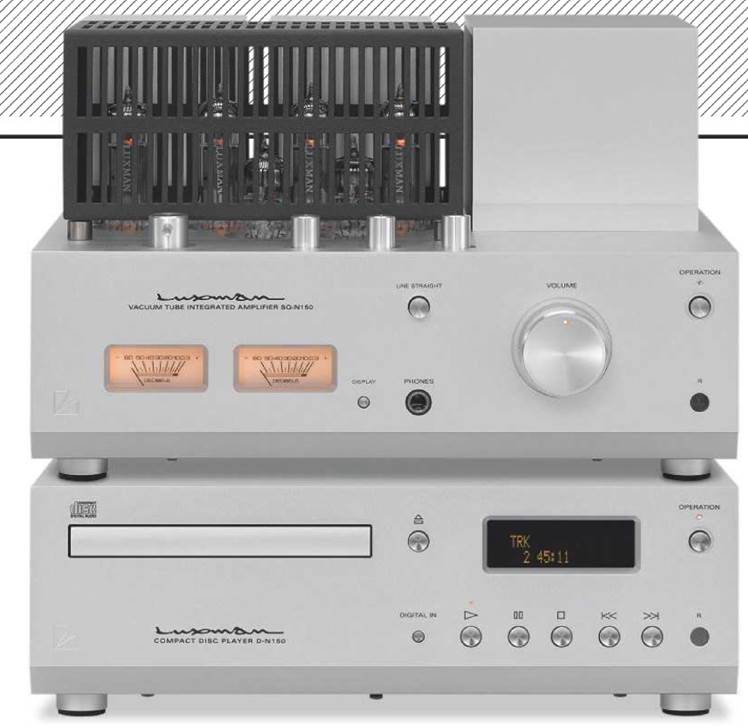 LEFT: An ideal 'desktop' system with A4 footprint, the pair can be remote-controlled, but switching is too tactile to resist; meters add a retro touch and yet it begs for a feed from your PC or streamer
source, while a zoom facility expands the key data shown by the default small numerals to fill the display area.
Inside is the same transport found in the company's D-380 CD player, feeding a TI PCM5102A DAC, providing compatibility up to 192kHz LPCM via its S/PDIF (24- bit) and USB-B (32-bit) digital inputs. CD playback is conventional with the usual tray and transport commands, and all of the operations matched on the machined- aluminium RD-27 remote [see p41 ].
There is also a simpler RD-25 remote available with volume, mute and basic CD controls, but the amplifier's other commands are found on neither of the handhelds. However, as noted, if this sits on your desk, you won't have to reach too far for source selection, nor for operating the tone or balance controls.
HOLY COW
Warned by editor PM about the power limitations, yet driven by a massive dose of retro-mania, it took, oh, three seconds to realise that I was in for the sort of surprises
which keep me from being jaded. Panic preceded the hook-up due to my not owning Klipsch Heresies, Lowthers or other high-sensitivity horns. Gingerly, I mated the Luxman SQ-N150 with JBL's adorable 4312KM II miniature monitor and the near-legendary Tannoy Autograph Mini. Both are scaled-down impressions of full-sized classics, in the manner of the Luxman amp and CD player here.
Let's deal right away with an issue which I absolutely refuse to allow to detract from the brilliance of the SQ-N150. While this amp will never burst your eardrums, unless you happen to own, say, 1920s Western Electric cinema horns, I actually found myself turning the volume down on occasion, especially with the surprisingly sensitive Tannoys. Admittedly,
I am certainly no headbanger and avoid those who think 115dB at 2m is normal, but suffice it to say, our cat, Mr G, was not amused by the surfeit of decibels.
What proved to me how satisfying the pair could be was The Wonders' CD single, 'That Thing You Do' [Play-Tone 664055-2]. This tune just happens to be the greatest Beatles pastiche ever created, even better than The Knickerbockers' 'Lies' or The Rutles canon, and it opens with pounding drums where you can actually hear the skins stretch. With a combination that, on paper, militates against the reproduction of scale, power and weight, I sat there transfixed by the sheer, palpable mass of the playback. Holy cow, I thought, wondering from where came the bass.
Edgy guitars, aggressive, hard- rocking vocals – both the JBL and Tannoy speakers conveyed the necessary room-filling presence which 1) defied their 'mini' design parameters, 2) demonstrated how much more truly satisfying they are than their dimensions suggest and 3) showed how the SQ-N150 cannot be judged by its 10W rating. I must repeat that this is not the amplifier to threaten your WAMMs or Muons with immolation, –
LUX'S LITTLE 'UN
Almost every new tube amp seems equipped with 'gherkin'-shaped KT150s these days [see p52] but the SQ-N150's diminutive form factor demands tubes of a similar stature.
Hence Luxman's choice of stalwart EL84 pentodes, one pair per channel running in ultralinear guise to deliver just 2x12W across any speaker load between 8 and 4ohm [see Lab Report, p41]. There is only one tap on Luxman's output transformer and this is configured for 6ohm – hence Luxman's 10W/6ohm power rating – but this does not mean its frequency response is as reliably 'flat' as its power output. In practice, the 6ohm tap offers a 0.6ohm output impedance, rising to 0.8ohm/20kHz and up to 1.55ohm at the 60kHz transformer resonance [see dashed orange trace, inset Graph]. The impact on high frequency response is also illustrated [no speaker load, grey trace; 8ohm load, black; 4ohm red; 2ohm, blue; 1ohm, green]. PM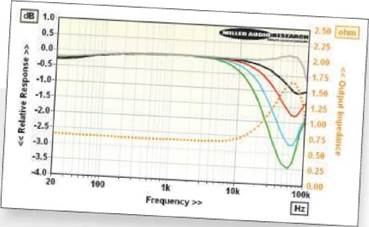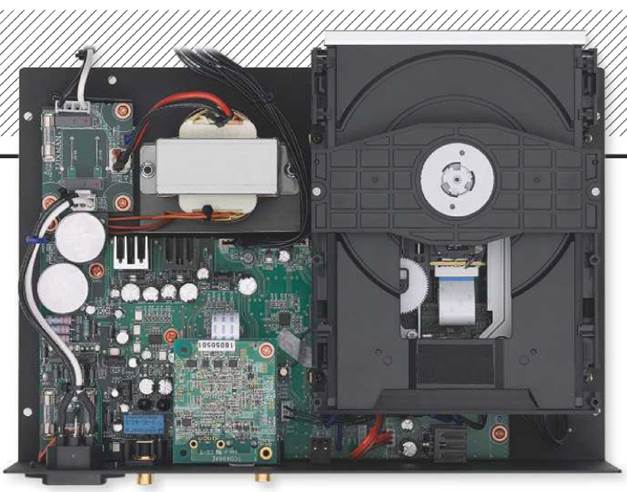 ABOVE: There's a beefy linear PSU [top left] at the heart of the D-N150 which combines the same CD mech [right] used in its D-380 player with TI's PCM5102A DAC [bottom left]. DSD is not supported
but by gum, the levels yielded by the Autograph Mini speakers defied belief.
While I was more concerned with CD playback during the listening than the other options offered – the digital inputs were clean yet surprisingly warm, especially pleasing with high-res files via USB – the big shock was the phono stage.
HIGH FLYER
Arriving at the same time for review as the Luxman pairing was the Koetsu Urushi Vermillion cartridge [p60] so I couldn't resist feeding it into the SQ-N150's MC stage. Amusingly, this pick-up costs only a grand shy of the entire Luxman duo. My
day was made: the results were not just good, but superlative. Playing the soul/funk instrumental album, Eddy Senay's Step By Step [Modern Harmonic/Sundazed MH- 8088], the Luxman/Tannoy combination sacrificed little other than absolute bass extension and ultimate snap.
Feeding the D-N150 into my main system, it proved to be a player, which, if purchased on its own, is worthy of a true high-end system, regardless of price. The D-N 150 was not humbled by Audio Research electronics nor Wilson Sasha DAW loudspeakers [HFN Mar '19].
Back to CDs via the Luxman amp, I dug out Lou Rawls' At Last [Blue Note CDP 7 91937 2] and Keb' Mo's Peace… Back By Popular Demand [Okeh/Epic EK92687]. In both cases, the vocals were the elements elected to reveal the most, the SQ-N 150
BELOW: A mix of thick PCB track and point-to- point wiring inside the rf amplifier. PSU regulation [top] is all solid-state, not tube-based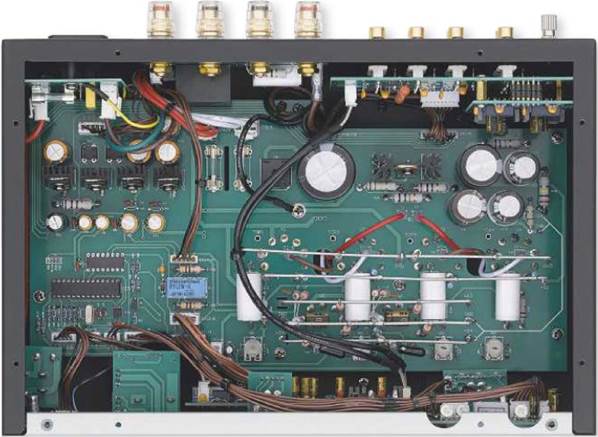 IZUMI SAITO
Izumi Saito, European Sales Manager, who visitors to Luxman's room at past Hi-Fi Show Lives will undoubtedly recognise, provided us with a glimpse of what has inspired this re-imagining of the NeoClassico series, debuted at Axpona 2019.
'While Luxman is known for its full-size tube and solid-state audio components, built for serious audiophiles, the NeoClassico products were born from a desire to attract new customers to the wonderful world of music
reproduced using vacuum tubes.
'The original NeoClassico series, launched in 2007, was produced in limited quantity but ever since our customers have asked us to bring back something compact, simple and stylish. However, we have no current plans to expand the NeoClassico series beyond the latest SQ-N150 and D-N150.'
Low power aside, the SQ-N 150 tube amplifier is notable for its very low noise and wide S/N ratio [see Lab Report, p41]. Was this an intentional feature of the design?
'We are proud of that! It was certainly a design goal and achieved, in part, by lowering the gain of the power amp stage [to +9dB] and increasing the gain of the preamp stage [to +24dB]. Negative feedback is just 16dB overall but our ECC83-based preamp and phase- splitter offers excellent linearity while the pentode connection boosts the gain. The choice of EL84 pentodes, configured for ultralinear push-pull operation, and custom output transformer are also key to the SQ-N150's low noise.'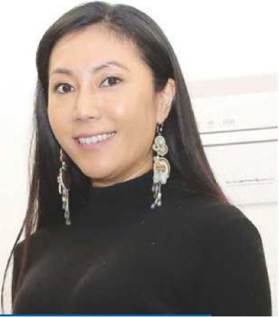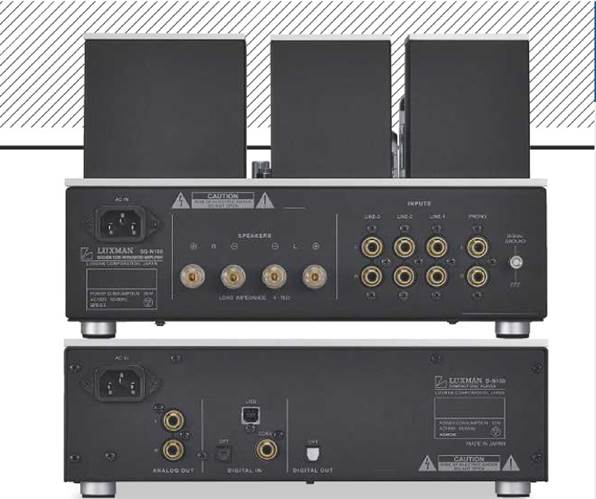 ABOVE: Three line ins and MM phono (on RCAs) join single sets of (switched) 4mm speaker cable terminals on the amplifier [top]. The CD player [bottom] has analogue (RCA) and optical digital outputs alongside coax, optical and USB-B digital inputs
proving to possess a neutral midband and an openness that actually kept drawing my attention away from the singers. Like I said, it was a case of surprises.
GOLDEN KEYS
With the Rawls tracks, for example, the sound of the piano was so right, so rich, so perfectly dimensioned that I had to refocus my listening to concentrate on Dianne Reeves' responses. Remember: all of this took place through two different mini-speakers of LS3/5a dimensions. And yet at no time was there any sense of dissatisfaction, of something 'missing' – provided one listens with a sense of context. I reiterate: this is a tiny system – a straight-four, not a V-8.
On the tracks from the Keb' Mo set that showcase solo piano, the Luxman duo demonstrated delicacy and finesse to equal their openness and transparency, qualities which play no small part in convincing you it's a much bigger system. Indeed, retailers should demonstrate the

LEFT: Direct track access, digital in, repeat/program play are offered on the RD-27 (CD) remote, with volume for the amp
Luxman pair with the customers blindfolded. I promise you: nobody will leave unimpressed.
This year has afforded me the privilege of hearing cost-no-object wares made with no concessions to physical size. I've been spoiled by products from Audeze, TechDAS, MSB, Continuum, Air-Tight, Wilson and others, and many of them have been among the best products I've ever experienced. What I never expected was that the products I would most regret returning to the maker would be a 10W amplifier and a CD player the size a stack of a year's worth of HFN.
Yes, the Luxman D-N150 and SQ-N150 are that good. What's more, they're an answer to your prayers if you have either a small room or no penchant for screaming levels. Or both.
VERDICT
Here is a set-up in which the limitations – the wattage – must be judged in context. This pair will only satisfy as a main system with 95dB+ horn speakers, and is best regarded as a peerless secondary system, or where space is an overriding issue and listening levels are sane. In such a setting, it is thus free of sonic compromise. If I had a spare £, this duo wouldn't be going back to Luxman!
LAB REPORT
LUXMAN D-N150/SQ-N150
Luxman's diminutive SQ-N 150 tube amplifier has a power output to match: just 2x12W at 1% THD into 8-4ohm loads. Even under dynamic conditions, its maximum output of 14W, 15.5W, 10W and 5.8W into 8, 4, 2 and 1 ohm loads, at up to 3% THD, suggests it is most 'useable' with 95dB+ sensitivity/6ohm+ loudspeakers [see Graph 1, below]. I discuss the response, and sweetened treble, in my boxout [p37] but distortion is well managed, increasing gently with power through the midrange from 0.06%/ 1W to 0.15%/5W and 0.4%/10W. The output transformers are not massive, so distortion increases quickly at low bass frequencies from 0.5%/1W to 1%/5W at 20Hz. Gain is sensibly moderate at just +33dB but, most impressive of all, the SQ-N 150 is very quiet for a tube design. Residual hum and noise is just -76dBV while the A-wtd S/N ratio is a very wide 95.3dB (re. 0dBW) – 10dB wider than that achieved by many solid-state designs.
The partnering D-N150 player/DAC is based around TI's 'Directpath' PCM5102A chip, its charge-pump (capacitorless) output servicing a generous 108dB A-wtd S/N from a maximum 2.1V output. The 225ohm source impedance is not too high and while distortion is at its highest over the top 10dB of its dynamic range via both CD and 24-bit LPCM inputs (the latter 0.0040.03%, 20Hz-20kHz), it relaxes between -10dBFs to -30dBFs where THD is just 0.0004-0.009% [see Graph 2, below]. Luxman has chosen the 'normal latency' version of TI's linear phase digital filter – stopband rejection is just 64dB but the response extends to -0.2dB/20kHz, -1.1dB/45kHz and -3.0dB/90kHz (CD/48kHz, 96kHz and 192kHz media). Jitter is acceptably 'average' at 340psec, 330psec and 290psec (CD, 48kHz and 96kHz). PM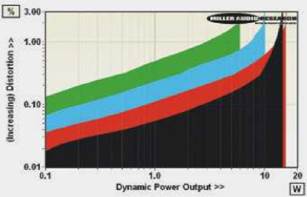 ABOVE: Dynamic power output versus distortion into 8ohm (black trace), 4ohm (red), 2ohm (blue) and 1ohm (green) speaker loads. Max. current is 2.4A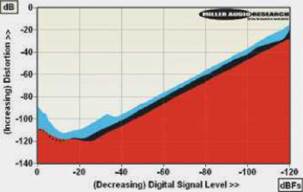 ABOVE: Distortion versus digital signal level (1kHz at 48kHz/24-bit, red; 1kHz CD, black; 20kHz CD, blue)
NEWS SPECIFICATIONS
| | |
| --- | --- |
| Continuous power (<1% THD, 8/4ohm) | 12W / 12W |
| Dynamic power (<3% THD, 8/4/2/1ohm) | 14W / 15.5W / 10W / 5.8W |
| Output impedance (20Hz-20kHz) | 0.62-0.82ohm (281-289ohm, CD) |
| Freq. resp. (20Hz-20kHz/100kHz) | -0.25 to -0.20dB/-1.0dB (Amp) |
| Distortion (20Hz-20kHz, 0dBFs/0dBW) | 0.004-0.033%/0.047-0.55% |
| A-wtd S/N ratio (re. 0dBFs/0dBW) | 108.0dB (CD) / 95.3dB (Amp) |
| Digital jitter (CD / 48kHz / 96kHz) | 340psec / 330psec / 290psec |
| Power consumption (idle/rated o/p) | 88W / 99W (6W, CD) |
| Dimensions (WHD / Total weight) | 297×98(188)x222(251)mm / 17kg |