Pellet BBQs
Traeger ironwood 650 vs weber smokefire epx6 stealth vs broil king regal 500
29 Jun 2022
Want all the convenience of gas and the smokey flavour of charcoal?

Discover which pellet grill can offer you the best of all worlds
————— Words: Rob Jones, Derek Adams Photography: Phil Barker ————–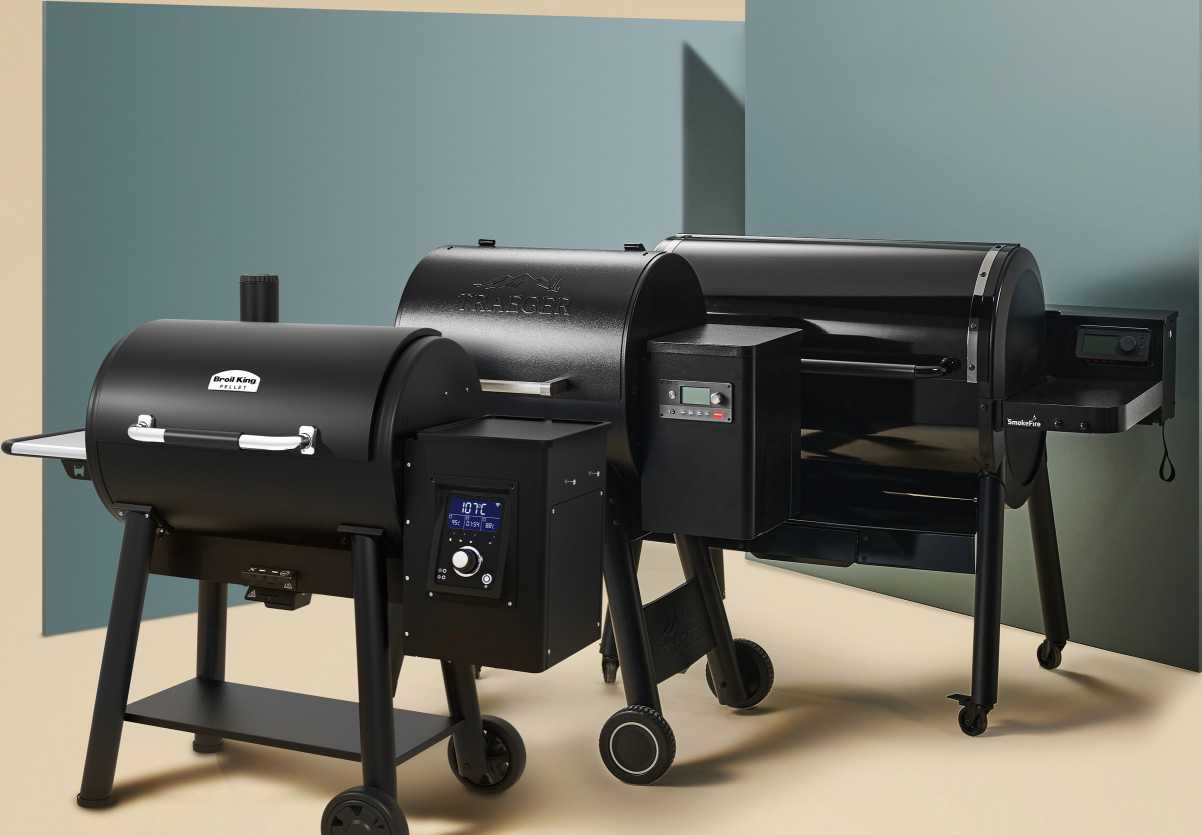 Pellet grills are all the rage in the US, where adventurous grilling and low-and-slow smoking is almost a way of life. If you've ever enjoyed a meal around a camphre and can still remember that tantalising smell of wood smoke and sizzling sausages, that's what a pellet grill is like. Instead of using lumps of wood, a pellet grill burns small compressed pellets made from a wide variety of different woods that imbue meats and vegetables with a delicious smoky flavour.
Pellet grills require an electricity source to power a corkscrew-shaped auger that feeds pellets from a hopper to a fanned burn pot below the grill grate. Since the rate of pellet delivery is controlled by a computer processor – which you can access via an easy-to-use digital interface or even a phone app -whatever temperature you set remains that way for the entire duration of the grilling session. Just like an indoor oven, you simply set it and forget it.
So, if you're a beginner who tends to burn food on a regular basis, an avid experimental chef who wants to push the envelope using a variety of ingredients other than the staples, or someone who simply hates being chained to a barbecue while everyone else is having a good time, a pellet grill is for you.
7Review earns Amazon affiliate commissions from qualifying purchases. You can support the site directly via Paypal donations ☕. Thank you!
WHAT'S ON TEST…
Bottom Line
SPECS
WEBSITE
Weber SmokeFire EPX6 Stealth Edition
Check Prices
Bottom Line
Weber is arguably the world's most ubiquitous BBQ brand with a portfolio that's second to none. Its new Stealth Edition pellet grill is a total stunner that's just as competent at searing steaks over a naked flame as it is at normal grilling and high-end smoking. In short, it's probably the most beautiful looking BBQ we've ever laid eyes on. And it's priced accordingly.
SPECS
Max temperature
315°C
Grilling area
6,370cm
2
Hopper capacity
10kg
Meat
probes
1
Dimensions
1194x1410x838 mm
Traeger Ironwood 650
Check Prices
Bottom Line
Joe Traeger invented the pellet grill back in 1986 and this handsome model is a fine example of the attention to detail that goes into every one of the US company's products. The Ironwood 650 is a premium workhorse that's perfect for both standard grilling and epic low-and-slow smoking sessions. It also connects with what may well be the best app in the grilling business.
SPECS
Max temperature
260°C
Grilling area
4,193.54cm
2
Hopper capacity
 9.07kg
Meat probes
1 
Dimensions
1168x1193x
686mm
Weight
67.59 kg
Broil King Regal 500
Check Prices
Bottom Line
Broil King hails from Canada and is renowned for the high quality and innovative design of its grills. This huge model is built like a particularly sturdy steam train and comes with premium cast-iron grates, an ingenious pellet burn pot cleaning system and a full rotisserie set. It also attains a higher grilling temperature than many of its competitors.
SPECS
Max temperature
315°C
Grilling area
5,580cm
2 
H
opper capacity
 9kg
Meat probes
2 
Dimensions
1492x1265x699mm
Weight
125kg
PRODUCT 01: WEBER SMOKEFIRE EPX6 STEALTH
A grill master's dream that will cook a huge amount of food to perfection
Be under no illusion: the Weber SmokeFire EPX6 Stealth Edition is crazy heavy, weighing in at over 200 pounds. If you and any helper aren't physically strong, seriously consider getting this BBQ built by a professional, as its very large physical dimensions and weight have to be negotiated multiple times during construction.
Weber has spared no expense in terms of the Stealth Edition. Each part of the grill feels incredibly well made and weighty, with attention to detail paid in key areas, The main cooking drum's handle, for example, not only is fashioned out of strong and pleasingly weighty steel, but it is also wrapped in a heat-proof rubber shroud that means it never gets uncomfortably hot even in the midst of an intense BBQ session.
Getting it started is easy. You just turn the power switch to on, then use the dial on the control panel to select your desired temperature with a twist and then click it in to set. Heat-up time was fast, surprisingly so. The grill reached temperature within about 15-20 minutes from cold.
With a combined dual grilling area of 6,370 square centimetres, you are spoiled for choice in terms of where
Even at a modest 230°C, this grill flew in terms of getting food ready to eat
you cook your food, and what you cook in it. This is a grill that is so large you could cook multiple large birds in it at once, along with ribs, steaks, burgers, sausages, Ash, vegetables and any other side dishes you desired.
The SmokeFire EPX6 is fast, too. Even at a modest 230″C, this grill absolutely flew in terms of getting food ready to eat. It would be hugely useful at a large event, like a birthday party, when you need to cook a variety of food for 20-30 people or more.
What the Stealth Edition delivers is truly epic cooking capacity, top-tier smoking, grilling and roasting capabilities and master craftsman-level build quality. But do you need that? For many people what the Weber SmokeFire EPX6 Stealth Edition delivers may be over the top for their needs.
Overall, though, money and a person's actual outdoor cooking needs aside, it is impossible not to be left in awe of the Weber SmokeFire EPX6. It's a state-of-the-art smoker and barbecue grill that can cook food for an army of people while infusing it with delicious flavour.
Whenever you open the EPX6, the flames and heat coming from the wood pellet furnace at the bottom add to the atmosphere of grilling outdoors
PRODUCT 02: TRAEGER IRONWOOD 650
Simply a superb wood-pellet-fired BBQ grill and smoker
The Traeger Ironwood 650 is a wood-pellet-fired barbecue that can grill, roast and smoke basically anything you throw at it. For all intents and purposes it is a bona fide outdoor oven and smoker, that can cook any food fast or slow.
Download the official Traeger app and you can control the grill remotely, and it will also provide notifications for key things like when the BBQ hits temperature. Which is useful for the grill master who likes to mingle.
The downloadable cooking programs are where the app is at, though, These let you effectively program your Traeger Ironwood 650 to cook specific things in an optimal way, such as brisket, ribs or a whole bird. You prepare the meat and load it into the Traeger, then download one of these programs and just click go – it's really that simple.
Priming the auger and waiting for the grill to ignite can take up to around seven minutes, give or take, and it is at that point the grill starts to properly heat up to the selected temperature. You'd need about 20 minutes to reach a decent cooking temperature on the Traeger Ironwood 650, so factor that into your cooking time.
Load the meat, download the program and just click go – it's that simple
With the grill at temperature, you can start the good bit – loading the grill up with meat. And this is where it all comes together instantly. Everything cooks so evenly and, for want of a better word, well, The patina coating on chicken is crisp while the chicken itself moist and tender. Sausages brown beautifully and with a delicate smoky finish to the skin, while kebabs and burgers are succulent.
Being honest, just cooking for a family is almost beneath the Traeger. There's so much room in its cavernous insides, split over two shelves, that you could cook probably over 10 different things all at once. It's a grill that will reward experimentation for sure.
The Traeger Ironwood 650 is a superb barbecue that can grill, roast and smoke food to a professional, artisanal level – and everything comes with a delicious, flavourenhancing wood pellet infusion. You can cook for an army of people, too, due to its large size and capacious dual grill shelves, and the way you can download cooking programs to it through the app so you can just sit back while, say, a whole chicken is perfectly cooked, is very welcome.
You don't spend this money without being serious about cooking outdoors for friends and family – and you can cook a wide variety of things on it
PRODUCT 03: BROIL KING REGAL 500
As solidly built as it is solidly reliable in cooking up mouth-watering grub
When we say that the Broil King Regal 500 is built like a steam train, we really mean it, chimney and all. Tap any surface of its 2mm, 14-gauge steel cladding and we guarantee your knuckles will hurt. Make no mistake, this is arguably the most solidly built barbecue you'll ever come across and, once in position, even a landslide would have trouble budging it.
Uniquely, this pellet grill also features an ingenious fire pot cleaning agitator that empties the burnt ashes into a little container underneath the chassis. Simply wiggle the front lever from side to side after each grilling session and it's ready to roll for the next one. This is a major convenience because practically all other pellet smokers require removing the greasy grill plate, the deflector and the fire pot protector in order to vacuum up the inevitable mess of pellet dust that follows every grilling session.
Aside from the Regal 500 display's three preset cook buttons – Smoke, Roast and Grill – you can also select your own temperatures at will by using the huge rubberised control on the front. Like all the best pellet grills, you can use the Regal 500 with an app so it can be controlled remotely from anywhere you like.
The Regal 500 is an ideal all-rounder, whether you're grilling, roasting, baking, slow smoking or even searing.
It offers ace results, with smoke rings and fall-off-the-bone tenderness
To test it we first slapped on a pair of pre-rubbed baby back ribs and tapped the preset ' Smoke ' button, which maintained the temperature at 107°C throughout the entire six-hour process. Needless to say, it produced stunning results, with noticeable smoke rings, a crunchy/ chewy bark and fall-off-the-bone tenderness.
We then tried something that most pellet smokers are incapable of pulling off with charcoal-style success -namely searing. After we tapped the preset 'Grill' button, the temperature rose to its predetermined 315°C in about 45 minutes. This is a phenomenal temperature for a pellet grill to achieve but the Regal 500 pulled it off with consummate ease. We then slapped on a prime sirloin steak and we could hear the sizzling as it caramelised the meat to perfection.
At around £1,900 (albeit costing less if you look around), the Broil King Regal 500 is far from cheap, but it's such a wondrous grill in so many respects that we have no compunction in awarding it an unequivocal high five. It simply rocks on all fronts.
The Broil King app isn't as good as Traeger's, but it's still worth downloading, if only to keep tabs on the cook while entertaining guests
VERDICT: THE OVERALL WINNER IS…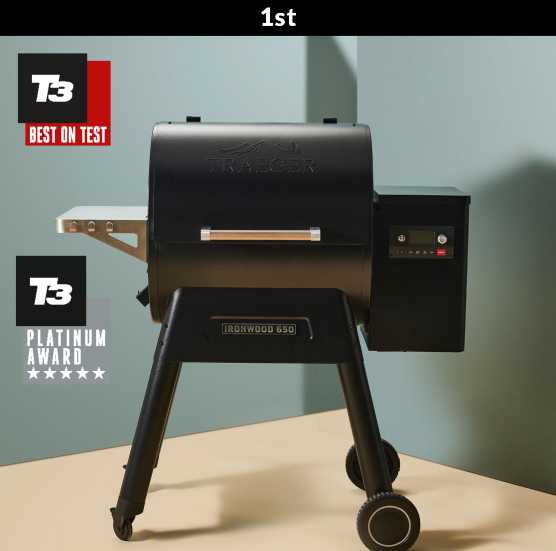 WE'RE IMPRESSED Superb build quality; straightforward assembly procedure; incredible grilling, roasting and smoking performance; variety of flavourenhancing wood pellets available.
WE'D IMPROVE Takes a while to get up to temperature; seriously large and heavy unit; kettle plug power lead is short, so you need an extension cable.
THE LAST WORD A serious, do-it-all, wood pellet fired BBQ grill that makes it simple to cook basically anything for a large amount of people outside. Its build quality is superb and the range of accessories and fuels for it are second to none. But it may be too expensive for some.
5/5
WEBER SMOKEFIRE EPX6 STEALTH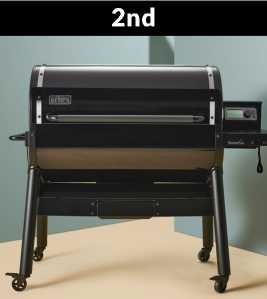 WE'RE IMPRESSED Feels really well made and weighty; easy to get started on; can efficiently cook a big variety of produce.
WE'D IMPROVE So huge you might need help setting it up; may be over the top for what the average griller needs.
THE LAST WORD A pretty awesome BBQ that could feed an army with delicious food.
BROIL KING REGAL 500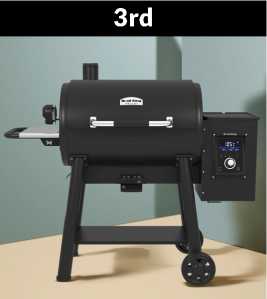 WE'RE IMPRESSED Exceedingly sturdy build quality; superb performer; sears steaks at 315°C; it's a doddle to use.
WE'D IMPROVE It weighs a ton; it's far from cheap.
THE LAST WORD A true do-it-all leviathan for grilling, roasting, smoking, baking, even searing. It's pricey but, by jingo, it produces exquisite results.
THINGS TO CONSIDER WHEN USING A PELLET GRILL
CONSIDER THE STEAKS
While pellet grills are brilliant for general grilling and long five- to 12-hour smoking sessions, certain models aren't really suitable for searing steaks because a) they don't reach a high enough temperature and b) they have a heat reflector panel positioned between the pellet burn pot and the grill grate. However, some models of pellet grill – like the Weber SmokeFire – are designed to sear over a naked flame as well as grill and smoke.
GET THE LEAD OUT
All pellet grills require an electricity source to operate the auger and a built-in fan to keep the pellets burning so you may need to purchase a long 13-amp extension lead unless you already have an electricity outlet that is plumbed into the outside wall.
COOL YOUR JETS
Rather like a nuclear reactor, pellet grills need to go through a 'shut down' sequence at the end of each barbecuing session and this can take up to 20 minutes to complete. Do not unplug the unit from the mains until the interface tells you to.
KEEP 'EM CLEAN
All barbecues require a good clean from time to time but a pellet grill requires a bit more maintenance to keep it ticking over. This is because the spent pellets produce a lot of ash, which gathers in and around the burn pot. In some models the ash can mix with fats to form a gloopy mess that in extremely rare cases has been known to catch fire. But cleaning ash from a pellet BBQ is simply a case of reaching for a handheld vacuum cleaner.
BEWARE THE WET
Pellet grills must also be protected from the elements with a robust cover when not in use. Also, during winter months, the pellets should ideally removed from the hopper – all models have a release hatch – to prevent them from swelling in damp conditions.