A MacBook-friendly USB-C display
FROM Philips, features Multi-function USB-C dock, DisplayPort, HDMI, DVI and VGA ports, adjustable stand.
Bigger isn't always better, which is why we wanted to check out the new Philips 25-inch monitor in its Brilliance range. It's known as the 258B6QUEB, though Philips also refers to it as the "Brilliance LCD monitor with USB-C dock", and this 25-inch display has got an awful lot going for it.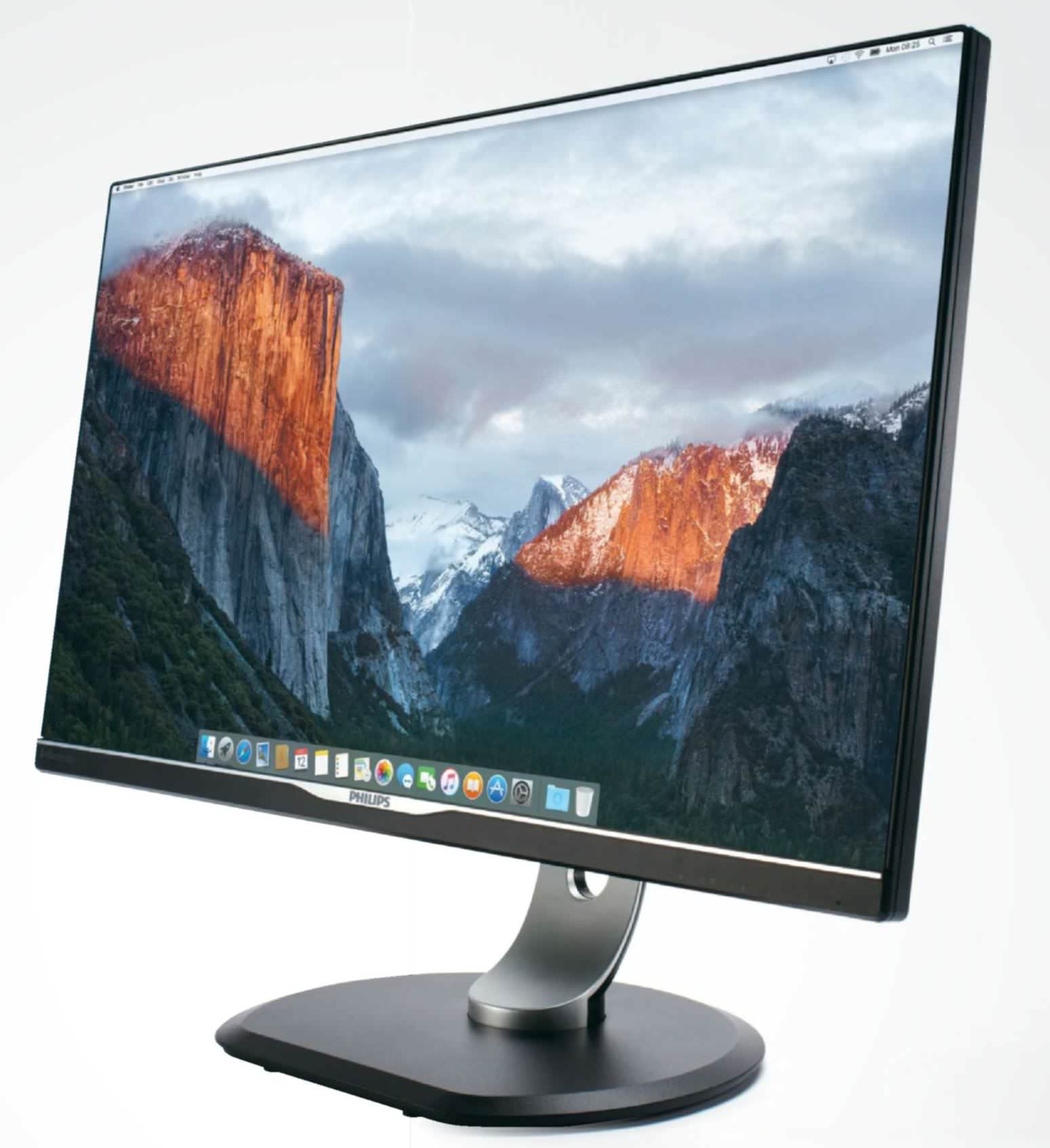 First of all, as that longer name indicates, this device has a built-in USB-C dock. Okay okay, we know it's a monitor, so what's the big deal about this dock? The point is that this makes the display quietly but squarely aimed at MacBook owners who need help dealing with their laptop's single output port. Plug a 12-inch MacBook into this display's USB-C port and you're linked to a power source, display and data through regular USB (there are three ports on the display for hooking up devices), as well as Ethernet – yes, there's a standard RJ45 socket hidden along with the other ports around the back of the monitor. This is a screen that MacBook owners in particular will love as it actually manages to make perfect sense of the single-port design that Apple presented to the world.
The Philips 258B6QUEB comes with plenty of ports to give you many expansion options the MacBook lacks.
Next comes the stand. It's not as 'gee whizz' as the USB-C dock, but it has an honest-to-goodness tilt, swivel and height- adjustable support. You get around 135 degrees of turn on the base, and with a bit of finger pressure you can change the height from low enough to trap your hand on the desk to high enough for a pint glass to sit underneath, should you want to do that.
Our very first impression wasn't perfect, as we had to reach for our tool bag to put the display together. When you first unpack this product you'll find that mounting the monitor on its stand is a bit of a pain; you'll need a cross-head screwdriver (not supplied) to fix the stand's mounting plate to the back of the display – but relax, as it was all plain sailing from then on. The good news, for some people anyway, is that this is a standard VESA-compatible connection, so if you want to put the display on a wall or use some other kind of support you can, using a wide range of mounting gear from many different places. For regular desktop use, though, the stand that's provided is fine.
Good connections
The connection options Philips has built into this thing are good. As well as USB-C with its attendant docking ports there's one HDMI, one DVI, one old-school VGA and one full-size DisplayPort connector, plus a couple of headphone-style jacks for audio in and out. It also has built-in speakers, though they're nothing you could rock out to.
This display is a great way to get both a high- quality second screen for your MacBook, and a handy way to gain extra expansion from the MacBook's USB-C port. It's not for everyone, but if you're feeling like one USB port isn't enough, this may be the display for you.
One question you need to ask yourself is whether a 25-inch monitor is big enough for your needs. It's a Quad HD display (with a native resolution of 2560×1440 pixels), so it's a decent bit of screen real estate. To compare, the MacBook's own screen is 2304×1440.
It's physically smaller and with slightly fewer vertical pixels, although of course it packs those pixels into a Retina-quality panel.
The display itself is a decent IPS LCD panel, and it has the same excellent viewing angle range that we've come to expect from Philips; colours and contrast stay very good through almost 180 degrees. Yes, that's far beyond the point where you could make sense of what's displayed. In our Spyder colorimeter tests it performed well for mainstream use: 99% of sRGB, which is also around what a MacBook achieves. It's packaged in a chassis that has an extra slim bezel along the top and sides, and it has the standard set of discreet controls lined along the bottom. True, these 'buttons' are the frustrating touch-sensitive type, but this is a minor annoyance in an otherwise pleasing package. If you're looking for a display to put into a multi-monitor array the VESA mount is a big help, but the strand of control buttons makes the bottom bezel noticeably larger than the sides. But that's not really where this product is aimed.
Now USB-C me
If you use a MacBook Pro, Air or Mac mini this is a perfectly good 25-inch IPS display, but probably not your best option. For one thing, the price reflects its special USB-C capabilities. It's pretty clear this monitor's ideal audience is the new MacBook-toting crowd. If that's you and you'd like more screen space then this display rises to the challenge beautifully, using its intelligent multi-function dock to make the most of the MacBook's single USB-C port. We wouldn't be surprised to see Apple giving it an honourable mention at its next event. Use this as the quick way to hook into your desktop setup in one step: hard drives and other USB devices, wired network and power, and, of course, the display connection itself.
Verdict
A great display that really excels when it's paired with a 12-inch MacBook and its single USB-C port
Recommended
Philips Brilliance 258B6QUEB Review
A great display that really excels when it's paired with a 12-inch MacBook and its single USB-C port
PROS
USB-C connection
Colour rendering
VESA-compatible
A bit costly for non-USB-C Macs
Add your review