BitFenix Enso – When RGB is life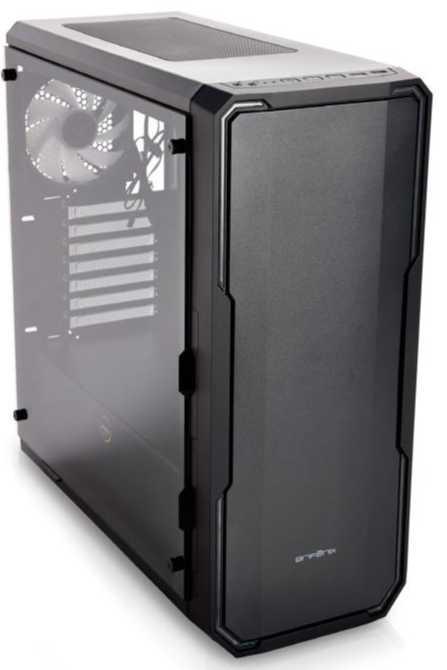 THERE'S A FACETIOUS argument going around the tech industry that says RGB sells, therefore more RGB must be added to more products. From GPUs to motherboards, and memory to mouse pads, we've seen it on everything. The problem we have with that argument is that if anything over 50 percent of the products out there feature RGB, then of course RGB is going to sell more. It doesn't necessarily mean that it's more popular, just that you have more RGB products than non-RGB. And as a consumer, if you're left with just one choice, what other option is there?
BitFenix's Enso looks to capitalize on that growing "demand" for all the red, green, and blue, with what can only be described as the world's most boisterously disorderly LED-lit chassis. Featuring four individual LED RGB strips baked into the corners of the front panel, each vertex glows with an incandescent rainbow wave, for those who desire it, or full individual colors if you're after the thematic color-matching look instead. There's no software control here, but instead a single button is located on the front I/O to cycle through all the lighting effects.
Although RGB cases are few and far between, we have seen similar features in the past. Typically, however, these only extend as far as an individually lit logo or power button, not a fully lit wavy design embedded into the front of the case. You're either going to love it or hate it, and for those who love it, it's going to be a welcome addition to an already extensive customization option. For the latter? Well, this probably isn't the case for you.
Lighting aside, the Enso is adequately priced and nicely equipped. You net yourself a mid-sized ATX tower, packing all of that RGB, a tempered glass side panel, a PSU cover, SSD mounts, and plenty of cable management. On top of that, there's some smart slide-out fan filters included on the right-hand side, as well as a magnetic soft- touch dust cover, or mesh filter, for the top two 120mm fan mounts.
The Enso is, however, not without its problems. And there are two that immediately detract from the otherwise brilliant composition that an illumination enthusiast might appreciate. By far the biggest is airflow. The front of the chassis lacks any major source of air intake, with only scant access being available from a small two-inch cutout situated at the bottom of the front panel that draws air in from the back of the chassis, funneled through two channels around the feet.
In today's age of hot-headed processors, the inclusion of some form of mesh intakes along the edges of the front panel (as seen on the H700i, for instance) would help alleviate these worries considerably. Unfortunately, that single two-inch cutout just isn't enough to ensure the front fans (of which you can mount two 140mm) are adequately fed with enough air to keep your internal bits and bobs cool.
7Review earns Amazon affiliate commissions from qualifying purchases. You can support the site directly via Paypal donations ☕. Thank you!
Then there are the materials used. There's just too much plastic and steel for our liking. Sure, you get yourself a lovely tempered glass window and some smart lighting, but when you consider that Phanteks provides both of those in its Eclipse P300 for almost less, you have to ask what you're actually paying for. There's no soft-touch finish, no premium coating—everything has been thrown under the bus in order to hit that price point and show off the LED innovations embedded within.
If this came with a single white LED, better airflow in the front, and a premium finish at the same price, we could get behind it. Unfortunately, as it is, unless you live in Fargo, North Dakota, and really love wavy illuminations, this chassis is probably best ignored. -ZAK STOREY
BitFenix Enso
+ SUPERNOVA Well equipped; adequate price; RGB lovers will enjoy it.
– BLACK HOLE Awful cooling; cheap materials; RGB lighting before all else.
SPECIFICATIONS
Form Factor
Mid-tower
Motherboard Support
E-ATX, ATX, microATX, Mini-ITX
Colors Available
Black, white
Window Available
Yes
3.5-Inch Support
2
2.5-Inch Support
3
Fan Support
2x 140/120mm front, 2x 120mm roof,

1x 120mm rear

Radiator Support
280mm front, 120mm rear
Dimensions
8.3 x 19.3 x 17.9 inches
Graphics Card Clearance
13.38 inches
CPU Tower Clearance
6.29 inches
Weight
15.4lb
BitFenix Enso Mesh Tower Black, White
as of September 17, 2023 11:42 pm
Features
BFC-ESM-150-WWWGK-RP
Colour: black / white
Item weight: 7.0 Kg
BFC-ESM-150-KKWGK-RP BitFenix Enso Mesh RGB Midi-Tower Case Tempered Glass Black
out of stock
as of September 17, 2023 11:42 pm