DETAILS
• Manufacturer Xenta
• Requirements: Standard ATX PSU, micro ATX motherboards
The component maker Xenta produces a range of cases, and they may at first seem a little basic, but they're actually quite impressive for a number of reasons.
The one we have to test in this instance is the Xenta B138A. This is a general midtower case that measures 195 x 410 x 423mm and features a vented side panel, with a slight view of the interior, seven expansion slots, a PSU section at the top, a flip-down optical drive cover and room for eight drive bays.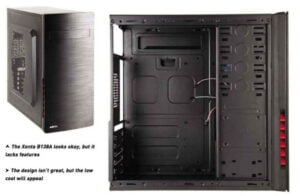 The exterior is neatly finished with a mixture of both plastic and steel and some splashes of red plastic where you'd mount a front fan. The brushed aluminium effect is quite pleasing to the eye, and considering this is a no-so-well-known case, it's reasonably well built and not too flimsy.
7Review earns Amazon affiliate commissions from qualifying purchases. You can support the site directly via Paypal donations ☕. Thank you!
The interior can feel a little cramped, though. There's enough space for mATX boards and components, but anything bigger (including some graphics cards), and you'll soon begin to notice the lack of space. This also makes cable management a bit of a chore, and there are no dedicated cable channels to hide the slack from view or from getting in the way of other components; just a very small void behind the motherboard backplate. To be fair, though, that's a feature you'd normally find on a more expensive case, so we'll let it pass.
It does, however, offer a side-mounted SD card reader, USB 2.0 and 3.0 ports along the top-front, as well as power and reset. And the case does have the option to install a couple of 120mm fans as well as a rear 80mm fan, but sadly none were supplied.
One thing that did bug us somewhat was the optical drive flip-down cover. There's a slight lip on the underside of the flap that catches the optical tray as it opens. The Blu-ray drive we used is a fairly generic model, and if we were inclined to do so, we could have easily filed off a little of the plastic on the flap to stop the catching Furthermore, the eject button for the optical drive is mounted to the side, which we feel is a little awkward to get to.
There's also an odd choice of Internal 5.25″ drive bays – far too many considering there's only one option to have an optical drive in use. We feel that better use of hard drive bays or maybe a couple more 2.5″ or SSD bays would have been a better design choice.
One thing that did bug us somewhat was the optical drive flip-down cover.
Overall, the Xenta B138A isn't a bad PC case; there are just a few design oddities and omissions associated with it. The blessing here, though, is the remarkably low price.
If you're looking to build a budget system, one that looks reasonably good, and you're not too concerned over the aesthetics, then the Xenta B138A may well be an apt choice. But it lacks too much for a higher-grade system build.