Cherry's first gaming keyboard
cherry is A company to which we all owe a debt of gratitude. Without its steadfast stance on the mechanical key switch, we simply wouldn't be where we are today. Indeed, its key switches have revolutionized the keyboard industry, and whether you use Razer, Romer-G, or some other proprietary switch, all of them owe Cherry a pat on the back. But how good are they at moving beyond the clickety keyboard clackers that we've all come to love?
The Cherry MX Board 6.0 is the key manufacturer s first foray into developing a gaming board. Based on the world-renowned Cherry MX Red, this variant touts the bold and ambitious claim of being the planet's fastest keyboard. Indeed, the key caps are two-thirds the size of a standard keyboard, meaning less distance between your finger and the actuation point. And, of course, Cherry is still utilizing a key switch that requires a meagre 45g of force.
What is interesting is the inclusion of a new technology known as Cherry RK.
Essentially full analog signal processing, this allows Cherry to achieve a very low latencies, meaning almost instantaneous response times across USB, and absolutely zero ghosting, making this board as fast if not faster than the traditional old-school PS/2 port solutions. Overall, we noticed an increase of around five words per minute on our average type test here in the office, pushing this humble writer from 109 to 114 wpm.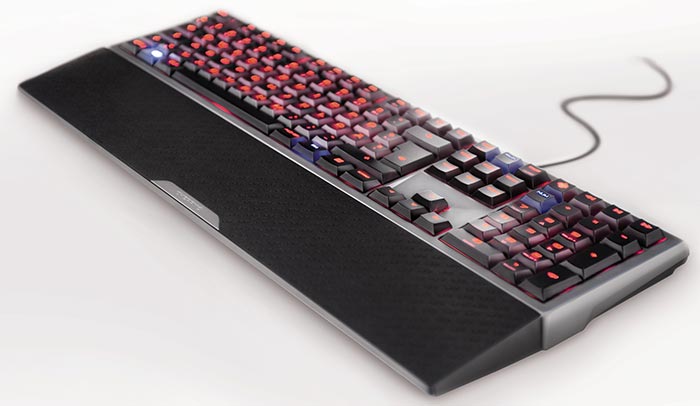 The build quality of Cherry's MX Board 6.0 is stunning. It comes covered from head to toe in a solid aluminum frame, ice-cool to the touch. There's a set of dedicated media keys, and even a magnetic wrist rest included. Unfortunately, you're not greeted by a plethora of LED color options, as you find in some other products at this price point, or a USB passthrough—a shame, considering the cost of the MX. Indeed, the Cherry MX Board is a brilliant entry into the mechanical keyboard world, but there are still a few things that need adjusting.
Cherry MX Board 6.0
7Review earns Amazon affiliate commissions from qualifying purchases. You can support the site directly via Paypal donations ☕. Thank you!
RED DEVIL Fastest keyboard out there; analog converter; fabulous build quality; dedicated media keys; wrist rest.
DUST DEVIL Lack of LED customization; wrist rest not secure; no USB passthrough; quite pricey for spec.
SPECIFICATIONS
Switch Type Cherry MX Red
Programmable Keys No
N-Key Rollover | Full
Passthrough No