All the glitz, none of the glam
cooler master peripherals have been around for some time, providing gamers with affordable, dependable entry-level gaming hardware since the dawn of the millennium. The Quickfire lineup has sat snugly in CM Storm's arsenal for many years, introducing its first set of mechanical keyboards to the gaming community.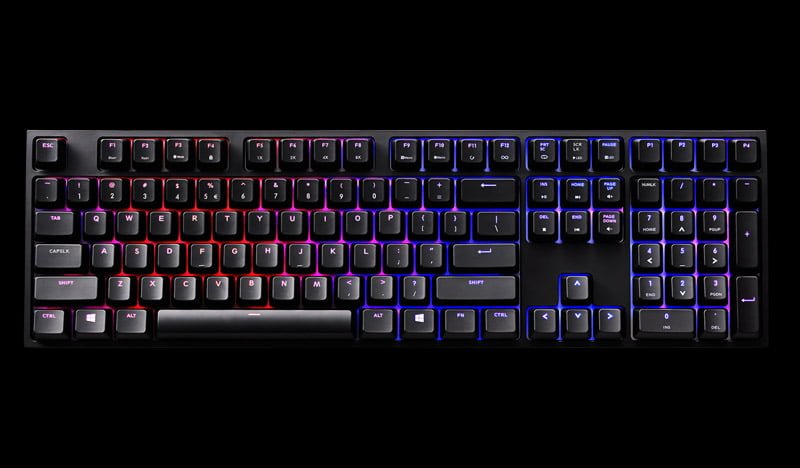 Indeed, the Storm Quickfire XTi looks to expand upon that, yet retain its simplicity. Unlike some of the other keyboards in our group test, CM Storm has opted out of any form of Ul experience on the desktop side of things and replaced it with a more physical set of LED-altering options via integrated function keys.
The Quickfire doesn't feature the usual 16.8 million color set of our other mechanical keyboards here, but instead relies on two powerful combinations of both red and blue. You can get the whole range of mixing those two colors together but not a lot else otherwise. Ironically, there are still plenty of patterns, waves, and reactive typing modes, but that's about it.
The Quickfire XTi comes in Cherry MX Brown, Red, or Blue switches— ours was in Brown. Rather bizarrely, however, it was the loudest of all the keyboards we tested. So much so that one of our colleagues became so enraged they threw a spongy potato at our heads while we were testing.
All in all, we're a little disappointed with the CM Storm Quickfire XTi. It's a solid use of a Cherry switch but the overall implementation and design is very basic. The colors are fairly limited, and there are no passthroughs. On top of that, by far the most annoying feature this keyboard has is its reduced-size Enter key—going from a full-size one to one the size of a Delete key is infuriating in use. That being said, all of these design decisions have, without doubt, been introduced to save money for the customer, making this keyboard a cheap entry into the mechanical marketplace.
CM Storm Quickfire XTi
7Review earns Amazon affiliate commissions from qualifying purchases. You can support the site directly via Paypal donations ☕. Thank you!
UDSHARP SHOOTER Strong LEDs; cable management; solid price point.
TRIGGER HAPPY No wrist rest; small Enter key; no USB passthrough; lack of 16.8 million colors; no dedicated media keys.
SPECIFICATIONS
Switch Type
 Cherry MX Red.
Cherry MX Brown.
Cherry MX Blue
Programmable Keys No
N-Key Rollover | Full (Windows only)
Passthrough No