Matias Mini Quiet Pro – No pressing concerns
Like Filco's keyboard above, this is a compact version of a full-size wired mechanical keyboard (the Quiet Pro), which also omits the numeric keypad. Matias' Quiet Pro mechanism is designed to avoid loud clicking when the keys are pressed while still providing a positive typing action. In this respect it comes close to Cherry's MX brown switches, but the action isn't quite as crisp, and we found the key caps were more prone to wobbling when hit.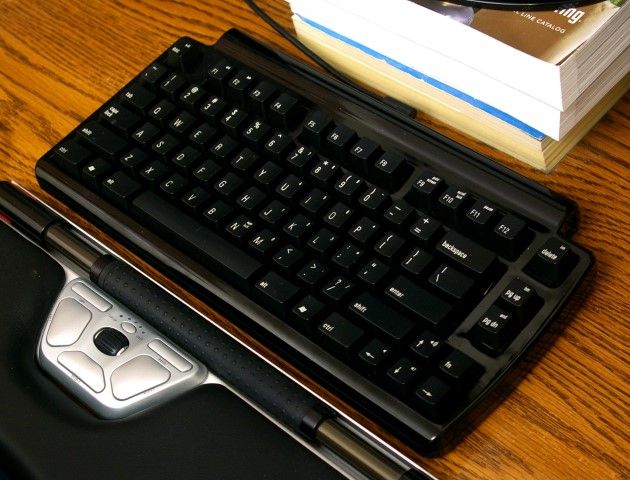 It's a subtle difference, but when you pay a fair old whack for a mechanical keyboard you'll want it to be as near perfect as possible. You do still get the benefit of proper switches, and the vertical slider action is a million miles away from the squish of a rubber dome or the tap of the scissor switches in a flat keyboard. These take a bit more effort to press, which helps prevent accidental strikes and will suit those with fingers used to old-fashioned computers or even typewriters. Younger people might find it hard work at first.
The Quiet Pro has a chunky design, with conventional top-of-the-key labels, but is solidly built, right down to the fully adjustable legs. It incorporates USB 2.0 ports than can be used to attach a mouse, charge another device or even read a USB stick. It's narrower than the Ninja above, though, omitting not only the numeric keypad but also the Home,
PrtScrn and other keys, which are activated via key combinations. The cursor keys are also less prominent than on the Ninja, and the spacebar is a bit short, but you do get full-size Enter and Backspace keys.
VERDICT:
It's not as elegant as the Ninja, but saves even more space. The key action is very good, and the USB ports are welcome
Rating 4/5
7Review earns Amazon affiliate commissions from qualifying purchases. You can support the site directly via Paypal donations ☕. Thank you!