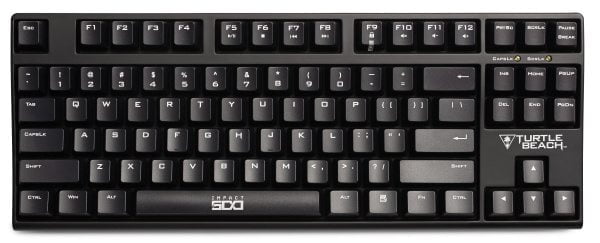 The Tyrion bannister of the mechanical keyboard world. Only without the wenches. Or wine. Or witIn these days of a UKIP government (we're writing this before the general election, but briefly glanced at a newspaper the other day), it may seem odd to see such symbols, but this keyboard is proudly European. It even relegates the pound sign to third billing on the [3] key behind the hash, punishable by three years in prison, and adorns the [E] key with the insidious euro symbol.
The Impact 500 is a mechanical keyboard with the number pad amputated, a kind of keyboard carbine for the sort of close-quarters typing that means waiting until you see the whites of your enemies' eyes before you unleash a barrage of trash talk. There's even a removable mini-USB cable (that's nicely braided) so you can make a swift escape from a player more skilled at insults than you. Lol.
The soft coating we waxed lyrical about on the Grip 500 mouse opposite is present and makes a bit more sense on a keyboard. It's still gorgeous, but the keys here are smooth-topped rather than rubber-coated and feature the kind of contouring that the mouse was so sorely lacking. Even the sweatiest finger will have a hard time falling off, and there are deep gullies between the keys to channel your pouring bodily fluids away.
Cherry Blue switches lurk beneath the keys, with a click that activates quite high up in the button's travel. It is, as we've come to expect, a positive action -there's no doubt whether you've pressed a key or not – and there's plenty of travel once you've pressed it. Whether you allow the key to bottom out or snap your finger straight back up again, it'll still register. There's six-key rollover with anti-ghosting (you can press six at once and it can distinguish them) for those finger twisting combos.
The steel-reinforced frame means it's a sturdy unit, its compact dimensions perhaps adding even more stiffness than a wider chassis would. There's little wobble in the keys themselves, just the tiniest movement if you rattle one about, and there are some decent feet under the keyboard too, meaning it sticks gecko-like to your desk as you thrash from side to side. Extend the little feet that raise the back by about half an inch, however, and a disturbing degree of slippage creeps in. The feet are capped with hard plastic rather than grippy rubber, an oversight on the manufacturer's part as the front rubber pads aren't enough on their own.
What you don't get are any programmable macro keys (boo) or Blackpool-esque lighting systems (yay), which means there's no application or special drivers to install before you can use it. It also keeps the desktop footprint small. Perhaps they could have gone even further – [Print Screen] has its uses, but when was the last time you used [Scroll Lock] or [Pause Break]?An [FN] button next to the right [Alt] key gives access to media controls found on the central [F] keys, and an indicator lamp on the [F9] key lets you know when the [Windows] key lock is engaged, but that's about as complicated as it gets.Unless you really need a numberpad, this isa great mechanical keyboard. It may lack bells and whistles, but its build quality is excellent, it does the fundamentals well and is a joy to use in a keyboard-intensive game. It's only a tenner less than Corsair's K65 RGB though. How much do you like the coloured lights? Ian EvendenGreat build quality; lovely to use; nice clicky action.