Cherry MX Board 3.0 Review – Cherry, based in Germany, is best known as the maker of the mechanical switches used by most top-end keyboard makers, colour-coded (invisible to the user) according to their feel. This is the cheapest product in which the company uses them itself, and comes in four switch options: Black for a traditional stiff sprung key, Blue for a clicky key that takes less effort to press. Brown for a similar feel but without the click, and Red for non-clicky keys that respond more easily. Only the latter two are available in a UK-English layout.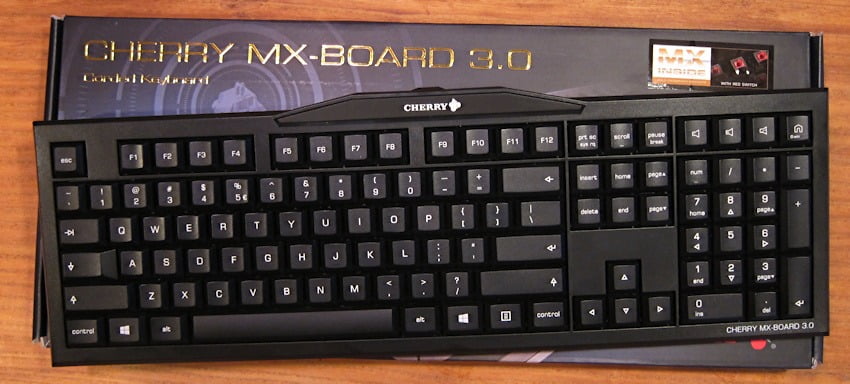 Solidly built will last for years, and it gives huge control over how you type
Often chosen by gamers for their speed. Red switches could be a good choice if you have fond memories of mechanical keyboards but your fingers have got used to modern flat keys, which take much less force to press. Despite how we all complained about them at first, decent tile-style keyboards do make accurate typing possible, but with a very different technique. Swapping back can be surprisingly tiring at first.
There's not much to say about the shiny black MX-Board 3.0 except that it's solidly built, with a steel plate in its base and every switch designed to last 50 million strokes. You don't get any fancy extras like multi-coloured lighting. In fact, apart from the Windows key and the Caps Lock and Num Lock indicators, the only part that's backlit is the Cherry logo at the top.
We'll allow them that self-indulgence, because the keyboard is very reasonably- priced for something that should last you a decade or two. The 12 function keys have their standard Windows actions by
SPECIFICATIONS
Wired USB keyboard • Function key customisation via software • Available in Windows PC layout only • 28x446x158mm (Hx WxD) • 0.83kg • Two-year warranty
7Review earns Amazon affiliate commissions from qualifying purchases. You can support the site directly via Paypal donations ☕. Thank you!
default, but can be customised using Cherry's KeyMan program. This is a pain to use. but have patience because when you delve deeper into it you can set up macros and key sequences triggered by single function keys, even adjusting the timing between key presses, which can be very useful.
VERDICT:
It's not a thing of sleek elegance, but this old-fashioned keyboard is a great example of its type (sorry) at a very fair price
5/5
Recommended
Cherry MX Board 3.0 Review
It's not a thing of sleek elegance, but this old-fashioned keyboard is a great example of its type (sorry) at a very fair price
Add your review
ALTERNATIVE:
Cooler Master MasterKeys MK750
With a similar feel plus programmable backlighting, this may be worth the extra money
Cherry MX Board 3.0 S - Wired Mechanical Keyboard - Aluminum Housing - MX Red Silent -White - QWERTY
as of December 8, 2023 8:29 am
Features
CHERRY MX RED SILENT switches, the patented damping minimizes actuation noise without affecting the typical linear MX RED actuation feel. CHERRY MX SILENT Red is also characterized by a linear switch characteristic. The actuation noise is reliably minimized by a patented damping. The button with the quiet CHERRY MX technology establishes itself as a wise choice thanks to its low spring resistance and soft stop. The switches Made in Germany are characterized by their smooth operation, inputs are only transmitted when the button is pressed completely.
Premium Build - elegantly, extruded aluminum housing integrates the original CHERRY MX switches with all relevant functions for the highest quality.four rubberized feet to ensure the stability.The elegant, extruded housing does not need any screws, which still underlines the timeless character of the product. A real eye-catcher on every desk.
Full N-Key Rollover and Anti-Ghosting - unwanted inputs and double or missing letters are a thing of the past. No matter if you are programming, writing or during an extended after-work gaming session. Especially in the creative phase or in the middle of a game, nothing may slip or wobble. WIN key lockout for gaming
Full RGB Color Display - Customizable RGB with onboard memory for 5 dynamic layouts. Textured keycaps provide amazing illumination options with color routines in over 16 million colors
The robust quality of workmanship in a technical look is also evident in the detachable cable with mini–USB B connection. Required by the professional user for superior life, the abrasion-resistant key caps are either double plastic-injected or lasered. Intelligent, technical design completely without screws
WAVE - Cherry MX Board 3.0 S MX RED DE bk | MX Silent Red, linear
as of December 8, 2023 8:29 am
Features
High-performance gaming keyboard with mechanical keys: elegant extruded aluminium housing meets intelligent, technical design (completely without screws)
High-quality mechanical CHERRY MX SILENT RED switches: smooth and direct feel with linear switching characteristics (no click) and more than 100 million actuations per key
Vibrant RGB backlighting with over 16 million colours: numerous integrated colour games and lighting effects (individually configurable with CHERRY UTILITY software)
Useful gaming functions: full n-key rollover (all keys are read simultaneously), anti-ghosting (no input errors) + WIN key lock for game mode
Convenience: securely connected, detachable micro-USB cable and 4 round rubber feet on the underside of the keyboard to prevent slipping, even during hectic gaming sessions