Cooler Master MasterKeys MK750
Just your type
Gamers and business users aren't always looking for the same things from their PCs, but they tend to agree on keyboards, turning up their noses at today's flat, flimsy affairs in favour of traditional keys with mechanical switches that will survive years of hammering. This model from Cooler Master is made with classic Cherry switches, which are colour-coded for their feel. We tested a 'Brown' model, which offers a distinct tactile click without being too noisy or clunky.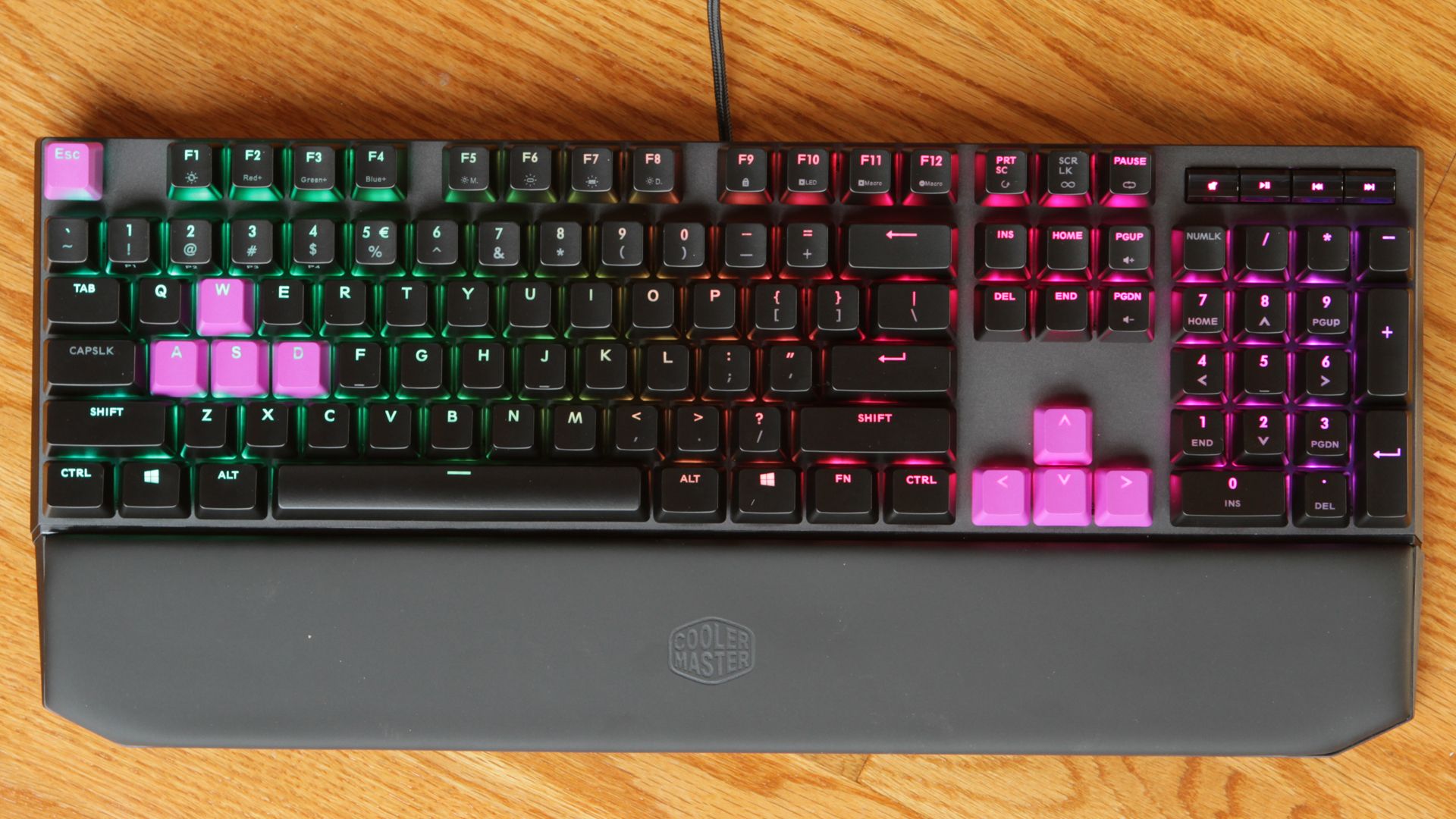 It's a good option if you haven't bought a mechanical keyboard before, but you should ideally try different types before
SPECIFICATIONS
Wired USB keyboard • Customisable per-key RGB backlighting • Available in Windows PC layout only • 42x438x132mm (HxWxD) • 1kg • Two-year warranty
7Review earns Amazon affiliate commissions from qualifying purchases. You can support the site directly via Paypal donations ☕. Thank you!
you buy. If you can't find a local computer dealer where you can do that, you could take advantage of your statutory right to return goods bought online within 14 days for a refund without giving a reason (some outlets, such as Amazon, extend this to 30 days), but remember the retailer can charge you for return postage.
The MK750 comes with a comfy fake-leather wrist rest that attaches to the front with fairly weak magnets. It also has multi coloured LED backlighting. The ability to set the colour of each key is brilliant for remembering shortcuts, and you can set up macros to generate several keypresses from one key. There's no wireless option, but the long braided cable plugs into a USB Type C port, so if necessary you can replace it with a standard Type A plug on the PC end.
VERDICT:
This substantial mechanical keyboard suits a range of uses and should last a long time, making it a wise investment
5/5
ALTERNATIVE:
Cherry MX Board 3.0
With the same switches, this has no lights and uses awkward software for macros, but is good value
Cooler Master MasterKeys MK750 Mechanical Gaming Keyboard - RGB Floating Switches, Anodized Cobalt-Aluminium Plate, Magnetic Wrist Rest - UK Layout, Cherry MX Red
out of stock
as of November 27, 2023 4:48 am
Features
Cherry MX Red - The gamer's choice with low-pressure, rapid, linear actuation, German-made Cherry MX Red switches (good for 50 million keystrokes) delivery quality responsiveness, accuracy, and tactile satisfaction
Minimalist Aesthetics, Premium Build Quality - The sleek keyboard profile is accentuated with an elegant floating switch design which hovers over an stylish anodized cobalt-aluminium top plate with subtle RGB light bars
Full-Spectrum Illumination - Convenient on-the-fly lighting control enables quick in-game adjustments, while the easy-to-use portal software supports advanced RGB LED effects (16.7 million colours), macros and custom profiles
Removeable Magnetic Wrist Support - A comfy padded PU-leather rest bar comes included to help relieve carpal stress during extended sessions, magnetically attaches simply and cleanly to the front
Keycap-Friendly Customisation - Employs a standard bottom row layout for maximum keycap compatibility, four dedicated multimedia keys, nine double-shot PBT gaming keys, and a keycap remover
Cooler Master MasterKeys MK730 Mechanical Gaming Keyboard - RGB Floating Switches, Brushed-Aluminium Plate, Magnetic Wrist Rest - TKL UK Layout, Cherry MX Red
as of November 27, 2023 4:48 am
Features
CHERRY MX RED - The gamer's choice with low-pressure, rapid, linear actuation, German-made Cherry MX Red switches (good for 50 million keystrokes) delivery quality responsiveness, accuracy, and tactile satisfaction
SUCCINCT DESIGN, PREMIUM BUILD QUALITY - The compact tenkeyless (TKL) keyboard is accentuated with an elegant floating switch design which hovers over a brushed- gunmetal aluminium top plate with subtle RGB light bars
FULL-SPECTRUM ILLUMINATION - Convenient on-the-fly lighting control enables quick in-game adjustments, while the easy-to-use Portal software supports advanced RGB LED effects (16.7 million colours), macros and custom profiles
REMOVEABLE MAGNETIC WRIST SUPPORT - A comfy padded PU-leather rest bar comes included to help relieve carpal stress during extended sessions, magnetically attaches simply and cleanly to the front
CUSTOMISABLE KEYCAPS - Employs a standard bottom row layout for maximum keycap compatibility (multimedia keys via FN), 9 double-shot PBT gaming keys, and a keycap remover