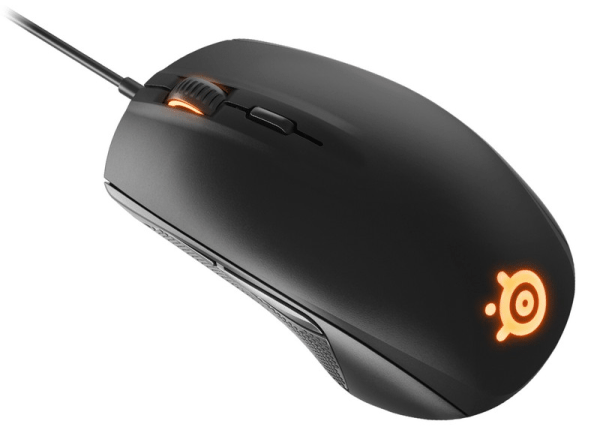 SteelSeries extends its mouse range with an affordable version of the Rival
When SteelSeries first introduced the Rival, I praised it as "an excellent product that exhibits the sort of polish that SteelSeries is so good at delivering".
But that was over two years ago, so how has it developed its very popular gaming mouse now? In subtle ways that you probably weren't expecting.
Unboxing this mouse for the first time, I was struck by how little the overall shape had changed, because it's mostly surface detail that is different.
I noticed that the two thumb buttons on the left are now thinner and longer, and the side panels are also longer and no longer rubberised. SteelSeries also did away with the 'RIVAL' panel at the rear, which always looked like a misplaced number plate.
In terms of optical specification, it's actually retreated somewhat from the 6500dpi of the original design, with the Rival 100 now offering six levels of sensitivity up to a maximum of 4000dpi.
This level of movement awareness is achieved using a PixART 3059-SS optical sensor, built for a precise 1:1 ratio tracking. That means there's absolutely no hardware acceleration built into the mouse – great news for gamers.
With acceleration disabled, quick movements move the pointer quickly in a direct proportion to the scale of the action, instead of any sort of linear or logarithmic acceleration.
That's a good thing, because many people find it difficult to calibrate their movements accurately once acceleration kicks in.
Technically, this sensor can actually track movements where the hand undergoes a massive 20-Gs of acceleration and covers 3.63 metres per second. Not that people can usually move that fast, except in comic books.
It does the pointer control part of being a gaming mouse very nicely indeed, but since this is SteelSeries, it also comes with some digital bling. In this instance, that includes fully reprogrammable buttons (all six) and an RGB specifiable LED internal lighting.
These things are part and parcel of the PC gaming scene, but you don't have to make it look like an accessory in TRON if you don't want to.
Having experienced the Rival 100 for a few days, I have only two valid criticisms of it to mention.
The first is precisely the same I gave the original Rival; that it is exclusively designed for a right-handed user. I'm right handed but I appreciate that there are others who are not, and they probably won't appreciate this mouse.
The other issue, and it's a minor thing, is that at just 127g, this is a very lightweight design, possibly too feather-like for some gamers.
That said, I generally like a heavy mouse but got on very well with this one, and it has one last trump card to play; the price.
While it doesn't deliver the extreme sensitivity of its predecessor, it's more than subtle enough for the majority of gamers and at a price most can afford. Mark Pickavance
A great gaming mouse that isn't expensive.