Razer Lancehead
Can it convert the cynics?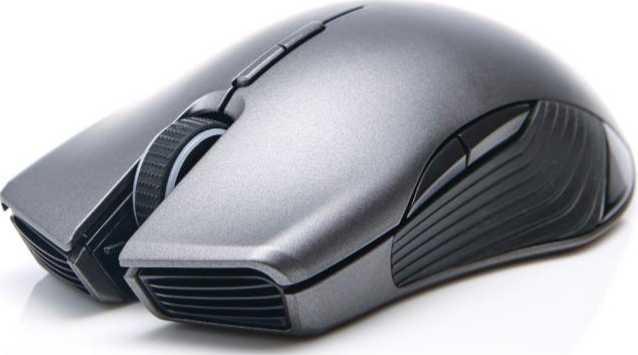 RAZER IS ONE of those brands you either love or hate. For most, the snake-headed emblem is one to be admired. After all, the company has produced some legendary products over the last decade. From clicky green mechanical (non-Cherry) switches, to the stunning Deathadder, the brand has helped shape and refine exactly what the PC gaming genre is all about. However, not everything it has produced has been a success, and for some (this journalist included), not everything has hit the mark.
Mice are hugely subjective peripherals, depending entirely on the human at the other end of them. Ultimately, it always falls down to two things: how large your hands are, and how you use the mouse. From claw grips to palm grips, and large meat hooks to small dainty pinky pickers, the variance in style and shape means it's near impossible to find a mouse that covers all bases proficiently.
Typically, Razer usually caters for the larger handed man and woman, with a mouse style that favors the claw grip over the palm-handling alternative. Believe us when we say, then, that the Lancehead, in its reptilian named fashion, looks toward the other end of that spectrum, and has converted us to the house of Razer. Much like the snake it takes its name from, its subtle looks and stylized ambidextrous design has absolutely hit the mark. Designed for those with a fondness for the palm grip, yet still harboring the potency of any other Razer mouse, it's worthy of much admiration.
Like most high-end Razer products, there are two separate variants of the Lancehead mouse: your standard, premium affair, packing a 24-hour wireless battery life, and a more standardized cabled Tournament Edition. The theory being that if you wish to be free from the tyranny of cables, you can choose the wireless edition, otherwise the TE version should meet your needs.
7Review earns Amazon affiliate commissions from qualifying purchases. You can support the site directly via Paypal donations ☕. Thank you!
The thing is, the price difference between the pair of them is an incredible 60 bucks. Yet, spec for spec, the two mice are almost identical, with the only difference being (aside from the connection standard, of course) that the Tournament Edition is 0.16oz lighter than its wireless counterpart. Staggering, right? Both use the same sensor, boast the same bespoke mechanical switches, and feature the same RGB lighting.
DOWN TO THE WIRE
On top of all that, the TE Lancehead is available in white, black, gray, and a shocking pink. Choices galore. So, is it worth stumping up the extra just for the addition of wireless? Wireless that lacks a dock to charge overnight, at that, and only manages a 24-hour battery life? We are not convinced.
The Lancehead is, by and large, a fantastic solution for anyone looking to get a more premium feel out of Razer's mouse lineup. The finish on it is exceptionally smooth and soft to the touch, yet without the rubber smudge coating that we find on most mice. Not only that, but the laser sensor is sharp and crisp, as far as we can tell—although, to be frank, you would struggle to find a bad sensor nowadays anyway, unless you're at the absolute cutting edge of fps gaming.
So, this is a bit of a weird position for us to be in. For the first time in a review of a product, we're actually commending and recommending the wireless variant's little brother, the Lancehead Tournament Edition, instead of the one we're actually reviewing. Ultimately, you really, really, really have to love wireless to buy the full-fledged Lancehead, and, to be honest, we're still not totally sold on it. Sure, not having a cable is a pretty sweet luxury, but needing to charge it up on a daily basis, and mess about plugging in another cable, well, it's just asking for trouble. Lancehead, we're sorry—it's not you, it's the wireless. -ZAK STOREY
Razer Lancehead
+ ANTIVENOM Stunning design; ambidextrous; strong sensor; fantastic finish; good lighting; nice weight.
– ANTACID Wireless still flawed; huge price hike; less color choice.
VERDICT
7
SPECIFICATIONS
Sensor
Laser
Sensitivity
16,000 dpi
Sensor Model
Razer 5g Laser
Polling Rate
1,000Hz
Programmable

Buttons

9
LEDs
Tri-zone,

16.8 million colors

Battery Life
24 hours
Cable Length
7 feet
Weight
3.8oz
Razer Lancehead TE Ambidextrous Gaming Mouse: 16,000 DPI Optical Sensor - Chroma RGB Lighting - 8 Programmable Buttons - Mechanical Switches - Quartz Pink
as of June 5, 2023 7:53 pm
Features
High-Precision 16,000 DPI Optical Sensor: Offers on-the-fly sensitivity adjustment through dedicated DPI buttons (reprogrammable) for gaming and creative work
Ambidextrous Design: Created for left and right-handed users with accessible, programmable buttons on both sides
Customizable Chroma RGB Color Profiles: Includes 16.8 million color combinations w/ included preset profiles
International products have separate terms, are sold from abroad and may differ from local products, including fit, age ratings, and language of product, labeling or instructions.
Razer Viper Ultimate - Wireless Gaming Mouse with Dock Station (HyperSpeed Wireless Technology, Ambidextrous, Light and Fast, 20,000 Dpi Optical Sensor, RGB Chroma) Quartz
12 new from £84.60
1 used from £72.68
Free shipping
as of June 5, 2023 7:53 pm
Features
Ultra-Fast Razer HyperSpeed Wireless Technology Faster than wired gaming mice: With a high-speed transmission, extremely low latency, and seamless frequency switching in the noisiest environments, you won't even realize that you're gaming with a wireless mouse
Razer Focus+ 20K Optical Sensor For cutting-edge precision: A 20,000 DPI sensor with 99.6 percent resolution accuracy ensures that even the finest movement of your mouse is tracked, giving you an acute level of precision for game-winning headshots and highly elusive maneuvers
Lightweight, Zero-Compromise Wireless Esports Gaming Mouse at 78g: The Razer Viper Ultimate includes a 20K DPI optical sensor befitting the most serious gamers and achieves its weight without the need for drilled holes
Razer Optical Mouse Switch For actuation at the speed of light: Every click you make is actuated at the speed of light with no debounce delay, so you'll always be the first to pull the trigger. The switches are also durable for up to 70 million clicks
Up to 70 Hours of Battery Life For non-stop gaming: Improved wireless power efficiency keeps it running at peak performance for up to 70 continuous hours—charge it once a week to power 10 hours of daily gameplay