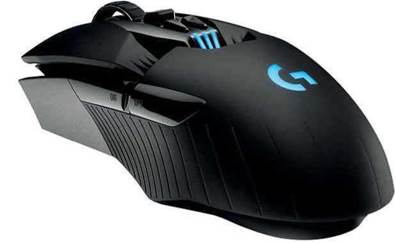 Logitech G903 Lightspeed Wireless
Of the G403 Wireless is all about keeping it simple, the G903 is pretty much the polar opposite. Absolutely festooned with features, this ambidextrous mouse is less of a pure performance gaming tool than an attempt to be the ultimate all-in-one true mouse. And in many ways it succeeds.
One feature it can't boast, though, is a charging dock. It instead uses essentially the same arrangement as the G403, although the cable is a little shorter at just 1.83m long. This lack of a dock was a letdown with the previous G900, but Logitech has a solution to the problem this time – you can wirelessly charge the mouse from a mouse mat.
The PowerPlay mouse mat does cost an extra inc VAT, but in theory it means you'll never have to stop to charge your mouse again. Sadly, Logitech didn't provide the PowerPlay mat for us to test this feature. Otherwise, the G903 is basically identical to the G900. As such, it sports the same rather odd design, with its chopped out mid-section. Along with its rather token RGB lighting, which just illuminates the Logitech logo, it makes for mouse that isn't particularly attractive.
However, looks can be deceiving, as it's surprisingly comfortable to use. It has just the right amount of bulk at the back to nestle in the meat of your hand, while the sides are expertly contoured to provide an easy grip for your fingertips. In fact, it's so well proportioned and balanced that the lack of any rubber on the sides doesn't really affect how secure it feels. This feeling is probably helped by it being a relatively lightweight mouse, weighing in at just 110g.
Logitech offers a weights system with the G903 but, like the G403, it consists of just one
7Review earns Amazon affiliate commissions from qualifying purchases. You can support the site directly via Paypal donations ☕. Thank you!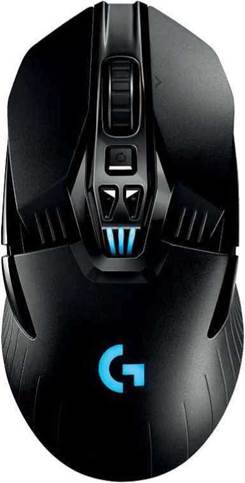 10g weight. Also helping with handling is arguably the killer feature of this mouse: its swappable back/forward buttons. As it has an ambidextrous design, it has to have buttons on both sides of the mouse, which can often lead to a compromised layout that tries to balance accessibility, by ensuring the other buttons aren't easily pressed by your little and ring fingers.
On the G903, though, the buttons can be removed and replaced with a blank spacer This system revolutionises the usability of the mouse, making it genuinely comfortable and easy to use without fear of accidental button presses. It's a shame, then, that Logitech has slightly messed up in other areas. DPI switching is achieved via an odd two- button system that sits in the middle of the mouse, for example. This layout is made doubly awkward thanks to the positioning of another extra button in front of them.
It has just the right amount of bulk at the back to nestle in the meat of your hand
This extra button switches the scroll wheel between a freewheeling mode and notched feedback. It's great if you love freewheeling scroll wheels, but for pure gaming mice, a lightweight, notched wheel is generally preferred for scrolling through weapons. Here, even in its notched configuration, the heavy metal wheel can carry too much momentum and scroll further than desired. Your mileage may vary though, and combined with the otherwise good overall layout, ergonomics and button response, it could quite well be the ideal mouse for some people, especially as the tracking performance is also excellent. The G903 uses the same 12,000dpi optical sensor as the G403 and it performs flawlessly, as does the wireless signal.
Conclusion
The Logitech G903 is almost the perfect wireless gaming mouse. Its ingenious ambidextrous design, light weight and excellent performance means it gets most of the basics right.
Add in the wireless charging mat and it becomes even more convincing, if you have the money, of course.
However, its heavy scroll wheel, unattractive looks and odd DPI switching system let it down, particularly at this price. If none of those issues is a deal breaker for you, though, the G903 is a great mouse.
OVERALL SCORE 81%
VERDICT
An odd-looking mouse with a couple of strange design choices, but its core performance can't be faulted and it feels fantastic in your hand.
Logitech G903 LIGHTSPEED Wireless Gaming Mouse + Logitech G POWERPLAY Wireless Charging Mouse Pad
as of December 5, 2023 9:59 pm
Features
HERO 25K sensor: Next-generation optical gaming sensor with 1:1 tracking, 400+ IPS and 100-25 600 max DPI sensitivity - plus zero smoothing, filtering or acceleration, and 10x the power efficiency of previous gen
LIGHTSPEED wireless: Pro-grade 1-ms responsiveness and connectivity for long-lasting, high-performance gameplay even better than many wired mice, with no compromises on weight, battery life or latency
140-hour LiPo battery: Thanks to the HERO 25K sensor's efficiency, G903 now lasts for up to 140 hours of gameplay with RGB lights on and 180 hours with no lighting
POWERPLAY Charging Technology: Through innovative application of electromagnetic resonance technology, the POWERPLAY base creates an energy field above its surface, charging your gaming mouse without any cable
Powercore Module: When connected to a USB port, the POWERPLAY energy field is transformed into charging current by the Powercore module, which attaches magnetically to your wireless Logitech gaming mouse