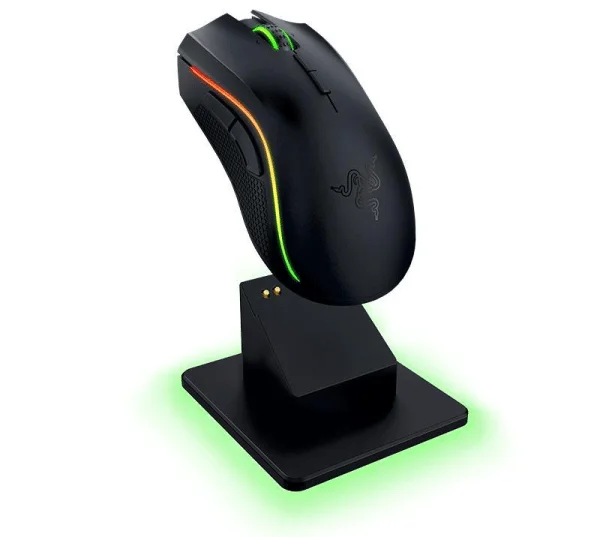 Ouch. for a gaming mouse. That's got to be a record, but it's no surprise to see that Razer is the company behind this ultra-elite gaming mouse. It's claimed to be the world's most advanced gaming mouse, but can Razer really justify such a stratospheric price when mice seem to be perfect already?
For this price, the Apple-like unboxing experience is to be expected – we couldn't help but think what an impressive gift this thing will make at Christmas, as it just reeks of dosh. Inside the huge case is the mouse and recharging stand – yep, this thing is wireless. Don't let your warning bells go off yet though, as it can also be run in wired mode. Within the box is the mouse, charging platform and a tiny screwdriver. Said tool can be used to adjust the force required to depress the main left/right mouse buttons, though we were very happy with the force straight out of the box. There's a surprising lack of extra buttons for this price though, with a mere two thumb buttons (suitable for right-handers only) along with two buttons to adjust the DPI. Finally the scroll wheel can be clicked down, and rocked to the left and right.
Plugging it in reveals the spectacular lighting system, which emits from RGB trails around the edge of the mouse, as well as the charging base. Serious lighting freaks will love the incredibly detailed light tuning options in the Razer software. It can also be calibrated depending on your mouse surface, but again we found our Corsair pad worked perfectly.
Where this thing shines is the 5G sensor used within. It's capable of a rather ridiculous 16,000 DPI, which is great if you're running several 4K screens but obscenely high for the rest of us. However, Razer claims it can also track in 1 DPI increments, versus 50 on other sensors, and it definitely lent the mouse an incredibly accurate feel. Shooters tend to require the most accurate movements, and we never found a single pixel of missed tracking in Battlefront and BF4. After coming from an optical sensor, we expected the laser sensor here to feel a little off, but no such problem existed.
Best of all though, this is one of the only wireless gaming mice we've used where detaching it from the USB cord didn't result in a laggy, sluggish response. We honestly couldn't pick the difference between wired and wireless mode, which is a rather big deal. The battery life of 20 or so hours on battery isn't amazing, but shouldn't be an issue unless you regularly forget to plug it into the charging station, or game for 20+ hour stints, in which case you've got bigger problems than battery life.
We've criticised Razer products in the past for their high price compared to their relatively average feature sets, but we can't level the same complaint at the new Mamba. Yes, it's obscenely expensive, but it's arguably the best wireless gaming mouse currently available.
We'd recommend trying before buying in case you don't like the laser sensor, but this is our new favourite wireless gaming mouse.