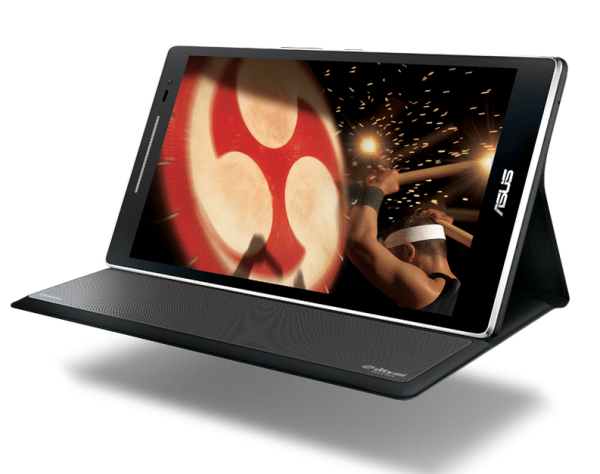 A few years back when screen sizes of displays began to increase, it became clear to many that they didn't necessarily want a 10-inch display. But though it may be shrinking, there's still a small market for tablets, so a few brands like ASUS still release them. This time around, ASUS sent us its ZenPad Theater 8.0 bundle, which contains the ZenPad 8.0 and the brand's unique Audio Case.
The ZenPad 8.0 is a low-end 8-inch tablet, made for those who love music, or want to watch videos on the go. If you've seen the ZenPad 7.0 before, you can expect the same from the 8.0 as it is largely the same product, except for some differing specifications like its larger display. With Gorilla Glass coating the screen and plastic for its body, the ZenPad 8.0 has a solid build to it, and quite a bit of heft too.
Found inside the ZenPad Theater 8.0 package is, as mentioned, an Audio Case. This accessory is a combination of a back cover with speakers that connects directly to the ZenPad. It adds considerable weight to the tablet, so make sure you have a bag to carry it around.
When it comes to specifications, we have to say that the ZenPad 8.0 isn't exactly stacked up to impress. It runs on the Qualcomm 410 chipset and as you can see from its benchmark scores, it was devised for the entry level market However, it does have 2GB of RAM and 16GB of storage, which one again shows ASUS priority here in making this multimedia friendly.
Switching the display on, we're pleased to find that it has a high maximum brightness and good contrast. Colours are decent and images, while not as crisp as it would have been on a Full HD display, are good enough for videos. Audio is where the ZenPad Theater package shines as a whole.
By replacing the existing back cover of the ZenPad with the Audio Case, you'll get a larger set of speakers. We found the case's speakers to not only have higher volume, but also clarity for the midrange. It doesn't have a lot of bass, however, so if you're a bass head then the case won't be able to satisfy you.
The ASUS ZenPad Theater 8.0 might not be the ideal for those who want premium features and design. But it's a tablet with a big enough screen for Internet browsing, watching videos and enjoying music, plus the audio case provides extra volume and a way for it to stand.
While it's not a power tablet, it's great value for those who just want one for multimedia playback.
Display: 8-inch 800 x 1280 IPSCPU: Quad-core Cortex-A53 & Quad-core Cortex-A53GPU: Adreno 306Memory: 2GBConnectivity: Bluetooth 4.0, WiFi, LTEStorage: 16GB eMMC Flash expandable with microSDOperating System: Android 5.0.2Camera: 8MP (rear), 2MP (front)Dimensions: 209 x 123 x 8.5 mmWeight: 350g.