A CHEAPER ALTERNATIVE TO THE SURFACE PRO 4, ALBEIT WITH OBVIOUS SACRIFICES IN QUALITY.
At first glance it's easy to mistake the Miix 700's sleek form for a Surface Pro 4. Look closer, however, and it soon becomes clear that this is no carbon copy of Microsoft's tablet. Subtle touches echo the design of other devices in the Ideapad range, with the kickstand's "watchband" hinge transplanted directly from the Yoga 3. With a metal chassis and sturdy build, this is one handsome device.
Weighing 780g and measuring 292 x 210 x 9mm without the keyboard attached, the Miix 700 is just as lightweight as its most feathery of rivals. It's a smidgen thicker and heavier than the Surface Pro 4. but noticeably lighter and thinner than HP's Elite x21012.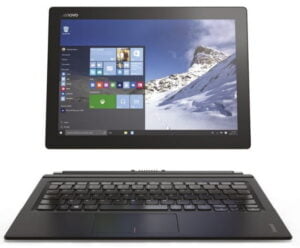 The specification is promising for the money, too. You get an Intel Core m7-6Y75 processor. 8GB of RAM and 256GB of SSD storage. Oh. and there's a clip-on keyboard and a stylus included as standard. That's not bad value at all. so what's the catch?
One obvious compromise is the keyboard, especially when compared to the solidity of the X1's offering. Here it's bouncy, with a more curtailed travel to the keys. It feels bargain-basement compared to pricier models.
The touchpad beneath is cramped, with my fingers brushing off the sides while scrolling through long web pages. But this is a relatively minor moan. Multitouch gestures work well, and cursor control is stutter-free.
There's also something quite arresting about the hinge of the kickstand, reminiscent of a silver watchband. which isn't only present to look good. It also provides a smooth, stable range of adjustment so you can tilt the display just so. regardless of whether you're working on a desk or balancing the Miix 700 on your lap.
7Review earns Amazon affiliate commissions from qualifying purchases. You can support the site directly via Paypal donations ☕. Thank you!
Like its ThinkPad sibling, the Miix 700's display is one of its strongest suits. The 12in 2.160 x 1.440 resolution screen reaches a peak brightness just shy of 400cd/m2 – high enough to make it usable outdoors in the glorious Australian sunshine. It also put in a good performance in our other tests. The contrast ratio reached a respectable 1.036:1. while sRGB color gamut coverage of 89% means that images look well balanced on-screen.
Its day-to-day speed is just as strong. Faced with our tough 4K benchmark suite, the Miix 700 reached an overall score of 38. which is exactly what you'd expect for a system with these specifications.
As ever, the Core M chip is lightning-fast for general web browsing and word processing tasks, only struggling when you present it with sustained, intensive workloads such as video editing or hefty photo processing. Don't expect it to run the latest games at highest fidelity: it scraped just over 30fps in Dirt Showdown at a 1,280 x 720 resolution, and that was with the graphics dialled down to Ultra Low.
Despite the low-voltage processor and fanless design, you shouldn't expect all-day battery life. The Miix 700 expired after 6hrs 40mins in our continuous video-playback test with the screen set to 170cd/m2 and Wi-Fi switched off. which falls behind the Surface Pro's 7hrs 41mins.
Nor should you expect the last word in connectivity. There are two USB ports -one USB 2. one USB 3 – plus a microSD slot. micro-HDMI and 3.5mm headset jack. There's no Ethernet port, so you're reliant on the 802.11ac wireless (along with Bluetooth 4.1) or a USB-to-Ethernet adapter.
Audio is tinny at high volume, but the speakers are just about good enough for watching Netflix. My only quibble is that, in landscape orientation, it's too easy to cover the speakers and inadvertently muffle the sound.
The Miix 700 lacks the all-round refinement of the Surface Pro 4 then, but it's a fine choice if you're on a budget: ultimately, the price swings things in its favor. The Miix 700 is significantly cheaper than its "pro" rivals yet you're getting a very similar specification. If you've been tempted by the charms of costlier hybrids, but couldn't justify the outlay, the Miix 700 could prove to be the perfect alternative.
Nathan Spendelow
Specifications
Dual-core 1.2GHz Intel Core m7-6Y75 • 8GB RAM • Intel HD Graphics 515 • 256GB SSD • 12in 2.160 x 1.440 touchscreen display • 5MP webcam • 5MP rear camera with Intel RealSense • 802.11ac Wi-Fi (2×2 MIM0) • Bluetooth 4 • USB 3 • USB 2 • micro-HDMI • microSD • 38Whr battery • 1yr RTB warranty • Windows 10 Home • 292 x 210 x 9mm (WDH) • 293 x 224 x 15mm with keyboard (WDH) • 780g • 1.11kg with keyboard

Highly Recommended
Lenovo Ideapad Miix 700
A CHEAPER ALTERNATIVE TO THE SURFACE PRO 4, ALBEIT WITH OBVIOUS SACRIFICES IN QUALITY.
Add your review