A fast Android 6.0 tablet.
Whatever's inside it, a tablet consists mainly of a screen, so let's start with that. The MediaPad M3's contains 2560×1600 pixels, twice as many as your Full HD TV.
At just 8.4 inches across, that's incredibly sharp, and with high brightness and vibrant contrast it makes everything from apps to photos look lovely. Technically, it only covers 94 per cent of the sRGB color range, while Apple's iPad Mini 4 exceeds 100 per cent with near-perfect accuracy', and is much better at avoiding reflections.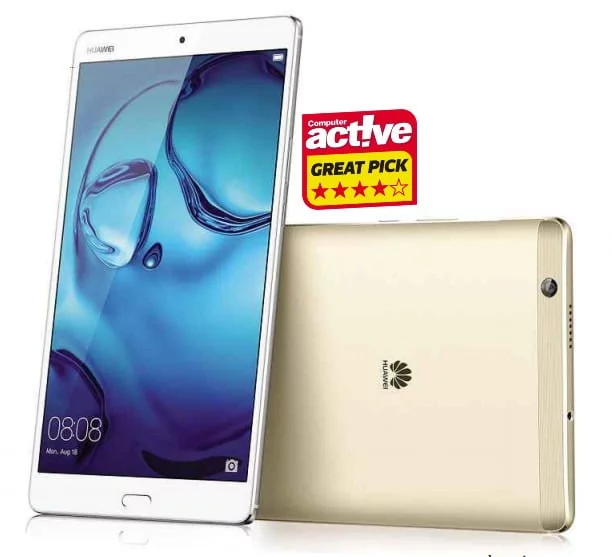 Then again, the iPad Mini is only 7.9in; the extra half inch makes the M3 a little bit more spacious, yet it's the same size overall (give or take its slightly longer, narrower shape) and almost as thin and light.
The MediaPad's incredibly sharp screen makes everything look lovely.
Apple's mobile processor often comfortably beats the competition, but here again the M3 holds its own. The eight-core Kirin 950, also used in Huawei's Mate 8 phone, nearly doubled the iPad Mini 4's score in tests, meaning even the most ambitious apps and the most demanding web pages shouldn't challenge it. 3D graphics weren't as strong: Apple's A8 processor can render scenes much faster, so games that are perfectly smooth on the iPad Mini 4 stuttered on the M3.
The iPad lasts longer between battery charges, giving us two hours more video playback than the M3's eight hours and 48 minutes. Samsung's 8in Galaxy Tab S2 can go much longer than either, as long as you're not using the internet, so there's room for improvement.
Like the iPad, the M3 has a fingerprint sensor built into the Home button.
7Review earns Amazon affiliate commissions from qualifying purchases. You can support the site directly via Paypal donations ☕. Thank you!
There's no NFC chip to use Android Pay in shops, but we've never seen anyone try to do that with a tablet anyway. Other premium features include stereo speakers certified by audio maker Harmon Kardon. We found them rich and loud enough to enjoy film soundtracks, though not quite as crisp as the iPad Mini 4.Huawei has used the common but clunky micro USB charging port rather than the new Type-C.
Even Apple has sometimes treated the cameras on its tablets as an afterthought. Although Huawei hasn't brought across the dual-lens system from its P9 smartphone, it's fitted the M3 with capable 8-megapixel sensors on both the back and front, recognising that selfies and video chats are just as important as capturing scenes. The results in our tests were good, with plenty of detail except in low light.
It's not yet widely available in the UK, so we'll have to see where the price settles down, but the M3 looks like costing significantly less than the 32GB iPad Mini 4. Some dealers still have stock of the discontinued 16GB iPad, but with no way to expand the storage, it's not such a wise buy. Huawei gives you twice that, plus a microSD slot to add up to 128GB.
SPECIFICATIONS
8.4in 2560×1600-pixel screen • 8-megapixel rear camera • 8-megapixel front camera • 32GB flash storage • microSD card slot • 802.11ac Wi-Fi • Bluetooth 4.1 »216x124x7.3mm (HxWxD) • 320g • One-year wananty
VERDICT:
It's no bargain buy, but this is powerful enough to be one of the best compact Android tablets you can get
ALTERNATIVE:
Samsung Galaxy Tab S2 8.0
Slim, but with no fingerprint reader, this is still a good buy. with an Android 6.0 upgrade now available
Huawei MediaPad M3 8.0 review
It's no bargain buy, but this is powerful enough to be one of the best compact Android tablets you can get.
Add your review