Perfect for Netflix, the Acer Iconia Tab 10 is a decent budget tablet buy
WITH FEWER CONVENTIONAL tablets hitting our shelves this year (the focus seemingly shifting to 2-in-1 hybrids), there's less choice than ever for consumers who only want a slate and nothing else. Acer hasn't yet forgotten that Android tablets are still a thing, however, and despite the doldrums the market finds itself in, the company keeps releasing new products. Its latest is the Iconia Tab 10, first introduced last year, which gets a significant upgrade for 2016.
The tablet's design has been completely overhauled. It's no longer the basic featureless tablet of 2015, now coming with eye-catching bronze detailing and a textured back for extra grip. It really looks the part and, at first glance, it looks like a premium product instead of the budget tablet it really is.
STRESSED OUT
Get your hands on it, though, and you start to notice some flaws. It's much flimsier than we expected it to be, with the thin plastic housing flexing and bending unnervingly when put under even the slightest bit of pressure.
This might not be the best product to hand over to your kids, unless you can find a fairly rugged protective case to clad it in.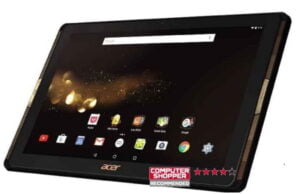 7Review earns Amazon affiliate commissions from qualifying purchases. You can support the site directly via Paypal donations ☕. Thank you!
It does have a decent selection of ports and connections, though. There's one Micro USB port for charging and data transfer, a 3.5mm headset jack, and a microSD slot for expanding the 32GB of onboard storage, while a Micro HDMI port hides beneath a curious chromed flap on the top edge. Wireless connectivity includes 802.11ac Wi-Fi and Bluetooth 4.0.
Typically, budget tablet manufacturers sacrifice screen resolution and overall picture quality in an effort to bring the cost down.
The Iconia Tab 10 bucks that trend and has a reasonably impressive 10.1in 1,920×1,200 IPS screen, which is capable of displaying 80.3% of the sRGB color gamut.
Compare this with the 76.4% scored by the Alba 10 Inch Tablet (Shopper 344) and the EE lay's 67.6%, and the Acer is the clear winner, even if contrast ratio isn't quite up to scratch at 6341. Likewise, viewing angles are decent, and with a maximum brightness of 255cd/m2 it's usable in most indoor lighting conditions; we'd stick to the shade if you want to use it in the garden, though.
The Tab 10's other main strength is its quad front-facing DTS-HD speaker system, and for a device like an Android tablet that exists primarily for media consumption, that's important. In practice, we found sound quality was wonderfully crisp and very clear overall.
The maximum volume isn't anything to write home about, but this shouldn't be too much of a problem given you're going to be holding it quite close for the most part, and although there isn't a lot of weight to the sound, the Tab 10 isn't unusual in this respect Either way, it makes for a great Netflix streaming device, which is exactly what you want in a tablet of this size and price.
Running Android 6.0 Marshmallow, the Intel Atom processor found in last year's Iconia Tab 10 has been set aside and replaced with a speedier 1.5GHz Mediatek MT8163 processor. It's paired with 2GB of RAM.
This still doesn't look all that impressive, but it delivers the performance you'd expect from a tablet in this price bracket. A Peacekeeper score of 659 is acceptable, and even a touch faster than its rival the Alba 10 Inch, which scored 547. We weren't able to run the Geekbench 3 test as it crashed every time we tried starting it; a quick hunt around the web, however, indicates that you should expect scores of around 1,900 in the multicore test and 650 in the single-core test.
One of the Tab 10's main strengths is its quad front-facing DTS-HD speaker system, which is important for a device that exists primarily for media consumption.
Those numbers would put it slightly in front of its key budget rivals, the Alba 10 Inch and EE Jay, and in general use the Iconia Tab 10 is reasonably responsive.
GAME DROPPING
What it isn't, however, is a great tablet for gaming. It rendered only 184 frames in GFXBench GL's onscreen Manhattan 3.0 test for an average frame rate of 3fps, and although it will comfortably run simpler games such as Angry Birds 2 and Hearthstone, you only have to load up something a little more demanding, such as Sky Force Reloaded, to see lots of stuttering and frame dropping.
Last but not least, the Tab 10's battery life is also disappointing, with its 6,100mAh battery lasting a mere 6h 26m in our continuous video playback test with the screen set to a brightness level of ITOcd/m2. That's in line with the EE Jay, but a long way behind the Alba 10 Inch's 11h 31m.
ACER HEARTS
Acer has done a decent job with its latest shot at the budget tablet market, notwithstanding the cheap-feeling build and mediocre overall performance.
The full HD display and quad speakers are excellent, making it a great device to watch movies and TV on the go. It looks quite nice as well, as long as bronze and brown is your thing. In short, if is all you're willing to spend, the Acer Iconia Tab 10 is a decent choice – just don't expect to be able to play any advanced games on it.
Nathan Spendelow
Specifications
PROCESSOR Quad-core 1.5GHz MediaTek MT8163 • SCREEN SIZE 10.1 in • SCREEN RESOLUTION 1,920×1,200 • REAR CAMERA 5 megapixels • STORAGE 32GB • WIRELESS DATA N/A • DIMENSIONS 259×167.5×9.0mm • WEIGHT 529g • OPERATING SYSTEM Android 6.0 • WARRANTY One year RTB


Output type: DC
Is customized: Yes
Connection: Plug In
Usage: Switching
Model number: 0802
Last update was on: December 7, 2023 9:29 pm
Output type: DC
Is customized: Yes
Connection: Plug In
Usage: Switching
Model number: 0802
Recommended
ACER Iconia Tab 10
Perfect for Netflix, the Acer Iconia Tab 10 is a decent budget tablet buy
Add your review