Acer Chromebook Tab 10 Review – We're undecided about Chromebooks – laptops that run Google's Chrome operating system – because there's only so much you can do with them, basically whatever you'd normally do in a web browser. You can't install Windows apps, so they can't really be compared to a regular laptop. Put Chrome OS on a low-cost tablet, on the other hand, and things look a bit different. We'd normally expect either Apple's iOS or Google's Android (on tablets such as the Samsung Galaxy Tab S3, soon to be replaced by the S4).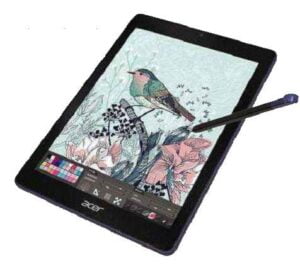 Now runs Android apps in a limited way and is fine for most purposes
Because Chrome OS can now run most Android apps, available via the Google Play Store, the Chromebook Tab 10 is almost an Android tablet. And for a 9.7in screen with a stylus thrown in, this looks like an interesting deal.
Acer is hoping to sell some of these to schools, and that's reflected in the design, which is neat but a bit basic, with wide bezels and a blue textured plastic back. It's not as slim or light as an iPad, but not far off. There's a decent 32GB of storage built in, and a microSD card slot for more. You don't get frills like a fingerprint reader, but there are usable cameras front and rear, and the stylus – made for Acer by Wacom, which specialises in them – works fine, although its stubby form might not feel so comfortable for larger hands.
The screen offers the same sharp 2048xl536-pixel resolution as the similarly sized iPad, with 50 per cent more dots than Full HD, but it's nowhere near as bright, and in our tests it covered only 82 per cent of the sRGB colour range with fairly poor accuracy. Even so, it's fine for most purposes, and better than any budget laptop. Inside is a six-core processor that managed about half the latest iPad's scores in our tests.
That's actually not bad – the iPad is very fast – but in practice we found running multiple apps and web pages, especially more demanding ones like Google Maps, felt slow. Fast-action 3D games don't work well, and although Chrome OS runs Android apps, only those that have been optimised for it – a small fraction – are reliably convincing; many appear in a reduced window, or with a glitch. Features like split-screen multitasking have yet to arrive, and although Chrome has been tweaked for touchscreen use, it doesn't feel fully compatible.
7Review earns Amazon affiliate commissions from qualifying purchases. You can support the site directly via Paypal donations ☕. Thank you!
Acer Chromebook Tab 10 specifications:
OP1 six-core processor • 32GB flash storage • 9.7in 2048×1536-pixel screen • 5-megapixel rear camera • 2-megapixel webcam • 802.11ac Wi-Fi • Bluetooth 4.1 • Chrome OS • 238x172x10mm (HxWxO) • 550g • Two-year warranty
Acer Chromebook Tab 10 verdict:
It's reasonably priced and feels fine, but for the moment the Chromebook Tab's appeal is limited by Chrome
Acer Chromebook Tab 10 Review
It's reasonably priced and feels fine, but for the moment the Chromebook Tab's appeal is limited by Chrome
Add your review
Acer Chromebook Tab 10 alternative:
Apple iPad 9.7in (2018)
With superb hardware, a great web browser and vast numbers of apps, this is hard to beat