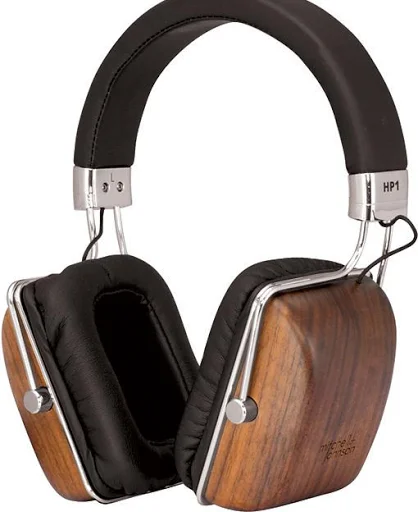 A new headphone technology delivers easy-to-drive electrostatic panels supported by conventional drivers for bass. How do they sound?
Mitchell & Johnson was named after its two UK founders Paul Mitchell and Dave Johnson, and began life in 2011, well before our moustachioed Aussie cricketing legend demolished their touring 2013/4 Ashes team in a 5-0 rout. (How they must have winced.) The hi-fi brand produces not only headphones but also a CD player, streamer, amplifier and even a tuner, with the declared philosophy of "state-of-the-art technology combined with classic hi-fi design at an affordable price." Few would argue with that.
The HP1 headphone design is certainly unusual and state-of-the-art, including a patented electrostatic technology called Electrostatz, a new transducer type originally developed by Taiwan's largest industrial research institute, the ITRI. Mitchell & Johnson has global exclusive use of the technology in headphones, starting with these HP1 designs and with an expanding range to follow—during our review they were fund-raising a new lower model via the crowd-funding site Kickstarter.
The defining feature of Electrostatz is that the drivers are self-biasing, so that they don need the usual power source required by electrostatic designs to maintain a DC potential between the grids and the diaphaghm. As we understand it, the Electrostatz diaphragm material itself can hold that potential permanently, so that as a consequence the headphones can be driven from relatively low currents. Presto—a pair of electrostatic headphones that can easily be used with portable devices such as smartphones and tablets.
A second benefit seems to be cost — electrostatic headphones can be pricey, whereas the HP1s are in Australia, and M&J promises even less expensive models.
Yet these are actually hybrids, also including a conventional 40mm dynamic driver. The electrostatic panels can reach up to 45kHz, but are not so strong in the bass, hence the conventional driver to deliver low-end. The Electrostatz panel is tuned to the required crossover point.
We loved the external design—the closed wooden headshells with their carved logo impressed all who fondled them, while curved metal-alloy supports and polyurethane-coated leather earcups kept things exceedingly comfortable during use, with very little sense of their 320g weight. We'd suggest making sure you audition a pair that has been run in — their sound changed significantly for the better after we soaked them in tunes for 48 hours. The HP1s were successful in delivering the electrostatic delights of speed, openness and detail. Soundstaging is excellent, with sharp-edged imaging of different elements, and we loved the minutae they could reveal, for example, from the audience mikes on Leonard Cohen's 'Live in London' recording— every bustle, every chuckle, every gasp of delight. The same Cohen recording highlighted how the midrange could veil and sound slightly honky around some vocals—a tonality that may be the result of the two drivers superimposing their rather different characteristics in the crossover range. Below that the bass provided solid support and sounded natural, not 'pushed'. But the highlight of listening was always those high frequencies, remarkably open (for a closed design), tantalisingly delicate on the right-channel snare on kd lang's 'The Air That I Breathe', while separating all the layers delightfully, even through this track's complex crescendos.
It's a most promising piece of debut headphone design from these two Brits, and we look forward to seeing how the current campaign further evolves the use of Electrostatz technology.
SPECSType: over-ear closed-back headphonesDriver size: 40mm EFS 4030 E-STAT type plus Electrostatz flexible transducerImpedance: 32 ohms.