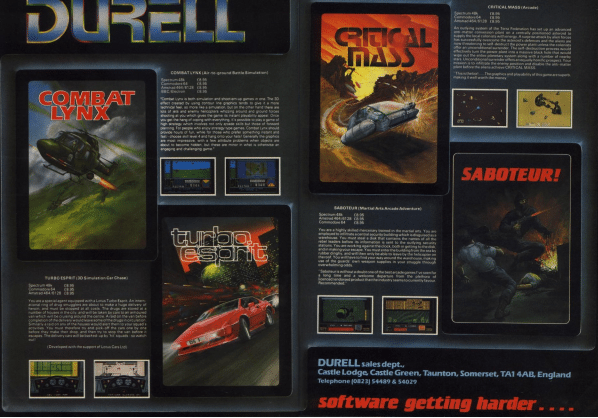 This week, David Hayward looks at a classic 80s games company
I was recently on a Facebook page for fans of the ZX Spectrum, and I got into a conversation regarding the many wonderful games that came from the Durell Software Ltd stable.
Games such as Galaxy 5, Starfighter, Scuba Dive, Harrier Attack, Saboteur and many others – Fat Worm Blows a Sparky, anyone? As a software company, you could be sure that after spending your hard-earned paper round money, the Durell game that was clutched in your sweaty mitts was going to be worth every penny.
However, those classics we recall from the heady days of the Spectrum were a long way from the humble beginnings of the company. While we may remember Saboteur with a certain misty-eyed fondness, the people behind Durell didn't start off with the intention of entering the fledgling computer games market.
Its History
Durell Software Ltd was started in the early 80s, by Robert White and his wife, Veronica.
At the time, Robert was training to be an art teacher, but after a while he soon realised that this wasn't quite the direction he wanted his life to move forward in. To that end, he took himself back to college to train for a career in quantity surveying.
After some years, he qualified with a degree and ended up working for Milton Keynes District Hospital using the computer modelling skills he had attained while studying.
The hospital at the time was undergoing a huge renovation, and since he had a notion about the modelling software – and computers in general – his job was to help iron out the details. The hospital model had already seen several architects work on it, and things were a little confusing at first, such as kitchen units being placed on the ceilings. Needless to say, Robert was soon bored and saw an opportunity to start his own business in the newly emerging home computer industry.
Armed with a 48K Oric and an Epson printer, Robert started to create an assembler and use it to write Harrier Attack. As the project grew, he eventually saw the need to take on extra programmers, to design the game for different platforms. Mike Richardson and Ron Jeffs came on board at the company's attic room in Taunton.
The first game released was Jungle Trouble, a game that Mike Richardson was already halfway through at the time he started at Durell. After that came Harrier Attack, Scuba Dive, Combat Lynx and Critical Mass, with the likes of Saboteur and Saboteur 2 being released when Clive Townsend joined.
The end of 1987, however, saw Durell selling off the rights to its games to Elite Systems and moving out of games development to financial software and services. In 2005, Mike Richardson launched Durell Games with Harrier Attack 2 and now a collection of mobile casinos.
Interestingly, Durell still exists today and is still located in Taunton. These days the company creates office administration software for IFAs, mortgage and general insurance brokers.
The Good
Well developed and cleverly conceived games. A unspoken guarantee that a Durell game was going to be good.
The Bad
Okay, so one or two games didn't quite live up to Durell's high standards. Sigma 7 was good (in my opinion), but it did lack some of the polish we saw from other Durell games.
Conclusion
There we have it: a brief look at Durell Software Ltd and home to a sizeable chunk of our Spectrum gaming memories.
Thanks, Durell team, wherever you all are now.
Did You Know?• Durell is pronounced 'dew-rel', in case you didn't know.• According to legend, Veronica White wanted Scuba Dive to be played without guns (spearguns we imagine), so that's why you can't attack the fish.• The Spectrum 4 compilation had Harrier Attack, Scuba Dive, Jungle Trouble and Far Worm all on one tape.