Richard Stevenson finds 13 reasons to fall in love with this big Denon amp. Read our Denon AVC-X8500H Review.
DENON'S AVC-X8500H HAS taken the AV amplifier concept and turned it up to 11. Well, more than that actually. With a claimed 1.950W spread through its 13 independent channels, plus every key AV feature currently available, this is the undisputed champion of AV spec trumps. But do you need so many channels of power on tap? Yes. as it turns out. While you can divert some of those powered channels to a second or third stereo zone, the real magic is what they can do in your cinema.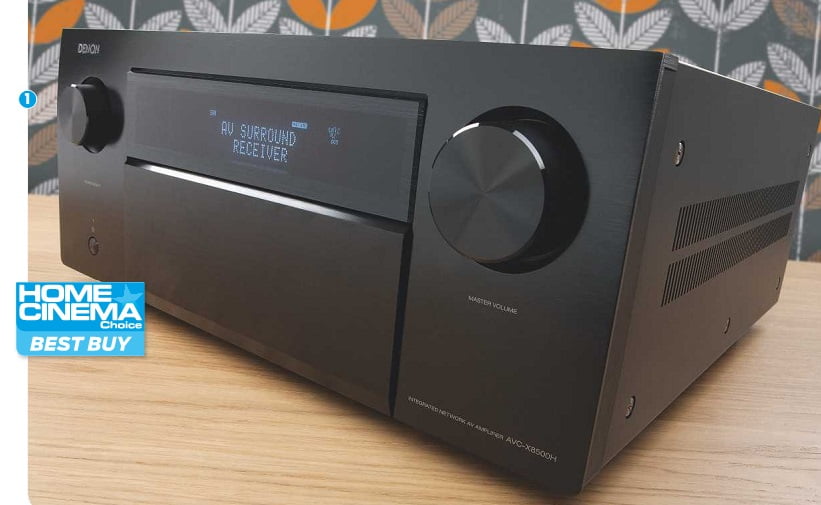 info
1
3-channel networked AV amplifier
Top of the 2018 Denon range Anthem MRX 1120; Denon AVR-X6400H; Pioneer SC-LX901
Object-based audio formats map sound into your room, making the most of however many speakers you have. The more the merrier. Or. rather, the more speakers, the more accurate the positioning of effects and more believable the ambience of the movie. Dolby Atmos uses up to 128 channels in commercial cinemas, although that might be trickier to pull off in your home theatre.
Starting with a typical 11-channel (7.2.4) setup, this new Denon allows you to add an extra two channels with a number of different placement options. Using them as front height channels for 7.2.6 could have real benefits in bolstering front-end solidity. If you have got a very wide room, you could configure them as front-width channels in a 9.2.4 setup to ensure a spacious front soundstage.
The Denon's options are copious but not endless.
Within the initial menu you do have a finite number of speaker configurations to choose from and that could mean some fudging is required. And it is not always obvious how to marry the amp's configuration to your layout.
7Review earns Amazon affiliate commissions from qualifying purchases. You can support the site directly via Paypal donations ☕. Thank you!
(For instance, at one point I managed to establish a five-channel/surround back/eight height-channel config. which to those with a spare hand for some extra fingers, is 15 channels – it's not until you navigate to the amplifier assignment page that you discover the AVC-X8500H has disabled the SB channels).
Gripe over, though, because outside of the setup malarkey, this Denon is a proper stunner.
When it comes to features. I'll begin with what the AVC-X8500H doesn't have. This is a short list, and it's an AM/FM tuner. As Denon's naming nomenclature testifies, the AVC-X8500H is not an AVR. Denon has taken the decision to oust the FM tuner section completely, so in the strictest sense this is no longer a receiver. We'll gloss over that the amp's internet radio tuner can access thousands of stations, including all your FM favourites. And the fact that the front display window proudly states 'AV Surround Receiver' when you boot it up.
Back to what it does offer, and the spec sheet runs long. This is a 13.2-channel AV amplifier, armed with Atmos. DTS:X and Auro-3D and able to passthrough 4K HDR.
It offers networked streaming. Apple Airplay. HEOS multiroom integration and an 8-in. 3-out HDMI stage.
Other connections are gold-plated and comprehensive.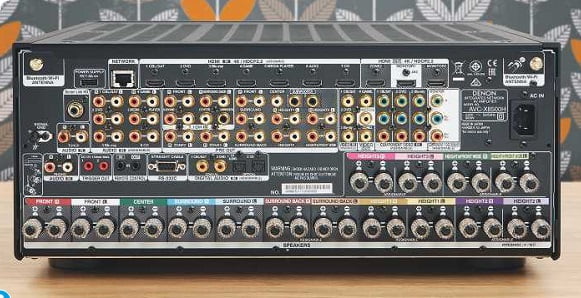 Build quality is fabulous and the Denon looks just as good underneath the hood. In here you'll find 32-bit AKM DACs and a powerful DSP engine based on a pair of SHARC dual-core chipsets. No surprise, then, that the X8500H is a fairy large and heavy beast, and it runs quite toasty warm when pushed, so allow for plenty of ventilation space.
Setup and room EQ is courtesy of Audyssey's MultEQ XT32 FIR-based filter system. More advanced EQ tools can be unlocked if you invest in the Audyssey Editor app.
Other expected touches include IP and RS-232 control for custom installs. There's also the ability to control the X8500H with your TV's remote, and a dedicated Smart Menu onscreen. After a couple of weeks with the amp I also grew to like the Quick Select keys. These tie up sources and their preferred sound modes at the touch of a single button.
Yeah, but how does it sound? Quite, quite amazing in fact. This Denon is clean, punchy and dynamic with a solidity to its imaging that makes even two-channel recordings sound wonderfully three-dimensional.
The balance is neutral but lacks nothing in grunt and drive when the volume knob gets turned to the right.
That gorgeously crafted power supply, visible through the casework, supplies all those channels with enough juice not to run out of steam when the going gets tough.
Using a 7.2.6 setup with front heights, the Denon mapped Atmos material efficiently onto every speaker.
And those front heights really worked well in filling the void above the screen in my fairly long but narrow room.
Doing A/B comparisons with and without the front heights in play is a palaver involving reconfiguring the speaker menu, but is also quite an eye-opener. Largescale panning sequences like the planes going overhead in Unbroken (Blu-ray) benefit greatly. The aircraft seem to start further away in the front distance before they get closer, or disappear further into the foreground when heading in the other direction. Dialogue was improved too. the effect reminding me very much of Audyssey's DSX front-height channel implementation. With my centre speaker on a low stand, both systems effectively pull the dialogue upwards, centring voices on the screen.
Moreover, the additional front heights deliver a much greater sensation of three-dimensional sound generally, increasing spatial height well above the listening plane. Even with action-fest movies like Justice League (Blu-ray). the effect is noticeable in enlarging the soundstage.
The insect-like wings of the Parademons are particularly impressive. Their fast, flighty movement is crafted with amazing precision in the room, and with your eyes closed you can virtually point to a creature's intended location. They also seemed to fly higher than when running the system as simply 7.2.4. In short. I found having extra speakers to fill the void behind and above the main front array mightily useful in my setup.
Thanks to the Denon's processing, mapping more mundane formats to this 13-channel system is equally fun. The AVC-X8500H is a master of upscaling 5.1 into something resembling 3D audio. Switch to the Pavilion scene in the DVD of House of Flying Daggers – a DD 5.1 mix – and this amp brings it alive with added space and punch right down to the lowest registers of my subs.
Yet it is with Dolby Atmos and DTS:X material that the Denon really shows its mettle as the class-leading AV amp of the moment. Spin anything and it beguiles. The Atmos track on La La Land (UHD Blu-ray) is woefully shy when it comes to height information throughout, yet the AVC- X8500H digs into the soundtrack's subtleties and nuances with ease. Dialogue is crisp and articulate; the musical numbers are funky and infectious. Some scenes in particular are so successful at evoking the mellow feeling of an LA jazz club that I almost booked myself a flight out there.
After a few weeks it was patently clear that Denon's new model sets the benchmark for integrated AV amplifiers and does so at a relatively affordable price. Try to get this level of functionality anywhere else and you'll face a higher bill and a processor/power amp(s) combo to wrestle with.
It's a brilliant addition to Denon's portfolio, but you have to decide if you really need it. Whether 13 channels are going to work for you significantly better than 11 channels may well depend on the size and shape of your listening environment. For my long, narrow room, adding front height speakers was night and day better
Highly Recommended
Denon AVC-X8500H Review
Denon's feature-packed 13-channel AV amplifier is complex to set up but delivers the most immersive surround sound yet from a single box.
Add your review
Best Denon AVC-X8500H prices ?
MORE DEALS

DOLBY ATMOS: Yes DTS:X: Yes THX: No MULTICHANNEL INPUT: Yes. 7.1 phono audio inputs MULTICHANNEL PRE OUT: Yes. 15.2-channel MULTICHANNEL OUTPUT (CLAIMED): 13 x 150W (into 8 ohms) MULTIROOM: Yes. Zone 2 and 3 AV INPUTS: 4 x composite; 4 x digital audio (2 x coaxial, 2 x optical) HDMI: Yes. 8 x inputs; 3 x outputs VIDEO UPSCALING: Yes. To 4K DIMENSIONS: 434(w) x 482(d) x 195(h)mm WEIGHT: 23.3 kg
FEATURES: Audyssey MultEQ XT32 calibration; Auro-3D processing; hi-res audio file playback; Wi-Fi; Ethernet; Bluetooth; Tuneln radio; Apple AirPlay; HEOS multiroom integration; USB input; Audyssey Editor App compatible; Android and iOS app control; Amazon Alexa voice control (via firmware); mono-block power amp construction; compressed audio restorer