Pioneer returns from a four-year absence with a midrange AV receiver that reminds Steve Withers why he's missed the brand. Read our Pioneer vsx-lx305 Review.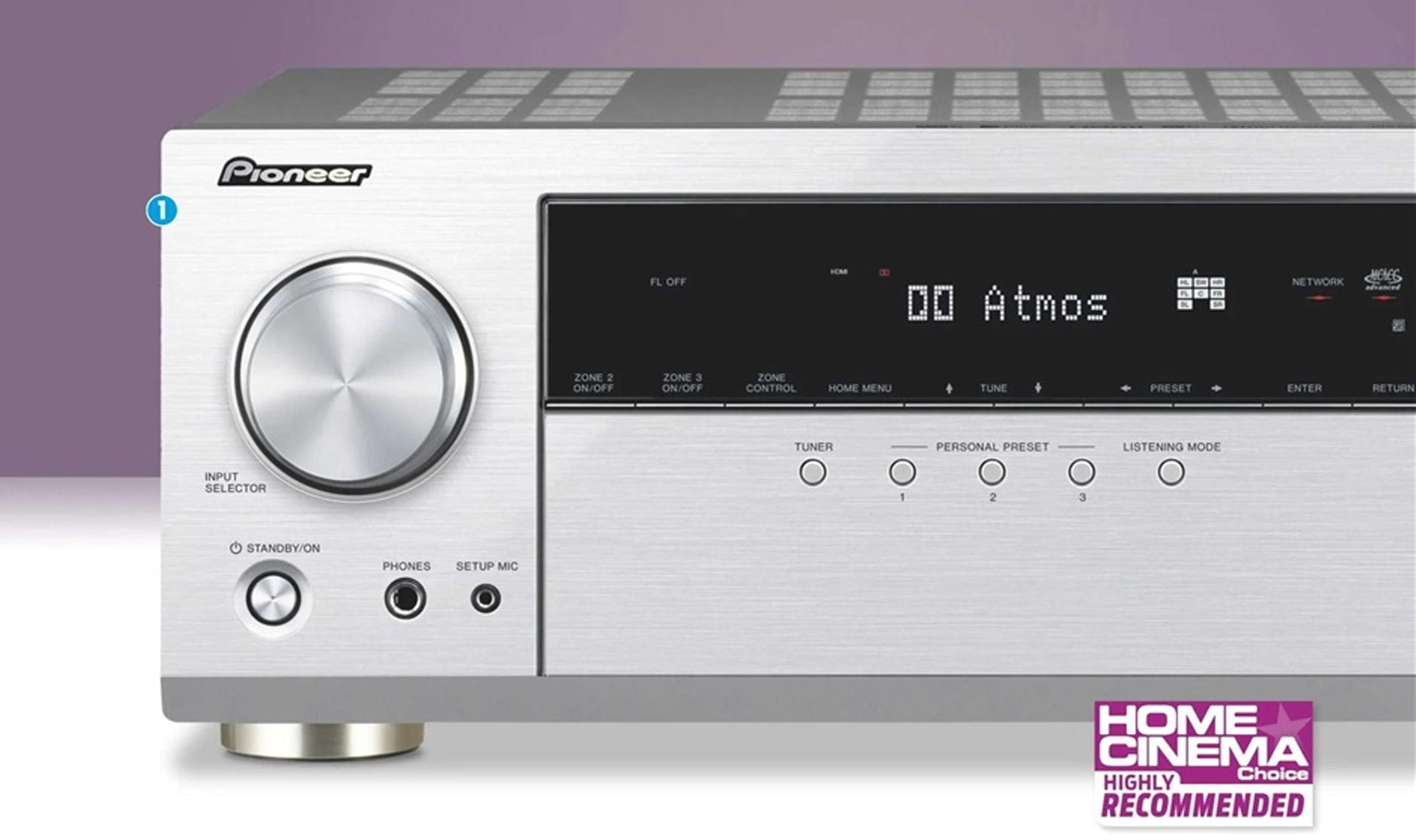 1. The VSX-LX305 gets Pioneer's brushed metal finish in black or silver
Back with a bang
Pioneer's history has been turbulent of late. The brand's AV wing disappeared from the UK in 2019 – after some corporate japes including a buy-out by Onkyo – only for its return to be announced last year thanks to the Premium Audio Company, which also owns Klipsch and Jarno and has UK distribution through Henley Audio.
The first products from this new endeavour are a brace of home cinema receivers in the guise of the VSX-LX505 (£) and VSX-LX305 (£). Both are nine-channel models, with Dolby Atmos. DTS:X and IMAX Enhanced, plus HDMI 2.1 across six inputs that support HDR10+ and gaming features like 4K/120 and Variable Refresh Rates.
The two AVRs are largely the same, although the costlier VSX-LX505 claims 180W per channel (8ohm. one-channel driven), compared to 170W on the VSX-LX305.
Other differences are the VSX-LX505's ability to decode up to 11.2 channels, while the VSX-LX305 is limited to 9.2. and has reduced connectivity. However, both now include Dirac Live room correction, along with Pioneer's traditional MCACC room 'tuning' acoustic calibration software.
More on this later.
7Review earns Amazon affiliate commissions from qualifying purchases. You can support the site directly via Paypal donations ☕. Thank you!
RECOMMENDED VIDEOS FOR YOU...
Purposeful Pioneer
Despite claims by some dealers to the contrary, neither of these receivers is badged as 'Elite' in this country, although livery and display colour aside, there doesn't appear to be any difference between the specifications of the UK models and the Elite versions available Stateside.
The VSX-LX305 looks every inch a Pioneer AV receiver, with the same purposeful, symmetrical styling the brand has been rocking for decades. The build quality is good, although not exceptional, with a brushed metal front plate and a choice of matte black or silver finishes.
Big dials for input on the left, and volume on the right, flank a large and clearly laid-out display that's easy to interpret and read from a distance. Beneath this are some basic controls, a headphone jack, and an HDMI 2.0 input. There's also a USB port and mic setup jack. Around the back, Pioneer has stripped legacy connectivity to the bone, with only single optical and coaxial digital inputs, and four analogue stereo inputs. Vinyl addicts will be pleased to learn there's a phono (MM) input, while a built-in DAB/FM tuner caters to any radio heads out there.
The emphasis is on HDMI connectivity, with six inputs and dual outputs at the back, all of which are 2.1 spec and compliant with features including 8K/60p passthrough (plus upscaling if necessary). One of the outputs supports eARC. while the other handles Zone 2.
A pair of built-in aerials provide cable-free connectivity including Wi-Fi. Bluetooth. AirPlay 2 and Chromecast. Multiroom functionality is offered through DTS Play-Fi, Roon Ready, and Sonos Connect, plus the VSX-LX305 works with Alexa and Google Assistant.
Don't worry, be 'appy
The included remote control is very disappointing, a simple black plastic affair (without a backlight) that fails to live up to the aesthetic and build qualities of the receiver itself. Thankfully the well-designed Pioneer Remote App provides access to multiroom and streaming functionality, control features, and various setup options, including Dirac Live.
Av info
| | |
| --- | --- |
| Product: | Nine-channel AV receiver |
| Position: | Mid-range model in Pioneer's current line-up. below VSX-LX5O5 |
| Peers: | Denon AVC-X4800H; Marantz Cinema 60; Yamaha RX-A4A |
Pioneer includes a host of advanced surround modes such as Classical. Drama. Game. Action. Sports, etc. I tend to eschew such acoustic manipulation in favour of the original mix. but having said that, the Dolby Surround and DTS Neural:X upmixers breathe life into older soundtracks with surprising effectiveness.
The onscreen GUI has been given a long-overdue facelift, and the result is inviting, intuitive and informative. This makes setup pain-free, with a guide taking you through the entire process. There's also a web-based interface, along with the app. for additional tweaking.
When setting up the VSX-LX305 you'll need to decide which speaker configuration to choose, and based on the built-in amps and maximum number of processing channels, this can be either 5.2.4 or 7.2.2.
In its zeal to declutter the rear panel, Pioneer has eliminated all pre-outs, aside from dual outputs for any subwoofers. Since processing is limited to 9.2 channels you can't add more, but it also means you can't upgrade the power to specific channels with outboard amplification.
Another setup conundrum relates to the crossovers, with Pioneer only providing a global setting that applies to all the channels. You can choose between 50,80.100,150 and 200Hz. but you're essentially limited by the weakest bass link in your speaker chain.
Pioneer has offered the MCACC calibration system in its receivers for years, and while easy to use. I have found it tends to struggle when it comes to correctly managing a system's low-end and integrating bass. Good news then, that the VSX-LX305 supports Dirac Live room correction, a superior third-party platform that in this case uses an app-based interface.
This is the first time I've seen Dirac implemented this way. and it makes the entire process easier and less intimidating. You do the initial setup via the GUI. before connecting the microphone (which you also use for MCACC) and simply following the instructions.
The app displays the results in a similar fashion to the more familiar laptop-based version, although there aren't as many options for fine tuning. Unfortunately, you can't load MCACC and Dirac simultaneously and then directly compare the two. but after some experimentation on my part it was obvious Dirac delivered smoother bass and a more cohesive soundstage.
AU shook up
I've always found Pioneer receivers more impressive with movies than music, so the 4K disc of Elvis seemed an obvious way to check both. The VSX-LX305 might lack the melodious characteristics of some of the more musical AVRs out there, but it made up for that with a dramatic delivery that gave the film's concert scenes added verve. It teased out all the spatial cues in the film's Dolby Atmos a full-bodied rendition of 'If I Can Dream' for the '68 Comeback Special gave the scene real emotional heft.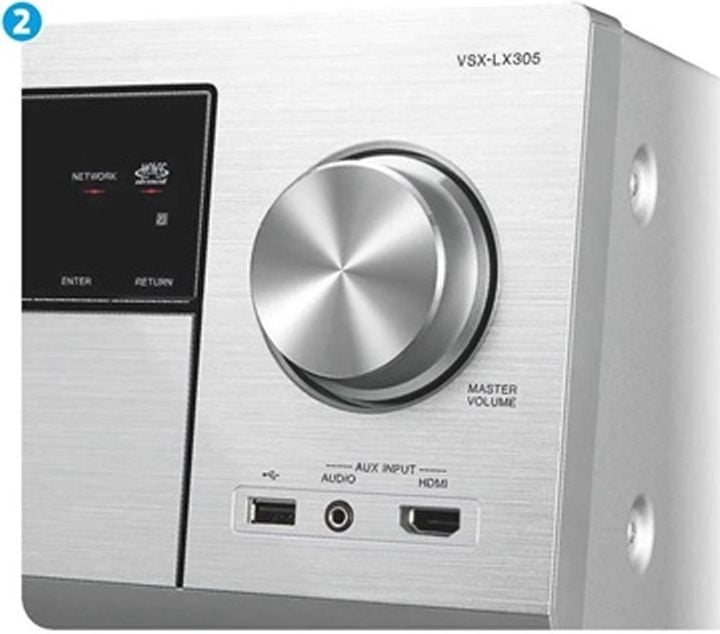 2. Front-panel HDMI, 3.5mm and USB offer a quick connection fix

3. The AVR comes with a compact (non-backlit) remote -Pioneer's app provides a slicker method of control
'The infamous bass effects at the start of Edge of Tomorrow showed Dirac's superiority at handling low-frequencies' mix during the Louisiana Hayride build-up. before Elvis explodes into 'That's All Right'. The Dirac calibration found drums hitting with power and transient attack. Later.
Once more unto the beach
Edge of Tomorrow (Blu-ray) was a better demonstration of the strengths of the VSX-LX305. from the elegant way its decodes multichannel audio, to the attacking nature of its amplification. This is a Class AB design, rather than the Class D topology Pioneer favours on its higher-end 'SC' receivers, but that doesn't seem to impact its ability to drive all channels during the film's frenetic beach assault scenes without losing steam or composure.
And 'frenetic' is the word. The processor flicked effects from speaker to speaker, as rockets whizzed through the air and machine-guns strafed my sofa. Again. Dirac EQ revealed a better sense of balance compared to MCACC, helping the AVR's sonic signature remain uniform as effects moved around the room. The infamous bass tones at the start of the movie also showed Dirac's superiority at handling low-frequencies, smoothing out the response and ensuring the bass dug deep without becoming woolly. How deep will depend on your sub's capabilities, but this calibration will ensure you don't exceed them.
Given the blunt force trauma of Black Adam's Atmos mix (4K Blu-ray), the VSX-LX305 produced the necessary scale and slam to complement DCs big-boned anti-hero, and the track employs all the channels with gusto to envelop you in the action. The sequence where Teth-Adam is first raised from his forced slumbers has plenty up top in the mix. as do later scenes where he takes to the skies, and the VSX-LX3O5 created a tangible hemisphere of sound, especially with four overhead channels.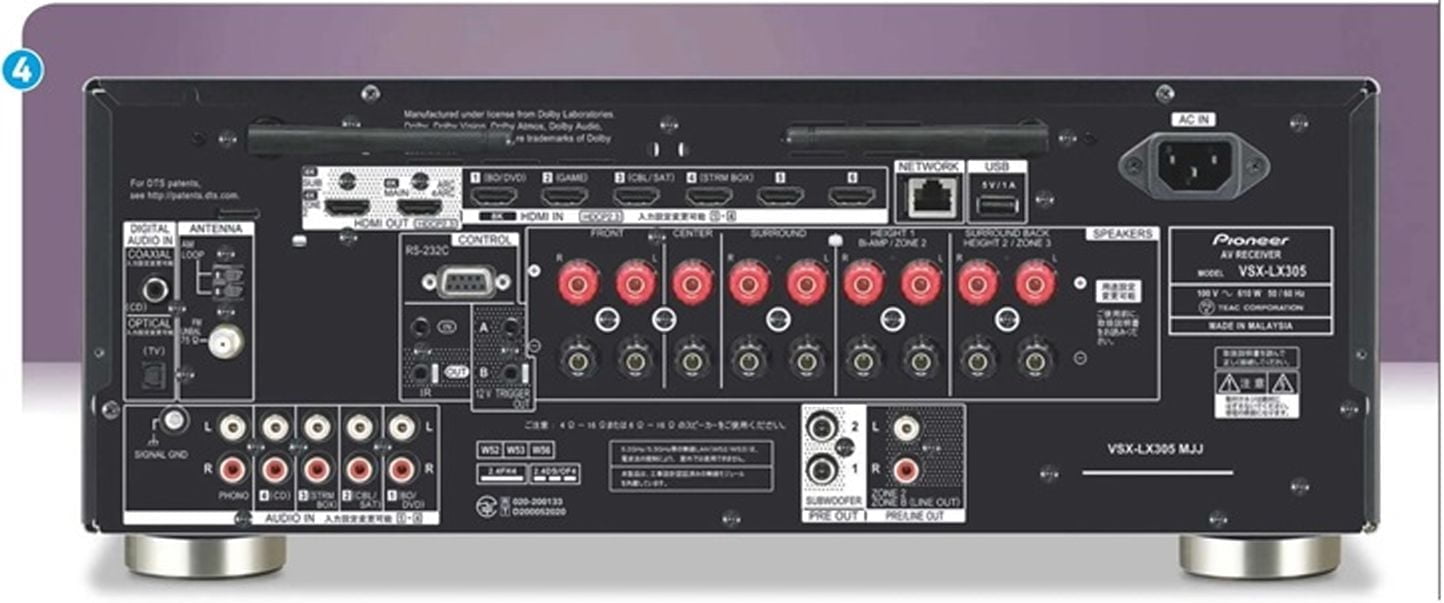 4. Rear HDMI inputs and outputs are 2.1 spec and include HDR10+ and DV passthrough
Big, balanced 'n' beefy
This receiver is a great choice for hardcore home cinema fans seeking a big. balanced soundstage backed up by beefy but well-integrated bass. The addition of Dirac Live is welcome (as is the app setup), the HDMI connectivity is up-to-date, and a myriad of features means music lovers aren't forgotten amongst all the multichannel fun.
The lack of any upgrade path, due to missing pre-outs and a 9.2-channel maximum, might disappoint, but in reality there's sufficient immersion – and amp power – for most people/rooms. And if you feel you might need greater choice down the road or a touch more grunt. Pioneer's VSX-LX505 is always an option
Verdict
www.pioneer.eu
Recommended
Pioneer vsx-lx305 Review
This capable AVR not only offers a plethora of features, including Dirac Live via a clever app, but effortlessly combines nimble multi-dimensional decoding with a muscular delivery.
Add your review
Best Pioneer vsx-lx305 prices in the US ?

$

889.00

$1,399.00
6 new from $889.00
in stock

Best Pioneer vsx-lx305 prices in the UK ?
MORE DEALS

SPECIFICATIONS
| | |
| --- | --- |
| DOLBY ATMOS: | Yes |
| DTS:X: | Yes |
| IMAX ENHANCED: | Yes |
| MULTICHANNEL INPUT: | No |
| MULTICHANNEL PRE-OUT: | No |
| MULTICHANNEL OUTPUT (CLAIMED): | 9 x 170W (into 8ohm) |
| MULTIROOM: | Yes. Zone 2 AV |
| AV INPUTS: | 2 x digital audio (1 x optical and 1 x coaxial); 4 x analogue stereo |
| HDMI: | 7 x inputs and 2 x outputs |
| DIMENSIONS: | 435(w) x 371(d) xl73(h)mm |
| WEIGHT: | 10.4kg |
| FEATURES: | Advanced MCCAC and Dirac Live room correction; DTS Play-Fi; Roon Tested; Ethernet; Wi-Fi; Bluetooth 4.2 (including headphone support); Apple AirPlay 2; Chromecast; works with Alexa and Google Assistant; works with Sonos; 192kHz/24-bit playback; DAB/FM tuner; Dolby/DTS upmixing; HDMI 2.1 |
TESTED WITH
ELVIS: Baz Luhrmann's jukebox musical celebrating the King features an Oscar nominated turn from Austin Butler, but the highlight for AV-holics is the 4K Blu-ray presentation. Slick colour grading of its 65mm digital photography yields eye-popping visuals, and the Dolby Atmos track will leave your movie room rockin'.