FOR AT least two decades now, designers have been managing to deliver more and more features, power, and audio/video finesse, for fewer and fewer dollars—or at least, no more—with every passing model year. Denon's latest lineup ably illustrates the trend and the one in the spotlight here, the $ AVR-X3800H, is going to hit a lot of budget sweetspots. It's the least costly model in the range with the nine-channels power needed for a full Dolby Atmos, DTS:X, Auro-3D or other-brand object-oriented surround implementation on board. Read our DENON AVR-X3800H Review.
By Daniel Kumin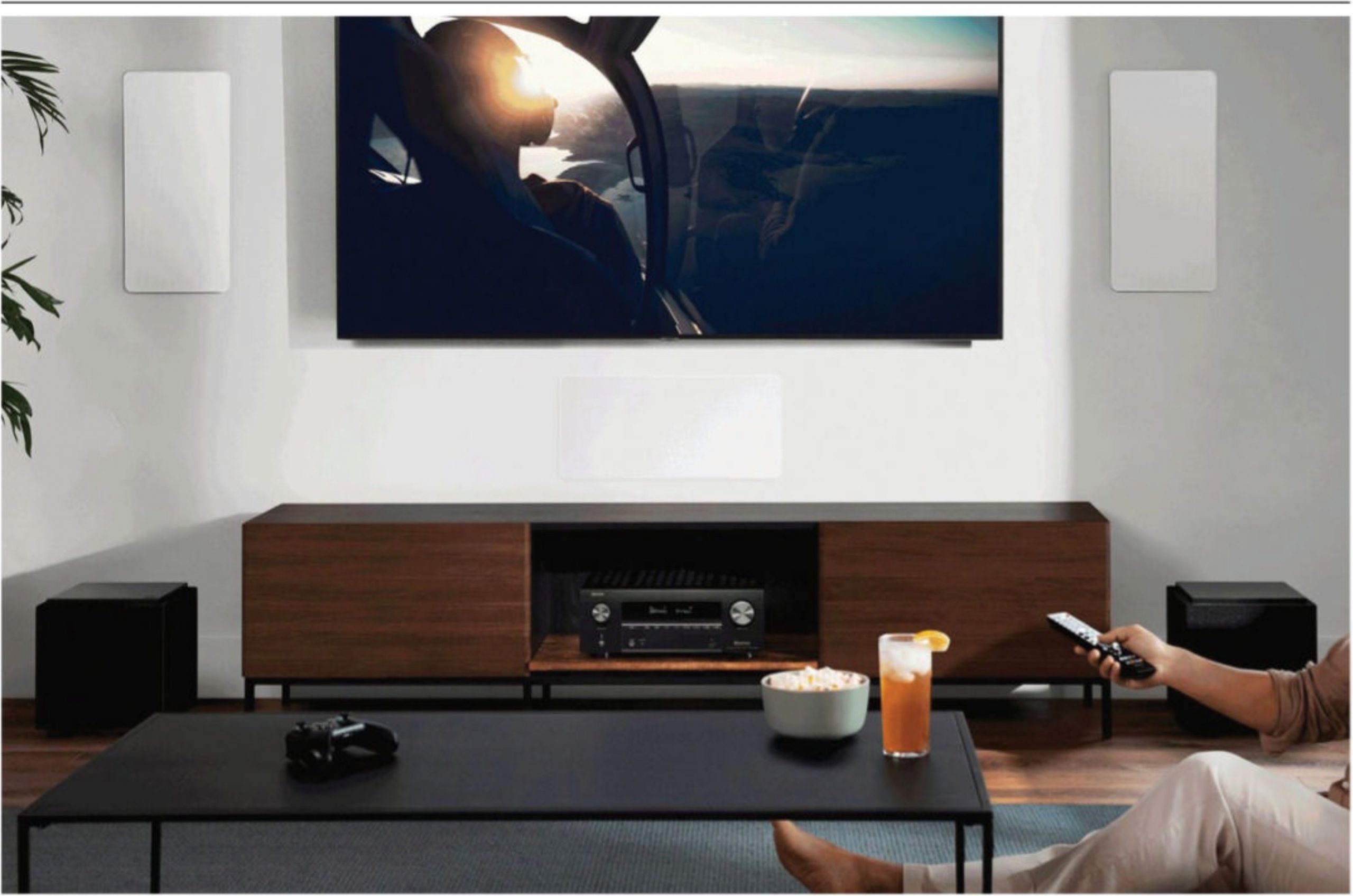 The X3800H includes nearly every other critical checklist item: HDMI 2.1 on all inputs and outputs; 8K video-capable and 4K up-converting; multi-subwoofer integration and room-correction via top-level Audyssey processing, with Dirac Live as an extra-cost option.
Denon and Marantz are stablemates, and in fact the X3800H is generally similar, not to say identical, to the Marantz Cinema 50 that appeared in this space a couple of issues back. And like the Marantz, the Denon delivers access to both Audyssey XT32 and Dirac Live room/speaker/sub correction systems, with Dirac being a $/$ (limited/full-bandwidth) add-on owners can activate online. (The Audyssey vs. Dirac debate will rage until the Internet turns to pixel-dust: I've achieved excellent, and at the end of the day functionally very similar, results from both systems, though they use different geek-level DSPs to get there, undertake essentially the same measurement and equalization processes.)
Another commonality is participation in the Marantz/Denon HEOS streaming/multiroom ecosystem, which we'll revisit briefly a bit further along.
The Denon's key-feature list is, as far as I could squint, identical to the Marantz's: Dolby Atmos and DTS:X object-based surround modes, of course, plus IMAX Enhanced, Auro 3D, and Sony's 360 Reality Audio; six HDMI inputs, all with 8k video support and 8K upscaling, compatibility with all major HDR flavors including Dolby Vision and HDR10+, and video-game-friendly modes like ALLM and VRR; full participation in Marantz/Denon's HEOS multi-room streaming ecosystem, and voice-assistant integration with Google Assistant, Amazon Alexa, and Apple HomePod gizmos — and, for all I know, Homeland Security (just kidding). There's more, of course: let your fingers do the browsing.
7Review earns Amazon affiliate commissions from qualifying purchases. You can support the site directly via Paypal donations ☕. Thank you!
RECOMMENDED VIDEOS FOR YOU...
Denon is sticking with the classic AV receiver layout: two big knobs, and a row of larger-than-many keys for key modes and selectors. Thankfully, there's no drop-down door with a million tiny, unreadably labeled push buttons behind it (did anybody actually favor these?); we have on-screen displays and remote controllers to handle those functionalities instead. The central, front-panel display is un-fancy, and unchanged for several generations now, but reasonably readable, as are Denon's somewhat larger, but still low-contrast gold-on-black panel-graphics.
SETUP
The X3800H's physical setup required nothing more than the usual plugging of HDMI and sub cables, and correctly identifying and connecting nine cables from my 5.1.4-channel, Atmos-configured, mongrel — err, carefully curated — speaker array. (With a total of five different brands across front, center, surround, height, and sub, it's living proof you don't need a brand-matched layout if you know what you're doing. So says I.) The next order of business was to run the Audyssey XT32 setup and calibration/correction routine, an easy, self-prompting 15 minutes, with familiar results of improved bass tightness and definition, and midrange focus.
The Dirac Live calibration and correction option is, as mentioned, an extra-cost download. I did not add it to the Denon's setup, but DL has been amply covered in these pages in the past year or so. Audyssey correctly ID'd, balanced, and crossed-over my mixed-breed speaker layout with almost perfectly correct results. The sole exception was the sub level, which it set nearly 10 dB too high. This has been a very common mistake made in my system by many different auto-cal/EQ systems over the years. Interestingly, the near-clone Marantz Cinema 50 did not make it, though why this was the case I have no idea: quite possibly just run-to-run and/or mic placement variance.
One other setup option worthy of note is that the X3800H can direct some, or all, of its nine main audio channels to preamplifier outputs. Importantly, the channels so directed "shut off" their respective power amp circuits, eliminating any chance of degradation of the preamp-level signal due to power-amp clipping or power-supply strain. This is a realistic possibility because the external amp probably won't have the same gain structure as the on-board ones. Consequently, an outboard amp could easily be driven to full power long after the point at which the receiver would have been overdriven.
This would starve the preamp circuits of supply voltage, inducing distortion in them and is a demonstrable phenomenon. In fact, this feature gives the receiver the unavowed superpower of transforming itself into a pretty full-featured AV preamp/ processor, at a very attractive price, for those who need or at least want more or "different" power via outboard power amps. I suspect that more than a few x3800H sales will go to buyers with just such intentions.

I nearly always perform most of my auditioning with room correction disabled, since every room and system are different and I want to eliminate as many variables as I can. That said, I do retain two narrow filters (implemented in Roon software's DSP) that mitigate my room's two strongest modes, which I feel helps reveal the subject component's sound, if any.
All my auditions indicated that this is a highly competent AV receiver. First order of business: "audiophile" auditions of two-channel recordings via the Denon's subwoofer-less "Direct" mode, showed the receiver to have plenty of nut to drive my fairly low-sensitivity stand-mount 3-ways to all the level I would ever ask. A long-time favorite reference track for this sort of issue is Lyle Lovett's live, "large-band" rendition of "Here I Am." Beautifully recorded (like most all of Lovett's opus), this punched in with totally believable dynamics and clean, sharply defined vocals and horn lines, without any sign of exaggerated sibilance or grit, even at near-venue levels cresting 100 dB SPL on peaks. The same clarity and unforced definition was evident on every high-production-value track I tried; as a stereo amp, the X3800H passed muster with ease.
LISTENING
Dolby Atmos music is fast gaining both popularity and street cred amongst 'philes, but finding and streaming high quality classical Atmos, absent Apple Classical (which I don't yet have), can be challenging. Tidal has a modest catalog, but the Atmos mixes did not appear to make the trip, via AirPlay, from either my iPad 5/ mini, or from Denon's HEOS app, nor from my admittedly old-ish Roku 4k+ Express. Against expectation, though, the Tidal app on my years-old Sony A8H OLED TV worked, allowing me to sample a goodly range of Atmos productions. (And as a parenthesis, I'm on the bandwagon. There are some impressive Atmos classical productions out there.)
One — a snippet of the wonderful Stravinsky violin concerto (Harmonia Mundi, Isabelle Strauss) — stood out for the naturalness of tonalities, hall-sound, and spatial localization. The X3800H served it royally, delivering about as close to a you-are-there listening experience as you are likely to encounter. This is a more organic, convincing sense of stage height and location, and of hall acoustics and position, than even the best DSP-surround "concert halls." The X3800H helps prove that, carefully set up right and fed the right program, more channels really are better.
Of course, film sound is the reason most of us shop for AVRs in the first place. 2013's Gravity is an Atmos waypost and an outstanding production top to bottom. The opening minutes cleverly exploit spatial location to elevate dramatic effect, and via the Denon the Atmos mix expertly directed George Clooney's voice to different quadrants, laying spatial groundwork for the drama to come. (I'll overlook the fact that in the vacuum of space, there is of course no sound at all — any voices would be heard only in the perceivers' headsets — presumably in mono. But let's file this one under "willing suspension of disbelief.")
The Denon shares the Marantz Cinema 50's ability to integrate as many as four subwoofers in its Audyssey room-calibration setup, via XT32's Sub EQ HT. I don't have four subs, but I do have

two on hand, and I confirmed that the X3800H behaved identically: it got crossovers correct, but not levels, which were a bit high to my ear as is almost always the case with auto-setups, and delivered a subtle improvement in response smoothness/tightness through the crossover octave. Your mileage will of course vary, since every room and all subs are different, but this is a valuable tool for any implementing multiple woofers, to subdue at least a bit the influence of room modes.
THE HANDS-ON STUFF
For the most part, the X3800H proved a pleasure to use. On-screen menus are straightforward, with a useful "info" screen that pops up all the audio and video format info you'd likely want to see. The supplied remote is similarly friendly, though the lack of key lighting counts as a demerit. (The sister-model Marantz Cinema 50's remote does have such lighting—as well it should for the receiver's considerably higher price.)
Again in common with the Marantz, the Denon's streaming ability comes courtesy of the HEOS app running on an iOS or Android device, so without one or the other your options are limited. That said, the Denon responded correctly to my "native" streaming apps Roon, Qobuz, and Tidal, though limited to AirPlay's maximum 48/24 resolution. (Surprisingly, the Denon does not have a built-in Chromecast.)
HEOS has been covered many times in S&V. My take is that it is a serviceable and reasonably elegant streaming quarterback for the most popular services. Denon's AVR iOS app (there's an Android version as well) delivered full receiver control, albeit with a somewhat slow response time, at least in my system.
Denon's Smart Select feature, which twins the Marantz's gizmo of the same name, lets you set four preset combos of all the important audio and video parameters: surround mode, Audyssey EQ, HDMI video output mode, and even individual channel-level trims, which I count as a particularly valuable one-touch recall for switching between multichannel music and movies. This is one "extra" I'd definitely use every day: I'd set one Smart Select tweaked for surround music, one for movies, and one for quotidian TV watching, with Audyssey Volume leveling the Denon's dialog-enhance feature— both enabled for casual viewing at any level with max intelligibility. This boosts both overall center level, and vocal-range EQ a bit.
In sum, Denon's AVR-X3800H is a thoroughly competent, fully featured AV receiver for any modern nine-speaker system — or fewer, but why would you want fewer? It's eminently usable, clean and dynamic, and adequately powerful for any system except a truly power-hungry speaker suite or a setup in an unusually large space. The question begging to be answered at the bottom of the page is how this model compares to its Marantz stablemate.
The Marantz brand offers a few more watts of power, a slightly more elegant look, and a few extra pounds in weight, potentially due to the power transformer's heft. It might also offer a decibel or so of better dynamic headroom. Apart from the remote control back
lighting lighting issue mentioned above, the two models are nearly identical. Considering these factors, the Denon's value advantage seems clear.
www.denon.com
Specs
| | |
| --- | --- |
| POWER OUTPUT: | 105 watts per channel (20 Hz-20 kHz, 0.08% THD, 2 ch. driven at 8 ohm |
| DIMENSIONS (WxHxD, Inches): | 17.1 x 6.6 x 14.9 in. |
| WEIGHT (Pounds): | 27.6 lb. |
| AUDIO INPUTS: | 6x HDMI (plus eARC), 2 coax, 2 optical digital, 1 USB (front); 5 analog stereo line unbal.,1 MM phono. |
| AUDIO OUTPUTS: | 11x speaker (9 active simultaneously: up to 4 assignable to zones); 11.4-channel unbal. preamp outputs (inc. Height-2/Zone-3,4 subwoofer outputs). 2 source/2 zone system, either via zone HDMI output, zone 2 pre-out or powered zone 2. |
| VIDEO INPUTS: | 6x HDMI |
| VIDEO OUTPUTS: | 3x HDMI (1 eARC, 1 zone) |
| WIRELESS: | Bluetooth 4.2 A2DP/AVRCP; WiFi/Airplay2 |
| ADDITIONAL: | FM 75 ohm "F" antenna; AM-antenna push-terminals; Ethernet (network, control, streaming); RS-232 (control), 1x 12v-trigger; remote in/out. |
The Verdict
DENON AVR-X3800H Review
All the important features, enough channels for Atmos/X, and enough watts for a large majority of systems, all with top-shelf sonics, and all for a reasonable price.
PROS
Audyssey XT32 room correction, with extracost Dirac Live option
9 powered channels enable a full Atmos/ DTS:X layout
4 discrete subwoofer outputs to integrate and EQ multiple subs
Handy global-preset feature
CONS
HEOS app required for streaming music services
Non-backlit remote
Add your review
Best DENON AVR-X3800H prices in the US ?

$

1,315.00

$1,699.00
11 used from $1,197.77
36 new from $1,249.99
in stock


$

1,699.00
1 new from $1,699.00
in stock

Best DENON AVR-X3800H prices ?
MORE DEALS