Richard Stevenson salutes the no-stone-unturned approach of this monster 15.4-channel AV amplifier. Read our DENON AVC-A1H Review.
Denon's blast from the past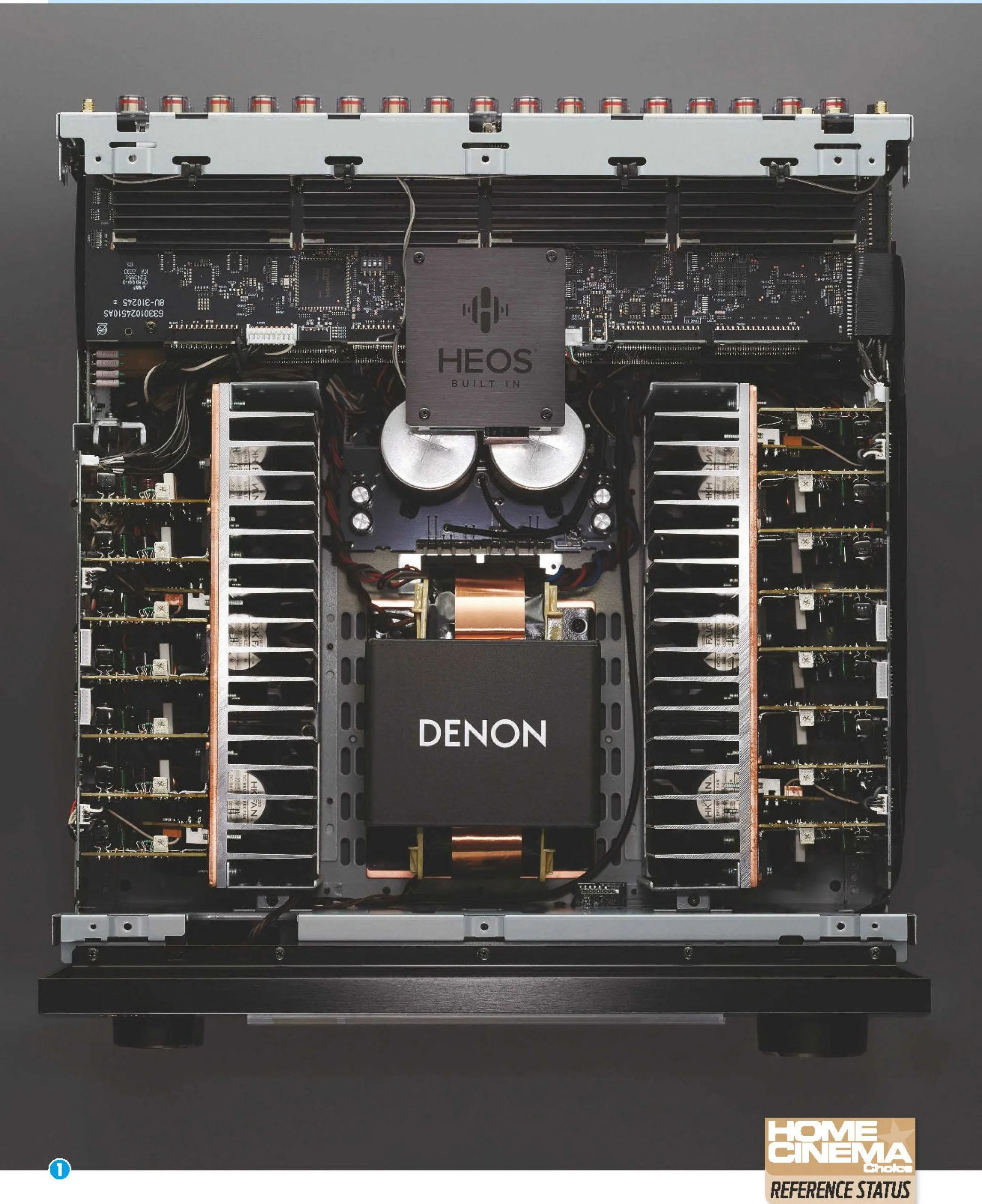 Japan's Denon has a rich history of wheeling out truly referenceclass AV amplifiers and, spoiler alert, it has done it again.
The AVC-A1H is its latest feature- and performance-heavy flagship multichannel machine that can trace its heritage back to the likes of the 2007 AVC-A1HD, 2004's epic AVC-A1XV and even the DSP AV granddaddy, the 1996 ACP-A1.
AV Infor
Flagship AV amplifier
At the top of Denon's AV range by some distance
PEERS:
Anthem MRX 1140, Arcam AVR31;
7Review earns Amazon affiliate commissions from qualifying purchases. You can support the site directly via Paypal donations ☕. Thank you!
Rotel RAP-1580 MkII
While there has been something of a hiatus in the true A1 dynasty for some 16 years, the AVC-A1H celebrates all the brand's heritage and craftsmanship of the lineage. Like its forefathers, it mixes cutting-edge processing and electronics with the sort of attention to sonic refinement that even the hardest of hardcore audiophiles would appreciate. Cast iron feet, an 11.5kg power transformer and non-magnetic speaker terminals? Oh yes – and more.
Your flexible friend
The headline billing and red-carpet credentials are stupendous. This is a 15.4-channel processor with 15 channels of amplification, each claiming 150W fullbandwidth power into a sensible 8ohm speaker load, and a claimed 210W into a 4ohm load with a 1kHz test tone. This spec gives you incredible setup flexibility, from an epic 9.4.6 speaker configuration down to a rather more mundane 7.1 plus multiple stereo zones. Or how about seven main channels fully bi-amped, along with a subwoofer count of up to four? All possible.
Onboard audio processing covers pretty much every current surround sound format known to man, including Dolby Atmos, DTS:X (including the Pro iteration), Auro-3D and IMAX Enhanced. Audio-only sound formats include several flavours of high-res audio, 360 Reality Audio and MPEG-H, and compatibility with both Apple AirPlay 2 and Denon's own HEOS streaming platform.
Room EQ is equally flexible. The machine ships with Audyssey's latest MultEQ XT32 system as standard, itself upgradeable to the latest PC-based MultEQ-X (see HCC #336). However, if Audyssey is not your thing, Denon has struck a deal with Dirac so you can also pay to add Dirac Live room correction (either basic or full bandwidth), via a firmware update.
Video support extends to 8K/60 (with an upscaler onboard), passthrough of all current HDR formats, HDMI 2.1 ports and the ability to run 4K/120Hz if you are into your gaming and have the reflexes of a cat to make the most of it (I'm still struggling with Pac-Man). Twin ear-like antennae handle Wi-Fi and Bluetooth wireless signals, and there is no shortage of digital and analogue inputs to choose from, resulting in a maximalist rear panel with gold-plated connections that turn it into a work of art.
For home system integration, there is IP and RS232 control, and a host of control system compatibility across AMX, Control4 and Crestron.
Yet behind a spec sheet slightly longer than the Magna Carta, there are some true touches of audiophile passion. That monstrous 11.5kg transformer feeds the largest capacitors in the history of Denon AVRs at 33,000pF, with the overall architecture boasting a 4mm-thick sandwich chassis, thick copper-track PCBs, and Denon's discrete monolithic power amplifier devices mounted onto 4mm-thick copper heat-transfer plates.
At the heart of the AVC-A1H's processing abilities is a Sharc Griffin DSP engine in dual-core guise running at a sprightly 1GHz. Processing is done entirely in 32-bit, and there are discrete boards for critical components in the chain to further bolster the audio performance. The upshot, says Denon, is a much improved S/N ratio, lowering of both THD and noise, and improved dynamic range compared to Denon's 2020 AV heavyweight, the AVC-X8500HA.
The non-magnetic speaker binding posts, with their smoked-clear shields over gold-plated terminals, and the 200g all-metal illuminated remote control are the icing on a sumptuously constructed, beautifully designed 32kg AV cake.
Words and pictures
Like much of the attention to audiophile detail, the setup and menu structure owe a great deal to Denon's heritage in AVR design. The GUI is neat and intuitive, will overlay any
1. Symmetrical layout places amps (with heatsinks) either side of Denon's largest ever transformer
2. The RC-1250 metal remote majors on input selection keys and is backlit via a side button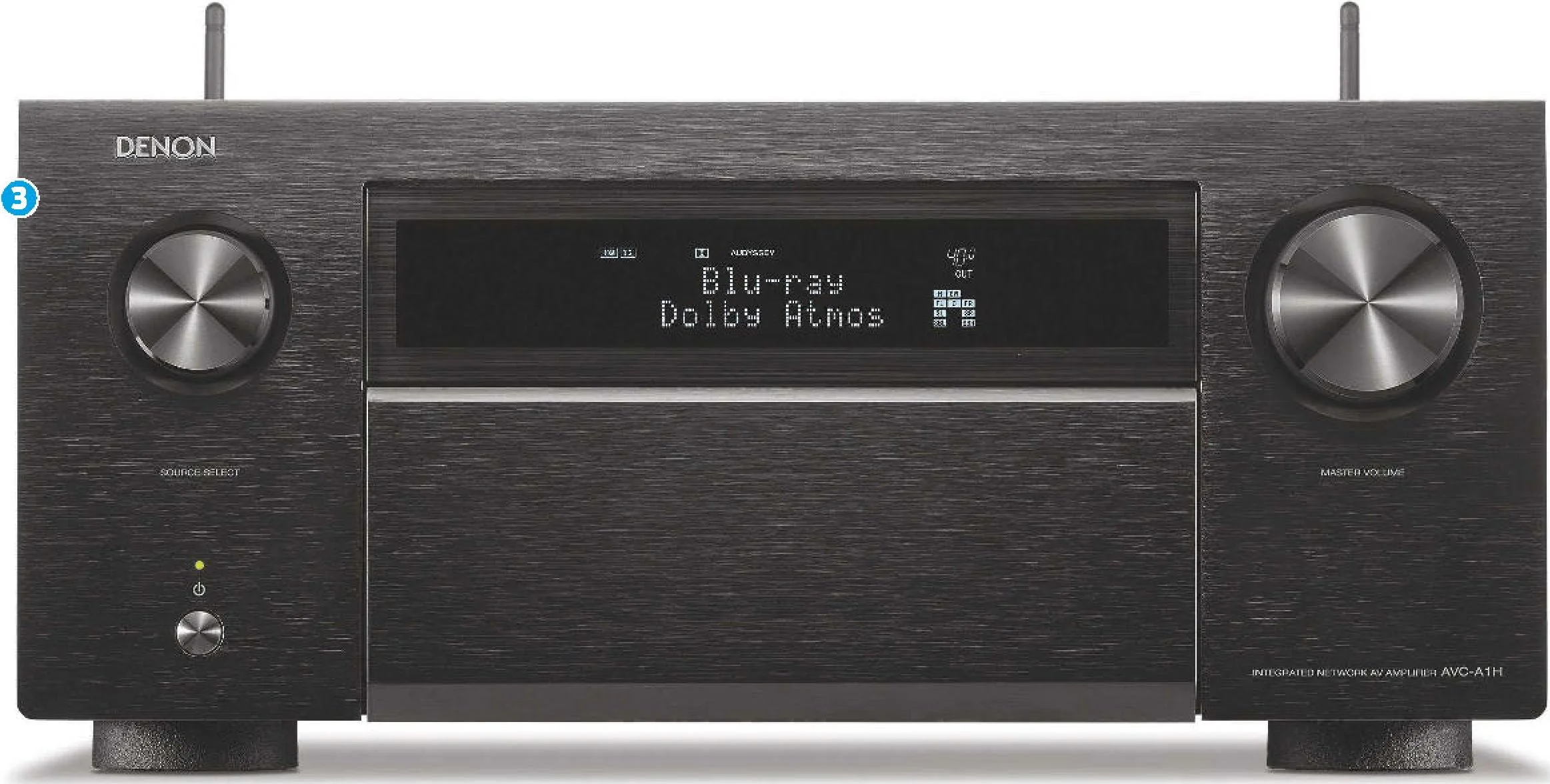 resolution output and often comes with graphic representations of configurations and functions for clarity. The 'explainer text' that pops up along the bottom of the screen when you highlight a feature in the menu is far more detailed and informative than previous incarnations, with some descriptions extending to 30-40 words. I finally now know what Audyssey LFC does and why I might need it.
One gripe about the GUI and onscreen overlay is the bar that appears along the bottom when you make volume adjustments. This is brilliant white and far too bright. If you
'The headline credentials are stupendous. This is a 15.4-channel processor with 15 channels of amplification'
tweak the volume midway through dark and moody content, such as any recent Batman movie or The Mandalorian (see p96), this vivid white bar trashes the overall image and leaves you with a retina after-image. You can disable the onscreen volume display, of course, but if the AVC-A1H is hidden away, the onscreen graphic is your only visual sound level reference. Bring back the old, subtle yellow bar, please Denon – or at least give us some dimming control.
Faced with an array of possible configurations from the fifteen amplifier channels and four independent subwoofer outputs, having to dial back from the maxed-out 9.4.6 option to a 'basic' 7.2.4 array to match my speaker system was painful. I feel all under-speakered now. Inferiority complex aside, setup mode is delightfully logical and onscreen graphical images of speaker layouts, in 3D, do help to get your mind around the physical architecture of an up-to-19 speaker system.
Denon's lengthy but logical setup assistant is here, but is ostensibly aimed at novice AVR users. I can't help feeling this 'my first home cinema' type of feature is a bit misplaced on a six-thousand pound flagship. Still, you don't have to use it.
3. Bluetooth and Wi-Fi antennae are supplied for improved wireless connections
The menus and setup are an article in themselves but a big salute to simultaneous RCA output and speaker level out for all channels, and the three-zone system flexibility.
Let's measure up
With Dirac yet to be rolled out to our review sample at the time of this audition (it should be available soon, though), the setup and room EQ options were Audyssey or manual. The AVC-A1H comes supplied with a microphone and Denon's cardboard cut-out stand for a process that involves measuring between three and eight seating positions. Even if, like myself, you only have a two-seat sofa in the listening room, taking all eight measurements from points around it seems to deliver the best-resulting EQ output.
In its vanilla format, Audyssey MultEQ XT can be a little frustrating in its obliqueness in telling you what it has actually done to the sound. There are no interesting graphs or obvious EQ curves to reference here. For that, you will need the aforementioned MultEQ-X version, which is available for a licence fee of £ ($). This from my experience, is a very welcome addition to the Audyssey package, as it is way more flexible, and offers much better visibility into the EQ workings and results. Still, what I achieved with an eight-point setup with the onboard Audyssey MultEQ platform was none too shoddy. In fact, it was outstanding. >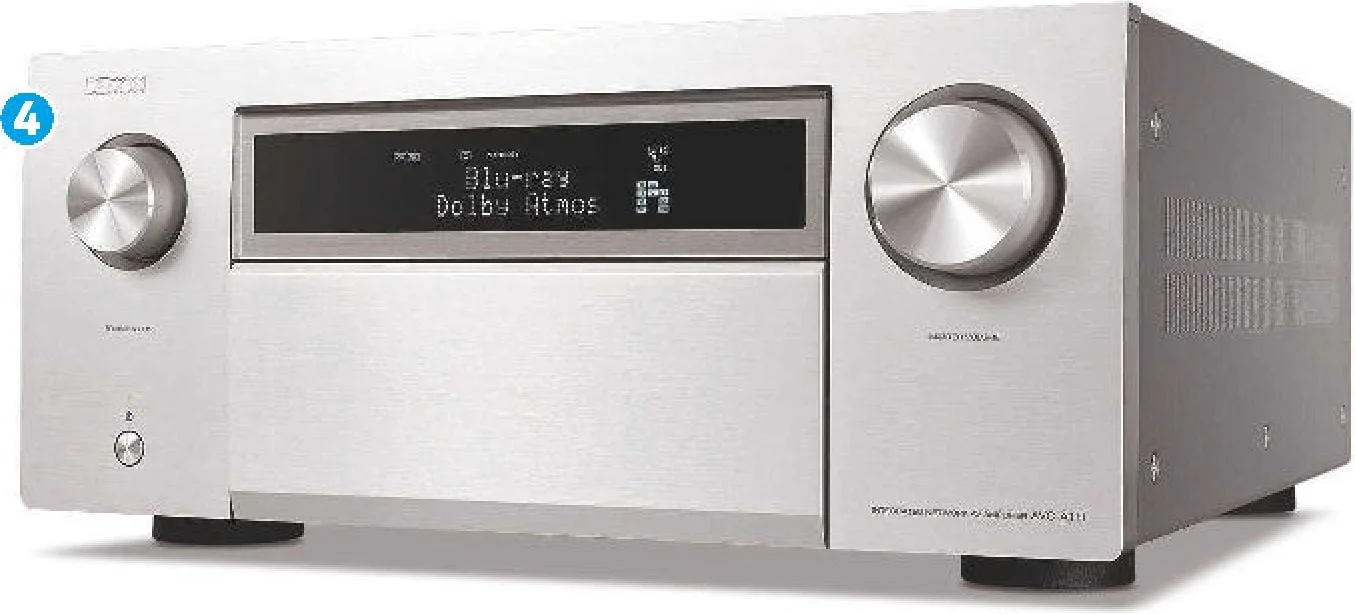 4. The AVC-A1H is also available in a smart silver finish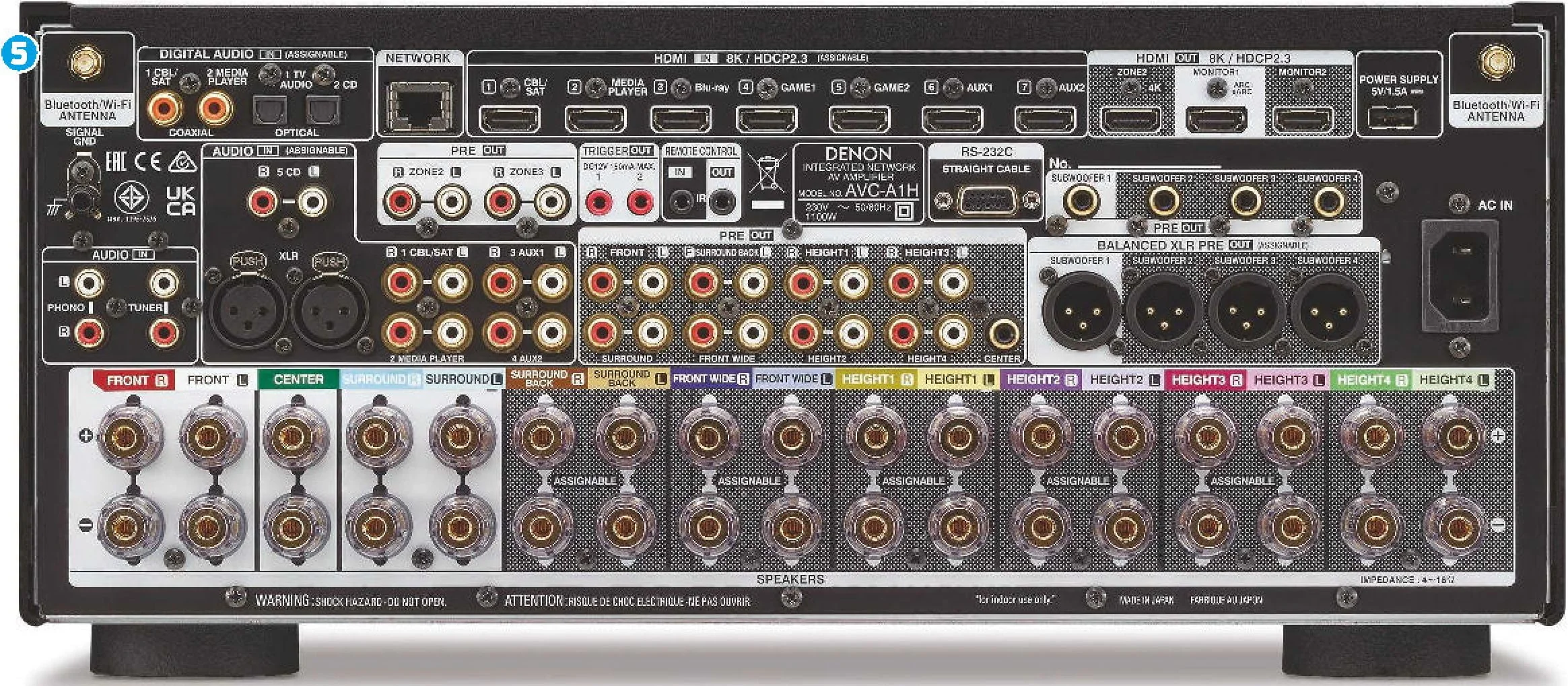 'The AVC-A1H is another reference-class AV amp to add to Denon's outstanding list of achievements'
I have reviewed or owned almost every Denon A1 home cinema amp, and there is a sonic signature that spans the generations; energetic and powerful, with a huge soundstage and enough adrenaline to turn black-and-white drama flick The Artist into an actioner. Over those decades I found Denon's stablemate brand Marantz approached things altogether subtler, bringing a more even-handed flavour to multichannel sound with audiophile levels of detail and balance. I've flipped between the two brands often, mostly thinking how nice it would be to have your all-action cake and eat it with a finely crafted wine.
And now you can, because the AVC-A1H bats the AVR genre right out of the park. From a first test run of The Mandalorian (Season 3, Disney+) to establish baseline and levels, this new amplifier exudes all the enthusiastic charms of its forebears but now blends that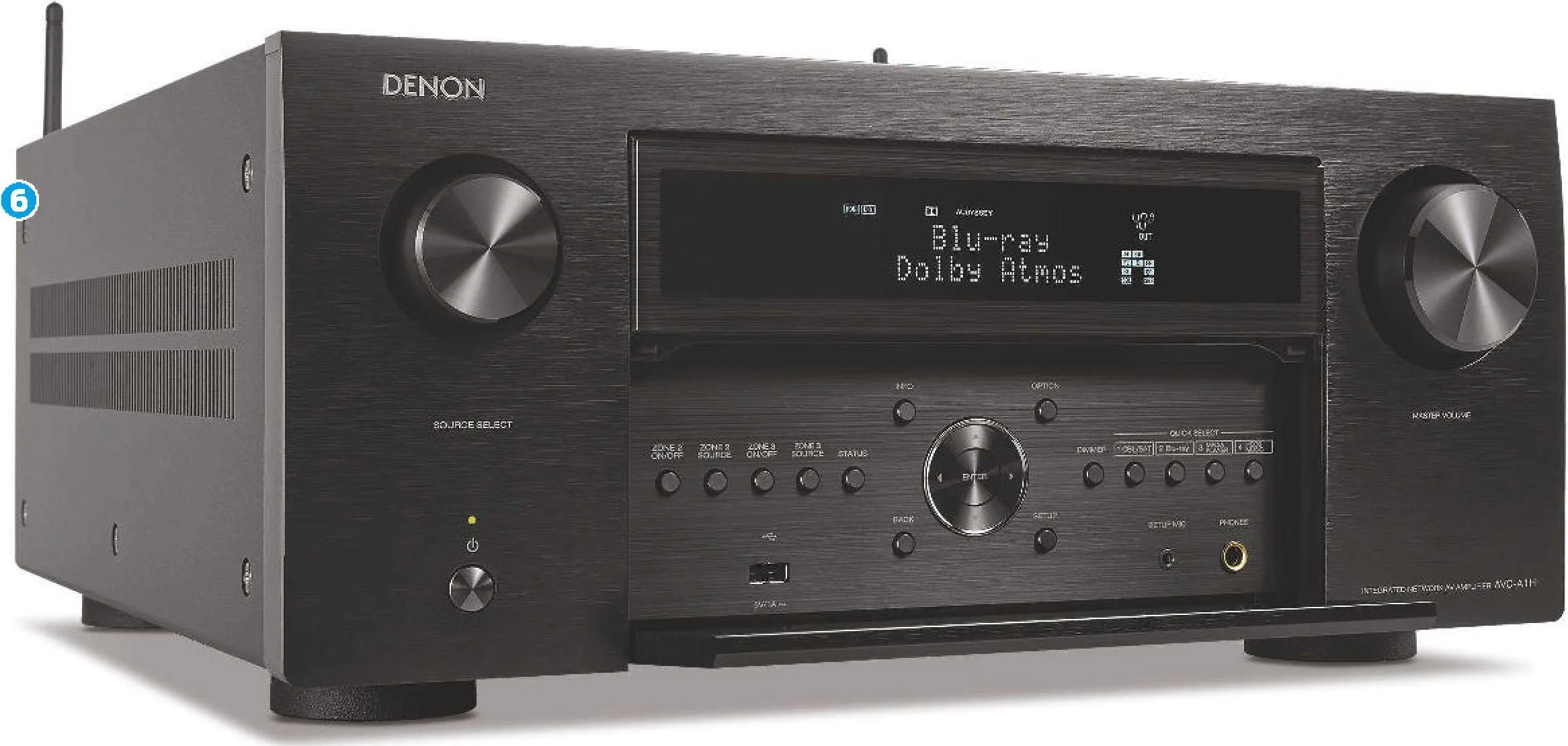 energy and scale with frankly breathtaking levels of resolution, detail and clarity.
We're in the dark recesses of The Armourer's forge, and my entire cinema room is steeped within the cosseting atmosphere, the blast of the furnace and sound of her working the Beskar echoing around the room. My 20 square metres all but became the cavernous chamber in the most realistic creation of spatial ambience I have heard to date.
Then wham! The sea monster attacks The Watch on the beach, during the inauguration ceremony, and the mighty AVC-A1H unleashes watts with scant regard to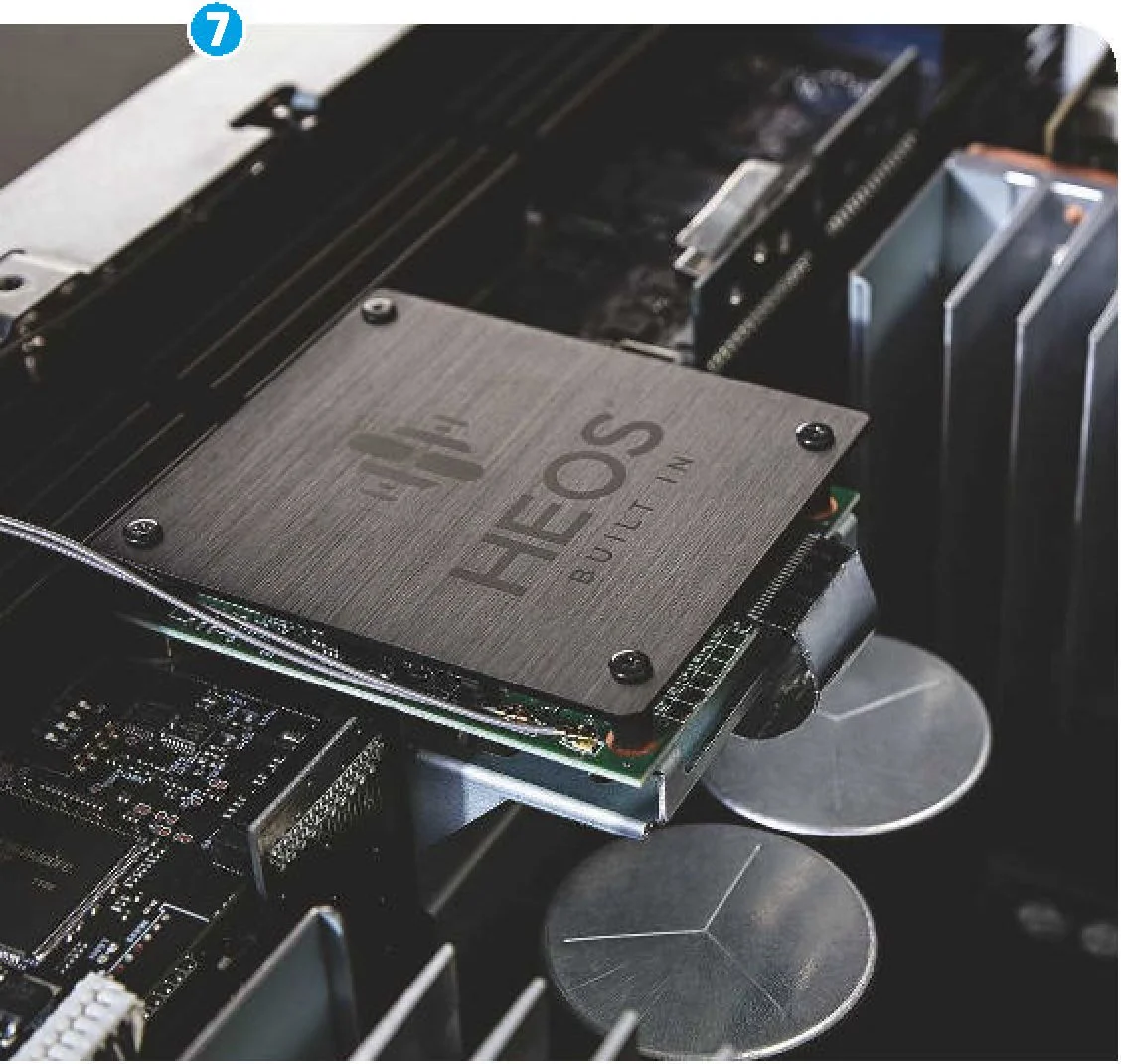 neighbours up to five houses away. The roar of the monster is deafening, but details like water splashing around, Mandalorians being knocked about, and blaster fire, leap out of the sonic chaos with amazing precision.
The music swells as Din Djarin's fighter bursts onto the scene, its sound panning seamlessly from the right rear corner of the room to the front soundstage. An initial explosion is thunderous, then the fighter turns for another run and unloads a torpedo to the backing of a grandiose musical score, followed by another explosion that would have anything but the very best subwoofers begging for mercy. I got so engrossed, thanks in no small part to this amp's wholly engaging performance, that I nipped back into Disney+ and lost an entire evening recapping the best bits of Season 2.
Multiverse of magnificence
In an effort to ensure The Mandalorian itself wasn't simply filling me with Star Wars-derived enthusiasm, I switched back to my own reference Marantz AV8805A processor and dual MM8807 power amps. Hmm. The same scenes sounded good, great even, but the soundstage lacked the scale afforded by the Denon amplifier and had nothing like its clarity and resolution. My own system actually sounded a bit laid back and 'polite' by comparison… which is the sort of review conclusion that usually costs me money.
Switching inputs to a Panasonic DP-UB9000 Ultra HD player proved that the amp is equally stellar with off-disc Dolby and DTS feeds. Dr Strange in the Multiverse of Madness (4K Blu-ray) is an Atmos favourite, packed with action, atmosphere and effects. Yet the AVC-A1H does not let the special effects get in the way of dialogue or the movie itself, simply creating the perfect backdrop to immerse you in the plot. With the in-room volume levels heading north of 100dB, its sound didn't show any strain, hardness or compression, which is a testament to that multiversally mad power supply. If I were using all 15 channels, maybe that would have depleted current reserves, but it certainly didn't with only 11 on the go.
5. Even without analogue video ports, the AVC-AlH's backpanel is well-stocked, and includes XLR stereo in and XLR subwoofer outs
6. A pull-down door conceals USB, mic and headphone connections, plus zone/menu controls
7. Onboard HEOS streaming delivers app-based music playback and multiroom integration
A week of Blu-rays, Netflix, Prime Video and Disney+ later and the AVC-A1H sounded even better. In the first days, the spatial detail bordered on being a little edgy, yet that was gone after a period of running-in with the volume control north of 75-80 on the scale. And, dammit, I could not find a flaw in its sonic performance to write about – and that is without the optional MultEQ-X or Dirac Live room correction
Stripping things back to try and grasp the amplifier's underlying nature, I hooked up a pair of high-end (£) stereo speakers, put it into Pure Direct mode and streamed music from Tidal's MQA catalogue via HEOS, and Atmos spatial audio tracks via iTunes and an Apple TV 4K. The detailed presentation, exceptional soundstaging and lively balance were all there, complemented by taut and powerful bass, even without a subwoofer. Hand on heart, this is the first AV receiver I have ever reviewed (in over 25 years) that I would be 100 per cent happy to use in a reference stereo setup. The install flexibility and multiple zones make that easy to achieve as a separate entity to your surround sound system too.
Raising the AV bar
My time with this new Denon flagship has been revelatory. The only thing, for me, that niggles is the onscreen volume display being too bright – and you can turn that off. There are also no front AV connections for a quick game console hookup, but that doesn't bother me.
This beast of an amp is amazingly well-featured, boasts incredible specifications, offers class-leading flexibility in setup and EQ, and delivers the best sound from any integrated multichannel model I've heard. The AVC-A1H is another reference-class AV amplifier to add to Denon's outstanding list of achievements. Bravo
Denon AVC-A1H
www.denon.co.uk
An imperious flagship AV amplifier that more than justifies its high price with an incredible feature set and stunning sound. Denon's A1 class has done it again.
SPECIFICATIONS
DOLBY ATMOS: Yes DTS:X: Yes (Pro) IMAX ENHANCED: Yes MULTICHANNEL INPUT: No MULTICHANNEL PRE-OUT: Yes. 17.4 MULTICHANNEL OUTPUT (CLAIMED): 15 x 150W (into 8ohm, 20Hz-20kHz, two channels driven) MULTIROOM: Yes. Three zones, plus HEOS AV INPUTS: 4 x digital audio (2 x optical and 2 x coaxial); 8 x analogue stereo HDMI: 7 x inputs; 3 x outputs DIMENSIONS: 434(w) x 498(d) x 195(h)mm WEIGHT: 32kg
FEATURES: Audyssey MultEQ XT32 room EQ with MultEQ-X and Dirac Live upgrade options; 8K video passthrough/upscaling; HEOS and AirPlay streaming; 360 Reality Audio and MPEG-H immersive audio; 32-bit DACs; 32-bit DSP; up to four independent subwoofers; XLR subwoofer connections; balanced XLR stereo input; phono (MM) input; control system integration; backlit metal remote control
TESTED WITH
THE MANDALORIAN: Arguably the best Star Wars spin-off so far (but you might prefer the intrigue of Andor), this sci-fi backs up its engaging plot with lush visuals and massive sound. The score is spine-tingling, the sonic action is incredibly detailed, and dialogue is always intelligible – even through a Beskar helmet!