One of the most popular home theater receivers we've ever featured on this channel is Sony's STR-DN1080. Despite its 2017 release, the DN1080 was a go-to choice for budget-conscious home theater enthusiasts, including myself. Now, with Sony's latest receiver, the STR-AM1000, we're curious to see if it lives up to the DN1080's reputation. Let's read our Sony STR-AN1000 review.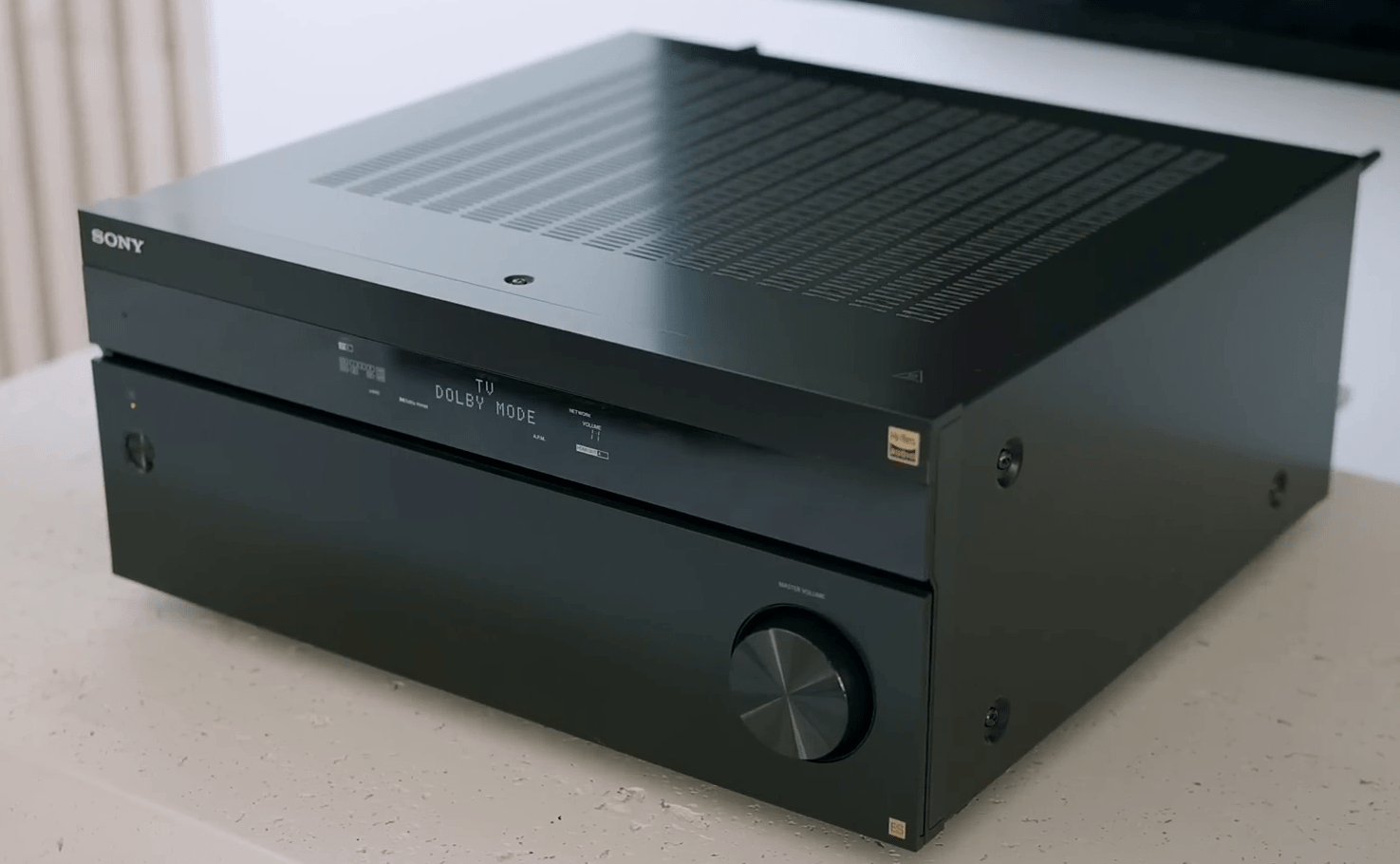 Specification
HDMI inputs x 6
HDMI outputs x 2
Processing 7.1 channels
Amplification 7 channels
HDR formats HDR10, HLG, Dolby Vision
Audio formats Dolby Atmos, Atmos Height Virtualization, DTS:X, Sony 360 Reality Audio
If you've read our review of the 7000 ES, it won't come as a surprise that the older DN1080 and the new AM1000 look identical on the outside. However, when you delve into their specifications, you'll notice some differences. The AM1000 is rated at 120 watts in stereo, which may seem like a step down from the DN1080. But it's worth noting that the DN1080's power rating is 165 watts with one channel driven, which adds complexity to the comparison. Power ratings can be elusive, and 120 watts in stereo doesn't tell the whole story. Naturally, power output will decrease as you add more channels. However, except for true 4-ohm speakers like Martin Logan's Motion XT series, the AM1000 had sufficient power for our in-house speakers. So, if you have budget-friendly or mass-market home theater speakers, you need not worry.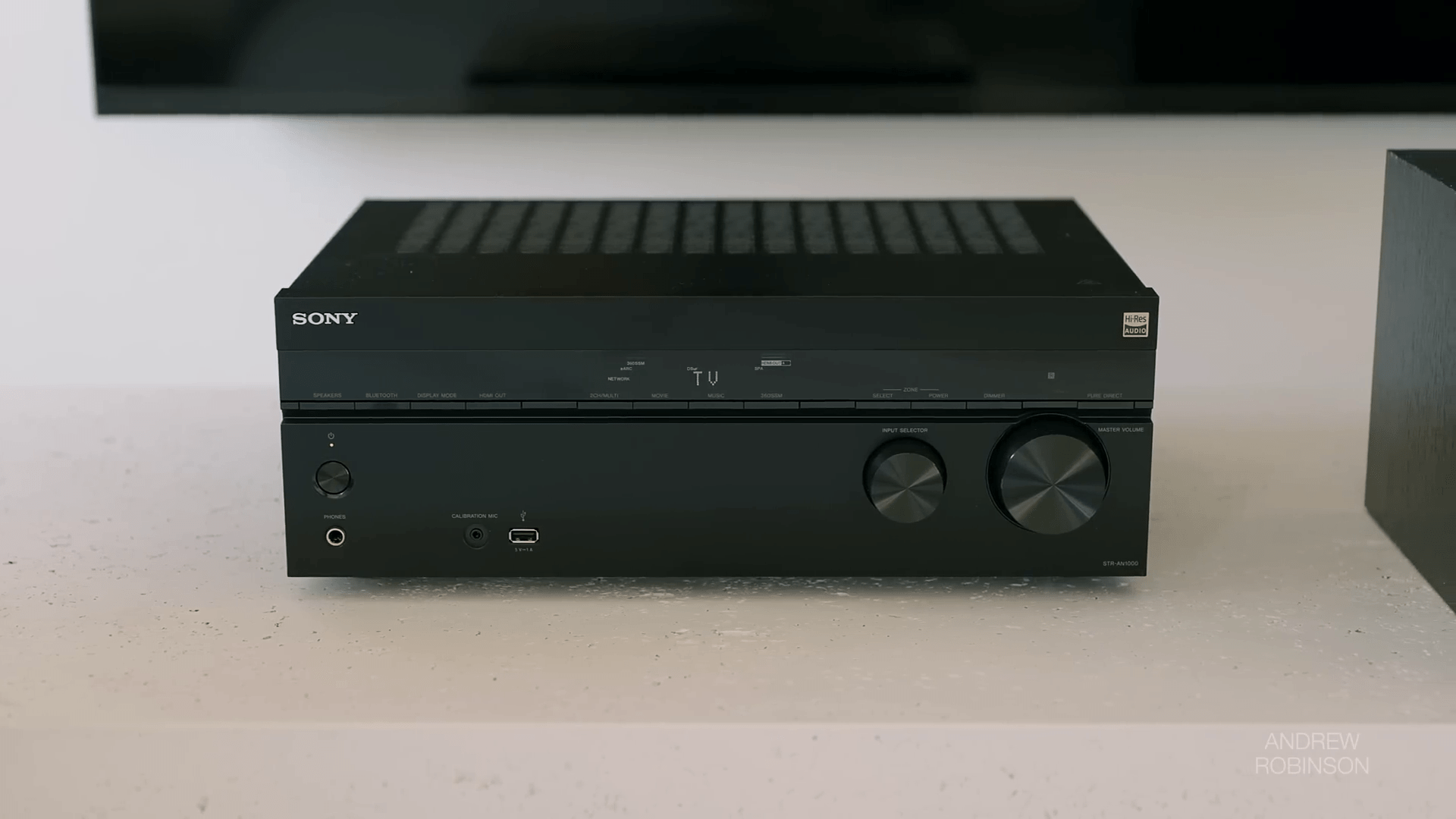 The AM1000 is a 7.1 Dolby Atmos and DTS:X enabled receiver with features like Sony's Digital Cinema Auto Calibration No. 9 and their 360 spatial sound mapping, providing 360-degree audio support, much like the higher-cost 7000 ES receiver we've previously reviewed. Additionally, the AM1000 offers HDMI 2.1 support with upscaling to 8K 60, as well as gaming-centric features like VRR and ALLM. It also supports HDR content, including Dolby Vision. Furthermore, it's compatible with voice assistants such as Google Home and Alexa, offers AirPlay 2, Bluetooth, Spotify Connect, and works with Sonos, among other features. In terms of day-to-day use and features, the AM1000 is quite similar to its higher-end siblings from the ES line.
During testing with various speakers, including Klipsch's RP-8000F and Mission's LX2 towers, the AM1000 performed admirably, creating an ideal pairing. However, it's important to note that the AM1000 struggles with 4-ohm speakers like Martin Logan's Motion XT series, resulting in a somewhat strained sound. For these types of speakers, it's advisable to consider the 5000 ES or the 7000 ES. The AM1000 can also work with Sony-branded wireless loudspeakers and subs, providing convenience during the setup process. However, it's important to mention that the wireless speakers won't expand the number of channels for this receiver, so you'll still be limited to 5.1.2.
Sound Quality
Sony's calibration procedure is straightforward and quick, though it offers fewer manual controls compared to higher-end alternatives like Audyssey or Dirac. However, Sony's 360-degree audio results are impressive. Sound quality is exceptional with the right speakers, and Sony's spatial mapping technology makes a 5.1.2 Atmos setup sound more enveloping than traditional stereo setups.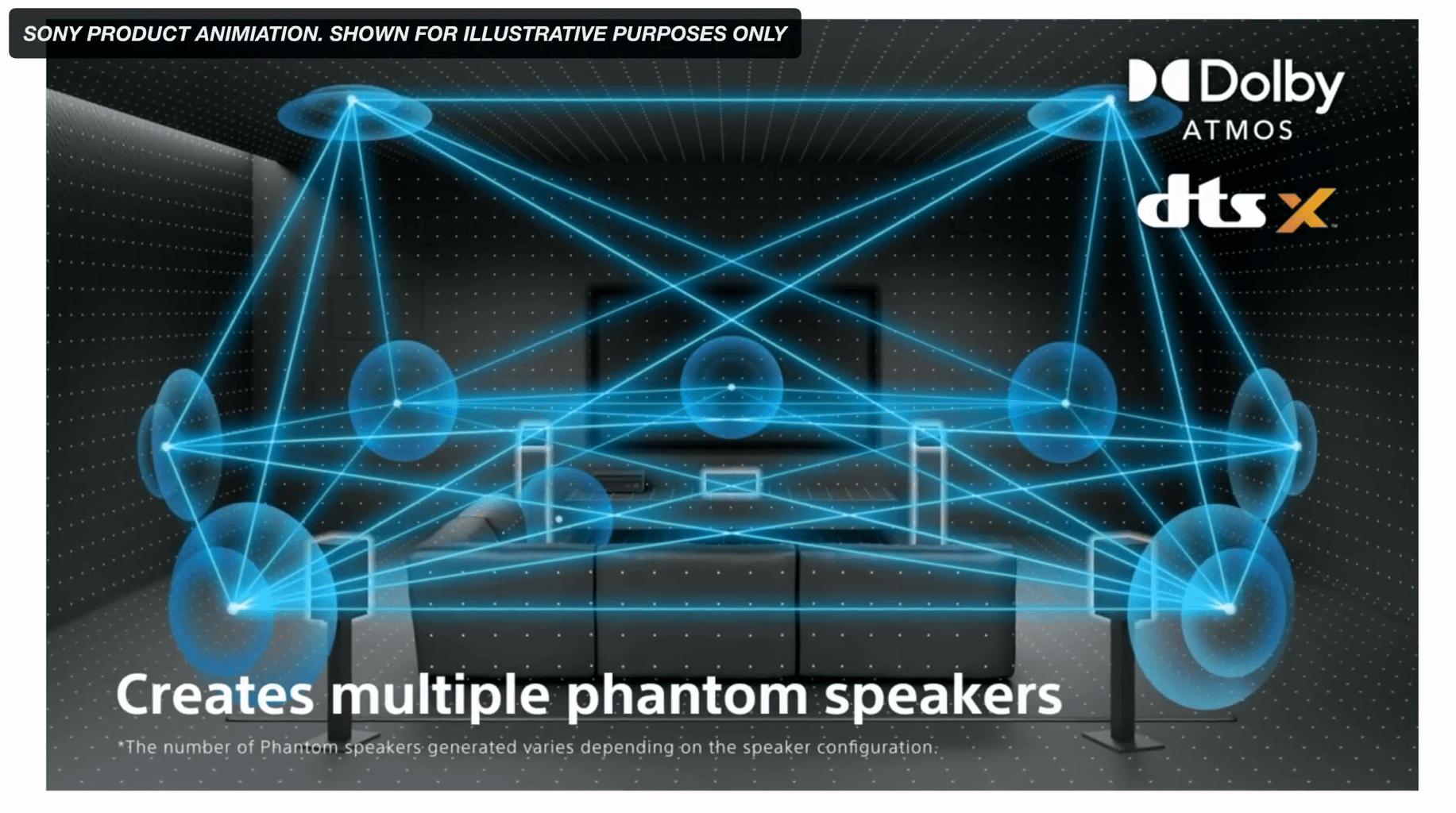 In terms of music performance, the AM1000 is enjoyable, though the 7000 ES outperforms it for stereo listening. Nevertheless, the AM1000 is a solid option for those who prioritize home theater over two-channel listening. The receiver provides excellent video switching and gaming performance, making it a great choice for gamers, and it's compatible with vinyl playback for those with the appropriate turntable.
Verdict
While the AM1000 is an excellent receiver, Sony's lineup includes other models at various price points, and it can be challenging to distinguish between them due to their similar appearance and features. For existing DN1080 owners, upgrading to the AM1000 is recommended, as it offers enhanced features and capabilities. However, managing expectations is crucial when transitioning from a practically free DN1080 to a full-price AM1000. The AM1000 is a superior product, but the higher price tag may affect the perception of its value. Overall, the STR-AM1000 is an exciting and feature-rich receiver, offering an excellent balance of performance and affordability.
7Review earns Amazon affiliate commissions from qualifying purchases. You can support the site directly via Paypal donations ☕. Thank you!
RECOMMENDED VIDEOS FOR YOU...
Recommended
Sony STR-AN1000 review
Sony builds on its previous AV amp model with additional dynamics, scale and accuracy
PROS
Spacious presentation
Precise and detailed sound
Impressive dynamics
CONS
Some rivals are better equipped
Set-up is more involved than some
Add your review
Best Sony STR-AN1000 prices in the US ?

$

598.00

$779.00
4 new from $598.00
in stock

Best Sony STR-AN1000 prices ?
MORE DEALS