While he's away, Michael's cat becomes a video starThe Withings Home is a smallish device designed to keep you advised as to what is happening in its immediate vicinity. With dimensions of 85 x 75mm, this cylindricalshaped device can connect to a home network and communicate updates to an Apple smartphone or tablet via a downloadable app. Currently, Android and webbased apps are under development to help widen the Home's sphere of influence.

The Home device, which sits in a Frisbee shaped smoky-white table stand, features a 5MP IP camera with a 135º wide angle lens and 12x zoom capability. Also built into the device are two digital microphones with echo cancelling and noise reduction, plus a speaker and sensors for detecting motion, ambient light and VOCs (Volatile Organic Compounds) when checking on the air quality. There are also magnets allowing the unit to be positioned at different angles within its stand.The translucent base of the Home device can be illuminated in different coloured lights to provide status feedback. Covering the top section of the Home device is a cover, which is removable. By default, the cover is decorated as European White Oak. When necessary the cover can be slid around to block the camera if privacy is required. Located at the rear of the unit are sockets for recessed micro-USB mains power, standard USB and Ethernet ports.Setting up this product requires a free passwordprotected Withings account that can be created using the iOS app. Following the establishment of a Bluetooth connection, you will need to link the Home unit to your home network. While this can be achieved via the Ethernet port, I opted for the wi-fi option. This brings into play the Home's Quick Setup procedure, which does all the work for you. This procedure shares your wi-fi settings that are stored on the connected iOS device.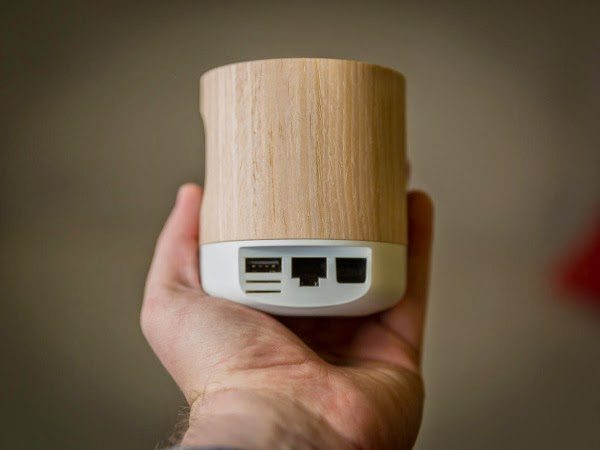 Especially useful, if you have more than one unit, is the ability to give each one an appropriate name, such as Living Room or Nursery. You can also turn off the individual notification options for motion, sound and air quality. However, this adjustment is all-or-nothing, as you cannot make slight adjustments to these options.The Withings Home allows you to switch between Live/Diary and Photo Album views of its detection features. As its title implies, the Live/Diary view combines a live stream of video action with a diary showing a timeline of detected events classified as motion or noise and time stamped. By double-tapping on a timeline entry you can replay the action, delete it or share with others via messaging, email, AirDrop or iCloud Photo Sharing. A similar double-tap on the live stream enlarges it to full screen size and gives you access to a Lullaby feature, as a tune is played for a userspecified time in baby monitor mode and gives you the opportunity to communicate with those within range of the Home unit.Along with detecting events and sending out notifications by the handful via Push technology, the Withings Home takes a photo of each detected event and stores them in a Photo Album. These photos can be shared, copied or printed.The Withings product also checks on the air quality by detecting VOCs. In order to carry out this task, a 48-hour test will need to be run to help calibrate the accuracy of the collected data. This product does not include the detection of carbon monoxide in its remit. Michael FeredayThis product serves best as a baby minder.