It ls very obvious to the layman that there is a war of specifications going on between the purveyors of large screen TVs. And ah this before the Chinese TV manufacturers have even entered the fray – something predicted to happen in the next couple of years.
The 75-inch X9400C from Sony is not the slimmest TV we have seen. That honour goes to Sony's own X9000 which has an astonishingly thin 4.9mm bezel. But the larger X9400C is still an object of beauty.
4K sCREEN
The X9400C has an LED-backlit 75-inch LCD panel. Its claim to fame is its 4K resolution screen with a resolution of 3840×2160. The TV is powered by Sony's new X1 processor.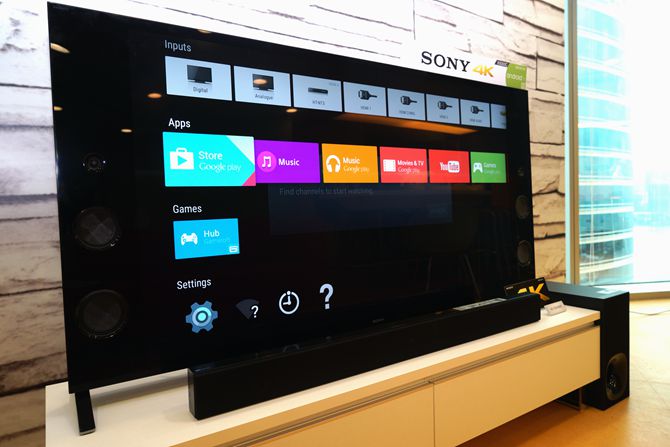 The X9400C is also a smart TV which runs on Android. This makes its interface quite different from LG TVs which use webOS developed by HP. Android's migration from smartphone to tablet to television has been quite swift.
android power
7Review earns Amazon affiliate commissions from qualifying purchases. You can support the site directly via Paypal donations ☕. Thank you!
The TV version of Android is the most slimmed down one without the bells and whistles of its mobile siblings. The main screen is split into six sections including featured content, featured video-on-
demand services, inputs, apps, games and settings.
Not all the applications in the Play Store are obviously suitable for TVs. The TV app catalogue is about a few hundred apps, mostly video apps and games. Hopefully, this year, we will see a wider variety of apps becoming available for Android smart TVs.
A button on the remote identifies itself as 'Netflix'. But keep in mind that Netflix is not available in Malaysia at this time. But Sony is confident that it will be available sometime this year.
The TV also has built-in support for Chromecast. So you do not require a separate Chromecast adapter. Any Android or Apple application that supports Chromecast can have its content broadcast to the X9400C. This also makes the TV fully compatible with a wide range of smartphones and tablets.
video problems
The X9400C has no built-in file explorer. You will need to download a suitable one from the Play Store and use it to index your files. During our test, we also noticed that the TV did not automatically recognise all the video codecs and wrappers. Some AVI files played without any issues while the MKV files did not. You will need to download the codecs or a more versatile video player.
audio fidelity
Compared to other similar TVs, the X9400C has an excellent set of speakers. There are six in total — two tweeters, two mid-drivers and two bass drivers. They work with a wireless subwoofer to deliver 190-watts of power. The magnetic fluid drivers take up less space and can be pushed harder than regular speakers.
Although the image produced by the X9400C is not quite as vivid as the OLED TVs, it is still stunning. There is a lot of contrast between the dark and light regions with bright reds and almost pitch blacks.
Like all 4K TVs, the real problem with the X9400C is the current paucity of true 4K content. With 4K Blu-Ray and streaming yet to take off, there is not much choice for the consumer. So the buyer will have to make do with HD or 1080p videos which can be upscaled to near 4K resolutions.
SPECS
• True 4K resolution
• Stereoscopic 3D
• Upscale to near 4K resolution
• Triluminous Display
• Android OS
• Screen Mirroring
audio output
12.5W+12.5W+12.5W+12.5W+20W+20W
VERDICT
A giant among large screen TVs – in both quality and price.