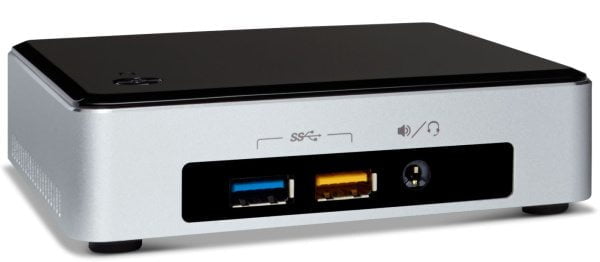 Just when you think a performance PC couldn't get any smaller…We've had our share of ultra-compact PCs through our door of late, and most have left us with a very positive impression. However, there is one tiny PC that has so far eluded our test bench: the Intel NUC – until now, of course.The Intel NUC (Next Unit of Computing) bare-bones platform has quite a following these days, thanks to the amount of computing performance that can be shoehorned into such a diminutive case.

Quiet PC's take on the Intel NUC, the UltraNUC Pro offers an extensive range of configurations through the custom build area on its site. The model we have on test here has an Intel fifth-gen NUC Core i3 5010U at 2.1GHz, 4GB of 1600MHz RAM and a 128GB Samsung SM951 M.2 SSD, on which there's a copy of Windows 8.1.Despite the minute proportions of the chassis, the UltraNUC manages to pack in a surprising amount of connectivity. The front of the case houses a pair of USB 3.0 ports, with one having super speed charging, along with a 3.5mm headphone/speaker out audio port. At the rear of the case, you'll find another two USB 3.0 ports, gigabit Ethernet, mini-HDMI and mini-Display Port, as well as the power port. All this on and in a case that measures just 115 x 111 x 32.7mm, and which weighs around 400g.The UltraNUC is extraordinarily well put together, a neat little package that works extremely well under normal computing duties. It's ideal as media centre or a unit to fit behind a monitor, which is helped by the inclusion of a VESA mount in the package. The colour scheme reminds us of the older Revo R3610, with the white/gunmetal grey on black shiny plastic. Obviously the design is significantly different in this case, and in many ways it's a more convenient shape and weight compared to other mini PCs we've tested in the past.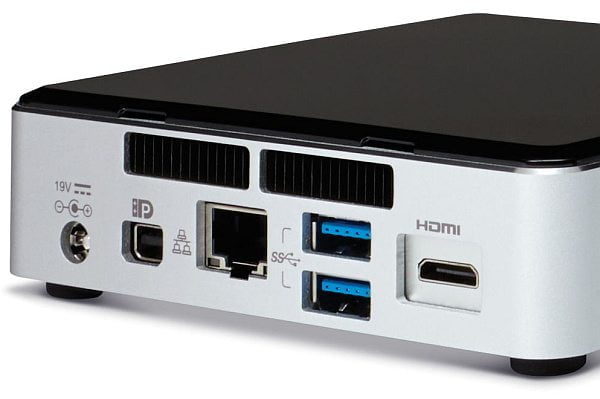 Windows 8.1 worked extremely well on the UltraNUC; there weren't any problems with loading the OS or navigating around it. Likewise, office duties were a breeze, and our collection of older games ran without any difficulty.Speaking of which, the HD5500 GPU on the UltraNUC isn't the most powerful built-in graphics engine, but it did manage to handle the likes of Assassin's Creed 4 and Left 4 Dead 2 reasonably well, so there are some gaming qualities hidden within this tiny PC. Media and HD content played flawlessly; we even had our test 4K video play without the system struggling.Cooling doesn't seem to be an issue here, thankfully. The UltraNUC is deathly silent, and at times you'll actually need to check the power LED to make sure it's on. Also, thanks to the abundance of vents along the sides and back of the case, there's enough airflow to keep it cool. Even with the tests we conducted, including the media tests for a couple of hours, the top of the UltraNUC was only slightly warm to the touch.We really enjoyed our time with the Quiet PC UltraNUC Pro. It's an extremely capable mini PC with ample connectivity, which can be configured to become more of a gaming powerhouse if you want. There's only one negative we can think of and that's the use of mini-HDMI instead of a full-sized port. David HaywardAn excellent mini-PC with plenty of performance and potential.