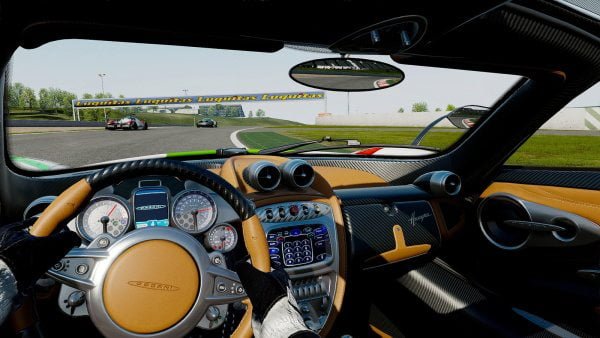 PS4 simulation racers now have an axle to grindWhat do you want Project CARS to be? Are you looking for a Need For Speed facsimile with slippery tyres, or to push yourself beyond Gran Turismo's rather comfortable brand of simulation for a stiffer challenge? Slightly Mad's crowd-funded racer does one of these things exceptionally well – but not both.It's great news for anyone who's ever owned a force feedback steering wheel, who's turned auto gear changes off in a controls menu, and who crashes a car into a wall over and over and over, just to observe the accuracy of its damage model. Because Project CARS is a vessel for absolutely fearsome, rigorously simulated motorsport, more exhilarating in its trackside action than anything Polyphony's produced. A swathe of disciplines is represented here, from 125cc karts to Le Mans Prototypes and beyond.

Each class requires a different mindset. You'll balk at how spongy and imprecise a Renault Mégane RS feels after clocking a few miles in the stripped-down cockpit of a GT3 racer. You'll come to learn how hard to press the brakes of a Pagani Zonda R when approaching the Variante del Rettifilo at Monza, and conversely how ineffective the same pressure is in a road-legal Merc. The subtleties to Project CARS's handling model make it a paradise for sim racers.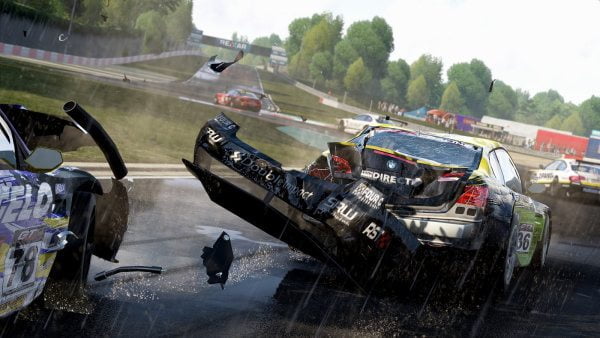 It's bad news, however, for anyone looking to get some cheap thrills in a fast car until someone resurrects Burnout. Turning on the game's many driving aids does make control much easier, true, but it also takes out much of the liveliness and enjoyment of driving. That's what arcade racers do so well – they make a car handle the way you want it to, empowering you to fling any car into any corner with abandon. The driving aids here will keep you on the track, but they'll also anaesthetise the core experience. The underpinning physics model here just isn't malleable enough to offer you an immersive simulation at one end of the difficulty spectrum and an accessible, satisfying racing at the other.Let's be clear – that's no reason to give the game a miss. You should know what you're getting yourself into, that's all. Project CARS is a hard game. Memorising braking points for every corner of every track, in every car, is essential. What's more, those braking points are way further back than you expect.  At some point in the late '90s, driving game devs decided in secret that no one should have to brake more than 100 metres before a turn, no matter the car.Slightly Mad says screw that noise. It's under braking that the game's devotion to simulation is most keenly felt, and happily it also yields plenty of gratification. Intrinsically, as you wrestle the weight of the car under your control, listening for tyre lock-ups and correcting any deviations to the left and right which could easily turn into spin-outs if left unchecked. And extrinsically, as three of you barrel down the narrow streak of tarmac into Oulton Park's high-kerbed chicane, easing off the brake pads just a touch and risking it all for a few inches of bumper space in the turn-in zone.Weight's conveyed fantastically through Project CARS's physics model, too. Through subtle camera tilts and pad rumbles you're given a precise impression of which side of your ride's suspension is under load. Gran Turismo 6 was erstwhile the luminary in this field on PS3, but Project CARS goes further and creates more tangible variation between car classes.If I haven't made myself clear yet: I'm pretty bowled over by the handling model. It's been a long road for Slightly Mad to achieve such excellence, and for an extended and worrying period it seemed that the UK studio just wouldn't be able to pack all that subtlety and litheness into the DS4. Guess what? It did. Just as long as you're willing to play with most of the driving aids off.Playing with a wheel is more rewarding still – the game's origins are in PC development, where force feedback peripherals are more commonplace, and getting the handling playing nice with such a setup has obviously been a focus for the team. Unfortunately, since PS4 isn't compatible with a great many of last-gen's wheels, the likelihood is that most players will be driving with a pad.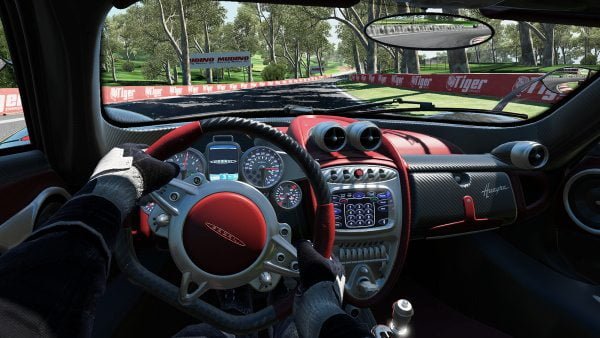 Let's talk tech. The game's been quick to shout about its visual chops from the off, perhaps again owing to its PC origins. In practice, the finished article is less than overwhelmingly beautiful on PS4. Car models are undoubtedly high-poly, and like Driveclub it works dynamic lighting and changeable weather to often spectacular results.However, trackside detail is conspicuously low-poly and low-resolution; tarmac textures appear washed-out and trees are visiting ghosts from Gran Turismo 3. And that's totally fine. Really. Because like any racing sim fan, I'd rather play a quite pretty racer at 60fps than a visual powerhouse at sub-30 frames. The smoothness of its action isn't even tangibly affected by 30 or so cars being rendered on screen, so you're able to pick through clusters of slowpokes with precision.Sadly, Project CARS can't be awarded a net victory on tech terms alone. Broadly, I'm sold on this game. I know I'll be playing it for months – but I've seen things I can't unsee. Cars going rogue in chicanes and getting stuck, forming a 20-strong roadblock that won't disperse until you restart the session. Hard-earned qualifying results flying out the window when you progress to the race. Extremely odd handling behaviour that seems to reset itself only when you restart a race. Like any good cheap motel, there are bugs in here.That frustrates me so much, because I know those bugs will likely be squashed by a patch by the time you read this, and they're the only thing holding Project CARS back from being able to look GT in the eye. We might not get the benefit of its 4K compatibility on PS4, and many of us won't get to appreciate its wheel support – but anyone with even a remote interest in serious sim racing will find a huge payout here… once it's patched. Phil Iwaniuk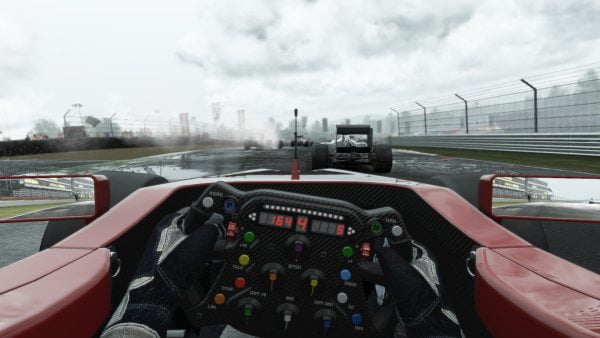 Bugs aside, a tremendous and uncompromising simulation of a kind we may not have seen on previously consoles. A challenge well worth accepting if you're a racing purist.