Pioneer's UDP-LX500 slashes the asking price of its flagship brethren but still promises a premium mix of movie and music playback. Steve May reports
av info
PRODUCT
: Premium universal UHD Blu-ray player
POSITION
: A rung down from the flagship UDP-LX800
PEERS
:
Panasonic DP-UB9000
; Sony UBP-X1000ES
AFTER PIONEER TEASED a new Ultra HD Blu-ray player lineup last Summer, the UDP-LX500 was the first one to break cover. The brand then followed with the launch of a higher-end machine, the UDP-LX800, which actually made it to my test bench first [see HCC #293]. Now I'm sitting down with the deck that got AV enthusiasts excited in the first place. I'm starting to feel spoilt for choice.
It may lack the apocalypse-proof build of the flagship UDP-LX800, but there's nothing lightweight about this (considerably) more affordable model's design. The deck can bow furniture at 10.3kg, sharing similar chassis-strengthening flourishes and quartet of isolating feet as its bigger brother, and is physically larger than its nearest rival, the Panasonic DP-UB9000 [see HCC #292] That said, it doesn't quite have the same quality of finish as the Panasonic or indeed Pioneer's own range-topper. It has weight but lacks their finesse.
Fully featured
The UDP-LX500's specification has been crafted with AV enthusiasts in mind. This 4K player is HDR10 and Dolby Vision-capable out of the box, and there's a firmware update for HDR10+ scheduled to arrive in the next few months. Significantly, it also boasts universal audio playback, which means it's compatible with Super Audio CD and DVD-A discs, as well as vanilla CDs. It'll also handle 3D Blu-rays, standard DVDs, plus hi-res audio files. Basically it'll play pretty much everything except LaserDiscs – but you've got to draw the line somewhere.
Rear connections include two HDMIs (one for combined sound and vision, the other for separated audio if you need to bypass your AVR and route video directly to a UHD screen). There are also digital audio optical and coaxial outputs, Ethernet for networking, and RS-232C for pro installs with integrated control. USB ports are supplied front and back.
An obvious difference from the UDP-LX800 is the analogue audio output, which here runs to stereo phono but not balanced XLR. Internally, there are differences too – the dual SABRE ES9026 PRO DACs of the pricier model are replaced by an AKM AK4490EQ unit, and the signal path refinements of the UDP-LX800 (based around techniques developed for Pioneer's PD-70AE Super Audio CD player) aren't carried over. Power supply, digital processing, and analogue audio have all still been separated, though, for enforced purity.
The UDP-LX500 has the same user interface as its step-up model, which is a bare-bones affair. The Home Menu is dull and simplistic, not least because the player lacks any integrated streaming services or apps. Pioneer obviously assumes we have access to this sort of functionality elsewhere (and. to be honest, it's almost certainly right).
7Review earns Amazon affiliate commissions from qualifying purchases. You can support the site directly via Paypal donations ☕. Thank you!
See also TOP 15 Blu-ray Disc Players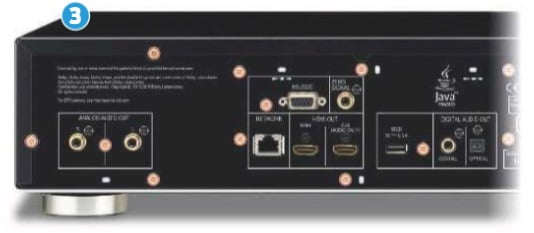 Happily though, one of the innovations introduced on its more expensive stablemate is carried through. Hold down the Display button, and you'll unlock MaxFALL (Maximum Frame Average Light Level) and MaxCLL (Maximum Content Light Level) information, as read from HDR10 metadata on compatible UHD platters.
Disc loading speeds are little better than average.
'Compatibility with SACD and DVD-A, alongside hi-res audio, make this a fine choice for a top-flight AV system'
The deck took my reference movie Blu-ray from tray to main menu in just over 40 seconds. That said, the tray loader is as smooth as butter, and the deck itself supremely quiet in operation.
A feast for the eyes
If you come to the UDP-LX500 expecting jaw-dropping video quality you'll not be disappointed. Its images exhibit superb detail, with bit-smooth colour rendering that gives an almost intangible sense of depth to visuals. The scene-setting space battle in Star Wars: The Last Jedi (Ultra HD Blu-ray) is a thing of beauty, while A Quiet Place (Ultra HD Blu-ray) hints at horror in low-level shadow detail.
The player dispenses wide colour and HDR impacts with delicious generosity. Helpfully, the video output can also be matched to different display technologies: LCD and OLED TVs, and projectors.
Indeed, its video performance is subjectively no different to that of its UDP-LX800 stablemate, which sells for twice as much.
In a forensic shootout with its slightly cheaper rival, the Panasonic DP-UB9000, it comes a very close second. After comparing both players with a variety of test images, I came to the conclusion that the Panasonic has the edge when it comes to interpolation techniques. Both decks upsample HD and UHD discs to 4:4:4 colour, but Panasonic's approach offers smoother colour detailing. But with real world content any differences are largely inconsequential.
Where the UDP-LX500 clearly trumps the Panasonic is audio: it's a considerably better music player, and while that broad compatibility with SACD and DVD-A will appeal to those with investment in those disc formats, it's also more accomplished with regular CDs. The player has an engaging organic audio quality, which really seems to help 16-bit discs. Pioneer's UDP-LX800 is even better, but the higher up the performance chain you go, the benefits become disproportionately smaller.
User tweaks include a trio of digital filtering modes named Sharp Roll-Off, Short Delay and Slow Roll-Off – I never really arrived at any preference, but I amused myself trying – and Pioneer's PQLS (Precision Quartz Lock System), which combats timing errors over HDMI, but only when the player is used with a compatible Pioneer AVR.
Leading contender
If you feared that the era of high-end universal UHD disc players was all but over, following the exit of fan-boy favourite Oppo, then breathe easy. This Pioneer is every bit a comparable performer. Image quality is excellent and its music playback outstanding. Compatibility with SACD and DVD-A, alongside hi-res audio, make this a fine choice for a top-flight sound and vision system. Those after an upgrade from a premium Blu-ray player to 4K (with wide HDR support) should consider it a leading contender
VERDICT
Highly Recommended
PIONEER UDP-LX500 Review
Offering universal audio compatibility, superior build quality and excellent video, this is a premium player to lust after - even without any integrated apps.
Add your review
Best PIONEER UDP-LX500 prices ?
MORE DEALS

See also TOP 15 Blu-ray Disc Players
SPECIFICATIONS
3D: Yes ULTRA HD: Yes HDR: Yes. HDR10; Dolby Vision; HDR10+ (via future firmware update) UPSCALING; Yes. 2,160p MULTIREGION: No. Region B BD/R2 DVD HDMI: Yes. 2 x outputs MULTICHANNEL ANALOGUE OUTPUT: No. Stereo phono DIGITAL AUDIO OUTPUT: Yes. 1 x optical digital audio; 1 x coaxial digital audio ETHERNET: Yes BUILT IN WI-FI: No SACD/DVD-A: Yes/Yes DIMENSIONS: 435(w) x 118(h) x337(d)mm WEIGHT: 10.3kg
FEATURES: 2 x USBs; RS-232C control; media playback supports MP3, WMA, ALAC, AIFF, WAV, FLAC, DSD (2.8MHz and 5.6MHz); media display screen including MaxFALL and MaxCLL; PQLS (Precision Quartz Lock System) jitter reduction
PARTNER WITH
PIONEER SC-LX901: Stick to Pioneer for processing to use the brand's PQLS anti-jitter tool. The top-of-the-range SC-LX901, and packs 11 Class D amplifier channels to complement its DTS:X and Dolby Atmos decoding.
A similar design to the UDP-LX800, but not quite as big and heavy
The remote is backlit and sports a brushed-effect finish
The player's analogue stereo output is tethered to an AKM DAC