Yamaha's new-look Aventage receiver has an eye on the future, but is it ready for now? asks Steve Withers Designed for next-gen AV?
Yamaha's redesigned Aventage lineup of AV receivers raised a few eyebrows when first announced, with its smart looks and promise to deliver full-fat HDMI 2.1 support. The latter, combined with the pandemic, caused a number of delays, but at last the new models are here.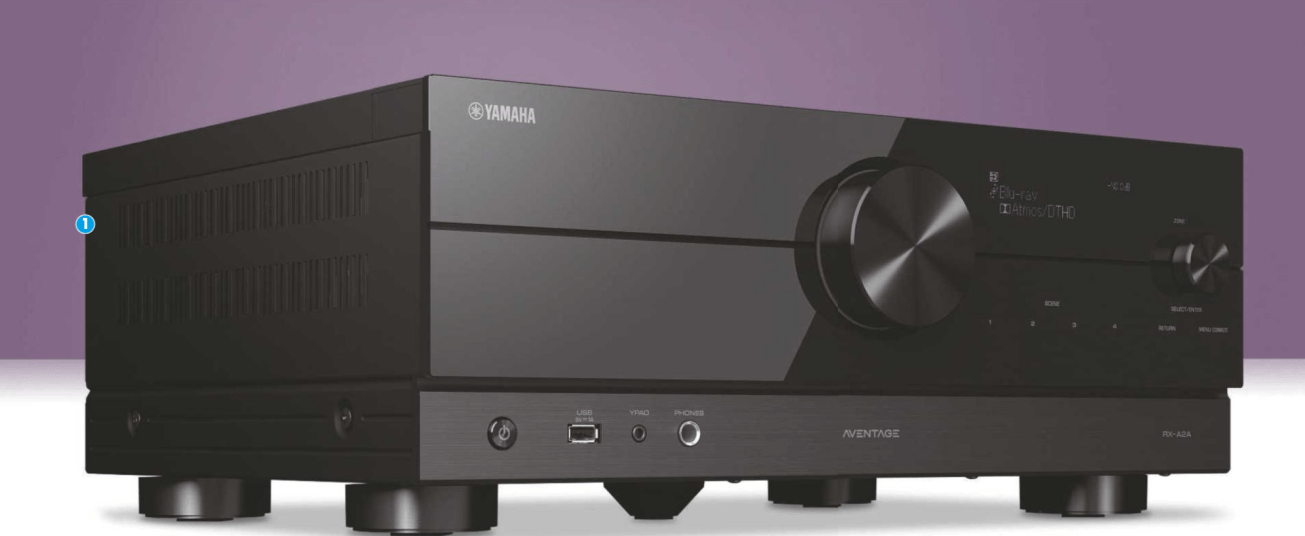 The series is still headlined by the CX-A5200 11-channel AV processor and MX-A5200 power amplifier but for the AV receivers there's been a complete overhaul. The flagship is now the 11-channel RX-A8A, followed by the nine-channel RX-A6A, seven-channel RX-A4A, and seven-channel RX-A2A auditioned here.
Below the Aventage range you'll find two other Yamaha AVRs – the five-channel RX-V4A, and seven­channel RX-V6A.
So the A2A has plenty of in-house competition. Indeed, comparing it to the more affordable RX-V6A finds some identical specs (including rated power output, DAC chip and processing modes) and a similar outward design. What the Aventage model brings to the table is superior build quality, Yamaha's A.R.T. Wedge (essentially an extra central foot), larger capacitors, IR input/output, and a sleeker, less cluttered remote – plus a £ price hike.
Move further up the range and there are other improvements. The RX-A4A adds the latest Qualcomm QCS407 64-bit silicon and Yamaha's Surround:AI real-time DSP processing, while the RX-A6A and RX-A8A intro upgraded ES9026 PRO DACs, plus support for the Auro-3D immersive sound format.
The RX-A2A decodes Dolby Atmos and DTS:X, although both are limited to a 5.1.2-channel configuration. Dolby also offers an Atmos Height Virtualiser, and naturally there's
7Review earns Amazon affiliate commissions from qualifying purchases. You can support the site directly via Paypal donations ☕. Thank you!
See also TOP 15 Blu-ray Disc Players

Yamaha's proprietary Cinema DSP-3D processing, YPAO room correction, and MusicCast multiroom integration. The latter includes the option of running wireless surround speakers – choose from the MusicCast 20 or 50 models, and maybe add the wireless SUB100 woofer too.
The receiver's seven channels of amplification use a newly designed circuit to achieve a higher slew rate (the rate of change in the output caused by a step change on the input) while retaining stable signal transmission. Yamaha claims the RX-A2A can muster 100W into 8 ohms across 20Hz-20kHz and with 0.06% THD, but these specs are only based on a two-channel measurement.
Yamaha's refreshed receiver styling is definitely eye­catching. The RX-A2A's clean, glossy black fascia is dominated by a large volume dial, flanked by a multi­function input/menu control and four Scene (preset) buttons. Along the bottom is a metal strip housing a USB port, YPAO mic jack, and 6.5mm headphone socket.
This all looks smart, but the updated front-panel display is very disappointing: it's small, not particularly informative, and stuffed away between the volume and input dials like an afterthought. With the empty real-estate on the left-hand side, it feels like a missed opportunity.
One reason why anyone might be looking to buy a new receiver this year is support for various features of the HDMI 2.1 specification, and Yamaha says the RX-A2A will soon be up to the task, having initially been a victim of the HDMI 2.1 'bug'. At present its HDMI ports support 4K/60, HLG, HDR10 and Dolby Vision, but won't pass through a 4K/120Hz signal from an Xbox X. Fixing this requires a physical upgrade to the HDMI board, which Yamaha will perform for free when it's available. Additionally, firmware updates promised later this year will add HDR10+ passthrough, plus VRR and ALLM.
Other connections include optical and coaxial digital audio inputs, four analogue audio inputs (one of which is a phono stage), 12V trigger and Ethernet. There are also aerials for the RX-A2A's built-in Wi-Fi and Bluetooth.
An analogue output handles second-zone audio, while pre-outs for the front left and right channels let you combine the RX-A2A with your hi-fi system. Speaker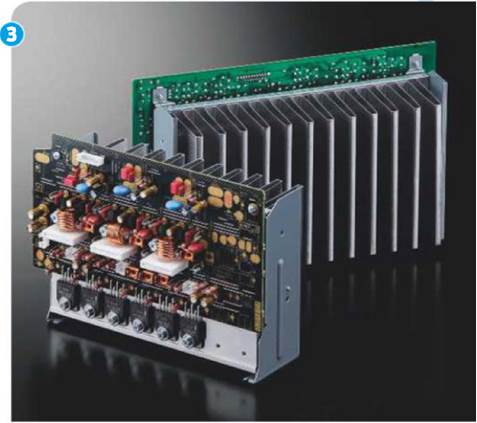 terminals provide installation options for 5.1 with bi-amping or a second zone; 5.1.2 with front height, upward-firing or overhead speakers; and traditional 7.1 multichannel.
A handy feature is Intelligent Power Amp Assign. This enables driving a pair of speakers in a second room even when a full 7.1 or 5.1.2 speaker system is connected in the main zone; the RX-A2A will automatically divert power from two speakers in the main system (the rears in a 7.1 layout and the height/overhead speakers in a 5.1.2 config) when Zone 2 is activated.
Yamaha gave its onscreen user interface a much- needed facelift with the previous generation, but a new web browser control provides the most effective method of setting up this AVR. Use it to select your desired speaker layout, connect everything up, and you're good to go.
I ran the RX-A2A in 7.1 and 5.1.2 layouts, which revealed some interesting comparisons. Your first instinct might be to go for the 5.1.2 option, and thus enjoy the overhead tricks of Atmos and DTS:X, but these formats are about more than just height speakers. What really sells the three- dimensionality is the ability to seamlessly steer objects.
This is demonstrated in A Quiet Place (4K BD, Atmos), when Emily Blunt is hiding in the cellar. In a 5.1.2 layout you hear the monster above her, but the ticking alarm clock she uses as a distraction loses focus at the back as it's steered around the room. Watching with the extra rear speakers but no heights, you don't get the obvious overhead effect, but the placement of the clock feels more fluid.
That observation aside, the AVR's decoding does an admirable job with multichannel audio, and showcases a knack for picking out the smallest of sonic details and keeping dialogue clear and natural-sounding.
With the skyscraper-levelling carnage of Godzilla vs. Kong (4K Blu-ray), the sound of breaking glass and falling rubble is conveyed with distinction. Yet while Yamaha's YPAO room correction is great at balancing the soundstage, it's less successful with big LFE hits, resulting in bass that feels unrefined and blunt.
Another issue is the amount of horsepower packed inside that saucy new chassis. At sociable volumes and with less demanding soundtracks the RX-A2A is a capable performer, but as soon as you really push the amps, the presentation can begin to feel a little thin. Midway's insane Atmos mix on 4K BD uses every channel to stonking effect,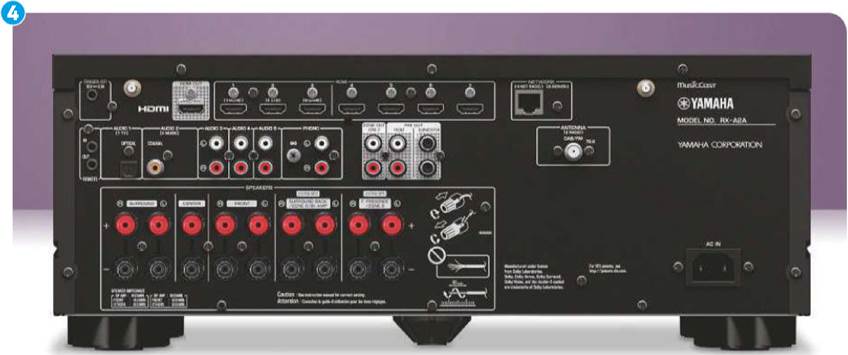 and while this AVR produces sufficient grunt to handle this explosive action, its delivery sometimes lacks the scale and headroom required to believably immerse you in the chaos. This AVR is suited to smaller/mid-sized rooms and speakers that aren't hard to drive.
The RX-A2A has been a long time coming, and proves to be an entertaining performer with a solid set of features, although a number are still to be added via firmware updates. The problem it has is that it feels pricey in comparison to Yamaha's own RX-V6A model, while the step-up RX-A4A offers more power, more HDMI outputs, improved processing and more advanced EQ
YAMAHA RX-A2A Review
This AVR benefits from a smart new look and decent performance, but has serious competition from seven-channel models that undercut it in price.
Add your review
Best YAMAHA RX-A2A prices in the US ?

$

769.95

$999.95
8 used from $679.99
16 new from $769.95
in stock


$

995.00
1 new from $995.00
in stock

Best YAMAHA RX-A2A prices in the UK ?

£

769.00
5 new from £769.00
in stock

MORE DEALS

See also TOP 15 Blu-ray Disc Players
Specifications
| | |
| --- | --- |
| Product Name | Yamaha - RX-A2A AVENTAGE 7.2 Channel AV Receiver with MusicCast |
| Product Type | AV network receiver |
| Enclosure Color | Black |
| Resolution | 8K - 60 fps |
| HDR Capable | Yes |
| HDR Technology | Dolby Vision, Hybrid Log-Gamma (HLG) |
| Audio Channels | Surround Sound |
| Decoders | Dolby Surround, Dolby Digital Plus, Dolby TrueHD, DTS-HD Master Audio, Dolby Atmos, DTS:X |
| Functions | Digital player, radio, AV receiver, phono preamplifier, network audio player, Bluetooth audio receiver |
| Source | Network, USB-host |
| Audio Formats | WAV, WMA, AAC, AIFF, MP3, FLAC, DSD, ALAC |
| Audio D/A Converter | 32bit / 384kHz |
| Bluetooth Audio Codec | SBC, AAC |
| Surround Sound Effects | Virtual CINEMA DSP, SILENT CINEMA DSP, CINEMA DSP 3D, Virtual Presence Speaker, Virtual Surround Back Speaker |
| Multiroom | Yes |
| Digital Sound Processor (DSP) | Yes |
| DSP Preset Qty | 17 |
| Surround System Class | 7.2 channel |
| Output Channel Qty | 7 channels |
| Output Power (per channel) | 100 Watt |
| Amplifier Output Details | 100 Watt - 8 Ohm - 20 - 20000 Hz - THD 0.06% - 2 channels |
| Digital Content Protection | HDCP 2.3 |
| Features | Bi-Amplifying, Yamaha Parametric Room Acoustic Optimizer (YPAO), dual-zone capability, compressed music enhancer, YPAO with R.S.C. (Reflected Sound Control), YPAO multi-point measurement, Pure Direct mode, MusicCast system, BT.2020 Support, Enhanced Audio Return Channel (eARC), Apple AirPlay 2 support |
| HDMI Pass-Through | Up to 8K |
| Video Conversion/Scaling | HDMI to HDMI scaling |
| Upscaling via HDMI | Up to 4K |
| Type | AM/FM - digital |
| Interfaces | Ethernet, Fast Ethernet, Bluetooth, Wi-Fi |
| Streaming Services | Pandora, Deezer, Napster, SiriusXM internet radio, TIDAL, Amazon Music, Spotify Connect |
| AirPlay | Yes |
| Display Type | Fluorescent display |
| Connectors | Headphones (phone stereo 6.3 mm) - front USB (4 pin USB Type A) - front 7 x HDMI input (19 pin HDMI Type A) - rear HDMI output (19 pin HDMI Type A) - rear Network (RJ-45) - rear Phono input (RCA x 2) - rear 3 x audio line-in (RCA x 2) - rear SPDIF input (TOSLINK) - rear SPDIF input (RCA) - rear Audio line-out (multi zone) (RCA x 2) - rear Audio line-out (RCA x 2) - rear 2 x subwoofer output (RCA) - rear Trigger - rear Remote control input - rear Remote control output - rear AM antenna (click-fit x 2) - rear FM antenna (F connector) - rear 9 x speakers output (banana/spade x 2) - rear |
| Internet of Things (IoT) Compatible | Yes |
| Communications Type | Product-to-product |
| Communications Technology | Wi-Fi |
| Intelligent Assistant | Alexa ready, Google Assistant ready, Siri ready |
| Included Accessories | Remote control, auto calibration microphone |
| Power Consumption Operational | 360 Watt |
| Power Consumption Stand by | 0.1 Watt |
| Service & Support | Limited warranty - 5 years |
| Width | 17.1 in |
| Depth | 14.6 in |
| Height | 6.7 in |
| Weight | 22.49 lbs |
| | |
| --- | --- |
| DOLBY ATMOS | Yes |
| DTS:X | Yes |
| IMAX ENHANCED | No |
| MULTICHANNEL INPUT | No |
| MULTICHANNEL PRE-OUT | No |
| POWER OUTPUT (CLAIMED) | 7 x 100W (into 8 ohms, 20Hz-20kHz, 0.06% THD) |
| MULTIROOM | Yes. Zone 2 (analogue stereo), plus MusicCast |
| AV INPUTS | 2 x digital audio (optical and coaxial); 4 x analogue stereo |
| HDMI | 7 x inputs and 1 x output |
| VIDEO UPSCALING | Yes |
| DIMENSIONS | 435(w) x 372(d) x 171(h)mm |
| WEIGHT | 10.2kg |
| FEATURES | YPAO-R.S.C. (Room EQ); Dolby Atmos Height Virtualiser; vinyl player phono stage; works with Alexa and Google Assistant; AirPlay 2; remote app; web browser control; MusicCast multiroom and surround; Cinema DSP 3D; DSD (up to 11.2MHz), FLAC, WAV, ALAC hi-res media playback; Ethernet; Wi-Fi; USB; dual subwoofer outputs; DAB tuner; HDMI 2.1 on three inputs via future firmware |
GODZILLA VS. KONG: This eagerly awaited clash of the titans doesn't disappoint if popcorn thrills and epic scenes of CG destruction are your thing, and the AV presentation of Warner Bros.'s 4K Blu-ray ramps up the enjoyment factor. The neon- soaked HDR visuals are bettered only by the relentless Atmos track.