The world's first 16-channel soundbar system leaves John Archer ducking for cover. Read our SAMSUNG HW-Q950A Review.
More and more soundbars these days – high-end ones, anyway – stretch the soundbar definition to breaking point by comprising much more than just a single speaker unit that sits under your telly. In fact, Samsung's new HW-Q950A is arguably the most extreme example yet of a product blurring the boundaries between a soundbar and the once-popular 'home cinema in a box' concept.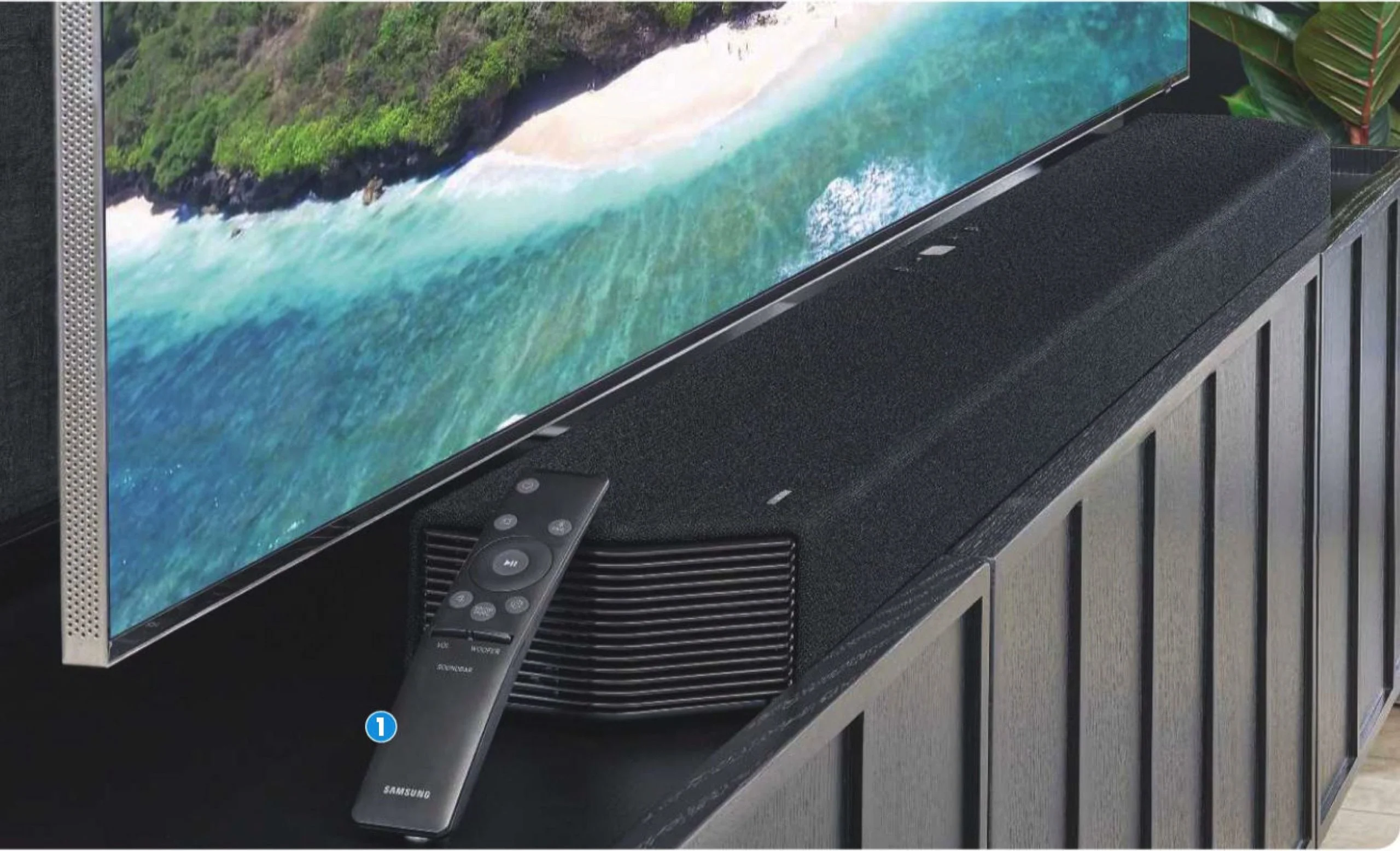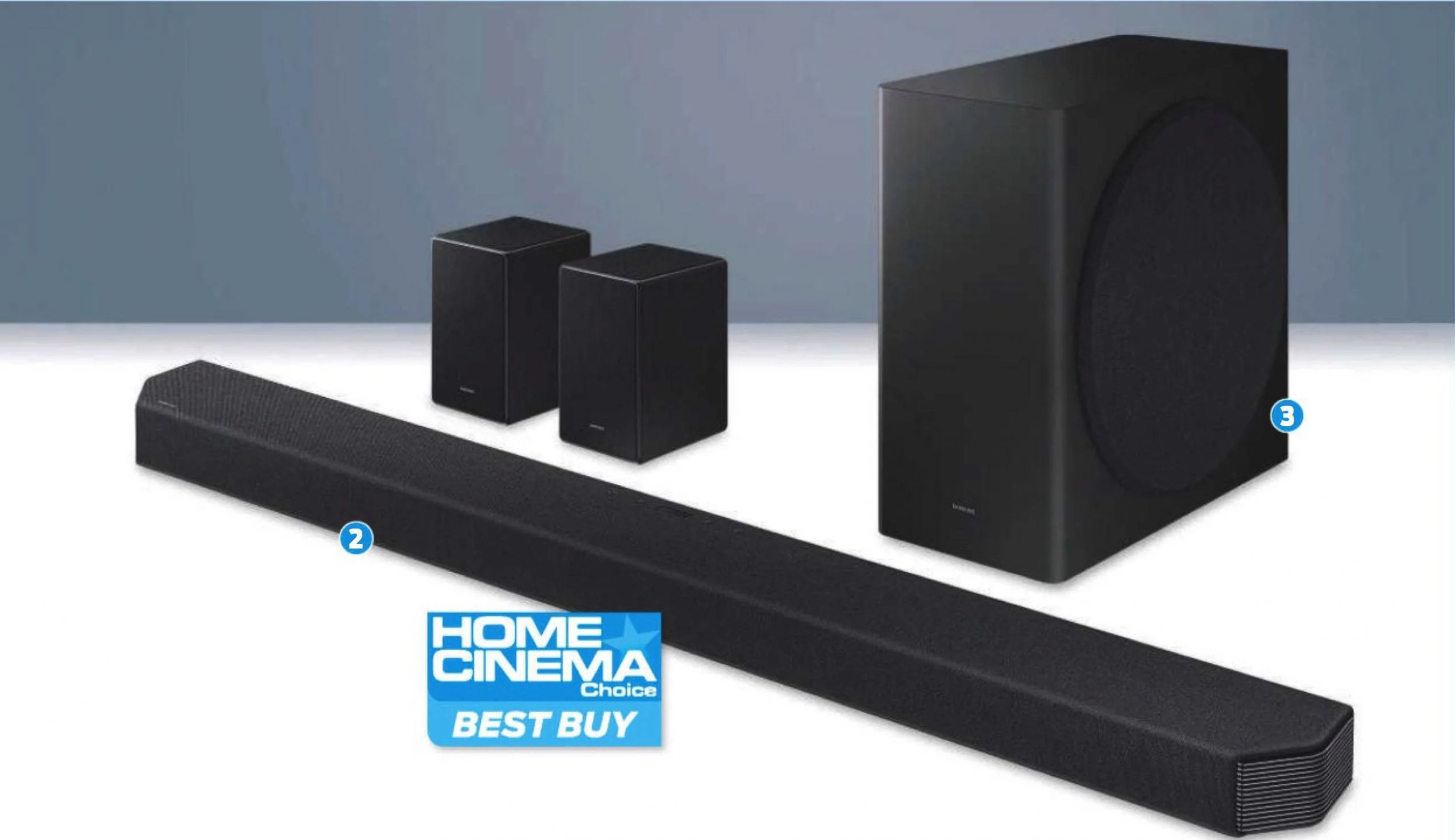 It ships with four components: the main 1.23m-wide, 6.95cm-high, felt-covered soundbar; an unusually large wireless subwoofer with an 8in driver; and two small but solid-feeling wireless rears. And just to further mark it out as the next step in soundbar evolution is its provision of 16 – sixteen! – channels.
info
Premium Dolby Atmos soundbar system
The A-list star in Samsung's 2021 lineup, above the HW-Q900A
LG SPUR A;
Sennheiser Ambeo
The main soundbar crams in nine: front left, right and centre; side right and side left; forward side right and left; and two upfiring drivers that bounce sound off your ceiling to deliver overhead/height effects. The rears then shoehorn in three drivers each: one traditional front-firer, one upfirer and a side-firing unit designed to deliver rear surround effects – these latter drivers are the main new additions to the specification of last year's Samsung's Q950T.
The subwoofer rounds out the Q950A's unprecedented 11.1.4-channel count, and if that weren't enough already, you can use Samsung's Q-Symphony tech to combine the soundbar with the speakers of compatible Samsung TVs.
Naturally, the Q950A carries both Dolby Atmos and DTS:X decoding. It also provides options for upscaling vanilla mixes, taking advantage of all its speakers.
To hook up sources, the 'bar has two HDMI inputs and eARC on its HDMI output, plus an optical digital audio input and the Bluetooth and Wi-Fi options found on pretty much all modern soundbars. The Q950A's HDMIs pass through 4K video (up to 60Hz) in the HDR, HDR10+ and Dolby Vision formats.
7Review earns Amazon affiliate commissions from qualifying purchases. You can support the site directly via Paypal donations ☕. Thank you!
See also TOP 10 Soundbars & Soundbases
Another connection trick is Samsung's 'tap view'.
This lets you establish a link with a fairly recent Samsung smartphone just by tapping it against the soundbar's chassis. While this is clever, it has led to a dumb design decision in the shape of an LED built into the 'bar's top edge. While you can see this on the odd occasion where you're stood up phone-in-hand, you can't see it at all when you're sat on your sofa watching a movie.
Getting to grips with the Q950A can take time, depending on how much you want to massage its performance. For instance, there's a seven-band EQ tool available (through the remote's Sound Control button and then specific key presses), plus channel level adjustment including front and rear height. Standard, Surround, Game Pro and Adaptive Sound presets offer a quicker tweak – note that the Standard mode is the go-to for native playback of stereo, multichannel and Atmos/DTS:X material (7.1.4).
Owners of 2021 Samsung TVs (Q70 models and above) can run an automatic room calibration routine that makes use of the display's processing silicon. Those without only get the Q950A's Auto EQ feature, which aims to correct the output of the subwoofer in relation to room acoustics.
The contribution made by Samsung's new rear side channels is interesting. The first thing I noticed, unexpectedly, was how they helped make surround effects seem generally more prominent. The slightly subdued, reluctant nature of the rears provided with previous generations is gone.
That's not to say the side drivers are unduly powerful or overwhelming. It's just that the wider rear soundfield has more impact than I'd expected. It fills in gaps in the 3D soundstage that I hadn't even noticed were there with 2020's Q950T.
I'd worried that squeezing two more drivers into the compact bookshelf design of the Q950A's rears might have led to sonic compromises or, maybe, some cabinet rattles or buzzes. None of these fears were realised.
Nor has Samsung's flagship system lost any of its impact elsewhere. The main soundbar produces a huge soundstage that's hard to reconcile with its slender profile. It spreads up as well as out, generating a robust wall of sound into which effects are placed with slick precision.
It has an attacking nature, too, delivering effects like gunfire, explosions and punches with an impression that few rivals can match. When the security guard's head is
'The wider rear soundfield fills in gaps in the 3D soundstage that I hadn't even realised were there'
bashed into a glass window during the fight in the psych ward in 2020's The Invisible Man (4K Blu-ray), it sounded gut-wrenchingly raw and visceral.
My 'wall of sound1 description does the Q950A a disservice, actually. It projects strongly forward into your room, too. This means that with the dystopian world of Blade Runner2049 (4K Blu-ray) I felt fully immersed, rather than a distant observer of stuff only happening in front of me. The sense of the soundfield wrapping right around you, exactly as you want it to with a Dolby Atmos/ DTS:X mix, is remarkably intense and complete.
For the most part effects are placed throughout this space with impressive accuracy. The only slight exception to this concerns overhead details, which end up a little more generalised by the system's reflected sound approach than the specific, direct feel you get with physical overheads. The results are still convincing enough, however, to make you feel like you're not seriously missing out on anything. And the whole point of soundbars is to give you a cinematic experience without having to install loads of separate speakers all over your room.
Another string to the Q950A's bow is its handling of bass. Samsung's subwoofer does an excellent job filling out the low frequencies of even the most extreme movie mixes. The monstrous bass drops that punctuate Blade Runner2049's Dolby Atmos track are handled with conviction and it integrates well with the bottom end of the main soundbar. There's power and depth here, but also an ability to meet subtle changes in soundtrack demands. It's nimble enough to never sound like it's just rumbling away.
Best buy
SAMSUNG HW-Q950A Review
A premium sound system that loves a Hollywood blockbuster, Samsung's 16-channel flagship marries convenience with superb power, detail and immersion.
Add your review
|
Read reviews and comments
Best SAMSUNG HW-Q950A prices in the US ?

$

1,194.99
7 used from $629.99
2 new from $1,194.99
in stock

Best SAMSUNG HW-Q950A prices in the UK ?

£

160.00
1 new from £160.00
in stock


£

160.00
1 new from £160.00
in stock

MORE DEALS

See also TOP 10 Soundbars & Soundbases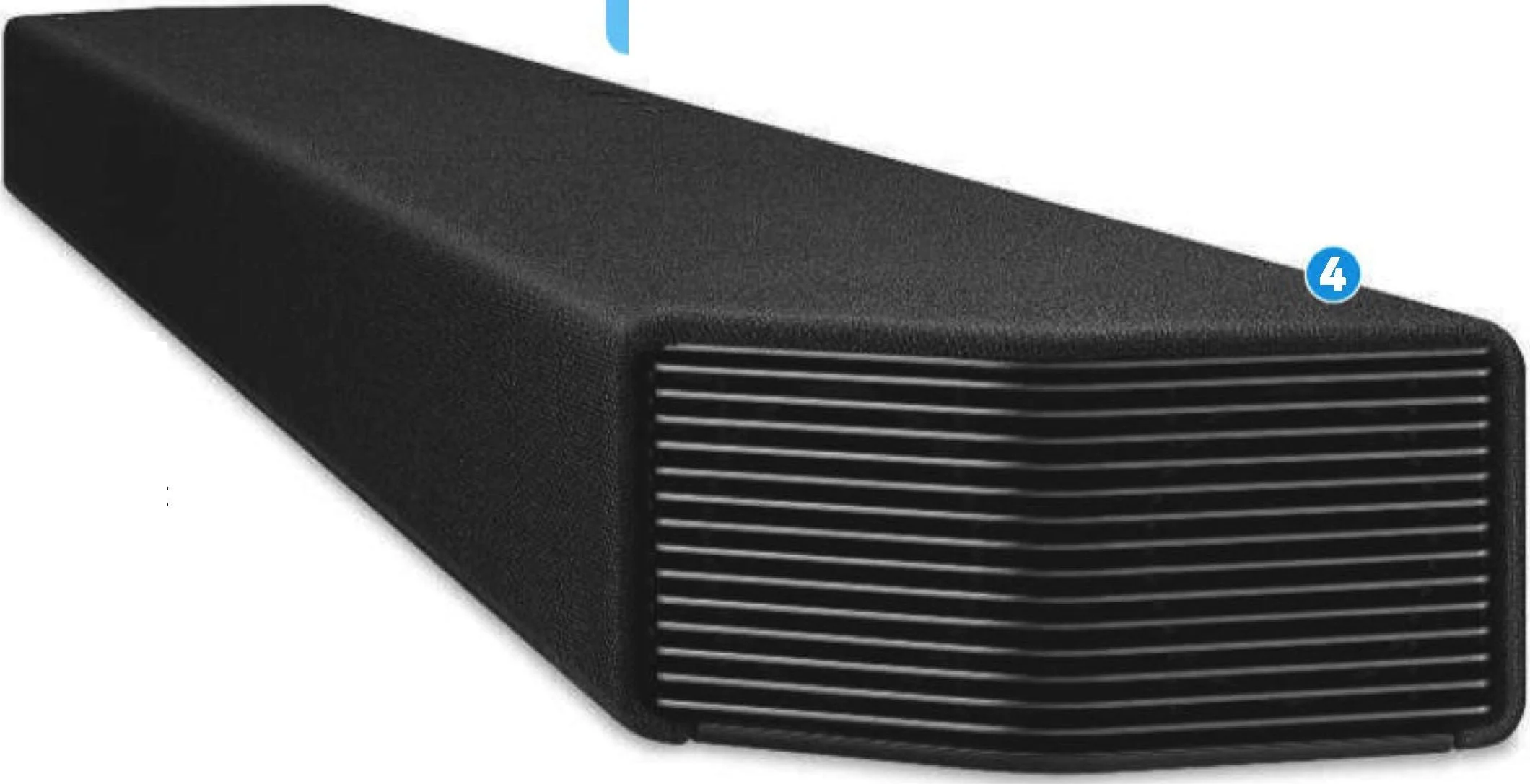 The Q950A's full-range, largescale presentation carries over into its music playback. Even basic stereo mixes played through the soundbar's Standard mode have a scale and presence to them that compares favourably with a dedicated two-channel system. This works particularly well with exceptionally dynamic, relatively sparse music such as Nick Cave and the Bad Seeds' Skeleton Tree album, or Billie Eilish's Happier Than Ever. The dynamics of the system also play well, generally, with the extra clarity of hi-resolution files and )olby Atmos music.
THE INVISIBLE MAN: When Universal cancelled its Dark Universe plans, a proposed big-budget Invisible Man reboot starring Johnny Depp became this smallscale, effective chiller directed by Saw/Insidious writer Leigh Whannell. Its Atmos track (available on both BD and 4K discs) really helps sell the scares…
There are reasons why the Q950A might not be for you. The most obvious one is its cost. While it arguably justifies its price with the power and three-dimensionality of its sound, it's striking how much more it sells for in the UK than it does in the US. Its aggressive approach, meanwhile, doesn't always sound especially 'hi-fi' with music, valuing power and detail over smoothness and character.
Lastly, the system is quite demanding on your room design. To get the best from it you won't want a vaulted or beamed ceiling, and the rear cabinets, which fire three ways, will need to have clearance.
If you aren't deterred by these issues, then I have no hesitation in declaring the Samsung HW-Q950A the most immersive, action movie-loving soundbar I've ever heard